Acquaintance with tourism on the other hand – VI Taurian Tourism Congress 2019. Part 1.
For several years in a row I stumbled across the network on messages such as "The tourism congress passed …", "We had a good conversation at the meeting of tourism journalists and bloggers .." and so on. So far it has not been possible to get to the announcement of such an event. And here it is – a long-awaited chance! In the feed I see "Registration for the VI Tavrian Tourism Congress 2019". My joy knew no bounds))) And besides that I wanted to listen to the people who are creating the very tourism in our country, the program had 2 days of study tours to beautiful places in the south of Ukraine. It was mostly impossible to pass such an offer.
Gathered and went. To New Kakhovka.
Naturally, adventures began on arrival)))
An attempt to find out by phone the new name of the street on which the hotel stands was unsuccessful. The hotel worker simply does not know the name of the street. Well, the most knowledgeable ones are taxi drivers. They happily helped. In addition to telling where and what, it also turned out that a taxi to anywhere in the city costs 30 UAH. Caring – they gave their service number and warned not to contact private taxi drivers. "They can take as much as 50 or even 70 UAH from you!" Ok. Miscomprehensions began upon arrival at the hotel – they did not knew about any congress, no one had booked anything and there were no rooms. Here, to my great regret, I had to call the organizers, although at 5 in the morning this is not the most pleasant action for everyone. To my great joy, after half an hour everything was resolved and I settled in another hotel. It is very nice when the organizers are so caring and responsive)))
Further – a little sleep and Congress. The first day was held in Novaya Kakhovka itself and consisted of reports and workshops. And all this was based in the park and the recreation center "Fairytale Dubrava" with a zoo and a restaurant.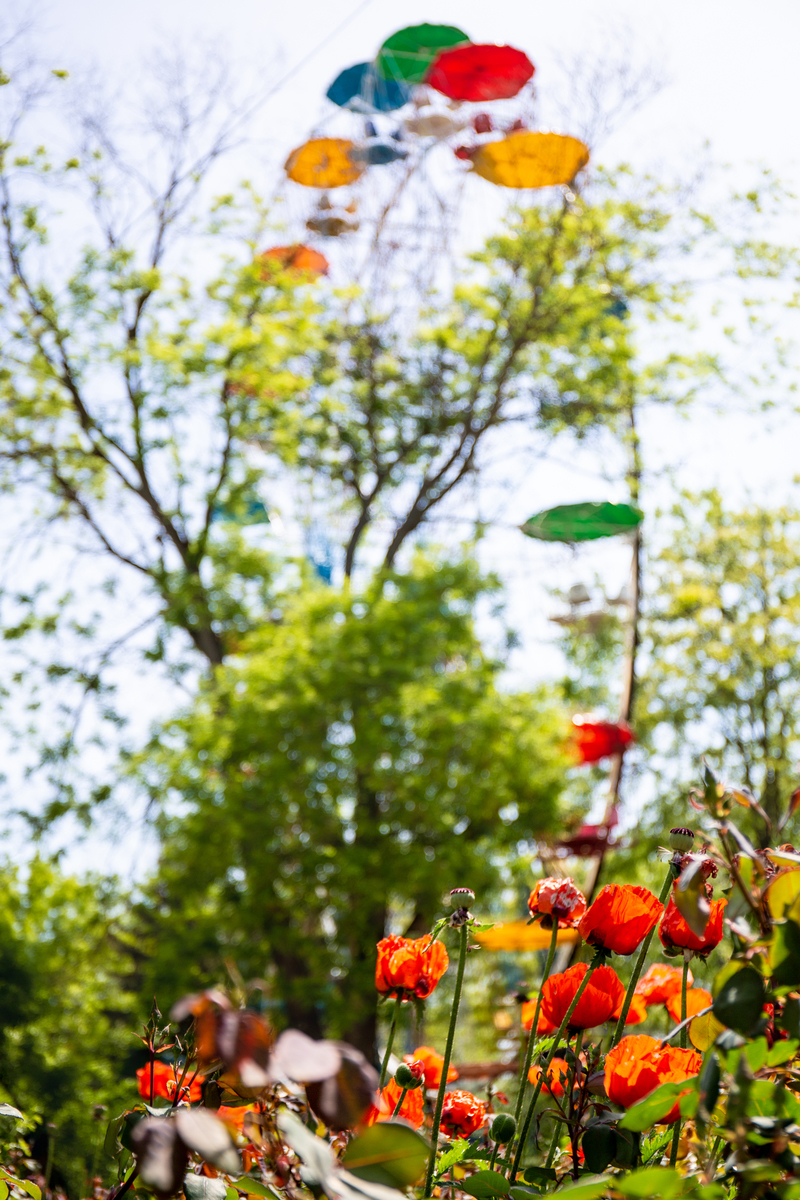 I listened with pleasure to lectures on marketing in tourism, on strategic planning, brand development and festivals organization. Besides that, I was glad to listen about the experience of creating a tourist city from Kamyanets-Podilsky. The former mayor was the one, who spoke. Brave and purposeful people. Last year I was there and I really liked the city.
The next early morning we were picked up by a bus and after breakfast we went to see the tourist sites of the Kherson region, which are considered worthy of attention or promising. Of those present, I was the only person representing independent travelers. All the rest in one way or another represented organized tourism or services for organized tourism.
Many locations were announced in the program. We started from the village of Grigorovka. We were met by the head of the Prisivash OTG and he conducted a tour of the village.
Catholic church to them. St. Nicholas / Gregory / George, Grigorovka, Kherson region.
Sergey Klischevsky (the head of the Prisivash OTG), with examples and with pleasure, told and showed how in a few years the village of Grigorovka improved its condition, became interesting for investors and tourists. He shared experience of the work done and plans.
Honestly, I am deeply impressed with their success.
This is what "sadybas" (guest houses where you can rent a room) look like now: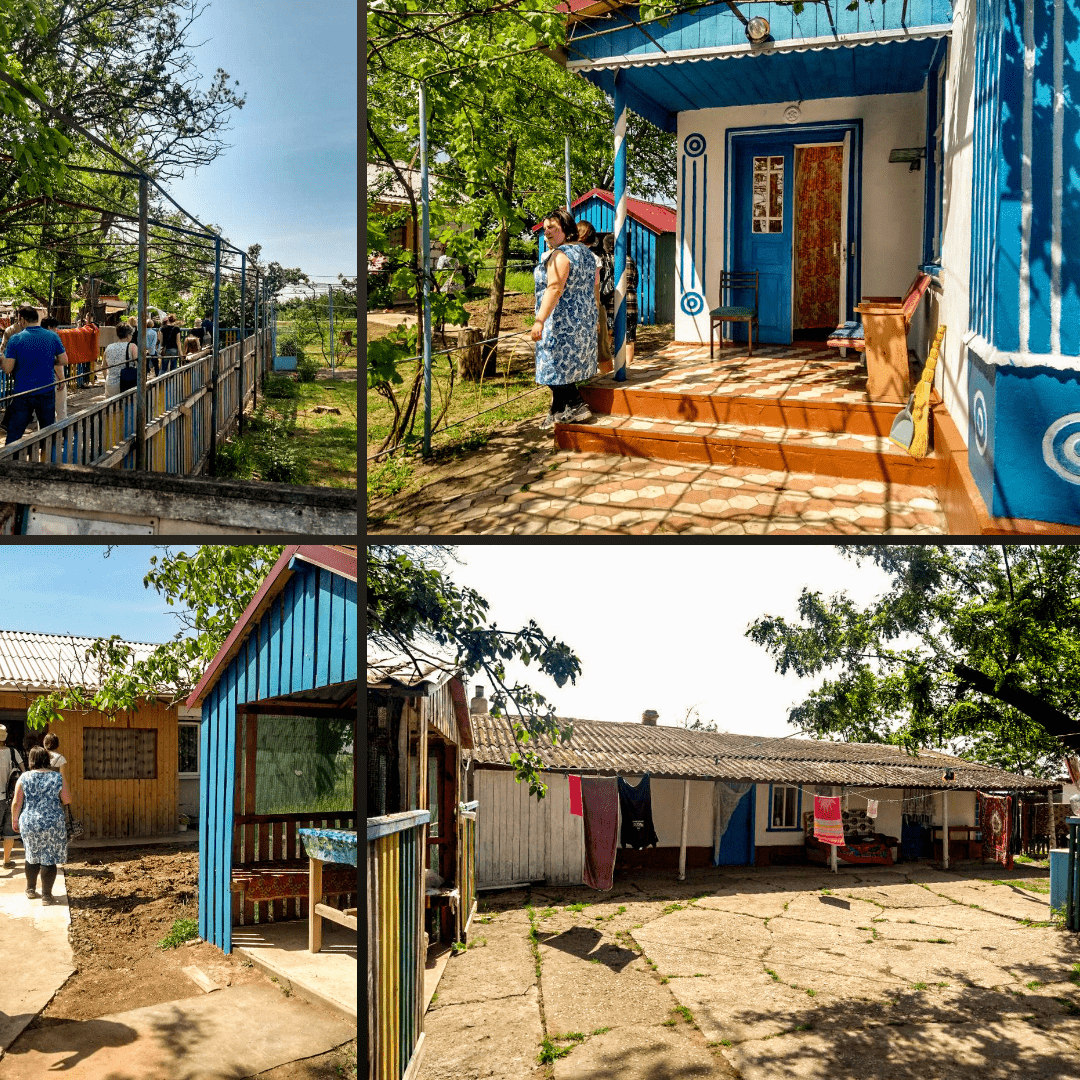 The next item on our program was a visit to my beloved Lemurian Lake. And I've finally solved the riddle about the pit and the fallen plane. It turns out that the talks are about a real pit – about 20-40 meters in diameter on the shore of the lake itself.

Such a ladder in a healing puddle
Near the magic puddle there are showers with clean water and awnings during the tourist season – these are the only spots of shade in the area. A symbolic fee is taken for a shower.
In addition, those same magic salt and mud are sold at the box office. And hospitable hosts are happy to tell stories of magical healings and treatment regimens.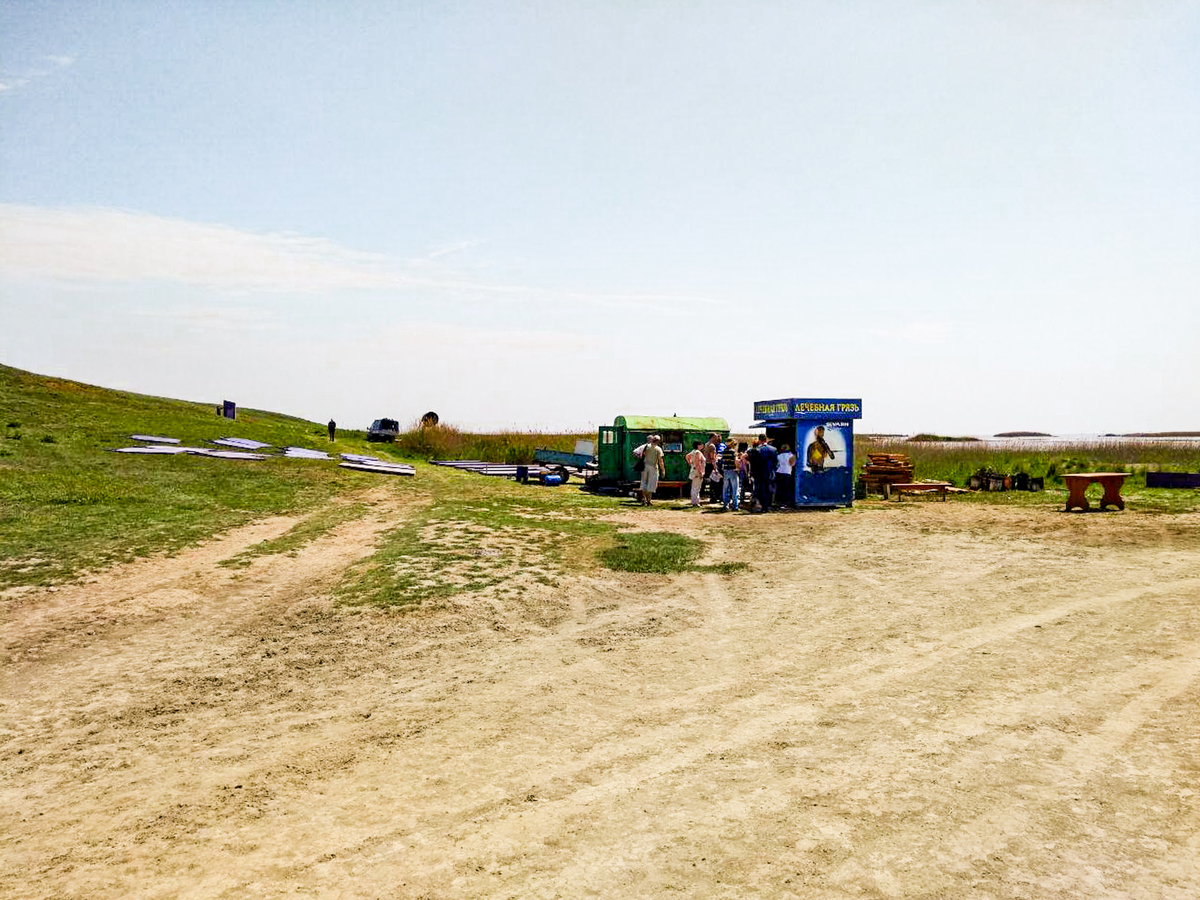 This is a point of reception for visitors – a cabin with a cashier and consultant. And the laid out lilac boards are future sunshades.
It is impossible to just stand in one place and not wander around, not to look at the flowering steppe and long rows of huge wind farms.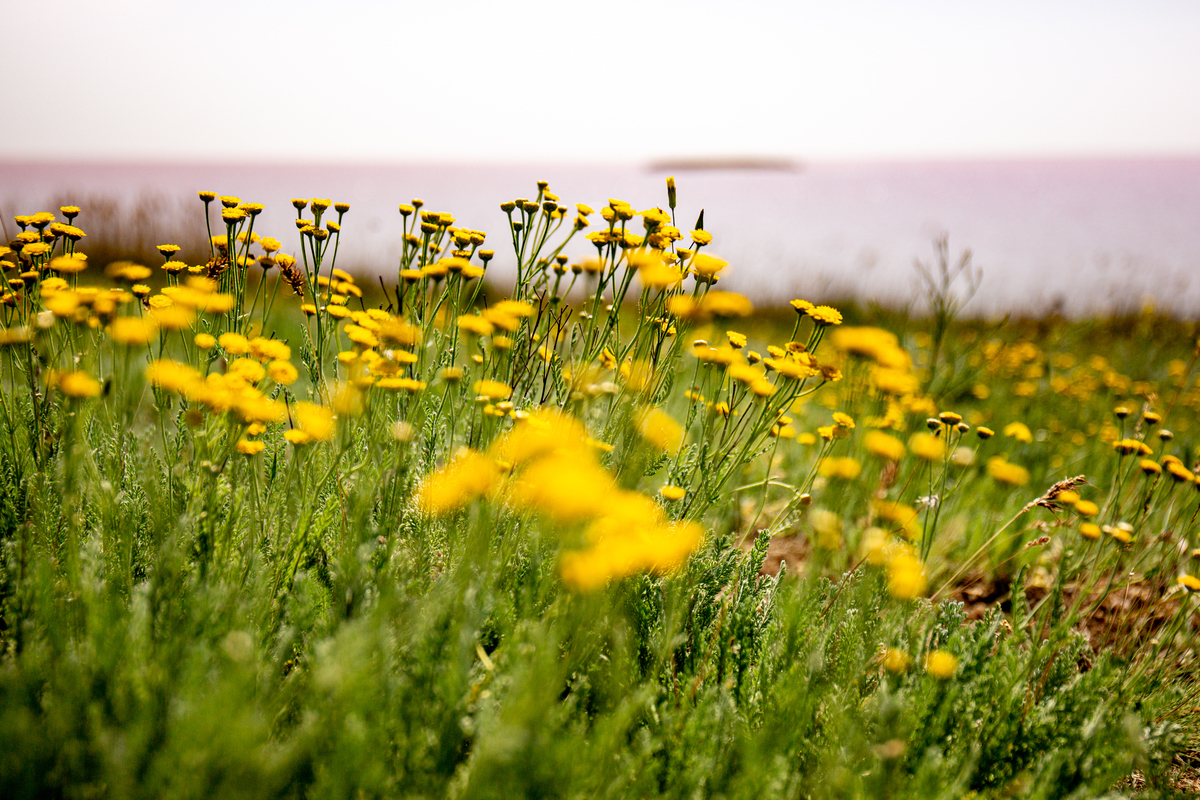 The end of spring – the steppe has not yet burned out and is blooming!
But time is running out and we need to move further. And the sun fries more and more. It's so good that I was smart to take not only summer clothes, but also a hat. It was cold in Kharkov when I started, and the forecast did not promise + 29 ° C in the shade … Legs, though were again burnt by the sandal spots, but not as bad as last year.
The next item of our program is Tourist-Fest in в Askania-Nova. It was organized in honor of the opening of the tourist season and at the same time is dedicated to the 100th anniversary of the "Askania-Nova" Nature Reserve.
At first, the representatives of the Prisivash OTG fed us with a "yushka" and a kulesh. "Yushka" is a fish soup. I hate it. Absolutely. And the kulesh was for supper. But in this situation, everything was easier for me – I went for a walk around the festival. And there was a food court at the festival. The festival itself became a place for children – a large number of children dressed in sports team clothes walked around the territory. And behind the hill a stadium with even more small athletes was discovered.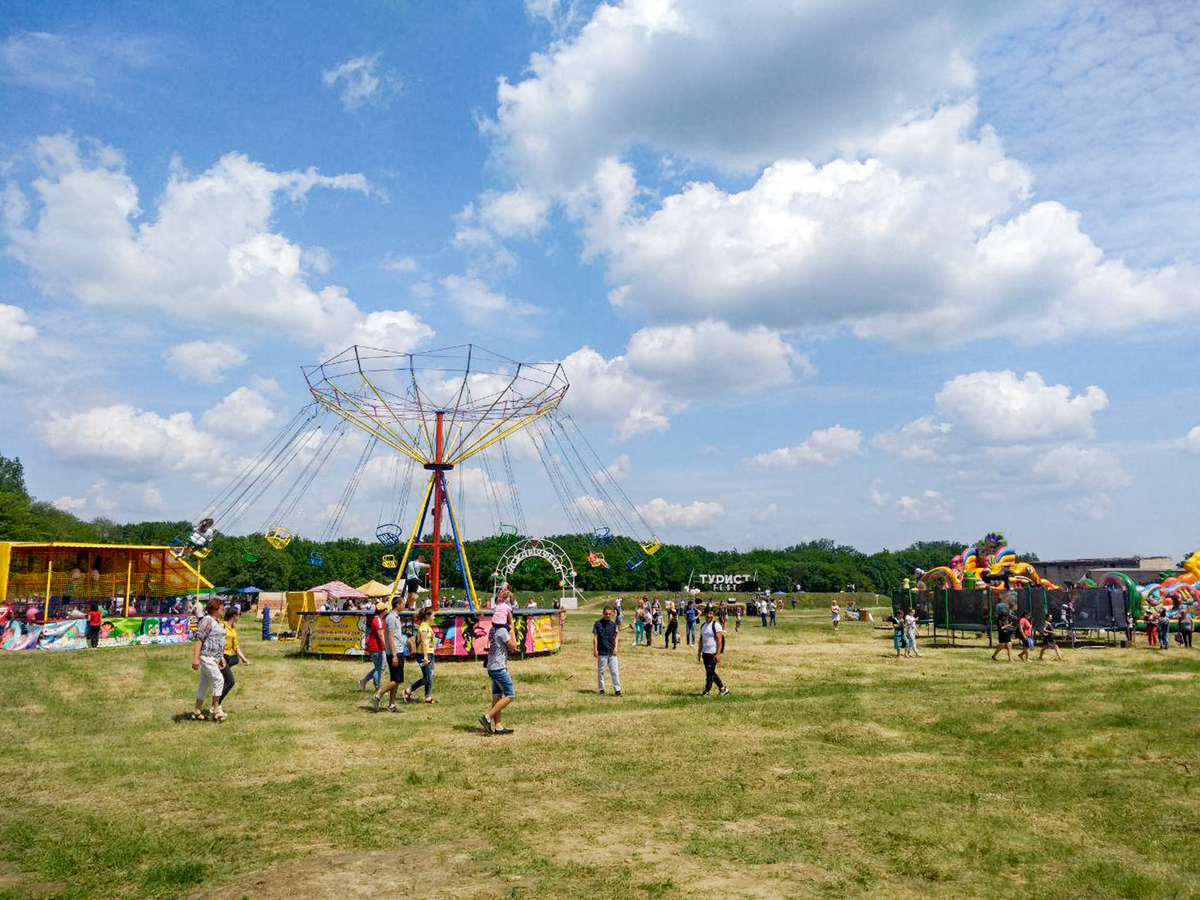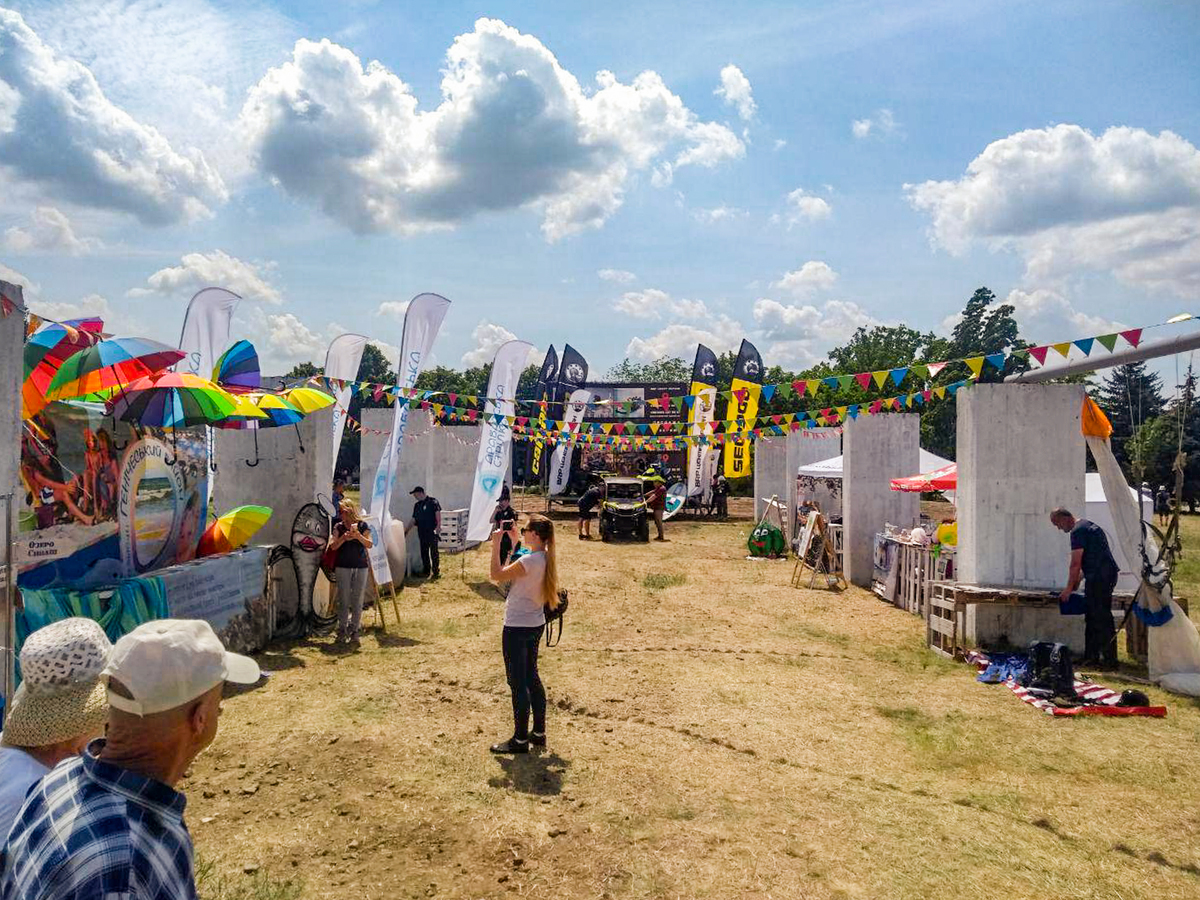 A number of stands about tourist opportunities or companies in this region (for example, a company offering kayaking trips). Next line is a row with souvenirs, then a row with food and a few carousels / attractions. Well, and two scenes. That's the whole festival.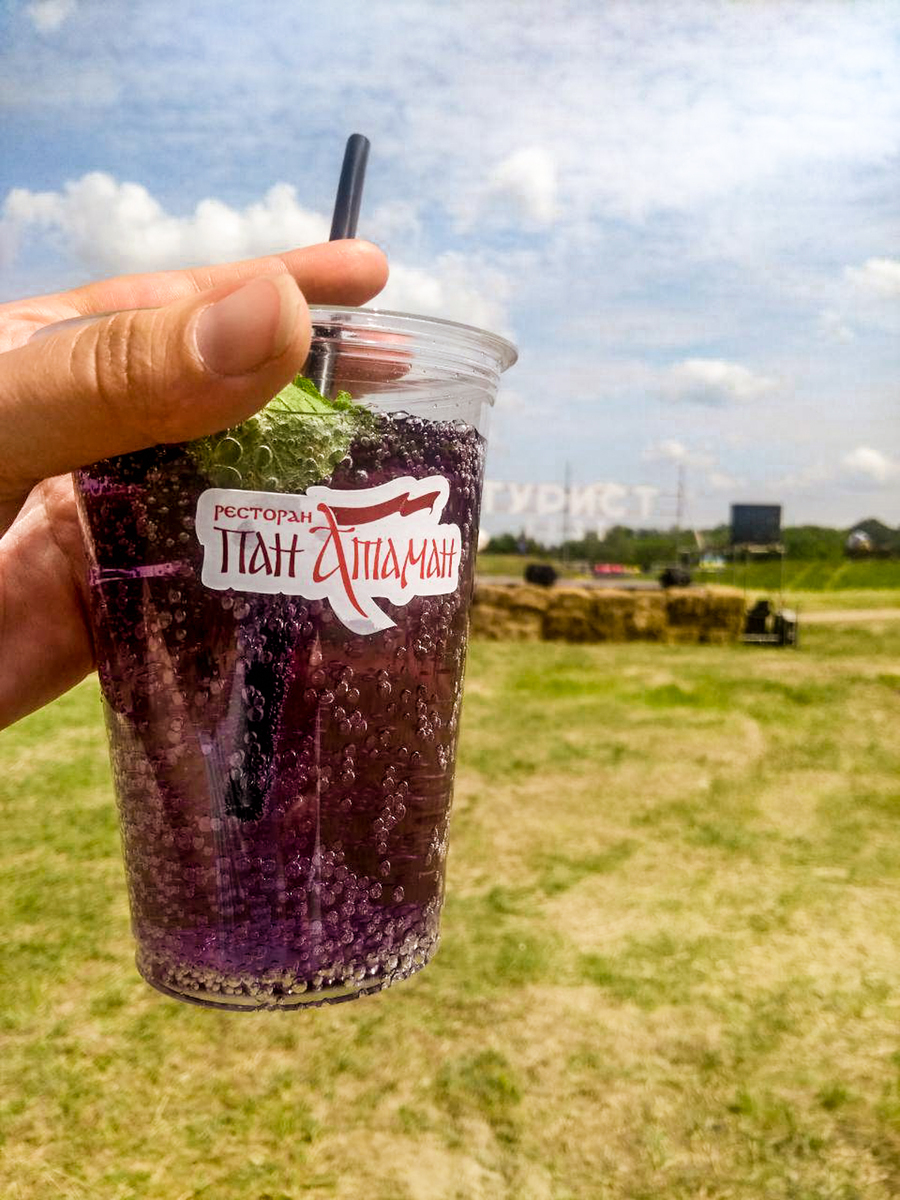 I decided to try violet lemonade. Another chemical sweetness. It's a pity.
Further our path lay along the Askanian steppes to Tavrichanka village.
While we were driving along Askania Nova, we met a herd of red deer. We stop, exit: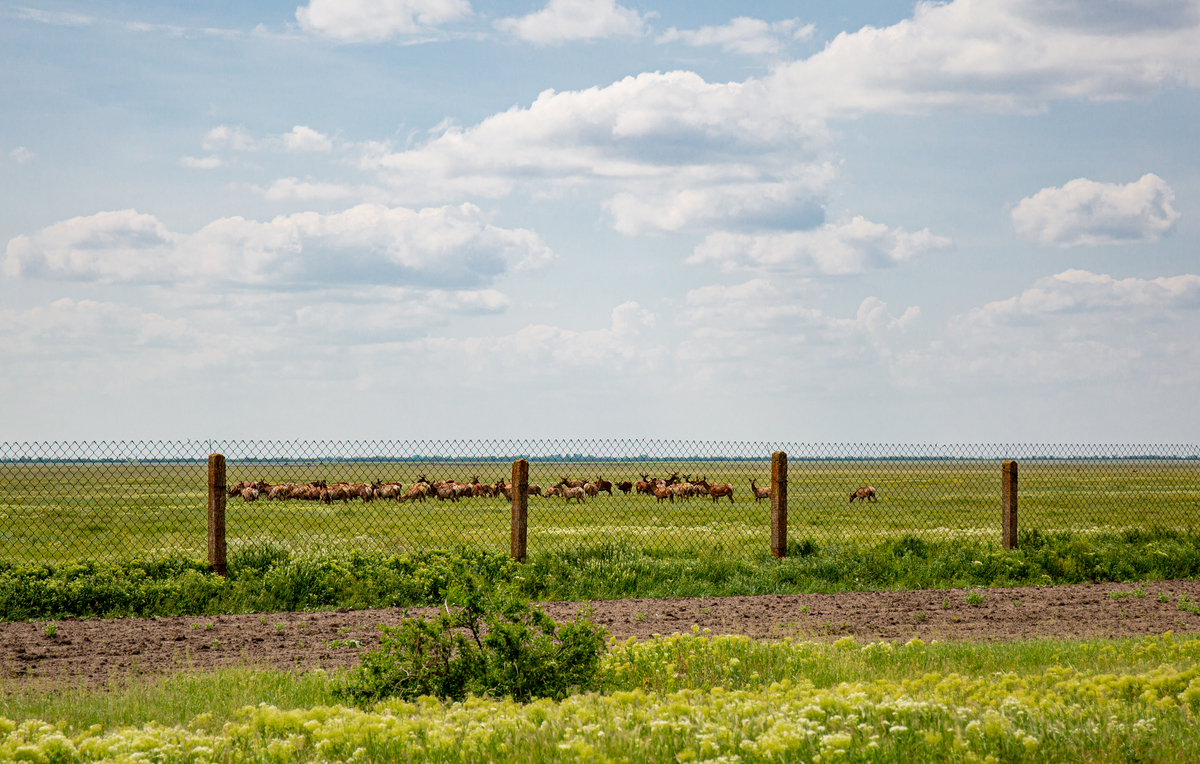 "You don't need to take to mind, that deer are so unpresentable – they have a molt now." Good)) Along the way, we listen to interesting stories about the fact that the Chinese have an economy near Askania-Nova. They raise animals there to restore native populations. And this year they had sadness with saigas. Of the 20 individuals, only two males were. So, stupid owners allowe skirmishes between between them for the females. So, two handsome males could not divide 18 females between them. Bottom line – both died. Now saigas are not being sold to them, because they do not know how to care for them.
We got to Tavrichanka. There are a lot of interesting things here. Hero of Ukraine Vera Afanasyevna Naydenova lived and worked in this village until her death. In particular, thanks to her, herds of Ukrainian merino sheep (Askanian fine-fleece) and zebu were saved. And the villagers very warmly remember her because she made the village of Tavrichanka comfortable, modern and successful. New kindergarten, school, medical center, cultural center and much more. The standard of living in the village is very high.
First we drive to the horse farm. The horses of the Ukrainian pockmarked breed are kind, peaceful and calm. As I understand it, this is more of an equestrian club. Someone granted horses to them once, and now they are mainly occupied with children or tourists riding here.
From here we went to a local cafe. They treated us to Ukrainian marble meat. It was a zebu steak. They don't sell and cook meat in bulk – only on order for some guests. In general, we were told a lot about zebu. What type of good fat milk they have, how wild and squabble they are – no one milks them. This is a herd to preserve the breed.
In general, around the protected steppes of Askania-Nova (if I remember correctly – 100 km) it is not allower to use agricultural chemistry and not only it. Therefore, almost all farms in the region calmly pass certification for the "eco" prefix to their products. And not only in Ukraine. In particular, dairy products from Tavrichanka are recommended for baby food because of their purity.
There is a very beautiful young park in the center of the village. It is named after Vera Naydenova as a sign of love for her from villagers. The park is very beautiful and interesting.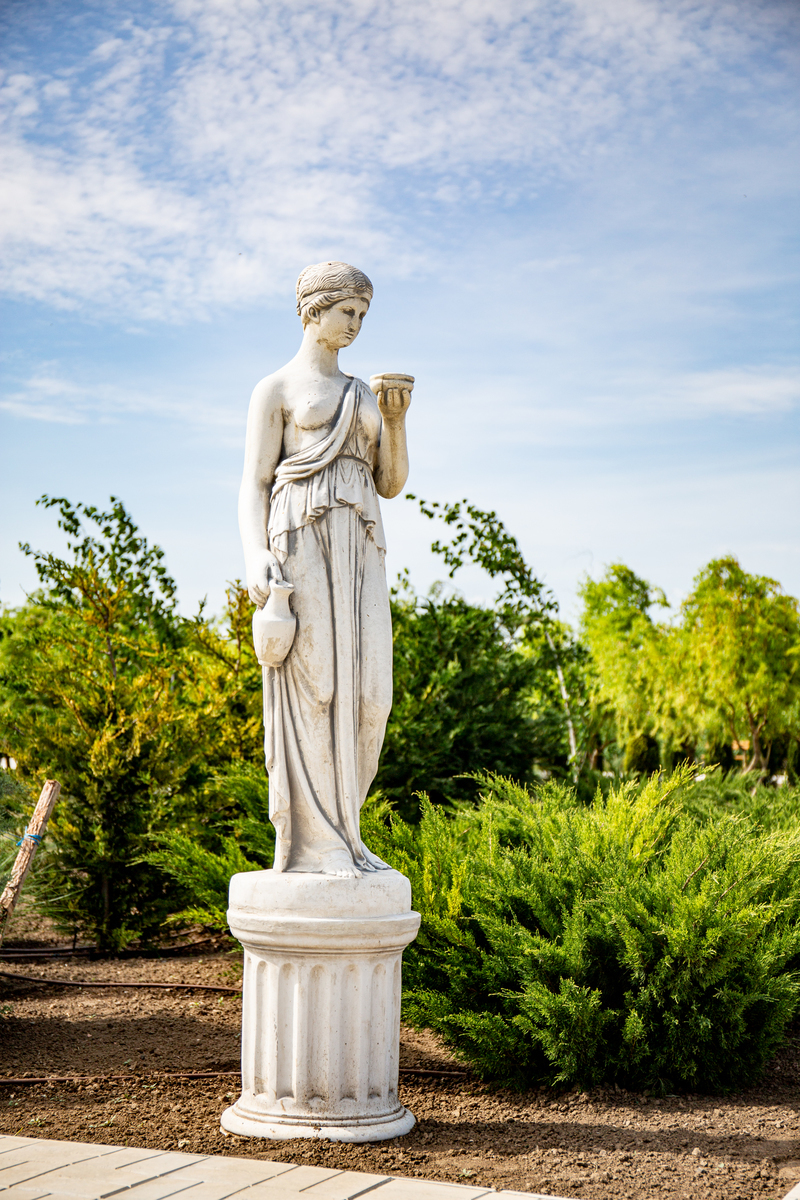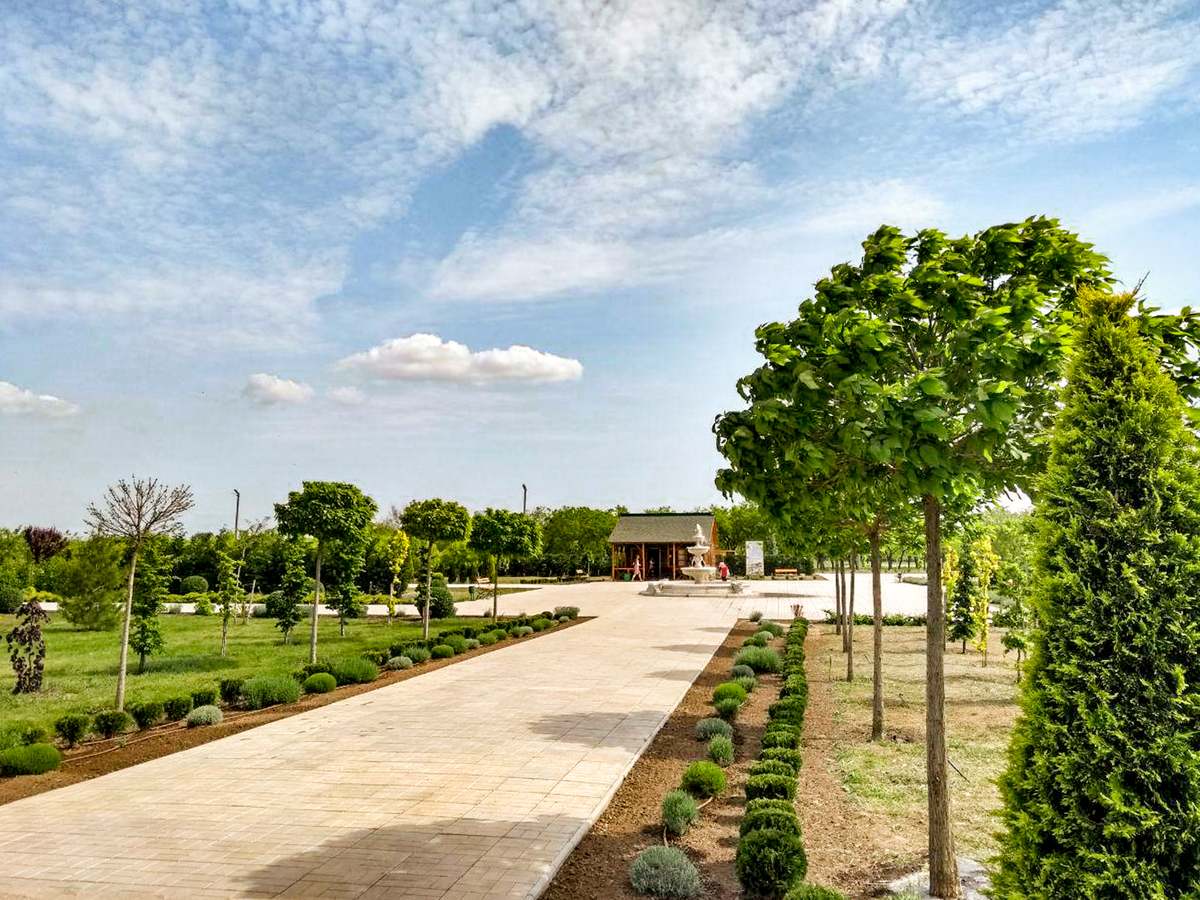 Right next to the entrance on the central avenue stnads a clean beautiful fountain.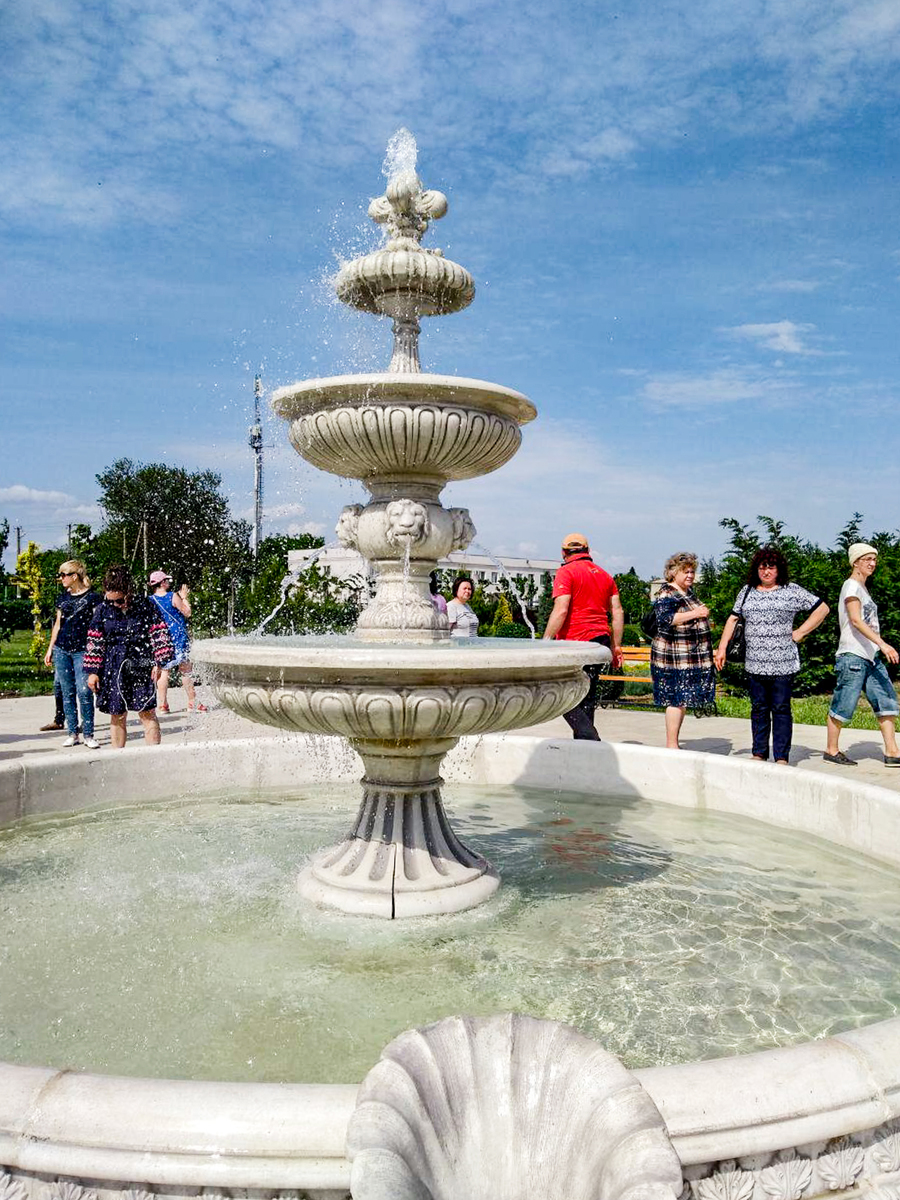 Personally, I was very glad for that – it is incredibly nice to wet your hands and face – in such a heat!
Well, then we went to the village of Maryanovka. There is a very technological and modern goat farm. True, the tasting of the cheeses did not work, and even that look through the glass on the process, too. "Everything will start to work in 2 weeks." Wonderful – a cute little park near the entrance and pizzeria was definitely worth it in the heat of the old bus. (Sarcasm.)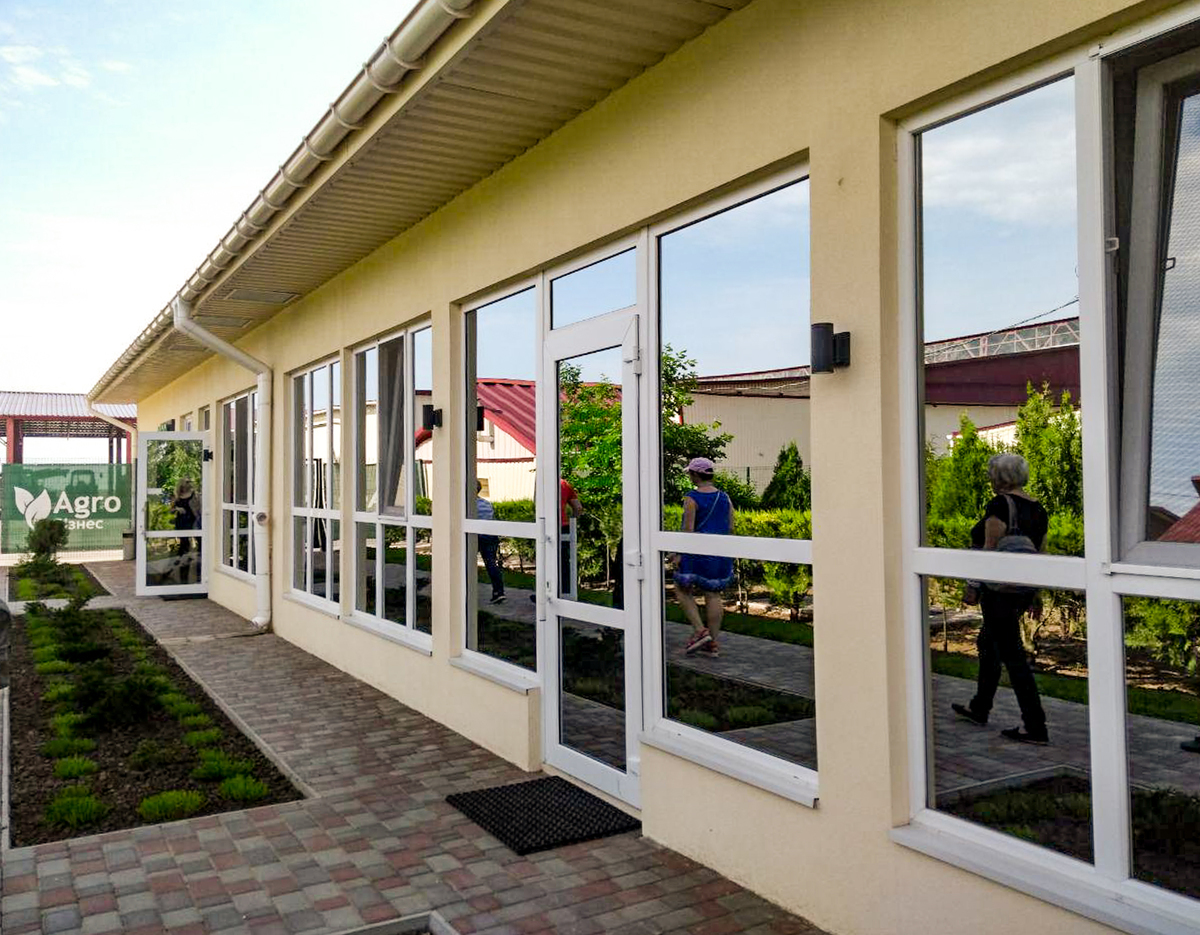 Then we arrived in the village of Vesyoloye. There is a winery of Prince Trubetskoy. A guide meets us and we moved in measuredly, looking at the manicured lawns and listening to the history of this wonderful place.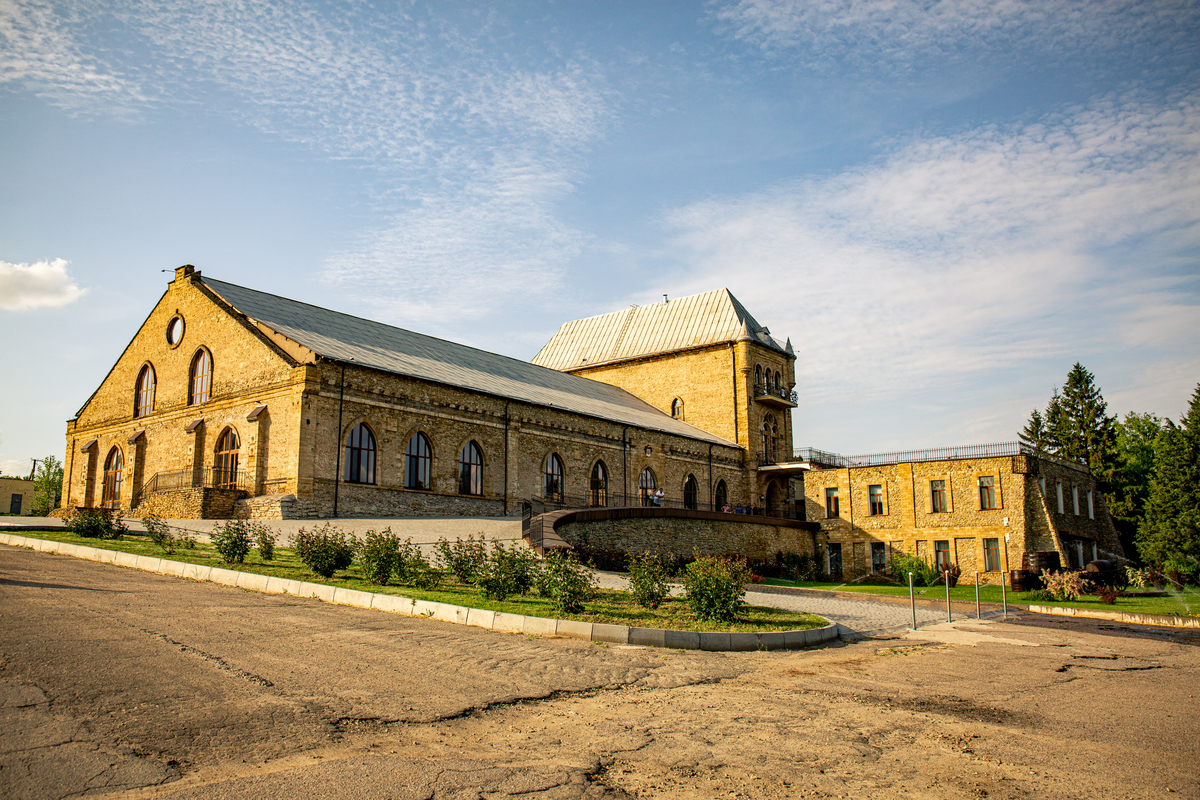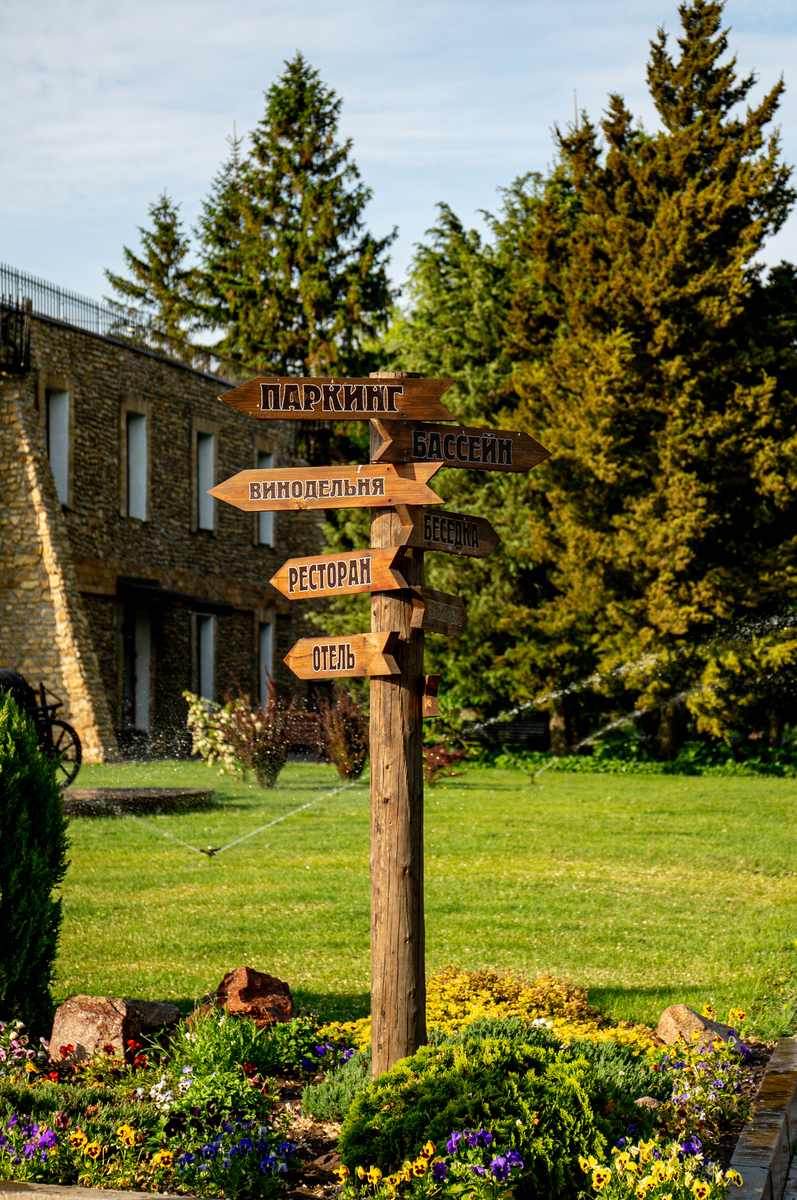 When we get to the point where the excursion begins, it turns out that the light turned off on the farm)))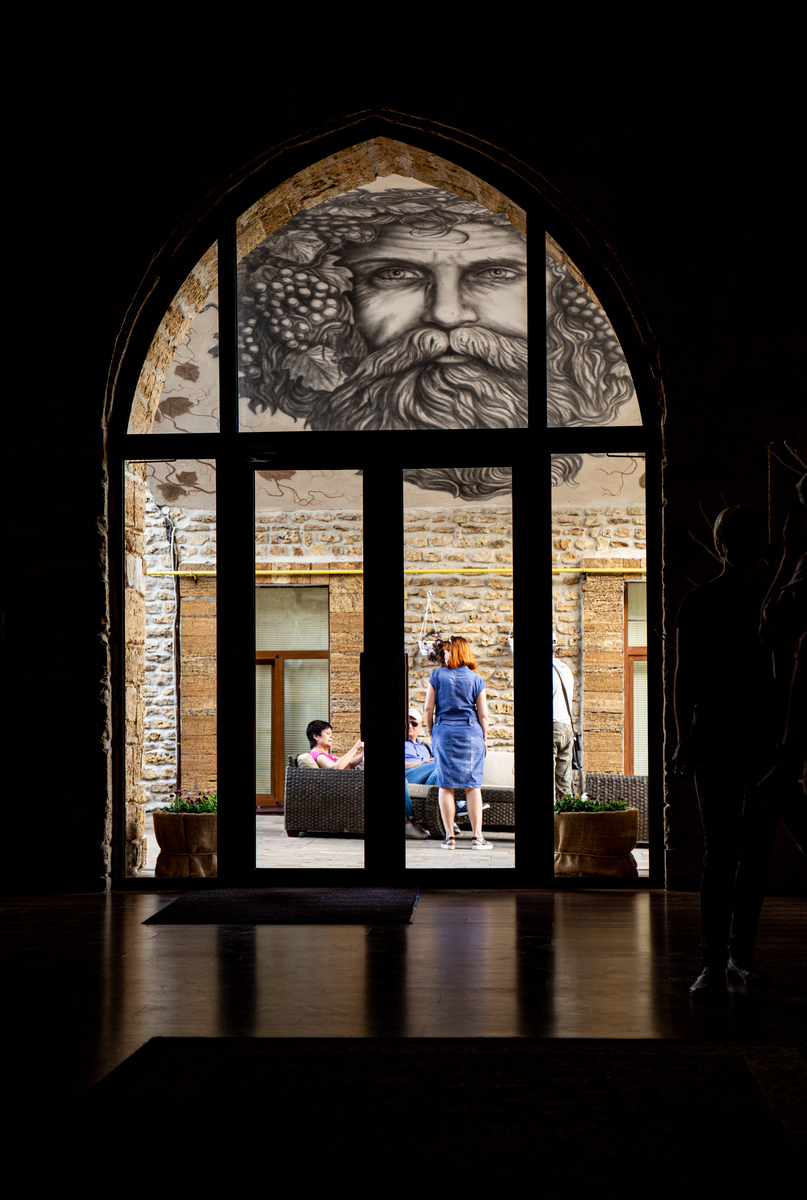 Well, a guided tour through the wine cellars by candlelight is very nice)) We go through the hals one by one, the guide tells us in a very exciting and inspired voice about the prince, his passion for wines, about barrels and bottles, wine varieties and each pantry.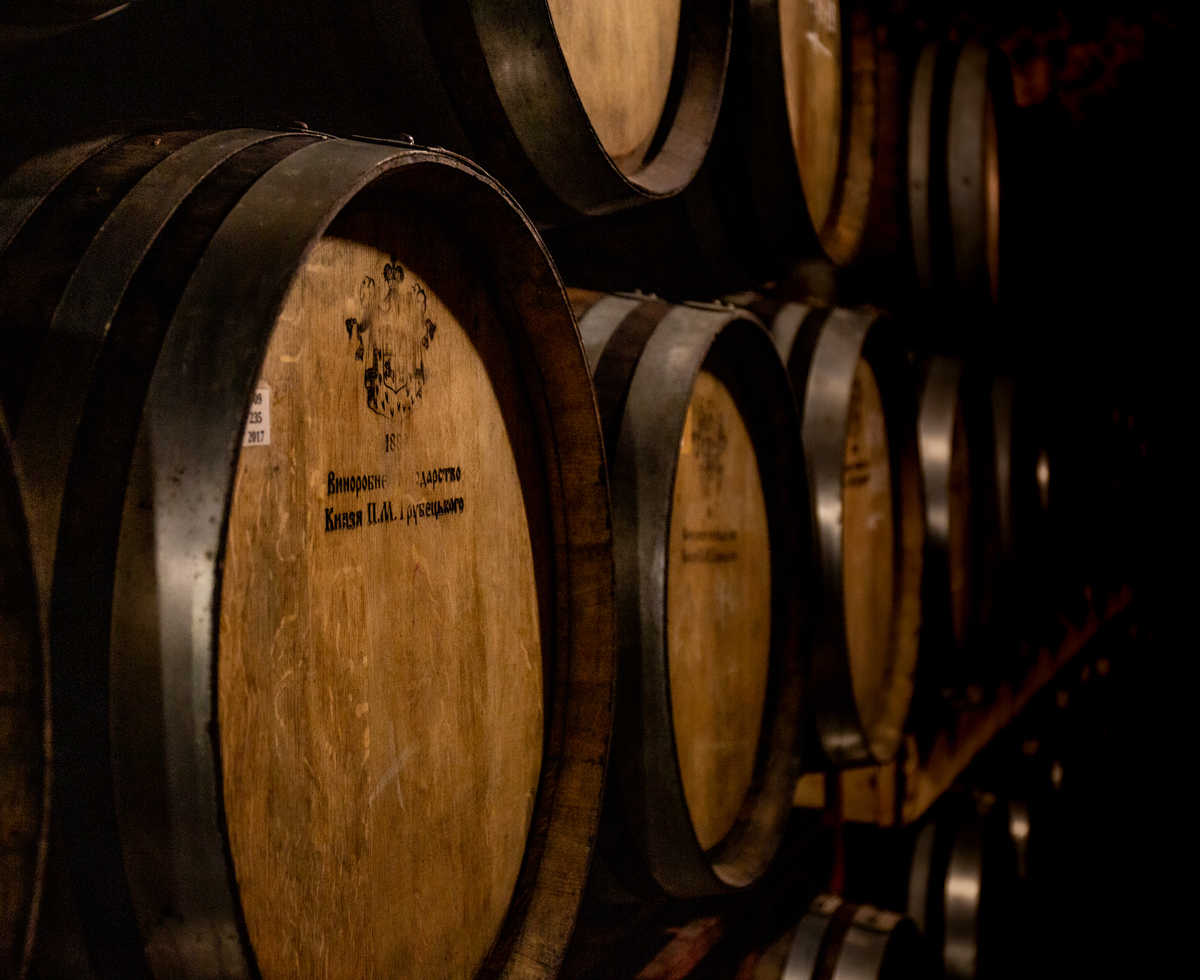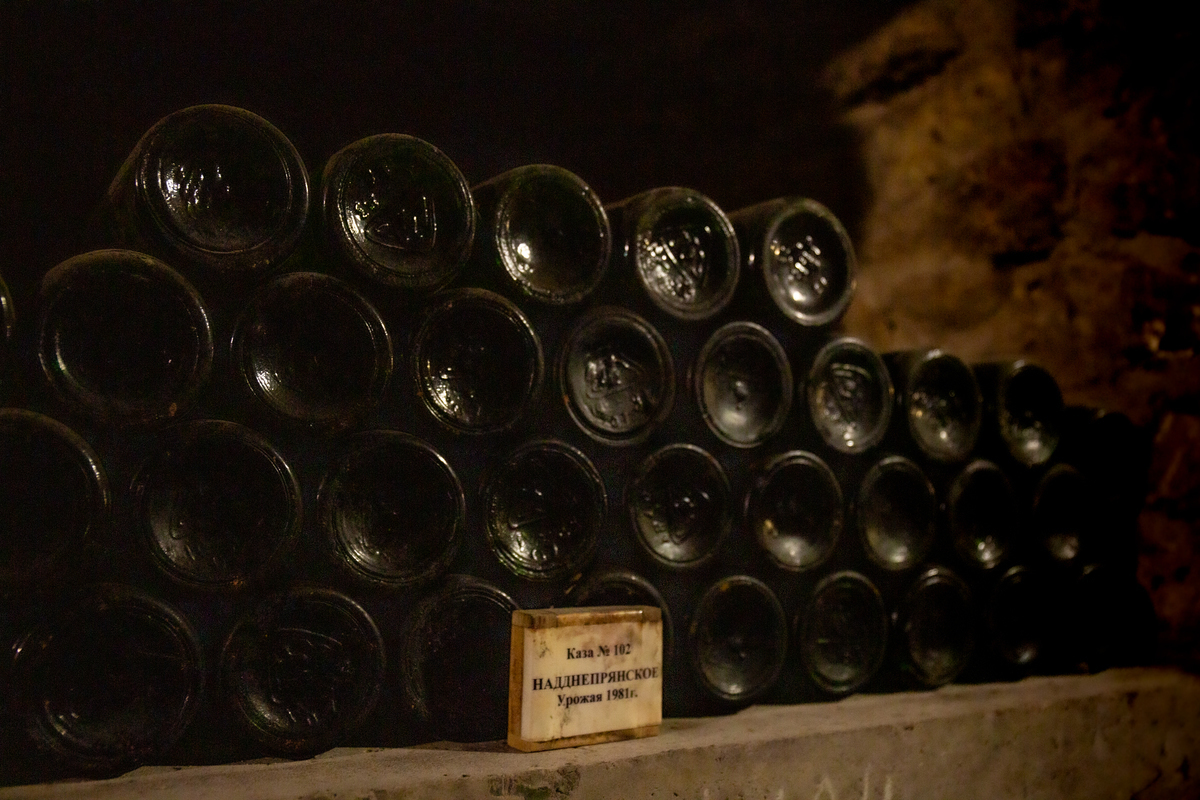 At the moment when we were moving from the cellars to the ground level, the light turned on. We managed to freeze a little and happily went to the garden, where a tasting table was laid. All day we searched for coolness, and now went to the sun by our own wish))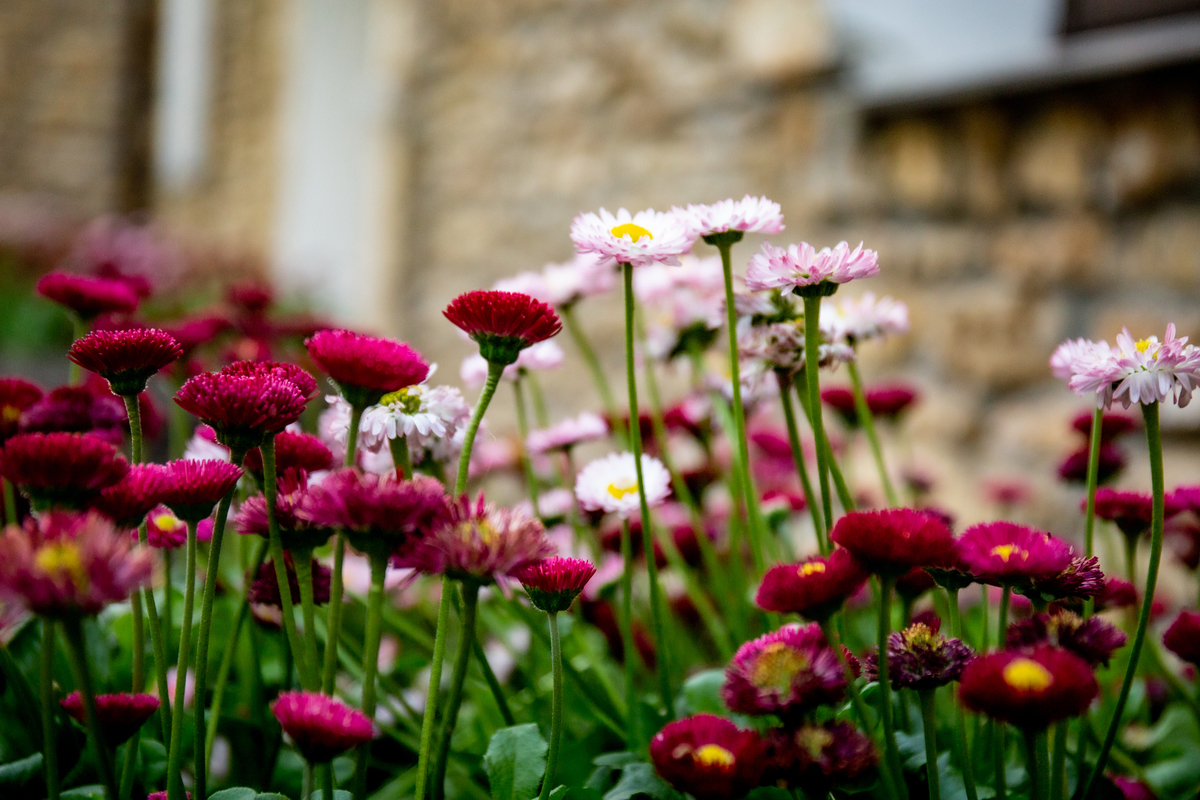 I really liked their young wines, which we were offered to try.
And so we turn towards Novaya Kakhovka.
I had never heard or read about the embankment of Novaya Kakhovka before. It turns out that it is all filled with springs. "The city of a thousand springs." You walk along the promenade, and springs with delicious water appears every few meters. Some of them are filling public baths: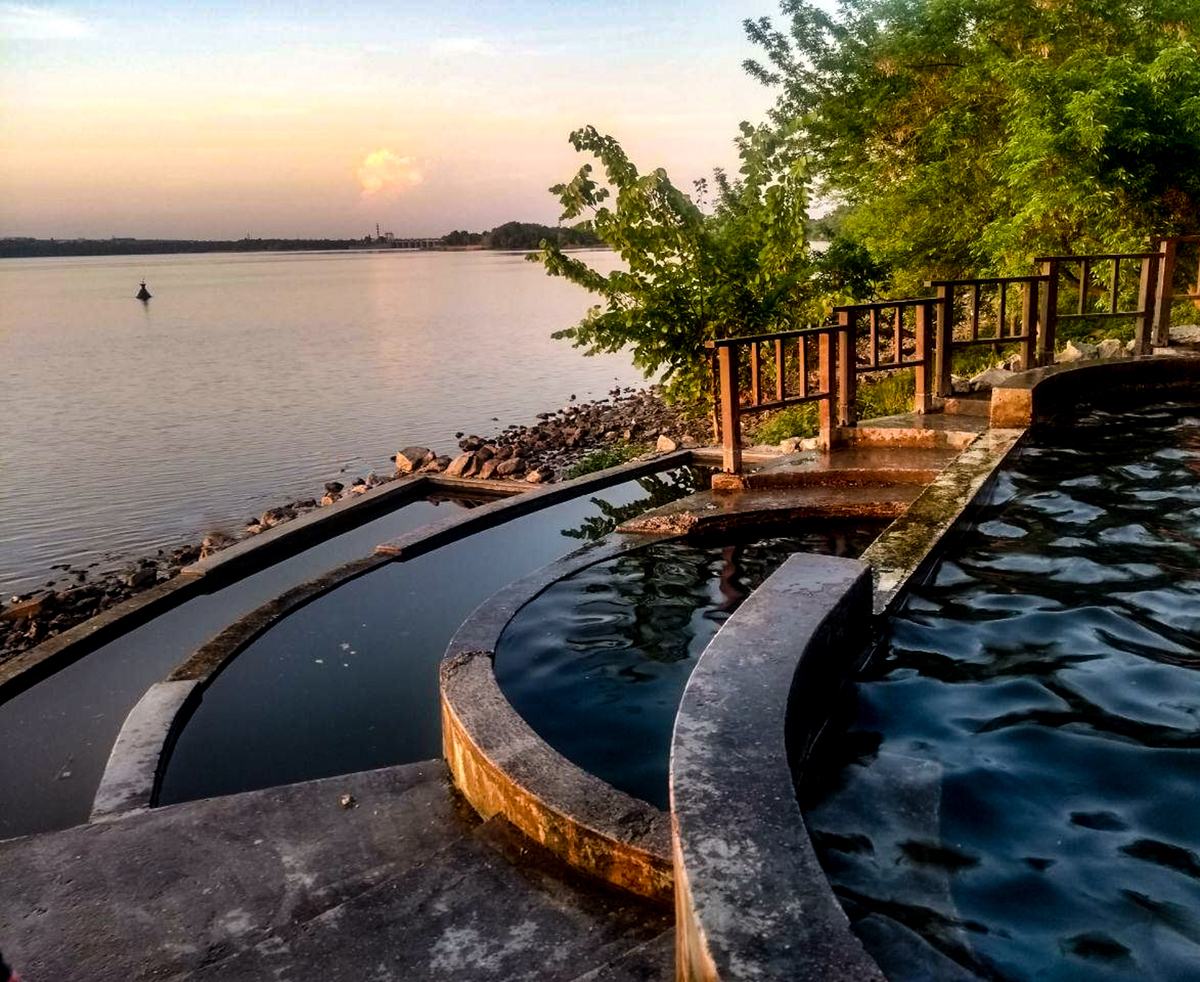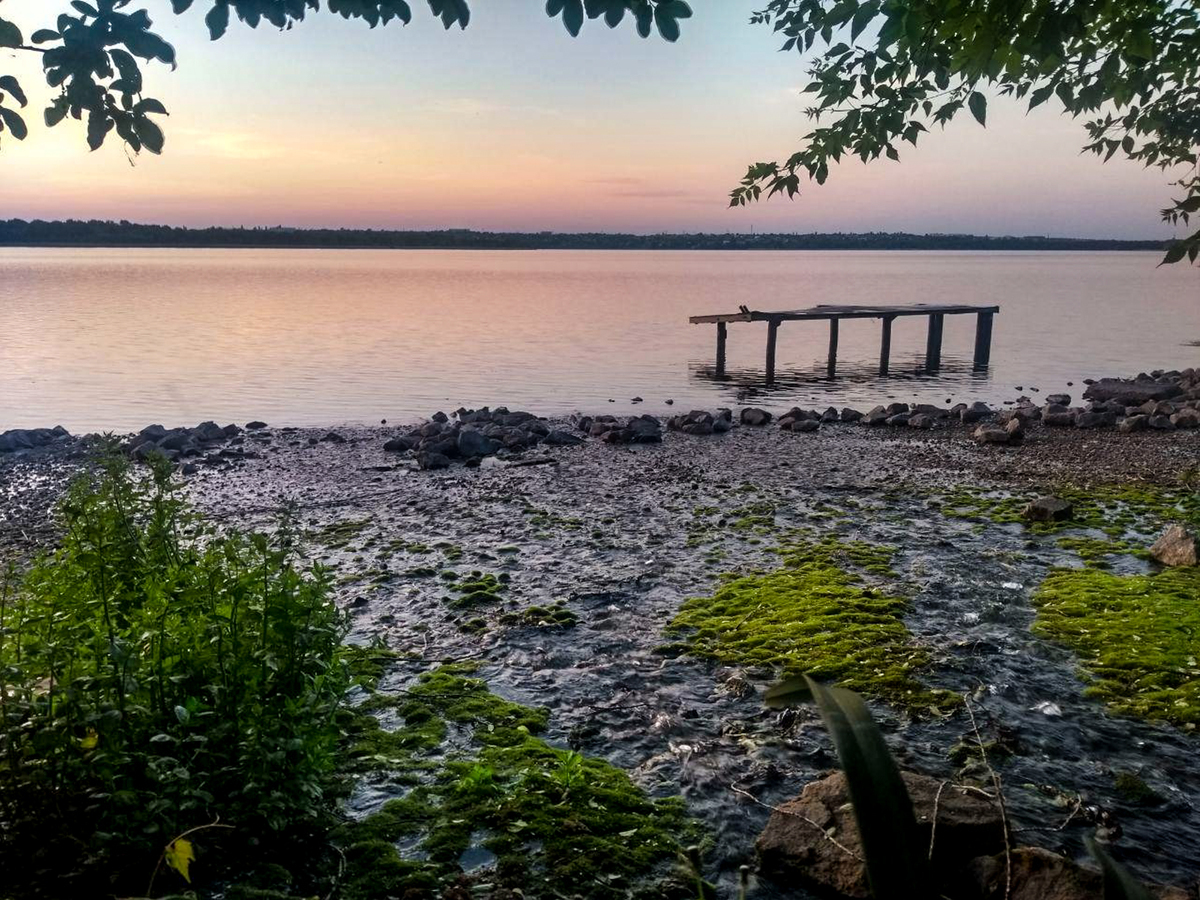 And the people there are bathing with pleasure. Some springs are filling the baths in hotels or restaurants.
And it just beautiful there in the evening: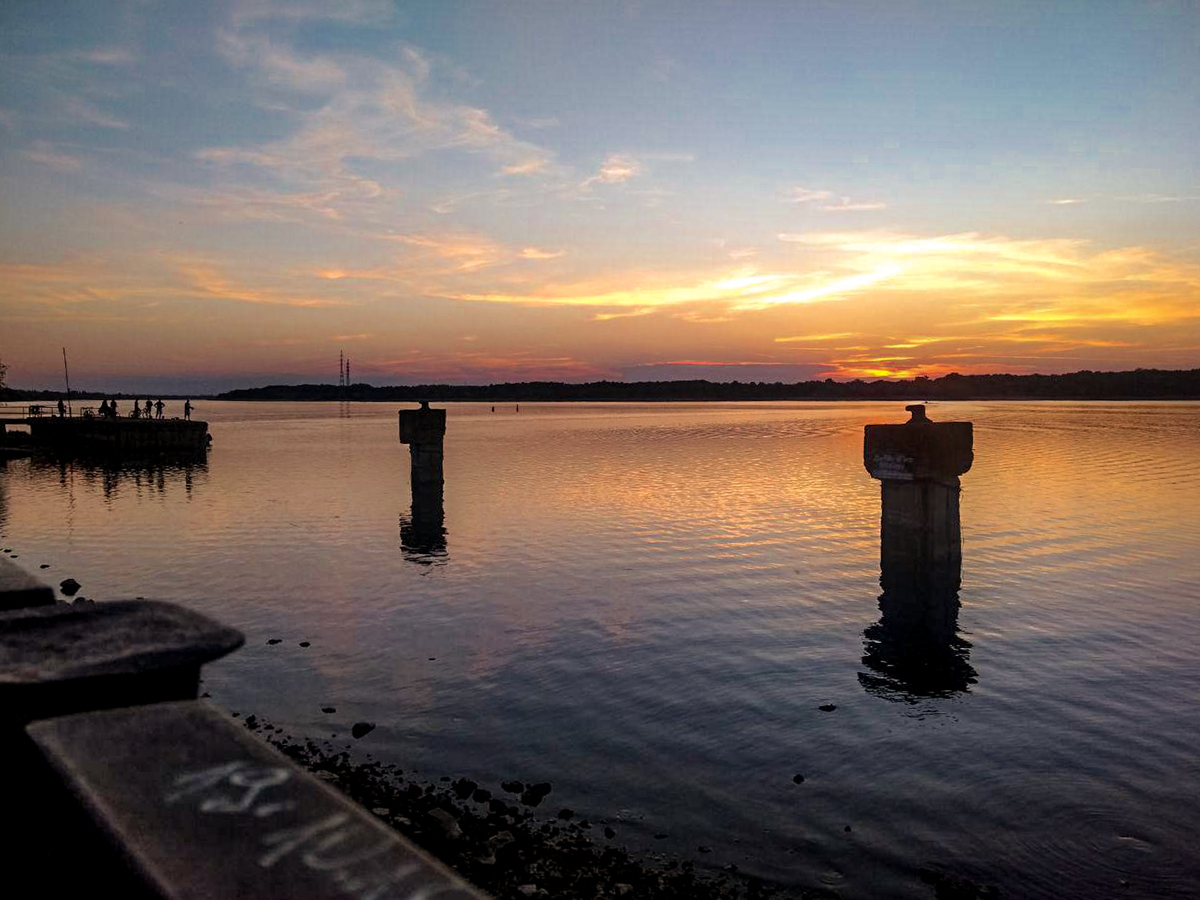 At the end of the road, dinner was waiting for us in the interesting "Shabo" restaurant. It has one half made in Asian style, and the second in European.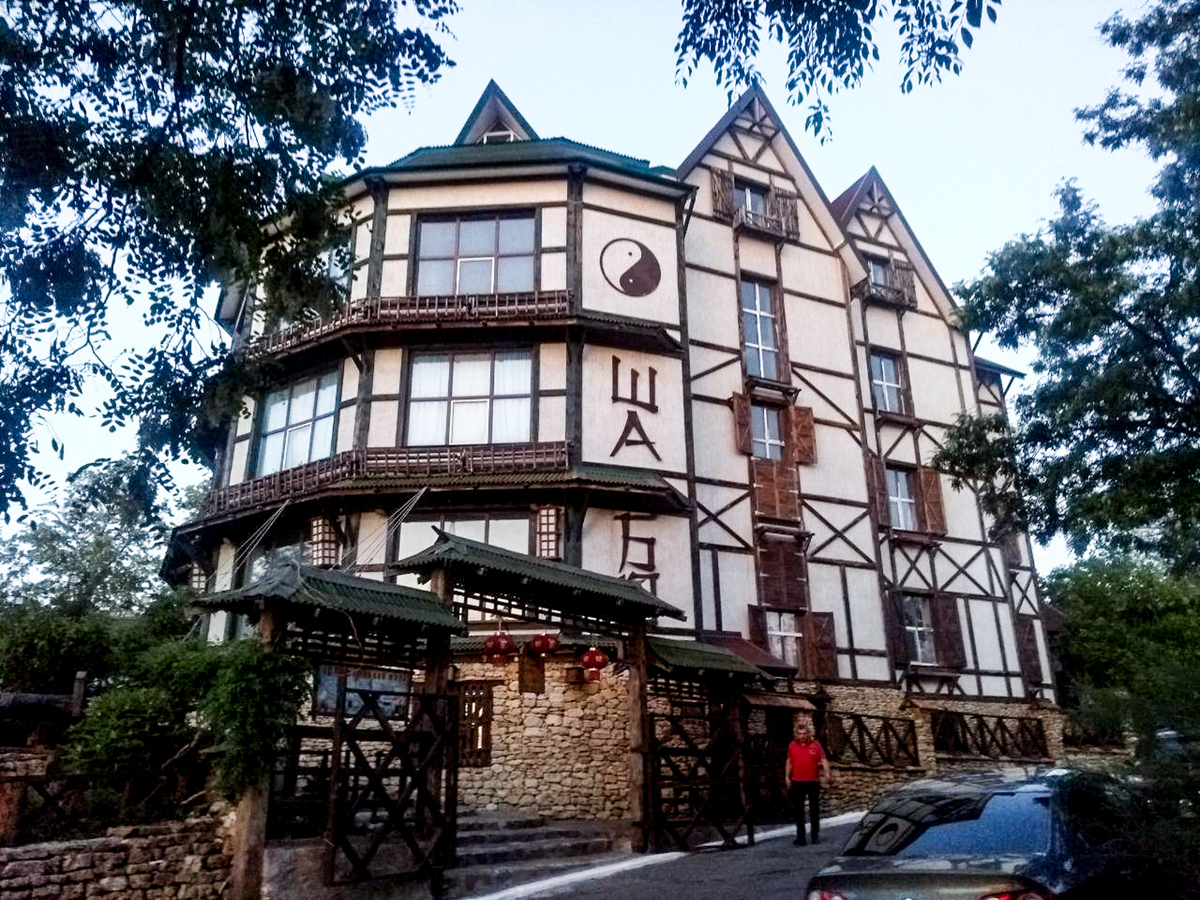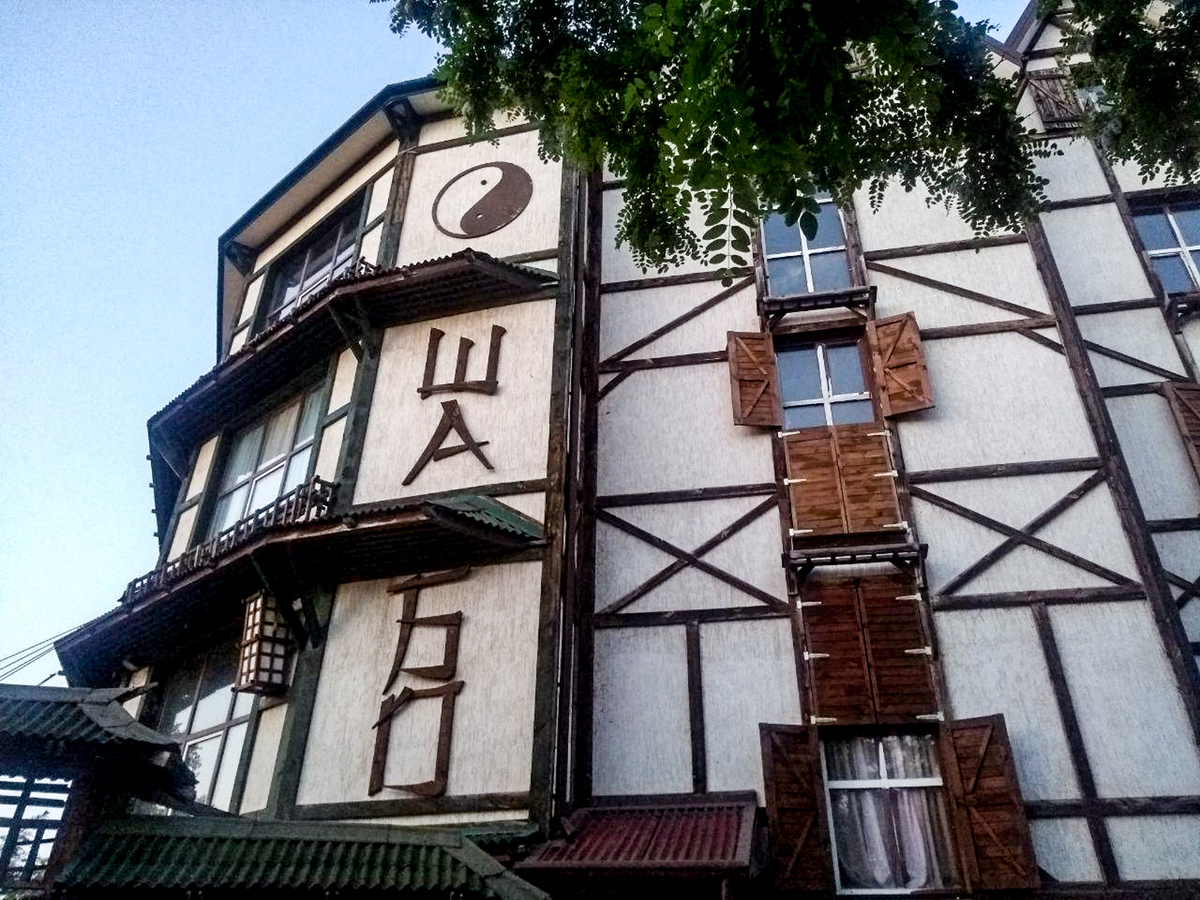 I don't know if they have Asian and European cuisine on the menu, but what we ate was absolutely ordinary food and quite nice.
Well, then – a sweet sleep before the race of the second day)))
The second part of this adventure.