Europe Car Trip. Part 2 – Venice
We had to drive about 700 km – we had booked apartment in Mestre.
Of course, driving 700 km on European roads is a pleasure. And especially on the autobahns. Yes, they are paid – we preoccupied ourselves with travel stamps of the Czech Republic and Austria. They can be bought at gas stations. Moreover, at the entrance to a neighboring country this trick will not work – there are no booths, barriers – nothing. But the police can meet and ask where the stamp is)) Therefore, we refuel before entering Austria in the Czech Republic and take the stamp.
Interestingly, there are a lot of casinos near the border with Austria in the Czech Republic. In Austria, they are banned and so Czechs contrived)) And then the casino ends and the inscriptions in German begins.
Of course, it's nice to drive along the autobahns – two or three lanes on each side of a beautiful smooth road, large interchanges, tracks are mostly fenced with a high fence, tunnels under the mountains – no need to climb and go down the serpentines. An incredible amount of work has been invested in all this!
You won't be able to tell anything particularly remarkable about the road – you are just driving, looking at the mountains, plains, castles. The temperature gradually changes – the closer to Venice, the warmer (excluding the mountain passes, of course). We took the TomTom navigator with us. The maps are accurate, traffic conditions are displayed quickly and confidently.
Already at the entrance to Venice (we had 70 kilometers left), the phrase "Oh.. something fell to my feet and hangs around.. near the clutch pedal" sounds in the car.. hmm. The car goes further, the brakes work, everything seems to be in order.. It was decided to go further – if possible until the end of today's route. We arrived without incident and already near the place of residence we found out that it was a clutch pedal button. But along the way we got a little scared. We spent some more time searching for our address. So – already around 9 pm we said goodbye to the owner of the rented apartment and sat down to have a supper. I must say that in addition to paying for housing, owners immediately collect a tourist tax. For 3 nights we paid either 3 or 5 euros per person – I don't remember now. The lady wrote us a receipt – she pays a tourist fee once a month for everyone who rented her apartment. Everything is strictly)) The amount of the fee depends on the class of the hotel.
It was very interesting to be in this area – the houses are all colorful, but not very bright, there are greenery around (apparently cold-resistant). The windows are all closed with either dark green or wooden shutters. You walk yourself along the street in the morning – local seniors drink morning wine with a newspaper or having a conversation. Right on the street – near a cafe or just on a bench. And yes, the stereotype that Italians are noisy and talkative turned out to be somewhat exaggerated, although plausible. At least in Venice.
To get to the island of Venice, you need to ride a tram. Well or you can drive to the end of the bridge on the same island and look for a parking space, since in the historical part of the city it is not even allowed to ride a bicycle. Only water transport or on foot.
Two routes run from Mestre to island Venice. But we didn't care which one to take, as they both passed by our overnight place. To travel by tram, you need to either buy tickets or travel tickets (Venetian pass). We bought travel cards for two days – it is much cheaper. We asked the hostess of our apartment where to get them and went at her direction to a regular store near the bus stop. All trams come to the island part to one terminal, there they turn around and go back.
We decided to take a ride in the direction of the Doge's Palace on the sea tram "vaporetto" (vaporetti). We did not immediately figure out where to start. The tram pier is easy to find if you first find a bridge, then go over it and spin a little in place))
Vaporetta No. 2 leaves from the terminal ""D", and No. 1 leaves from the far pier. They run at intervals of about 30 minutes (each number is at different time), on the piers there are digital displays indicating the number of the tram and the time of arrival. Both of these route number starts from the Ferrovia station (this is a stop near the ground tram ring and parking lot and go to St. Mark's Square, Doge's Palace. The stop is called the "San Marco".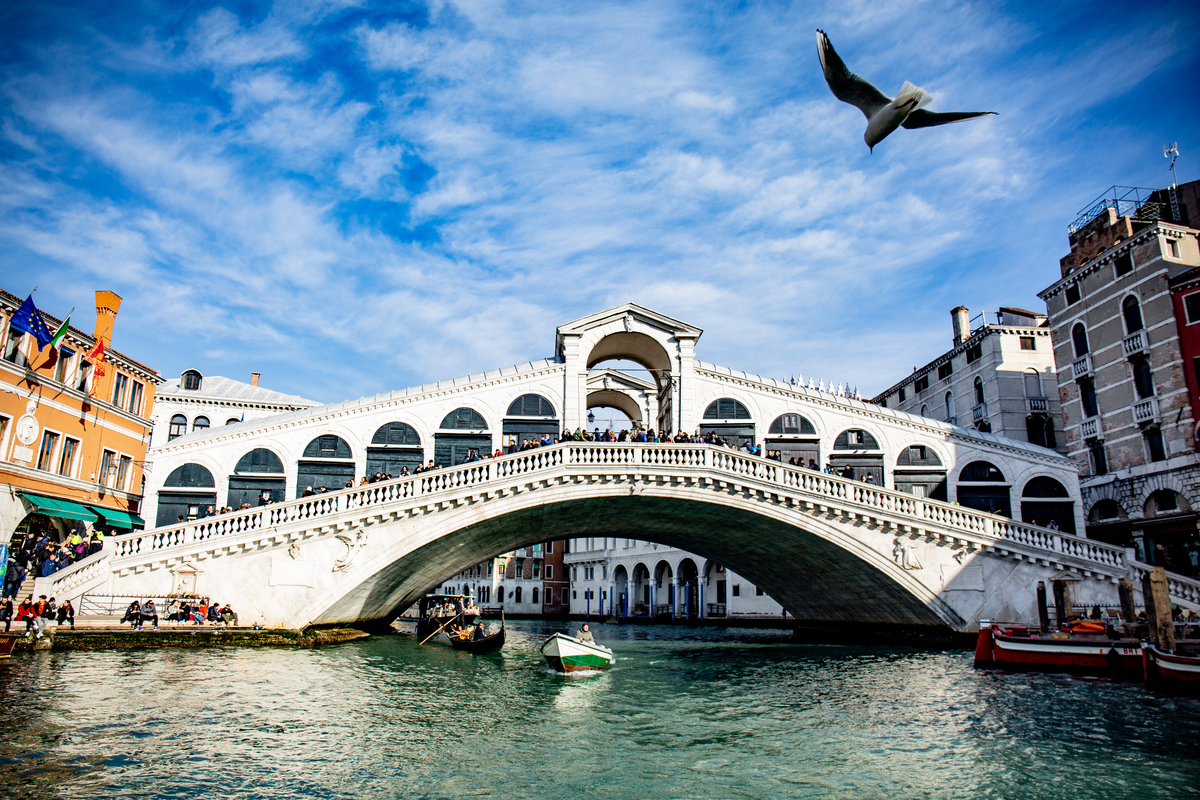 So we went by public transport, there was no guide next to us. We were left with pleasure to consider the beauty surrounding us))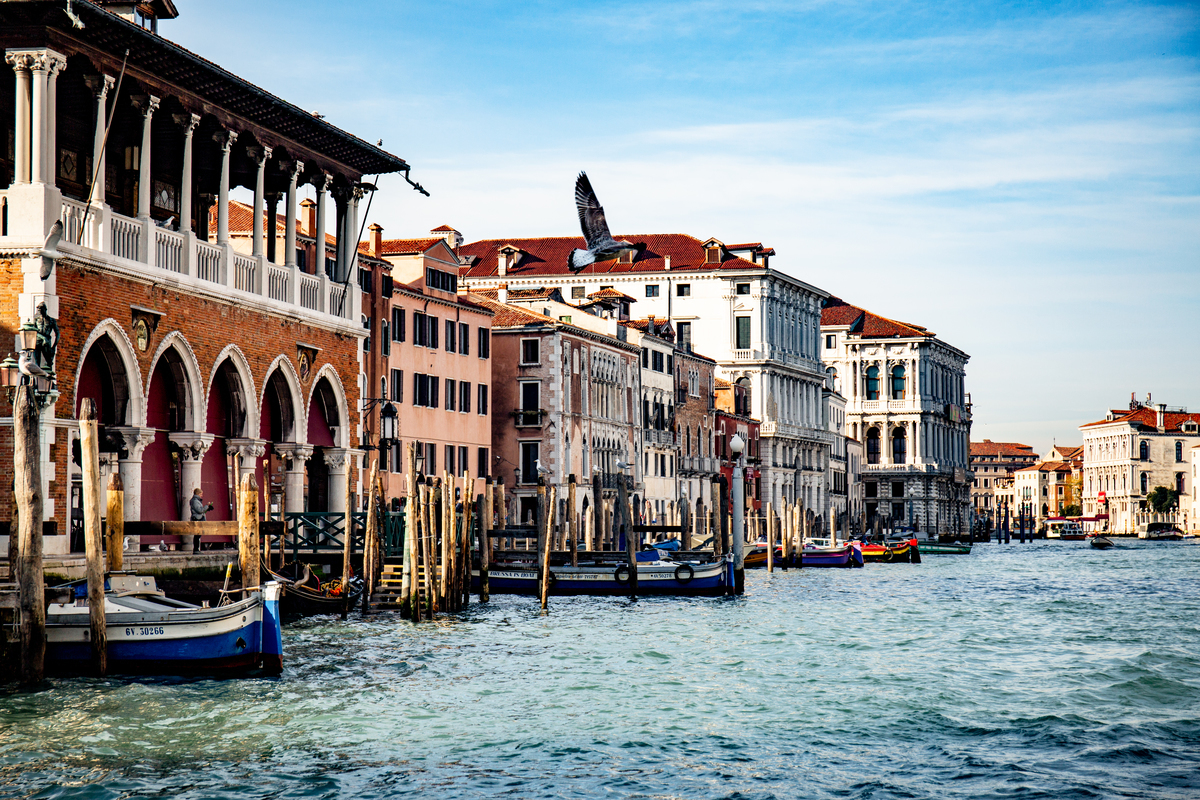 We landed near the largest and most famous square in Venice and took a leisurely step to see what's interesting around. Our goal was not to visit all the accessible cathedrals, palaces and excursions. We wanted to absorb the atmosphere of the city.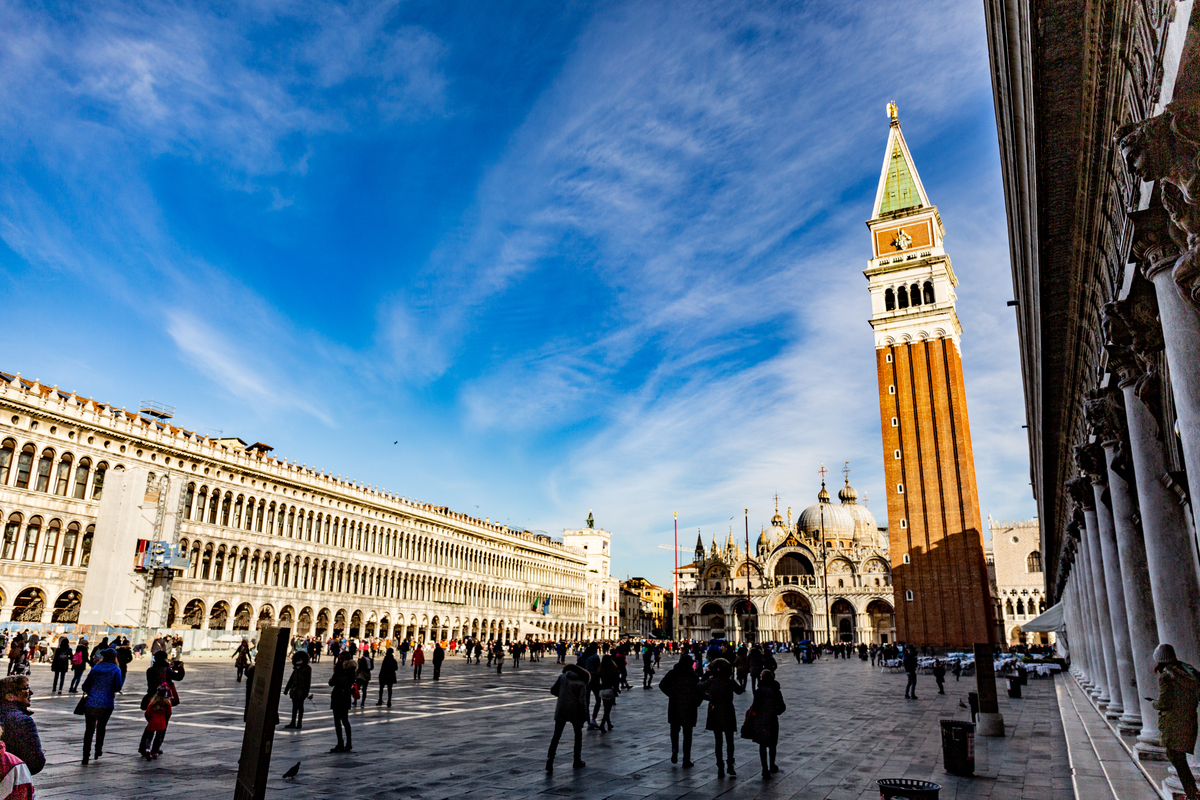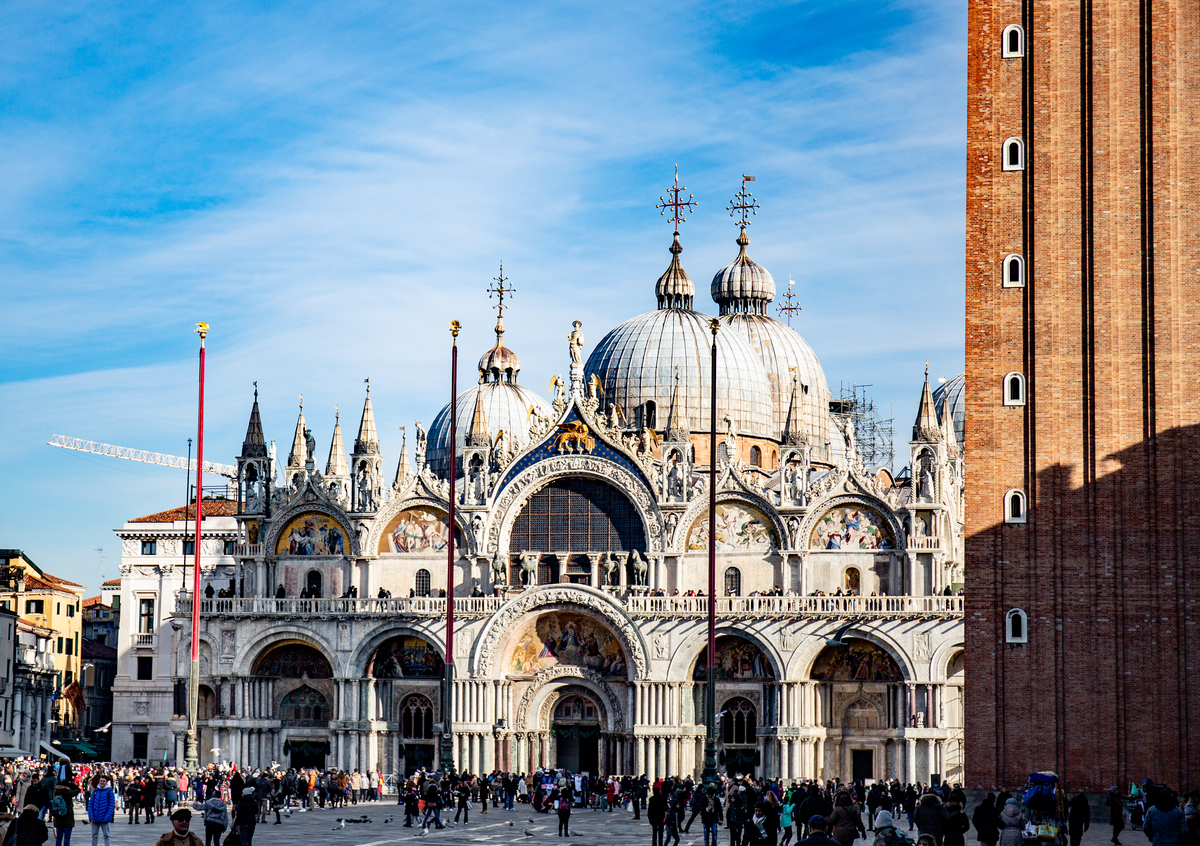 Slowly walked around the square, reached the Cathedral of St. Mark (Basilica di San Marco). There are a lot of people around, there are queues. In the end, we decided to get up to the campaignana of St. Mark's Cathedral (Campanile di San Marco). At first we stood in line for about 40 minutes. But decided not to leave, as we were already very close to the elevator. And the delay was due to the fact that something happened to electricity – it was offline. But in the end everything worked out))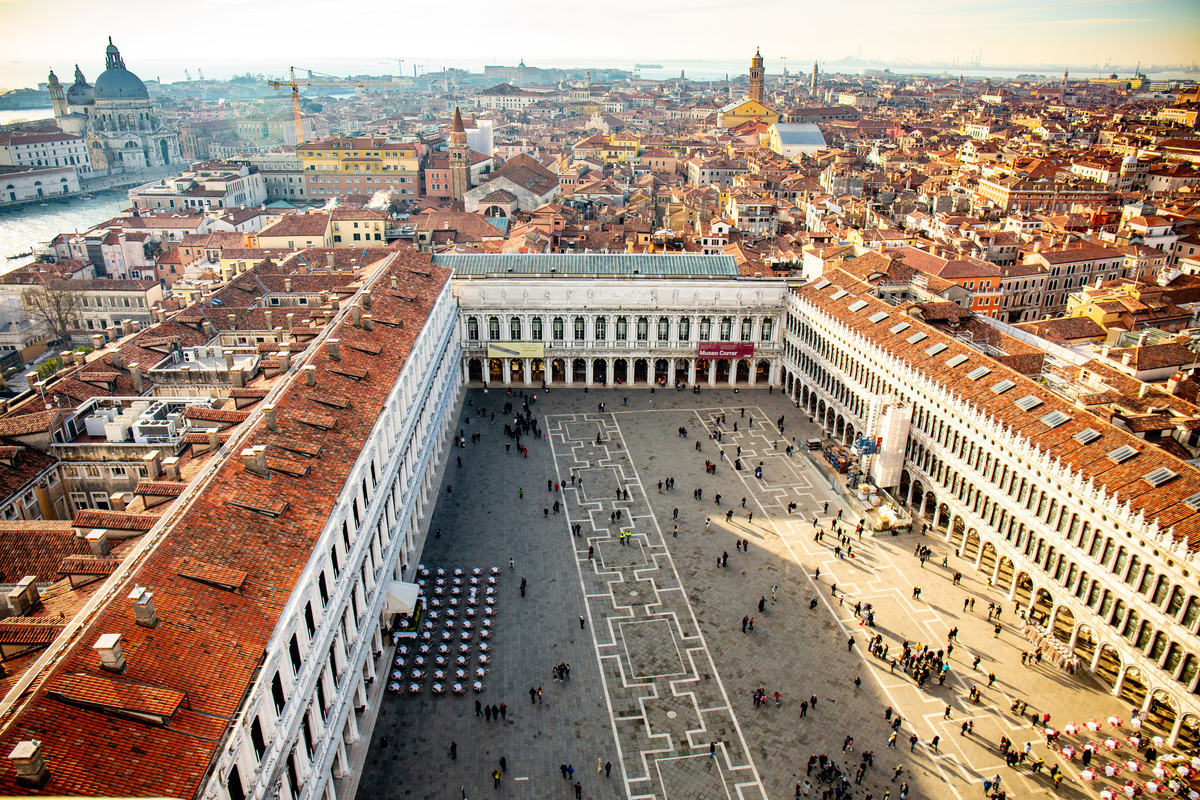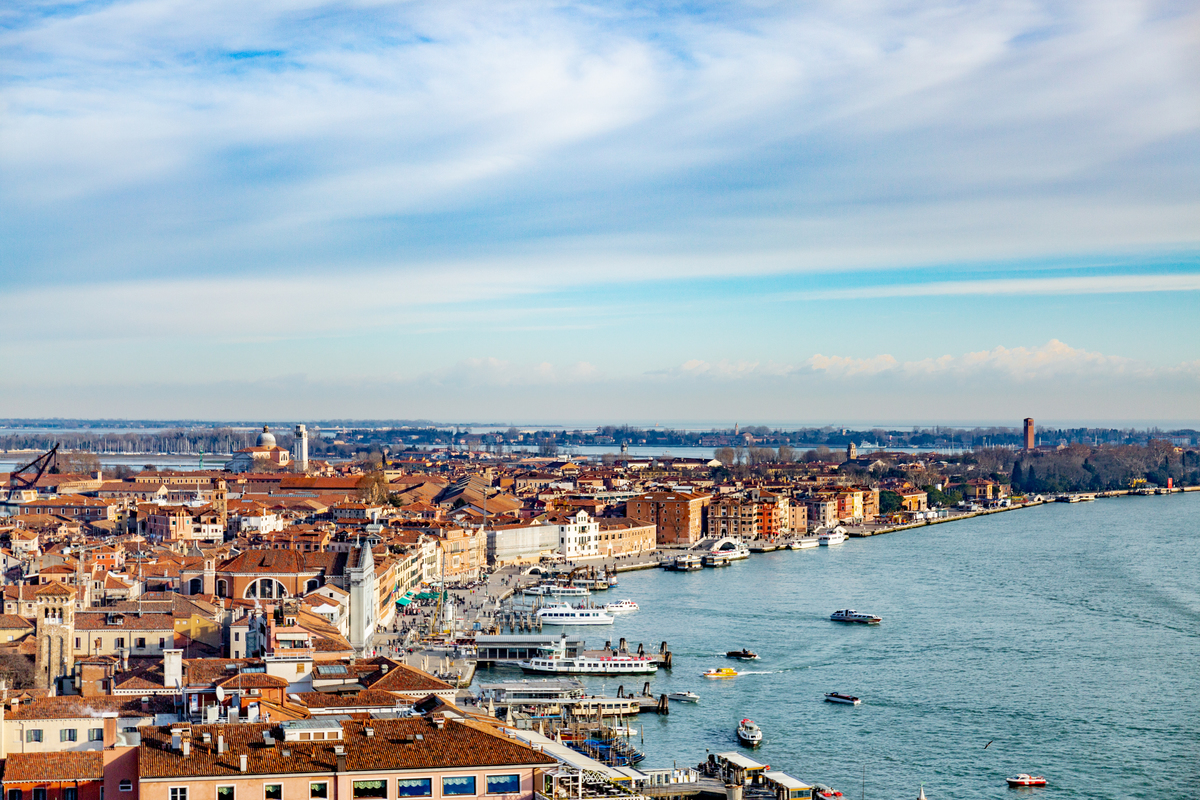 Sooo beautiful from above!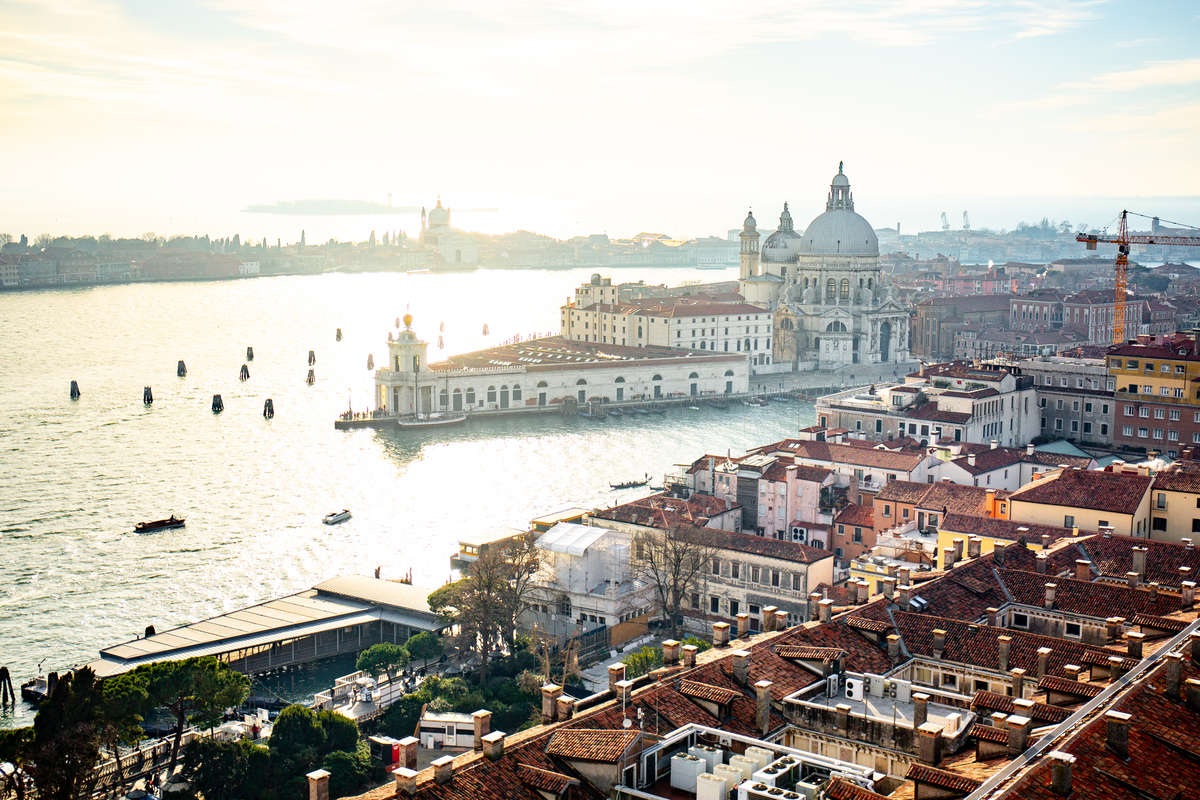 Having gone down, we went towards the tram. Walked there for about 2.5 – 3 kilometers. But you need to find something authentic to eat, check everything around, look into the souvenir row))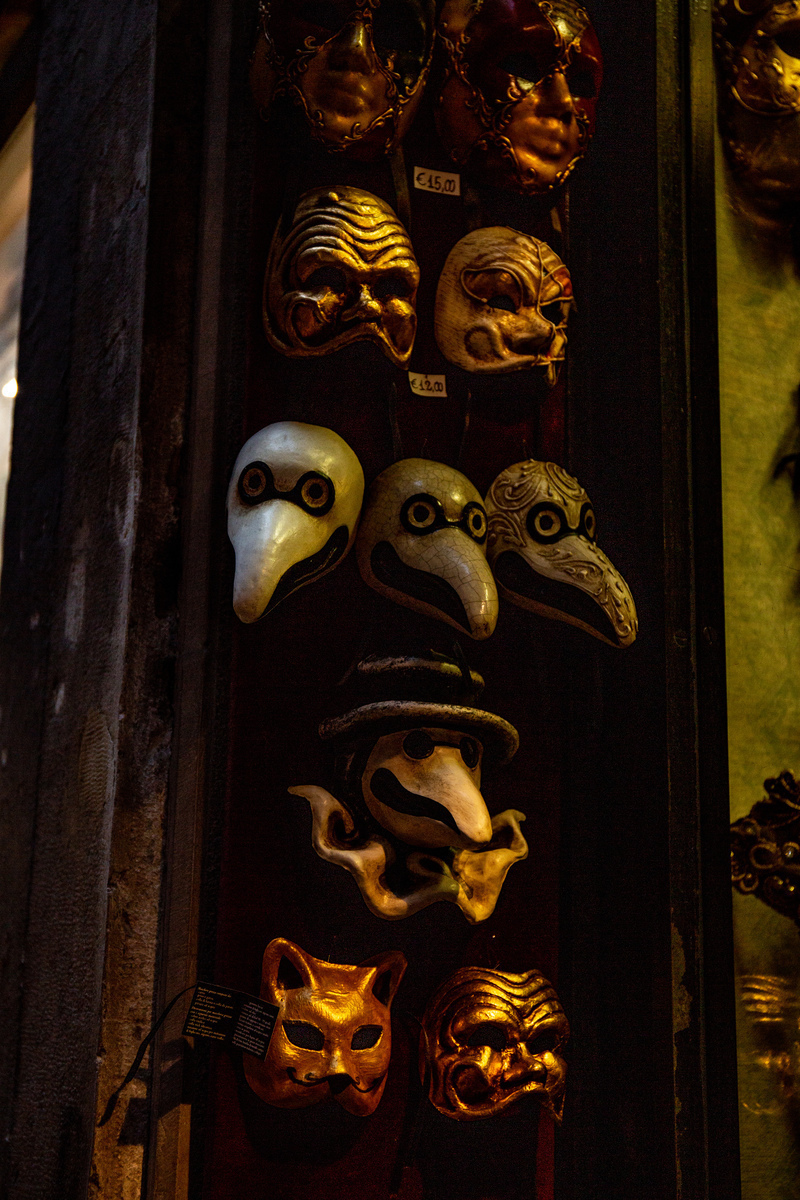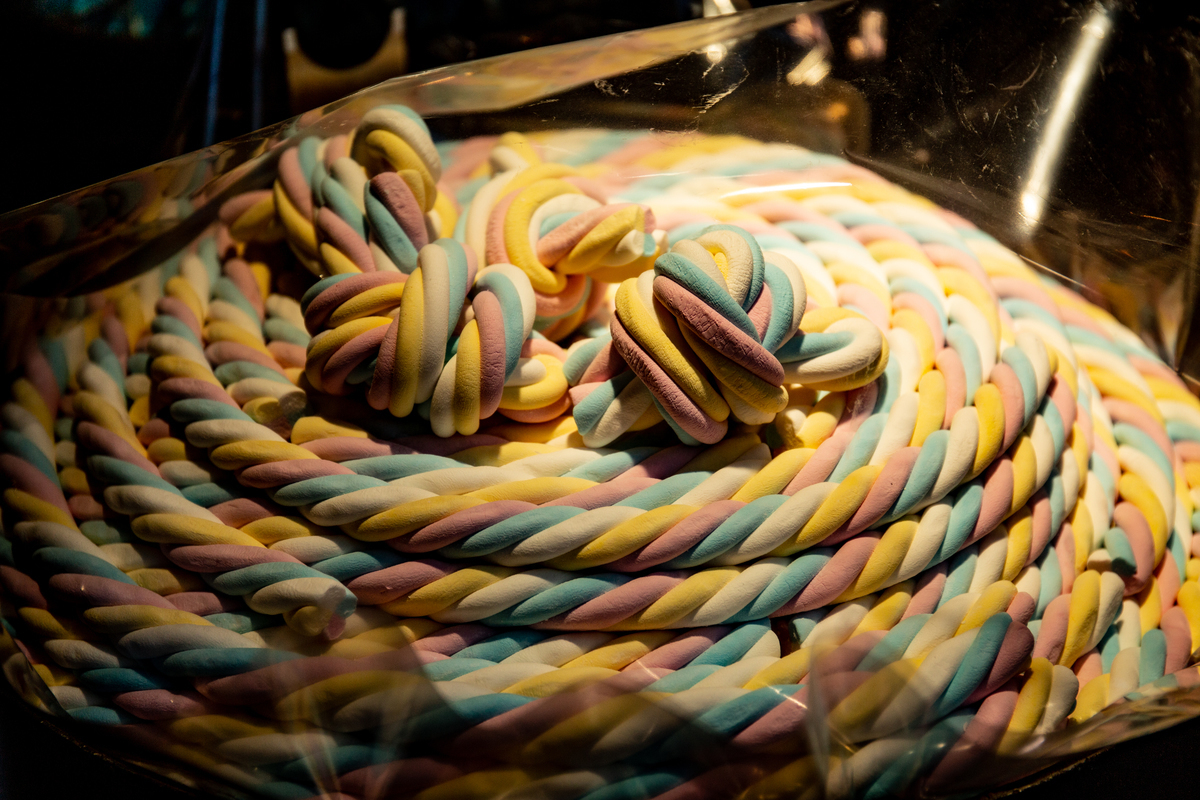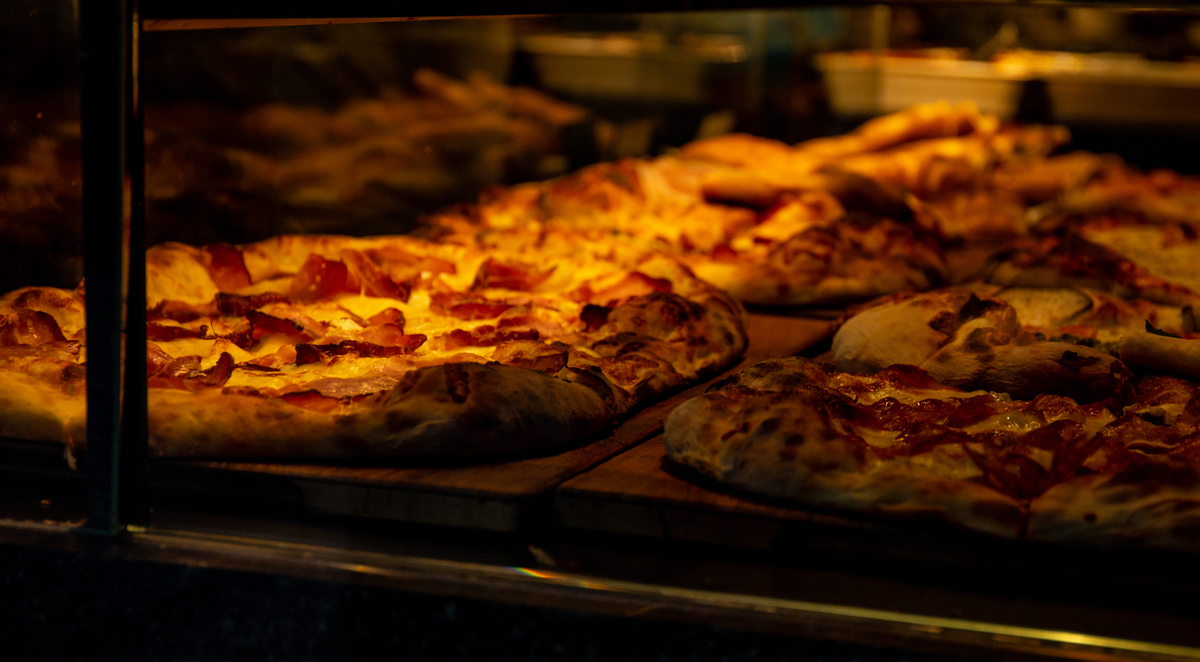 I won't even try to remember which street and cafe we went to))) There are them in every door on several streets)) We ate some ravioli with cream sauce there – very tasty)) Then we went to look at the famous Rialto Bridge ( Ponte di Rialto) with shops))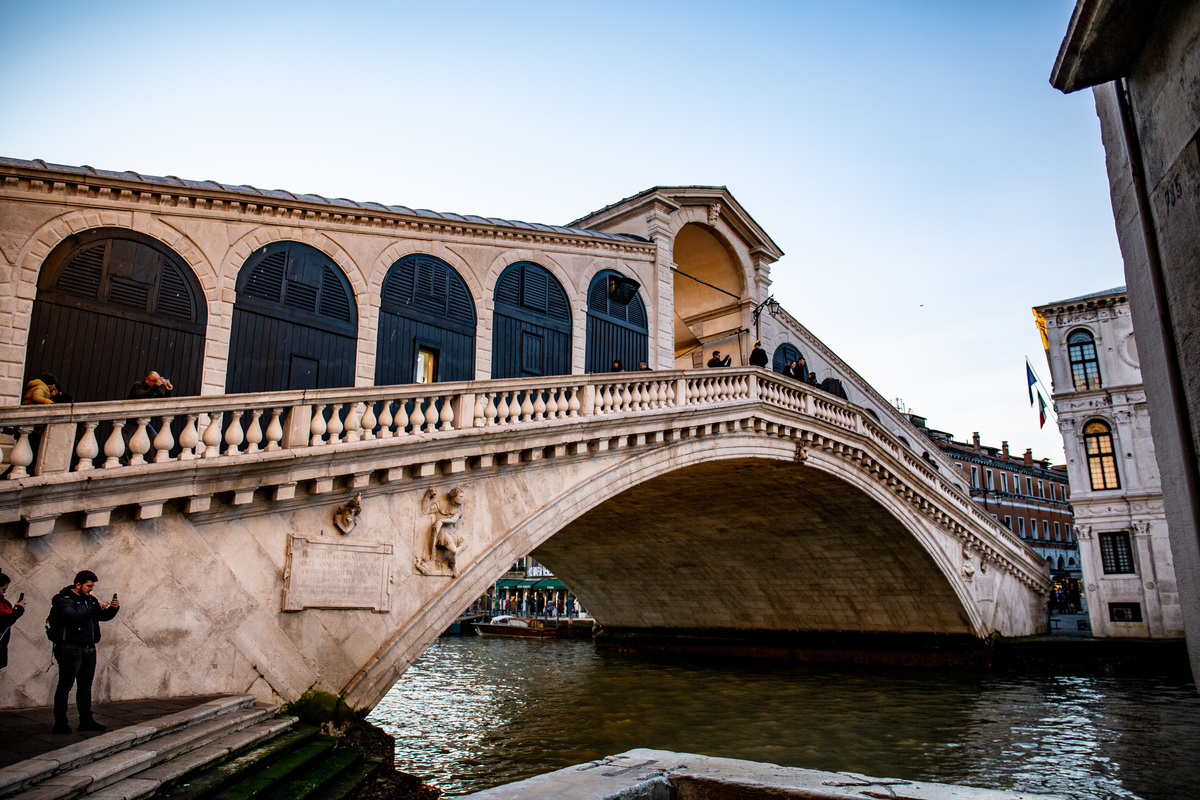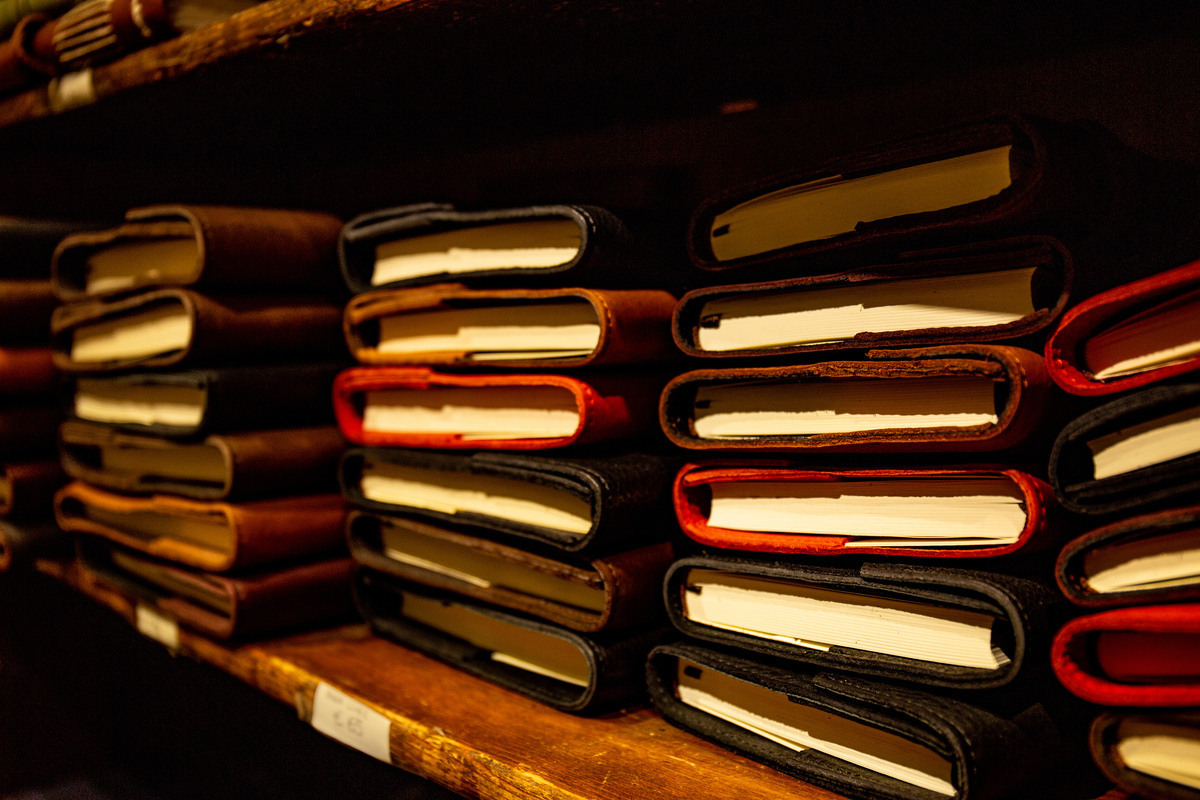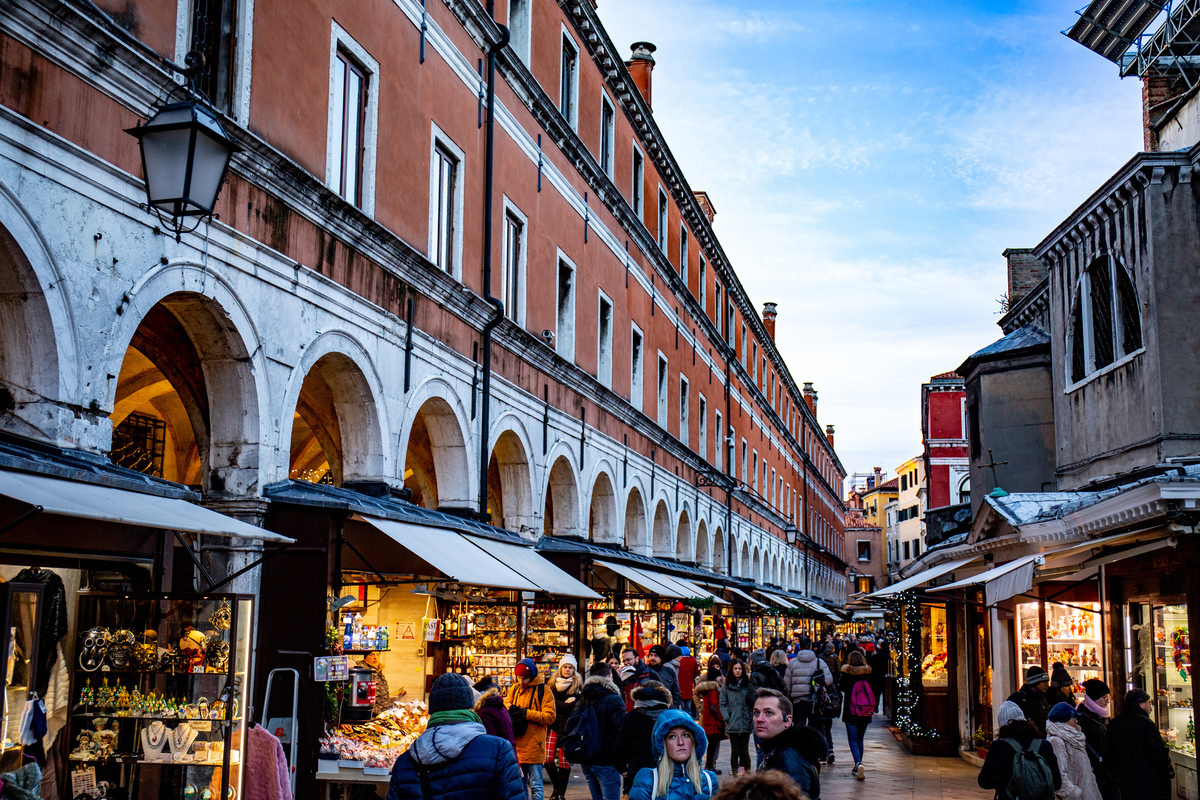 What they sell on these streets! Everything is very bright, sweet and constantly smells delicious)) Yes, I understand that everything was done especially for tourists and profit, but I can't stop admiring))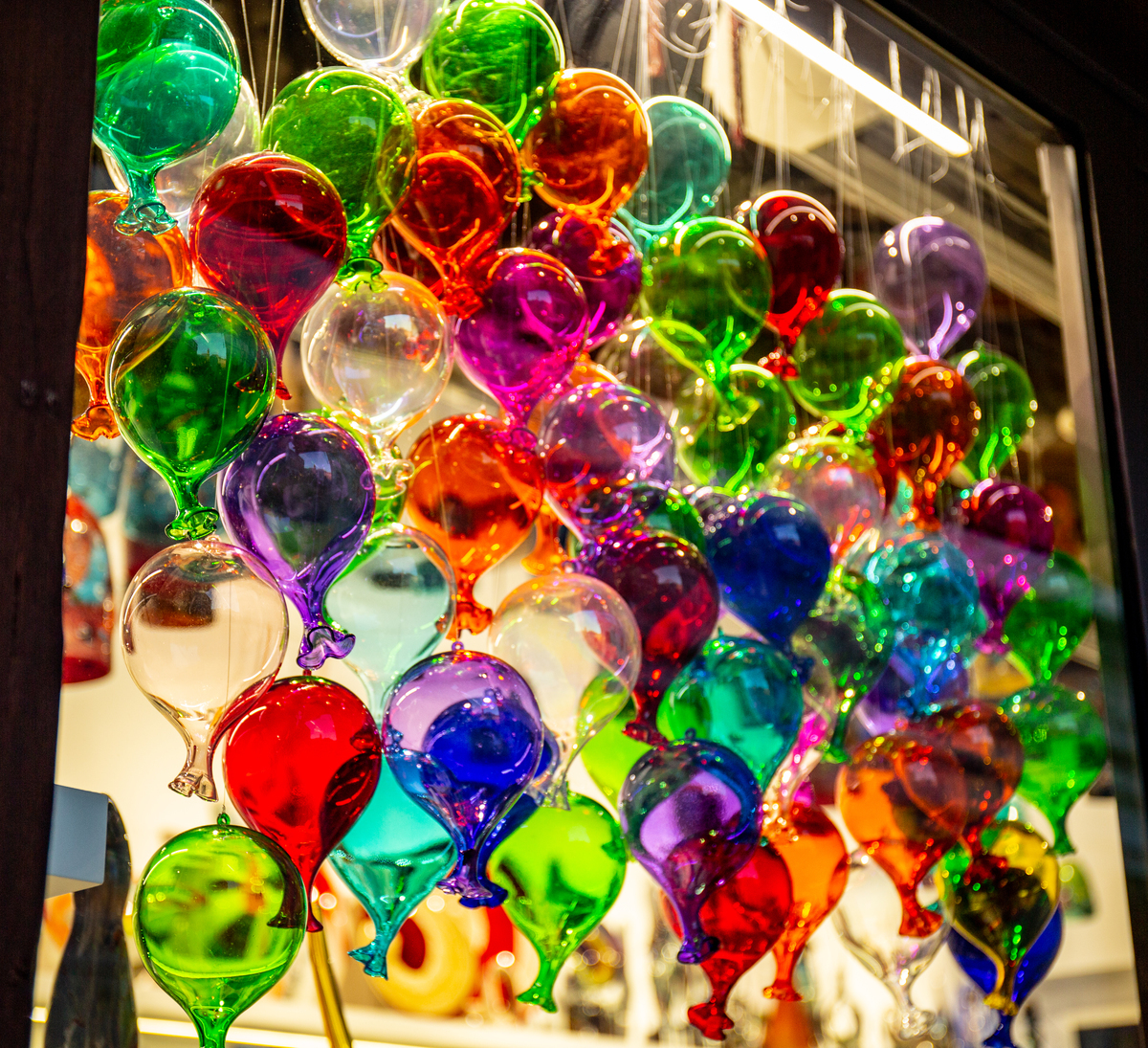 We reached the tram to Mestre already in the dark.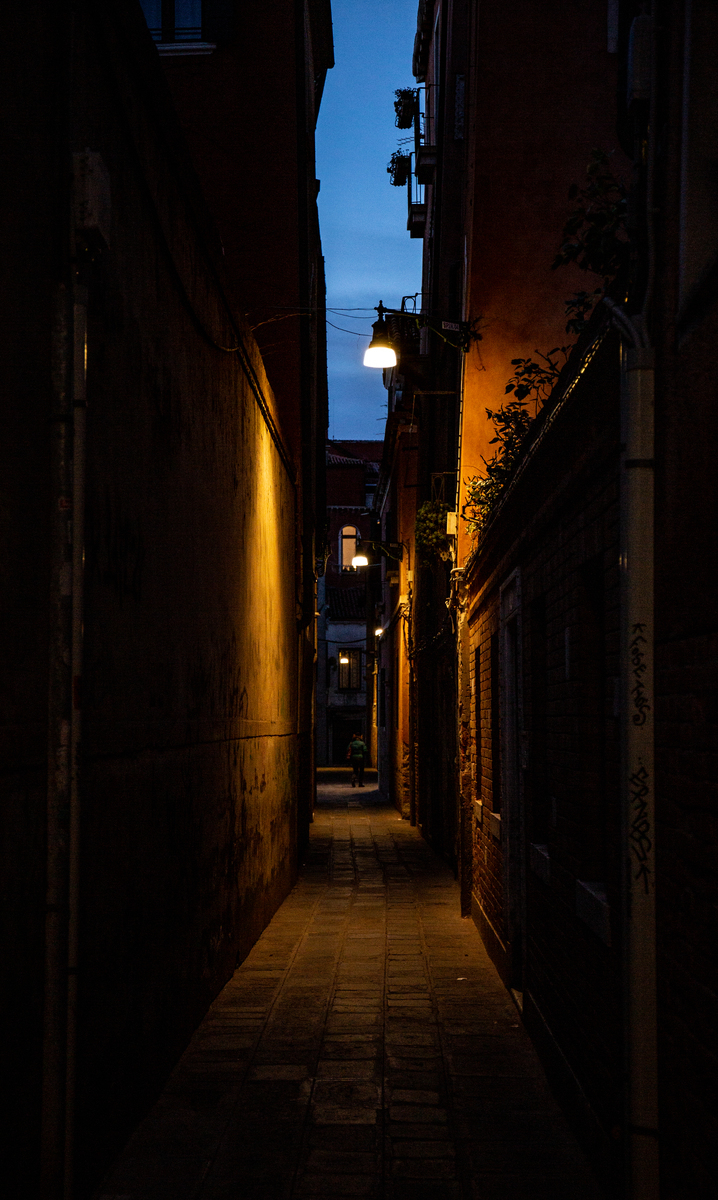 I must say that at some point we began to hurry hard, since the supermarket, which had the longest working hours, was open until 9 pm. And you also need to get to it)) In general, it is extremely unusual for the complete absence of convenience stores, and most work only on weekdays (at least on Saturday), and until 6 pm with a lunch break.
It was with great pleasure that I discovered jamon, prosciutto, gargonzola and their olives in oil! It was a wonderful dinner! (Like all subsequent ones).
Having slept, we went to the islands of Murano and Burano.
Again the tram to the island, then change to a vaporetto. Route numbers 3 and 4.1 are going to Murano from the same pier.
The first settlements on the island are dated back to the 5th – 7th centuries AD. The history of Murano, as a glass island, begins in 1291. After another fire (according to one version), all glassblowers from Venice were relocated here. For a very long time, glassblowers were forbidden to leave the island – this turned out to be a craft ghetto. Naturally, an extremely harsh punishment was imposed for the export of raw materials, secrets and other information. At the same time, glassblowers were granted privileges: the daughters of the main Murano glassblowers had the right to marry the Venetian patricians, while their descendants retained all the noble titles.
We have unloaded near the Museum of Glass (Museo del Vetro). Murano glass is one of the most famous forms of art. I really love multi-colored glass – so this museum was a must for me to visit.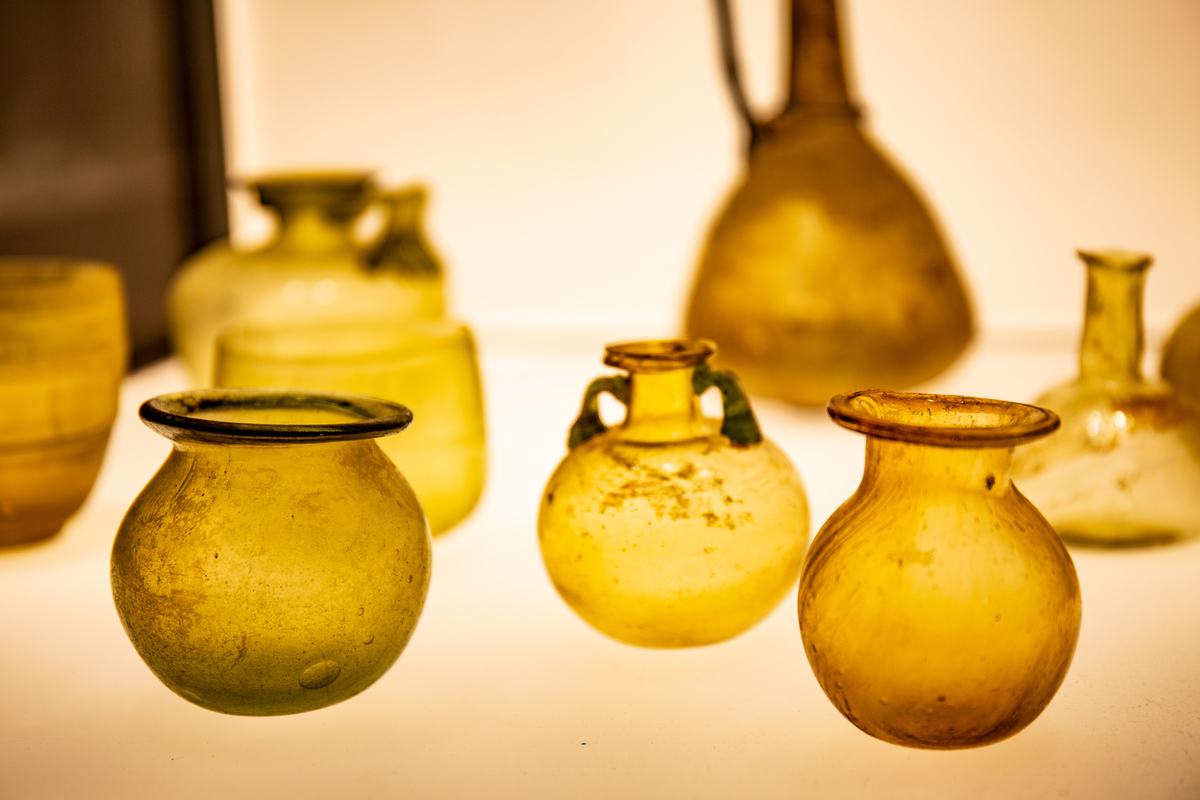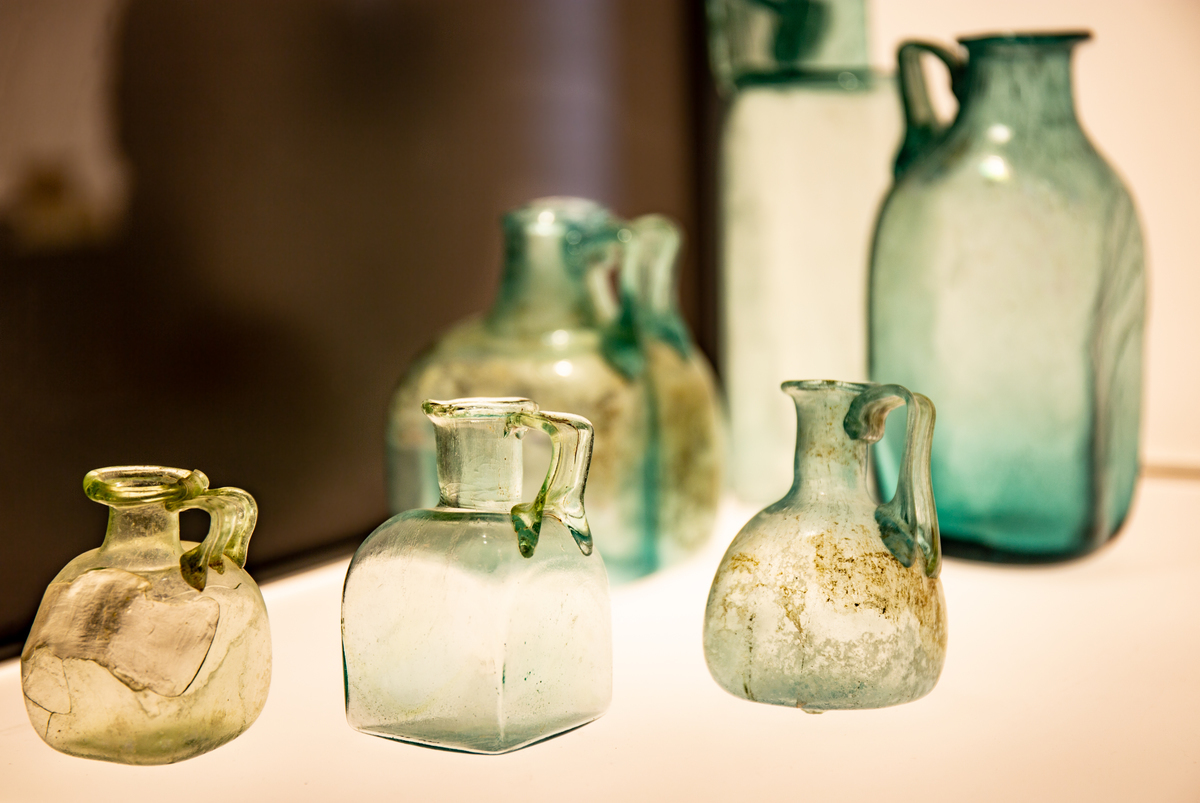 I really don't understand what I expected from this museum myself – maybe – more colors.. The history of glass here can be viewed in detail. But with all my love for this subject, I was extremely bored. Separately, the museum has an exhibition of contemporary glass art. "Contemporary art" is not mine. Such an abstraction does not yet yield to my understanding..
Leaving the museum, we went for a walk around the island. To my great surprise, there was no one on the streets. Absolutely. And everything was closed.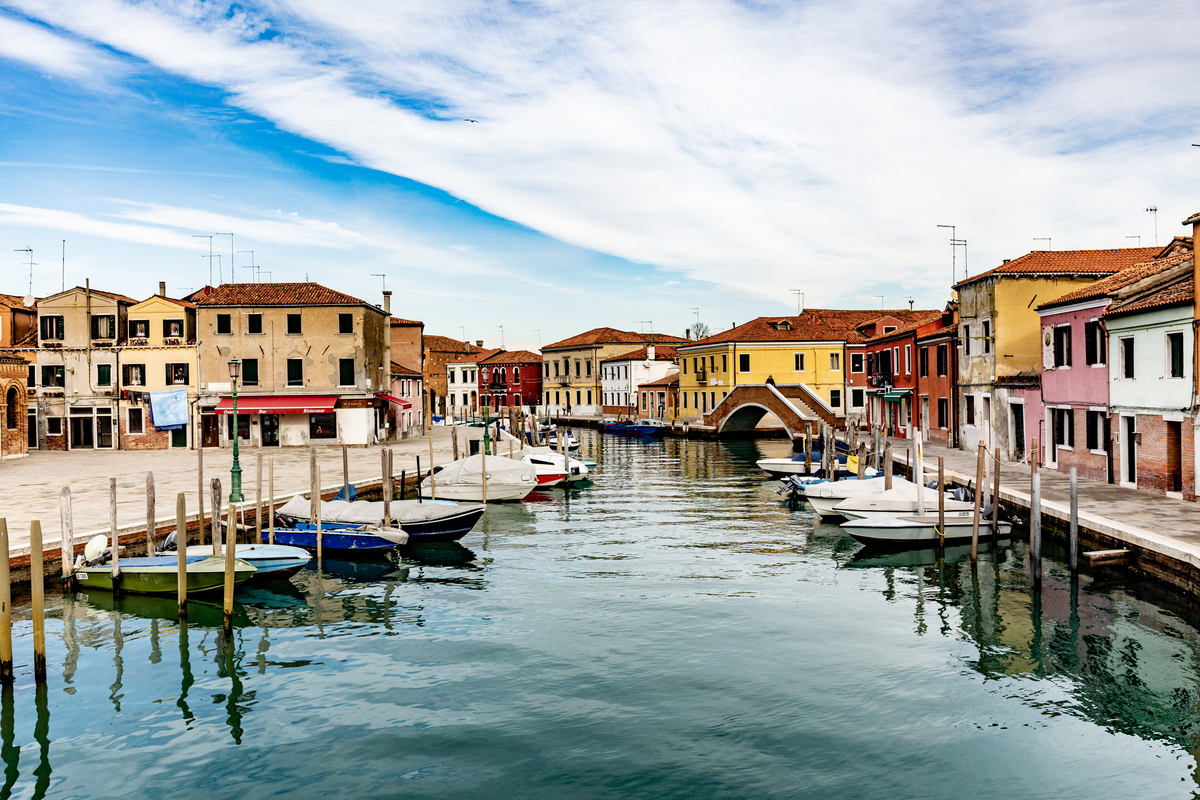 But we found a very photogenic and just nice looking pier:
It was in the first days of January – the New Year tree of the island of Murano: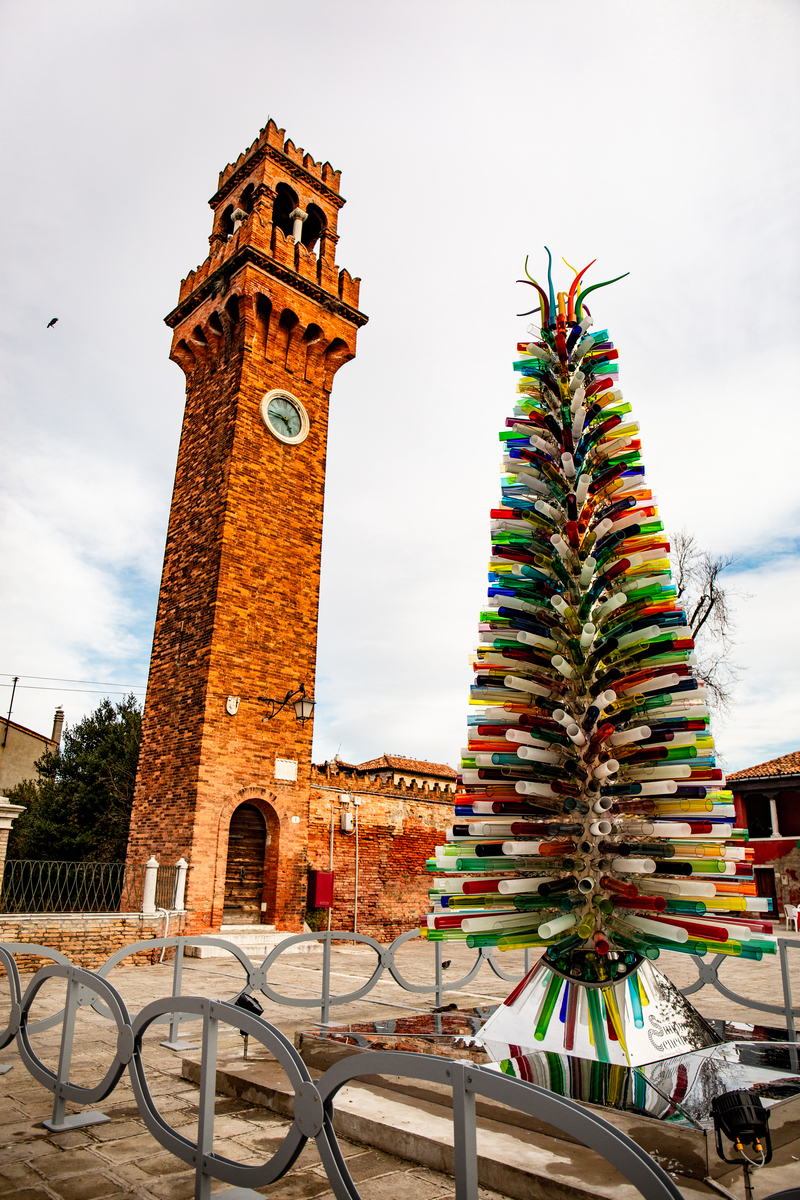 The next item in our program is the colorful island of Burano.
Each vaporetto has special people who open and close the entrance to the tram. They are screaming at where this particular is heading. Several times, this is precisely what prevented us from missing our tram)))
Burano turned out to be much more welcoming – there are people on the streets, shops, cafes are open. A little later, the thought crept in that the whole thing was in siesta. But this is not for sure)) Nowhere do they write the time of work, so it is not known what was the matter.
One way or another, but Burano was filled with tourists, open shops and restaurants.
And we already had lunch time))) On this occasion, we tried to find the least crowded restaurant in order to try something authentic. I took myself a clam paste. And was not ready for the result – a large plate with pasta mixed with shellfish and shells… small ones – a little more than a thumbnail and in a huge amount. Surely there is some special way of eating these delicious shells, but I don't know ((Therefore, I just took out all the shells, gutted them into pasta and ate it.. that was also a thing to do, but very tasty))
The island itself is very bright and colorful. The main idea of all the legends on the appearance of such a coloring is to make it easier to find your home. Whether in the fog or after the tavern. I'm wondering – didn't such a problem exist on neighboring islands?)) Personally, I think that very funny people lived on Burano – they just liked living on a colorful island)) But who knows how it really was))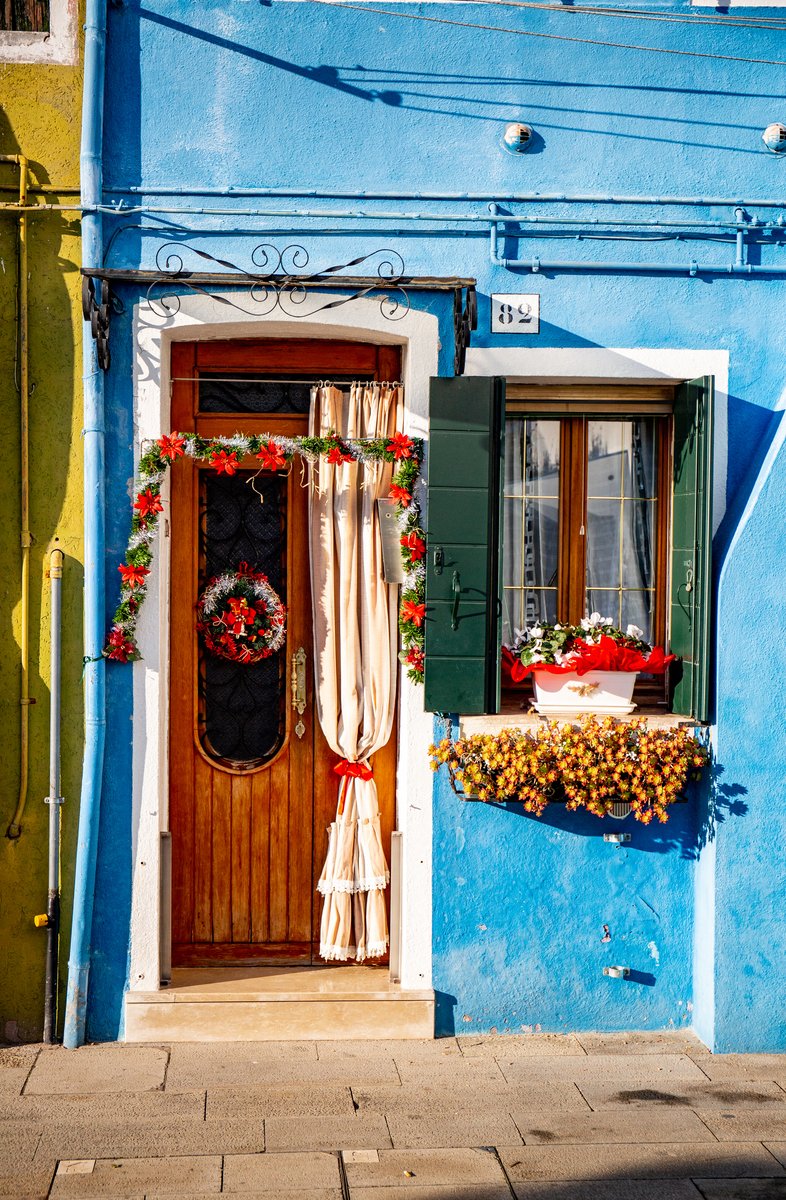 In conjunction with Burano, there is always a mention of white lace. This skill was brought from Cyprus in the 16th century. Two centuries the fashion for these lace lasted in the world (and this is a lot)), and then went into decline. However, thanks to the opening of the school of lace weaving for all comers around 1872, interest in them grew again. I am sure that even now there are craftswomen on the island who weave lace using traditional technologies, but out of all the shops that I went around (there are not many of them, but I could have missed something), none sell handmade lace. In addition, simple embroidery is often sold and all this happiness may not be made in China, but it is a frenzied mass market. It's a pity.
Burano has its own small square and a falling bell tower – just like all Italians)))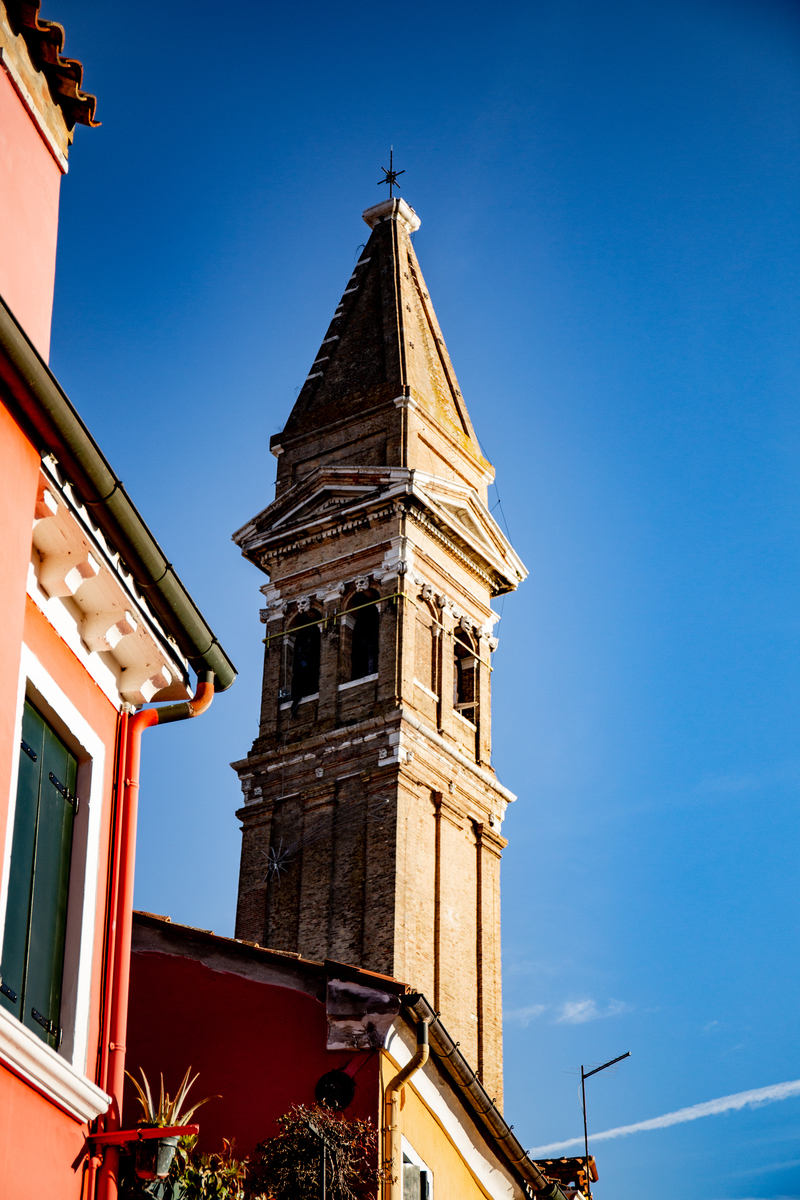 You can get from Burano to Venice by tram number 12. It comes not to the main station «P.le Roma», but to «F.te Nove». This is the other side of Venice, but our goal was to walk to a regular tram in Venice in the evening.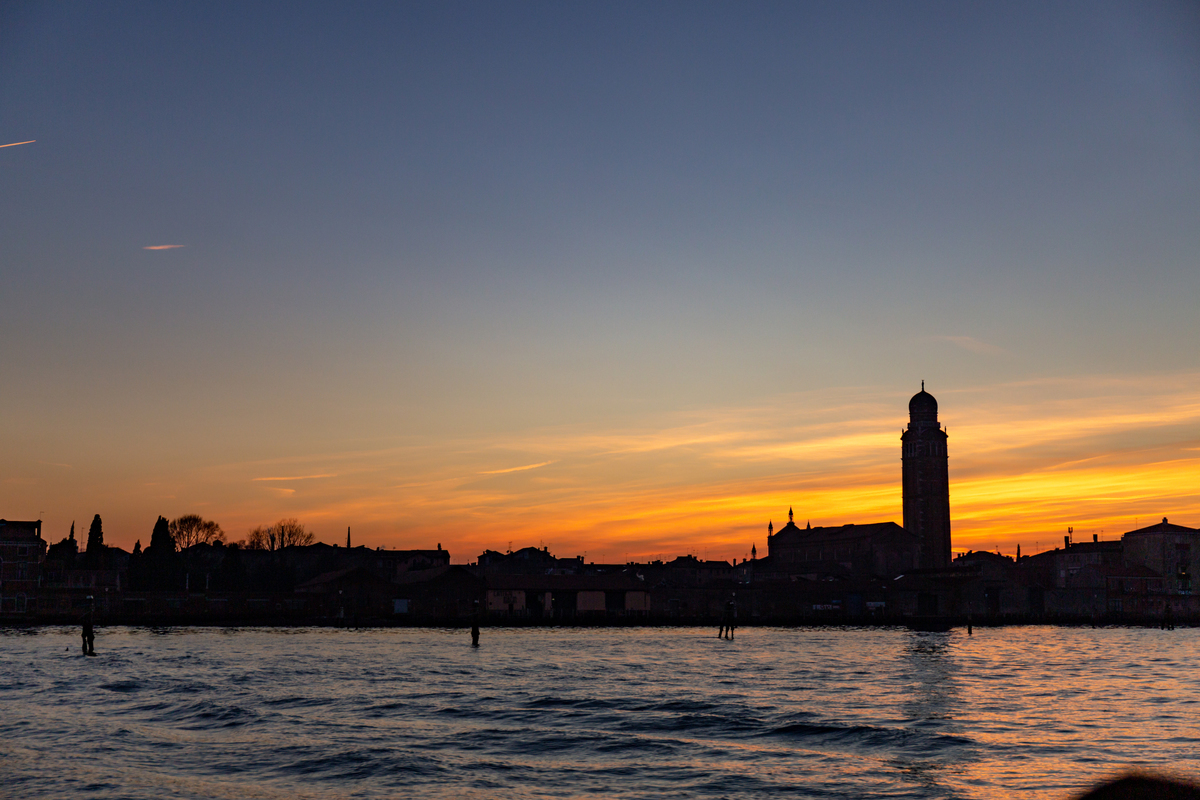 The next day we went to the mountains. We will definitely return to this beautiful place – here you can walk for hours))
The first part of the trip.
The third part of the trip.
The fourth part of the trip.
The fifth part of the trip.