Adventures in the south of Ukraine. Part one – wheely.
I was preparing this trip for a long time – looking up for interesting places, building up the route. In addition, to drive through all the planned places, I wanted to relax a bit – as we were going to the sea!
This time a larger company gathered – two cars, six people and a dog. And all these kind people have not known us for the first day)))) And instead of politely giving up, they joyfully ran screaming to gather on our non-boring journey!)))
Our plans were to visit four reserves and national parks, visit two islands, look at the scuttled ships, canyon, ancient ruins and collect salt on four pink lakes. Well, and much more. Also this busy program involved a beach-type vacation)))
On this trip, we decided to take a small house on wheels with us (the "Skif" trailer, which is laid out in a large tent), but we also had a brand new ordinary ground tent)) Igor told us (our favorite auto repairman) – you don't need "Skif" on the expedition … He knew something)) We took the freeze-dried and canned food with us, leaving bread and vegetables to chance.
In fact, our adventures began even before the trip. One of the patrols hung at Igor. Inspection before a long and difficult trip is a must. We could not find one spare part, which suddenly died. At first we've found it, but it turned out to be not quite the same, then tried to modify it with a file, then decided not to modify it, then looked for another one .. Well, by the time of departure, everything that was needed was found absolutely by accident and has been installed successfully. The literacy of our parts suppliers has once again led to a state of existential horror.
So, the long preparation is finished, all assembled, stacked and loaded. Let's hit the road!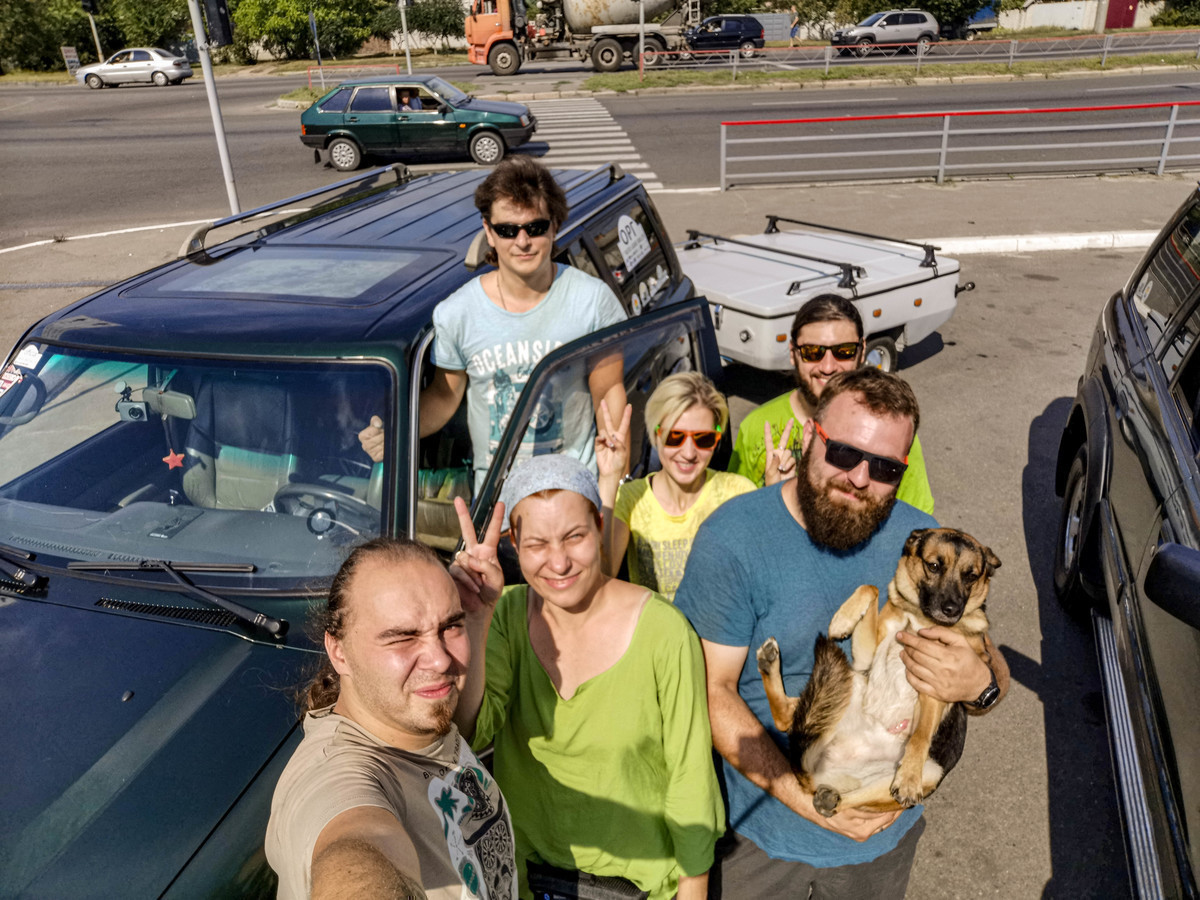 Our first goal is Fedotova Spit, which is also Biryuchy Island. There is the "Azov-Sivash" National Nature Park, which beckons me with its landscapes and residents. Last year году we tried to get there by sea from Genichesk, but a storm prevented us – no one went to sea for about a week. This year we decided to get there by land. But there is a nuance. You can get to the territory of the park exclusively as part of an excursion group (in your car), which is let in together with the guide at 17:30. And no other way, at no other time. Due to that I had a question where the people from Genichesk are being broguth, but these are trifles)))
Therefore, we tried very hard to get to our destination by this time.
But on this day we did not get there. Why? That's right – adventures with our "Skif" began. Having not reached more than a hundred kilometers to Zaporozhye, its wheel exploded. Moreover, before the trip, Skif, like the cars, was looked through and checked … but, apparently, not enough. Although, we checked the wheels ourselves.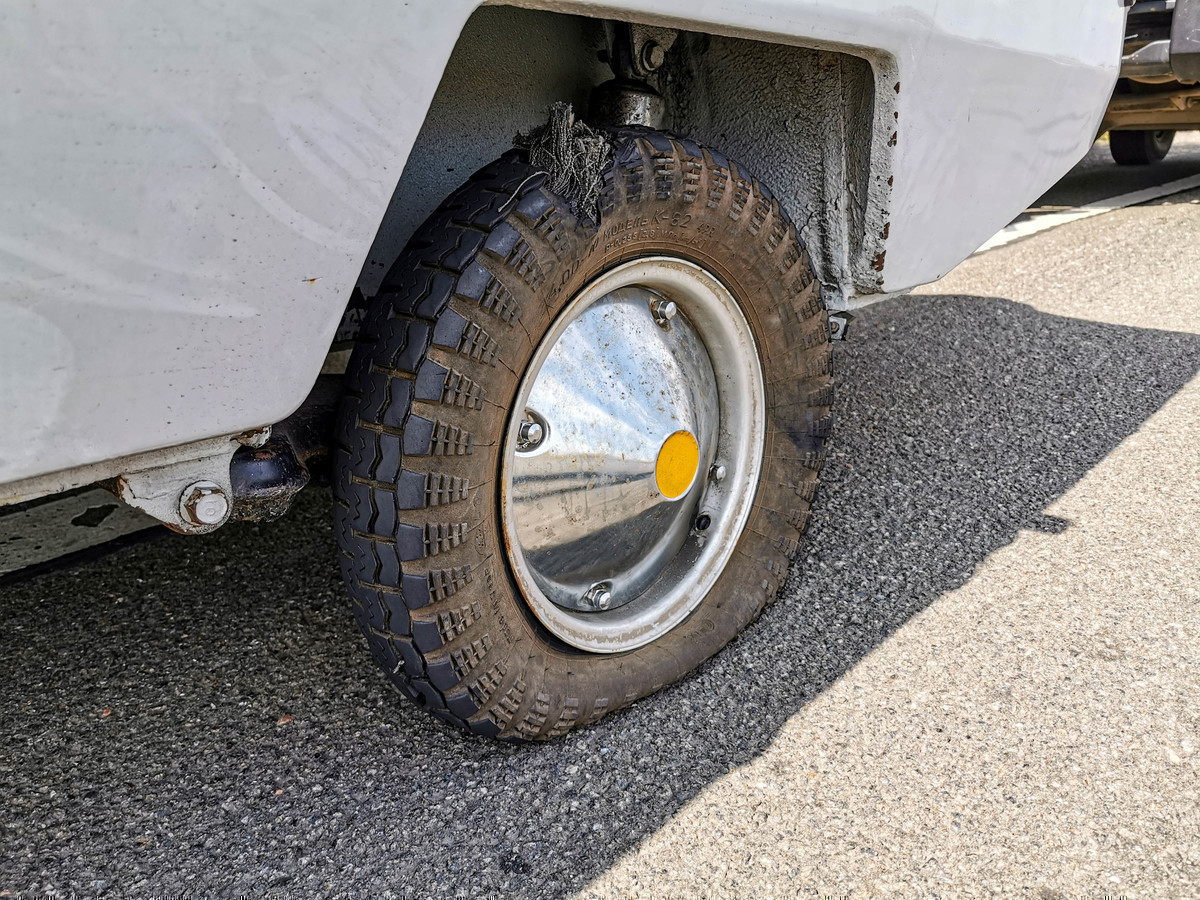 Put a spare wheel and began to look for where we can buy a new one. We need a spare wheel. There was no point in repairing the old – it exploded. We arrived at the tire service, where there was one such wheel, and the master examined everything and said that both the spare tire and the second would not last long. As a result – we need two more wheels … It is incomprehensible why all three decided at the same time to become worthless. Rather, it is clear – they were old. The fact remains, albeit sad. We spent about two hours finding out and finally found wheels on a car market in Zaporizhia, but they were available only in the morning of the next day. The second option is to go as it is with the hope of great "Let it…" and good luck (in the sense that we will ride on these wheels to Biryuchy Island and find something suitable there). A visit to the Biryuchy Island under any conditions that day was no longer shining for us. Therefore, we decided not to start communication with "Let it…"- it's better to wait till the morning, buy the wheels in the place where they definitely are and go quietly to the reserve. And yes, the wheels of "Skif" (of course!) turned out to be of a very rare size .. and a bit bigger didn't fit it at all. We also found a trailer near the tire service with the wheels we needed, but the master flatly refused to sell them to us ..
On the agenda (more precisely, in the evening) appeared a question about the place of the night stay. Option one – find a place near some field and stop there, option two – find a campsite. Honestly, until this moment, I somehow did not wonder about the availability of campsites off the coast. Started to search. In conditional proximity found two. One is completely off the road, and the second is very successfully places – "Meteorit Camping Park" in the middle between us and Zaporozhye. We call, asking whether it is possible to spend the night with our tents. And they tell us "no – here we have the festival begins tomorrow" … We were upset because we did not find any acceptable alternatives. But someone decided to see what kind of festival was taking place there. And it turned out that we know it, and one of the participants is our close friend. We call a friend asking if she is already there. Not there, but she will take care of everything. As a result, an hour later we already drove into the gates of the base / camping, and we were met by the hostess of the festival. We honestly promised to save her from our presence as early as possible, gave money for tent places and settled down for the night. That evening, we had the only opportunity to get into a hot shower for two weeks ahead .. (we knew this later).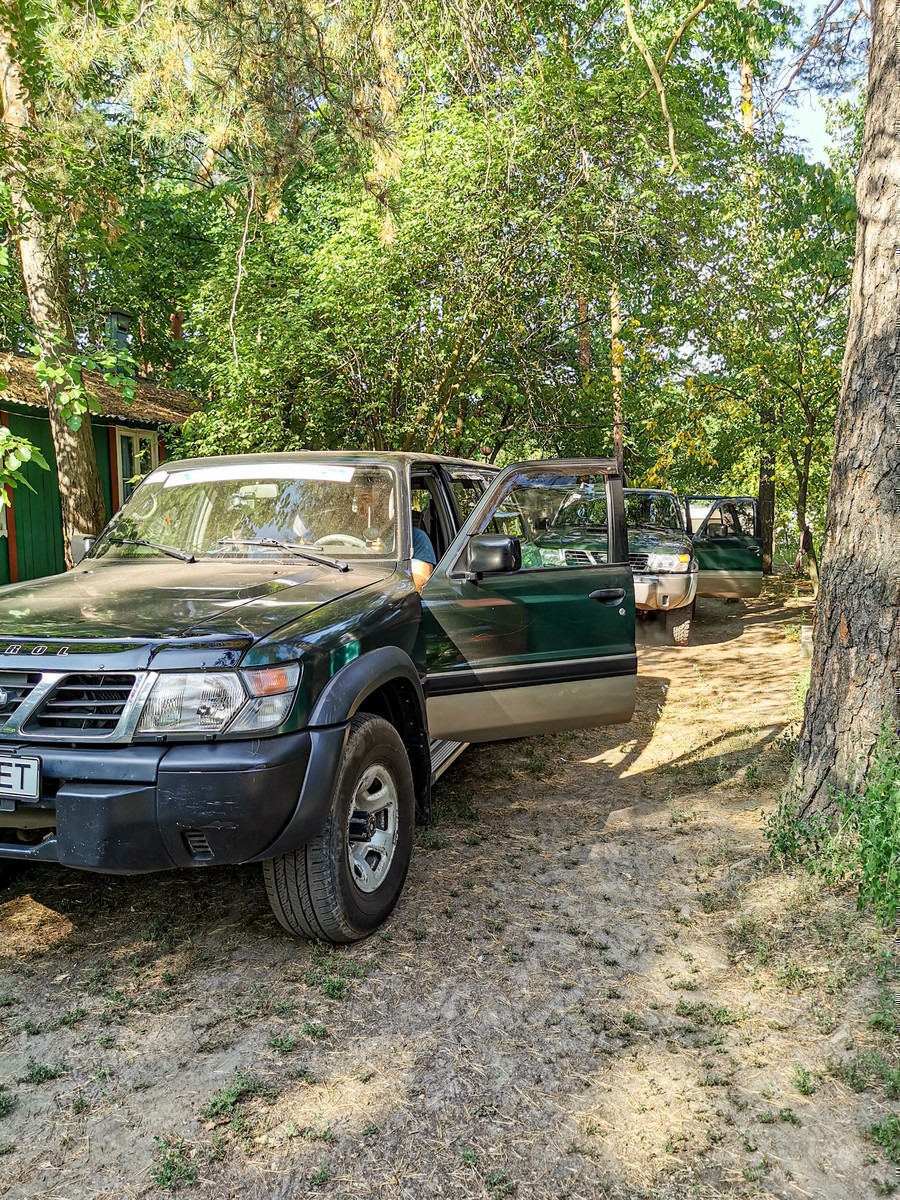 In the morning we gathered briskly, as promised, before the of people arrival to the festival. And in time – the path there is narrow, forested, and we crossed very carefully with a few arriving. In any case, thanks to the kind people for the place and hot shower!
We got to Zaporozhye, found a car market, some of us went to look for that one, with the treasured wheels. And they disappeared… For a long time… As a result: when they arrived, the person was not there – he decided to go home. While he was called, sending his assistant, opening the store and finding what was needed. But we have two wheels for "Skif". When the wheel was changed, the jack was removed… the small "Skif" jumped on the shock absorber that shot off. Through a storm of emotions two bright thoughts flicker. The first is to find what shock absorbers are on "Skif" and buy at the market while we are here. The second – it was removed, disassembled and simply screwed the nut in place.
Well, then – an attempt to catch the gates of the reserve at the right time. We already spent an incredible amount of time here. Google maps told us that we have time to arrive minute by minute. We even phoned the person who conducts this excursion, but he said that he could not wait more than 10 minutes – then the protection of the reserve closes the gate and the rest does not depend on him.
We tried very hard to arrive on time and not break the "Skif". We tried very hard. And we were only five minutes late .. At the moment of stopping at the closed gates of the reserve, the shock absorber was shot out again.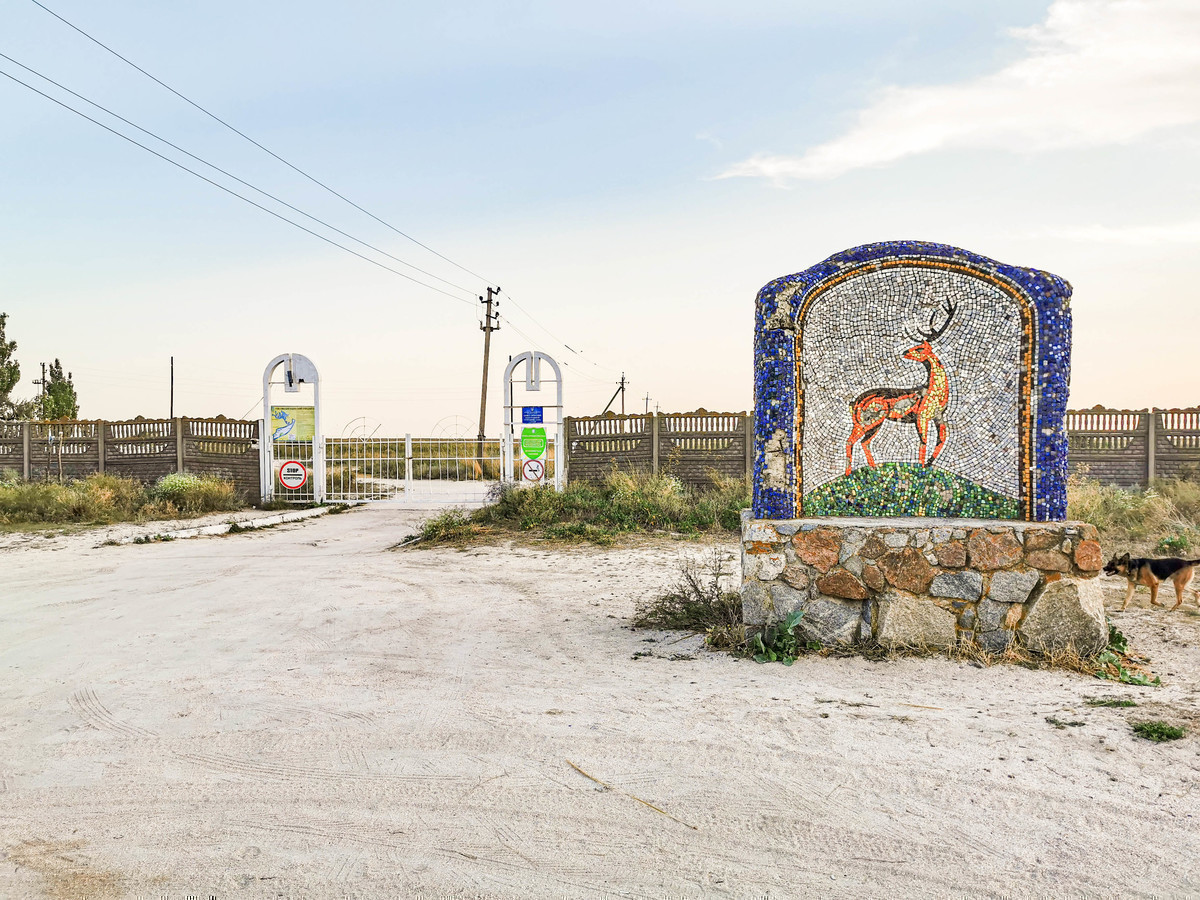 It was sooo sad. Everythign together – both that we were late and that "Skiff" clearly had a severe dislocation of his paw. And then what? That's right – reduction of dislocation.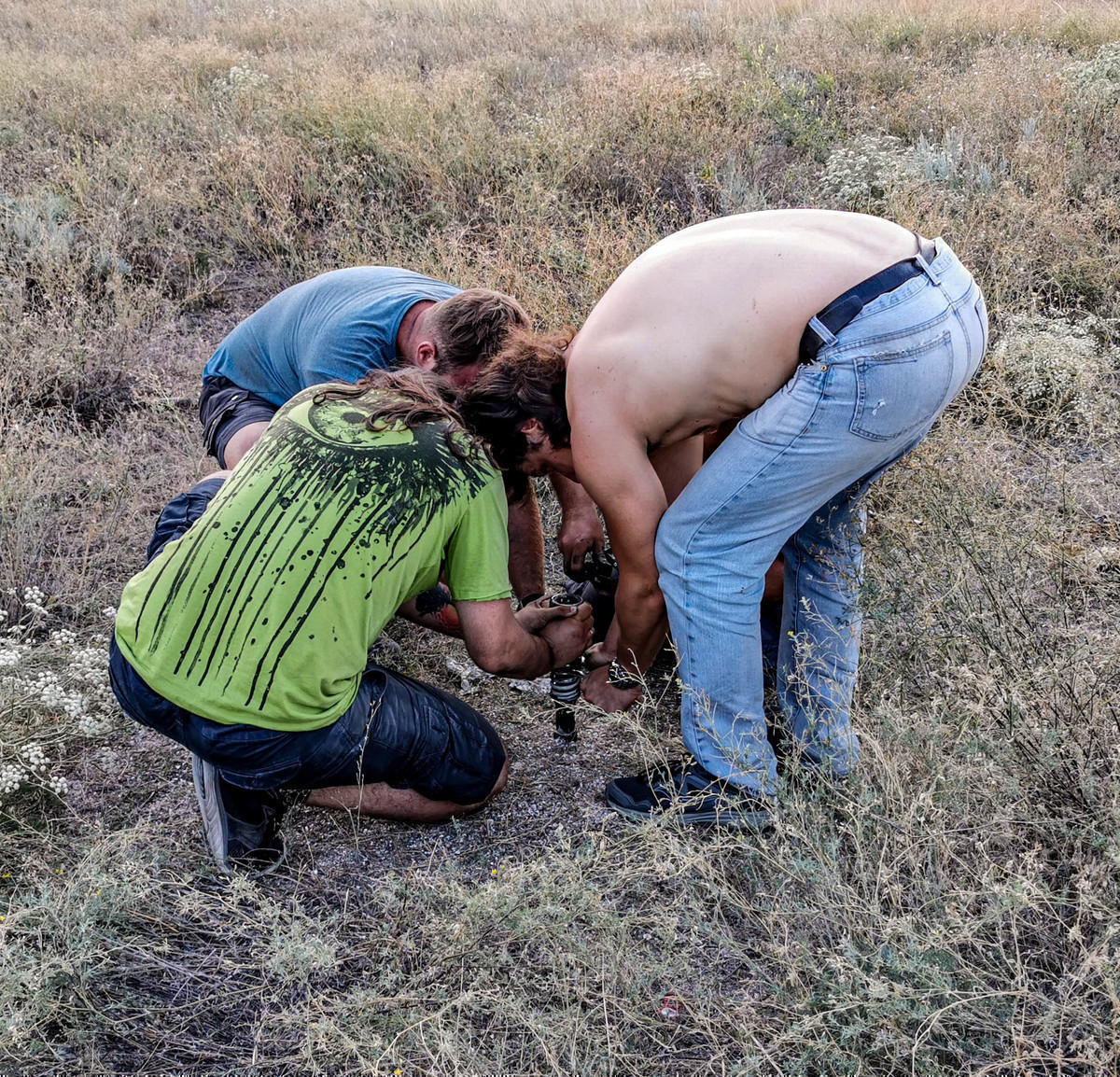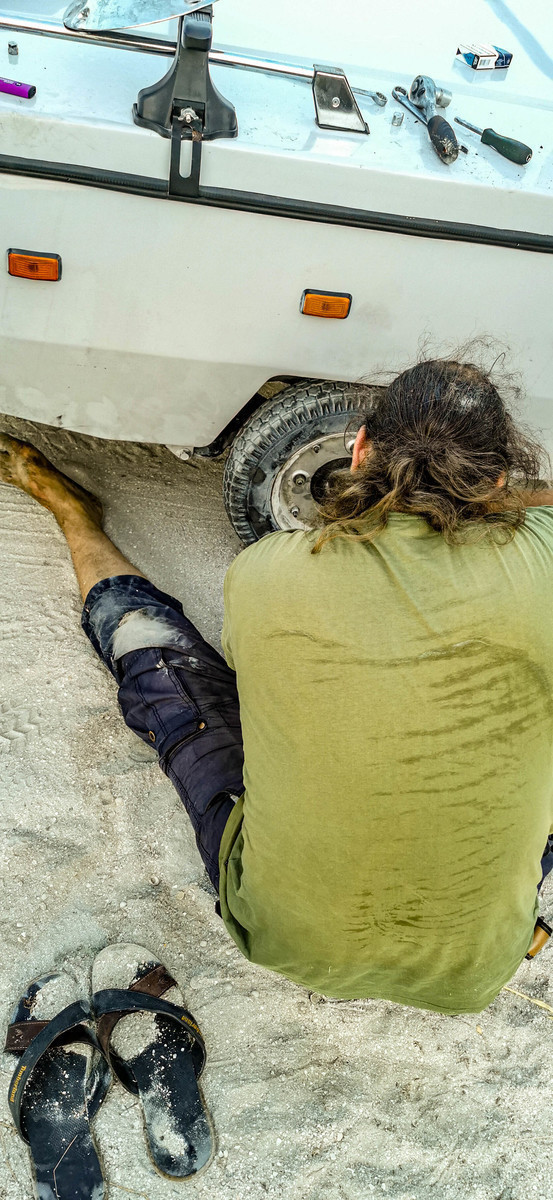 We spent a lot of time on revival, but after a dozen meters the paw of the "Skif" determined our leisure time for the next two days. Locksmith's work on the seashore – this is definitely romantic. Quietly waddling on a dislocated wheel, we moved to the planned camping "Favorite".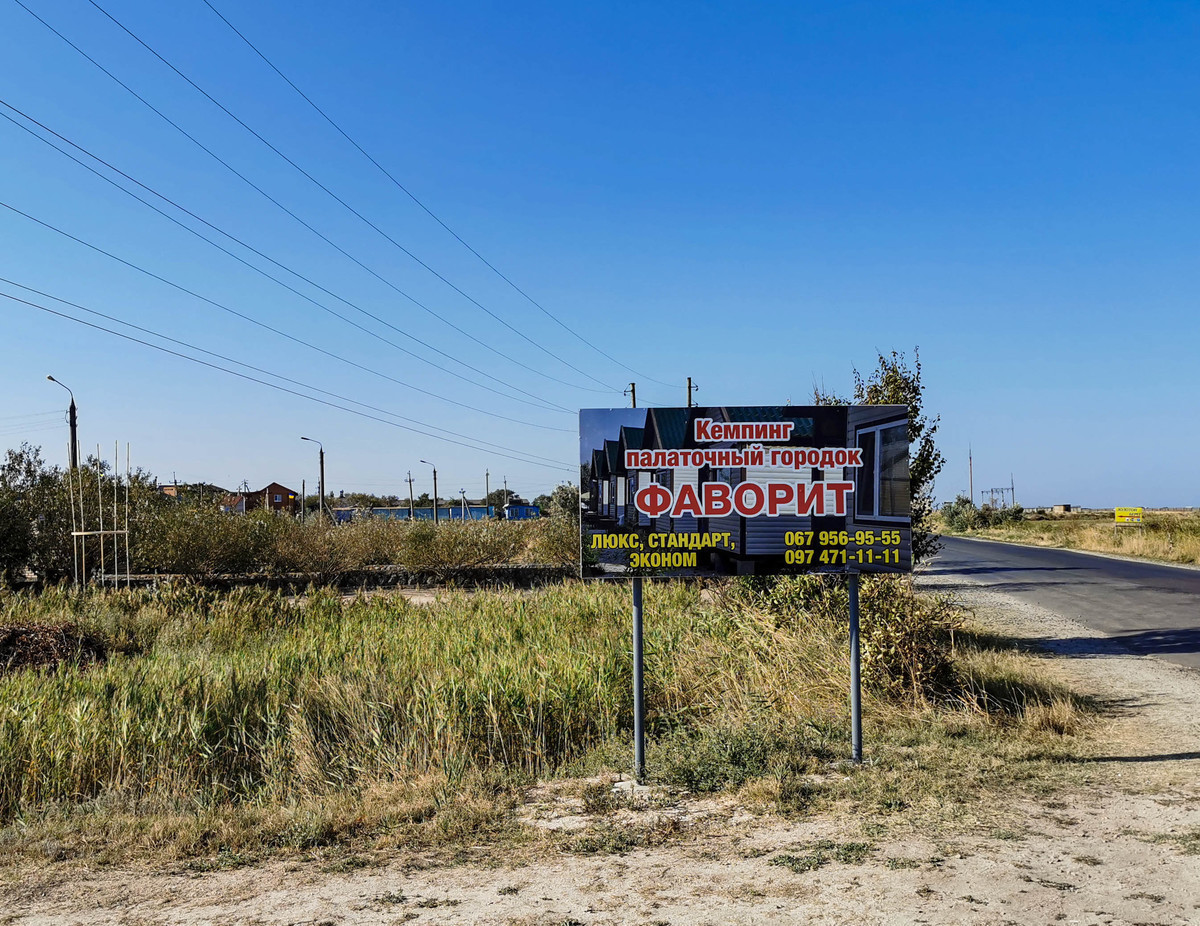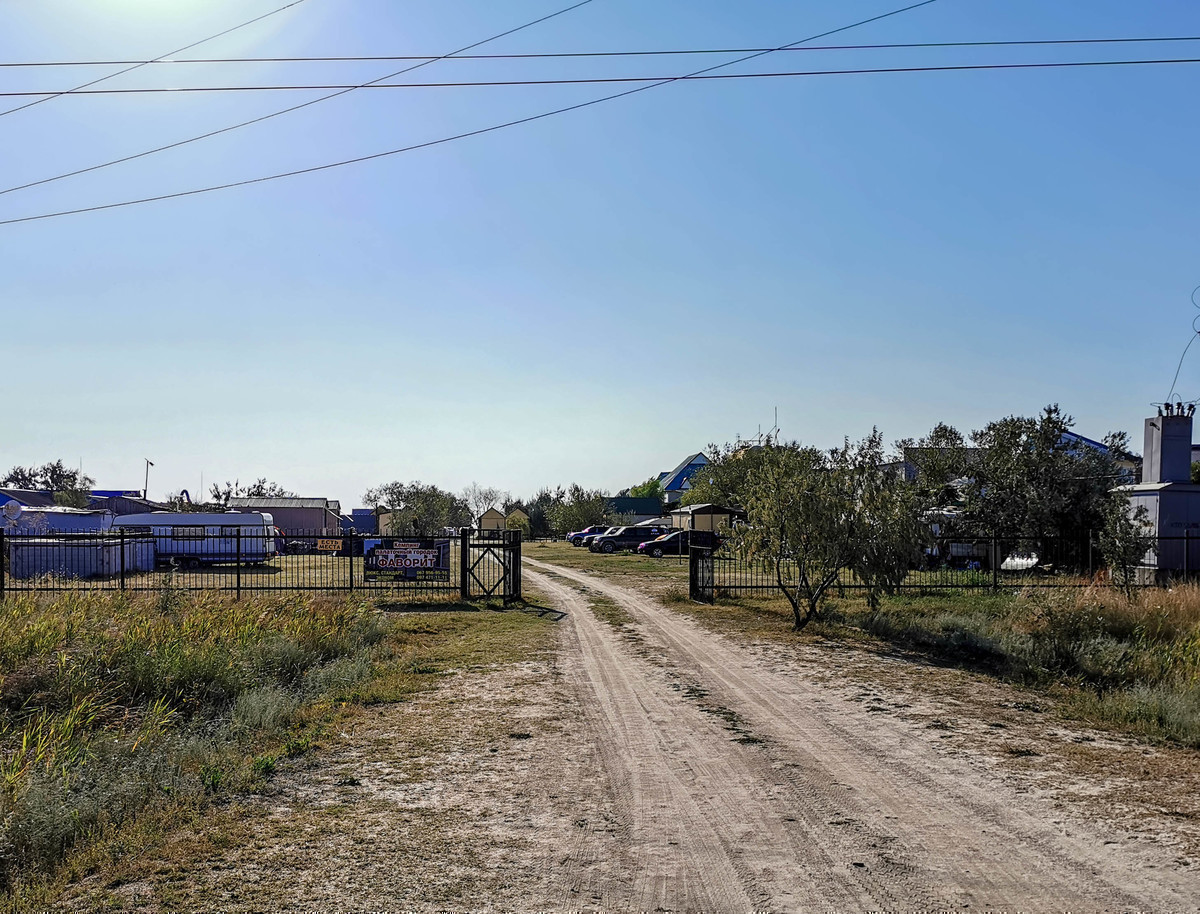 Nothing unusual at this campsite – lines of cars, electricity, toilet, outdoor shower (of course, cold))) and a kitchenette. Well, and the beach)))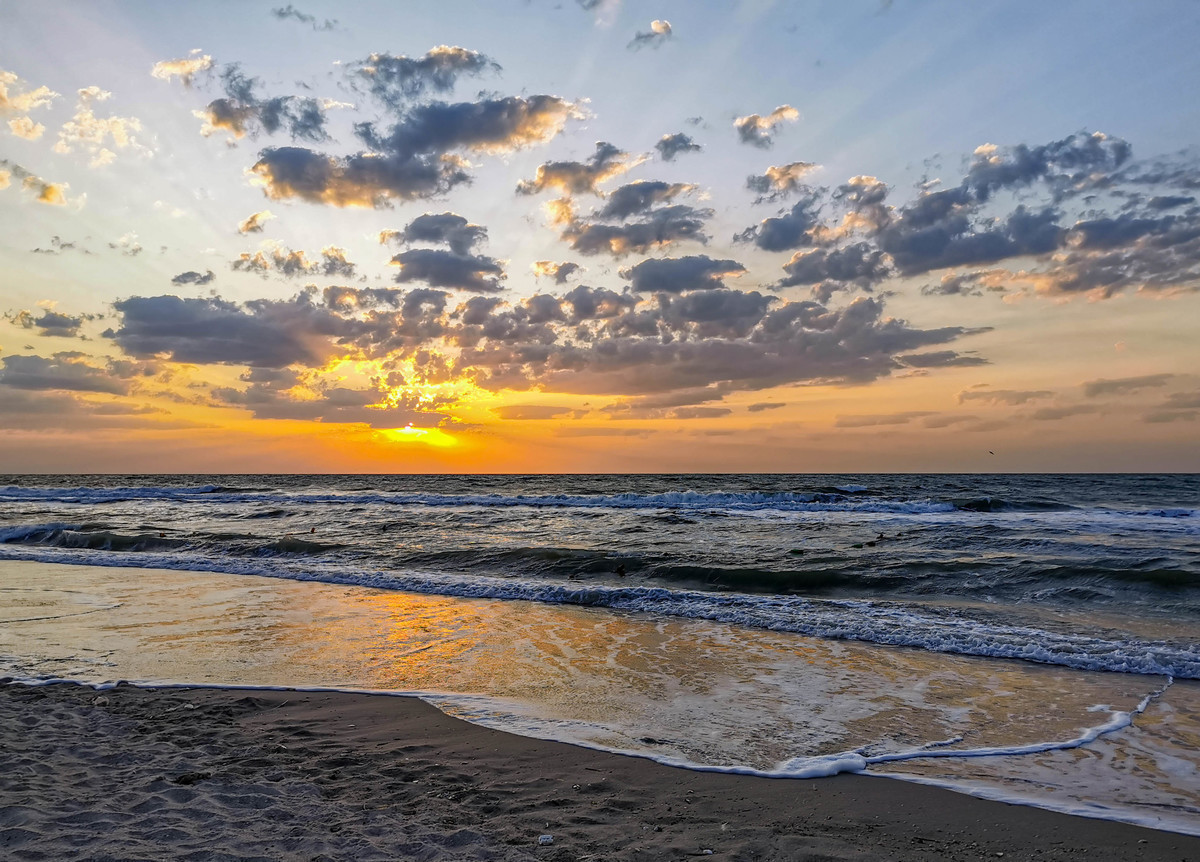 We agreed with the owner of the campsite that the next day in the morning he would help us with welding. We decided to try to weld the nut on the shock absorber so that it would not loosen.
Kitesurfers live in the campsite. They have a base there. And across the road there is a shallow and warm bay. It looks great against the background of sunset!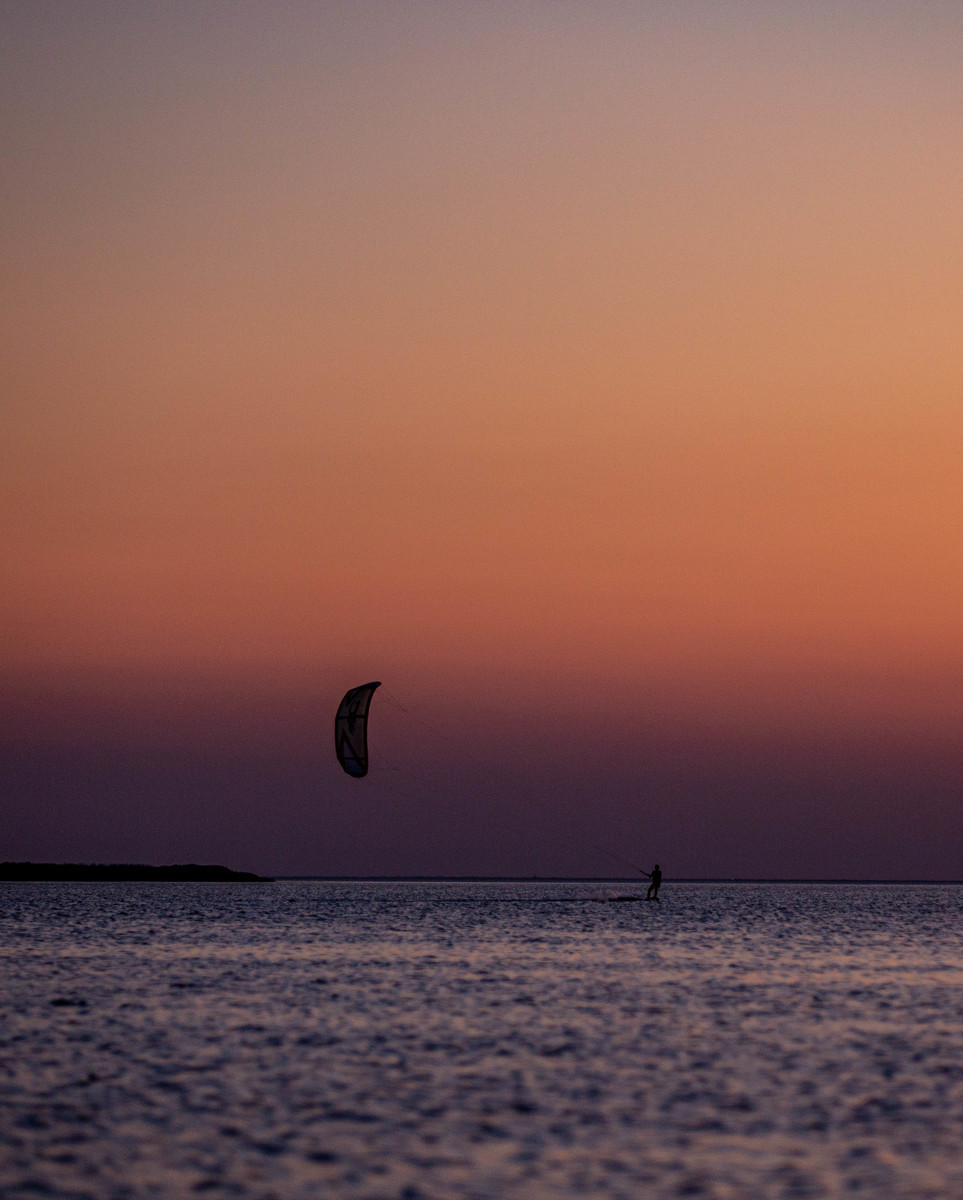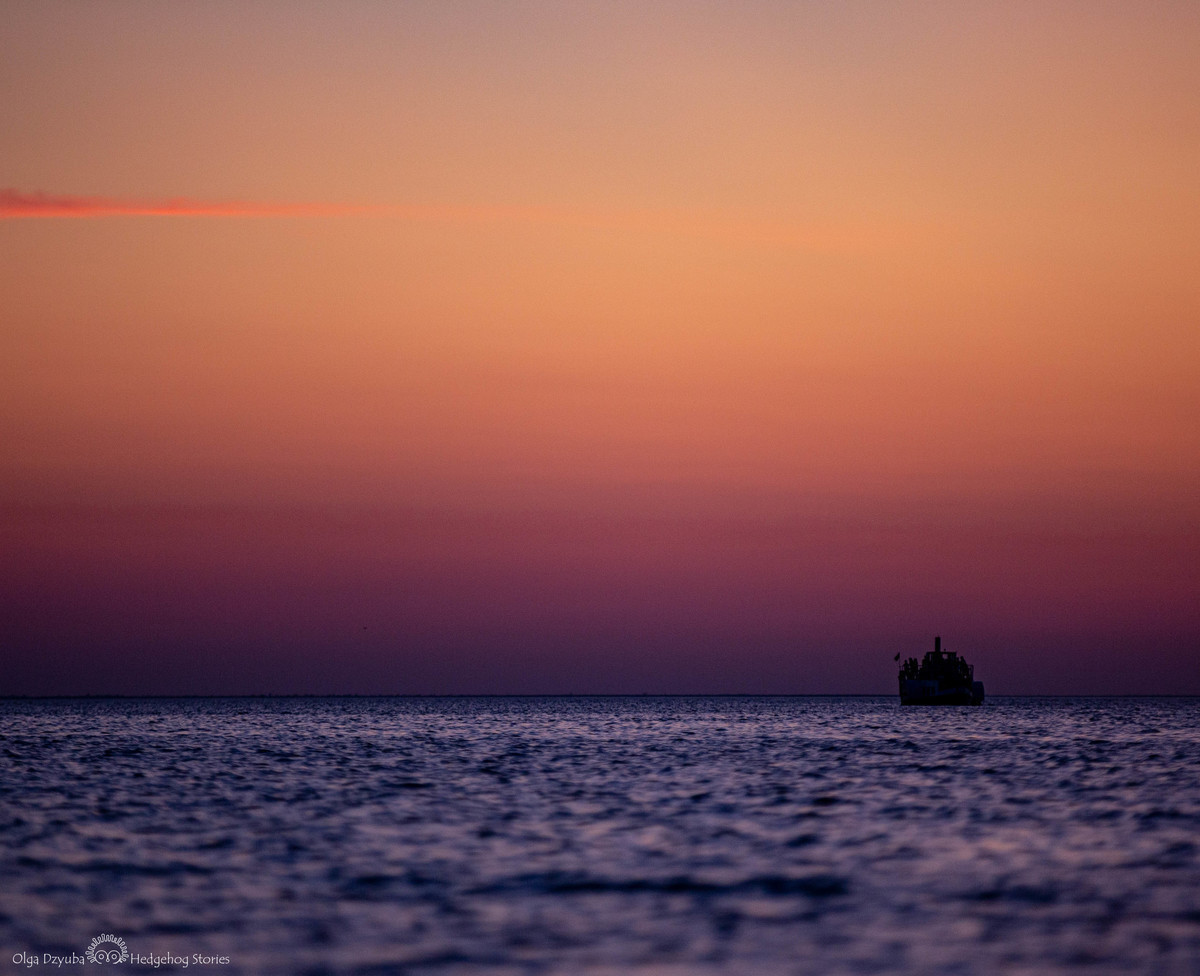 In the morning, an attempt to weld a nut failed – "not being welded." The thread is steel, and the nut is from silumin. Of course, it won't weld .. We also went to a neighboring base, asked for help there, tired the owner of our base (thank you, kind man, for your patience and understanding). Bottom line – we were promised at two in the afternoon to bring new shock absorbers from Mariupol. A kind person volunteered to help us – the supplier of the camping owner. In the meantime, we had time to roast in the sun and bathe in the sea. For sure, no one arrived at two o'clock .. and now our company is lying in the shadow in a row and waiting. Nobody wants to move out of the shadow in the middle of the day under the sun.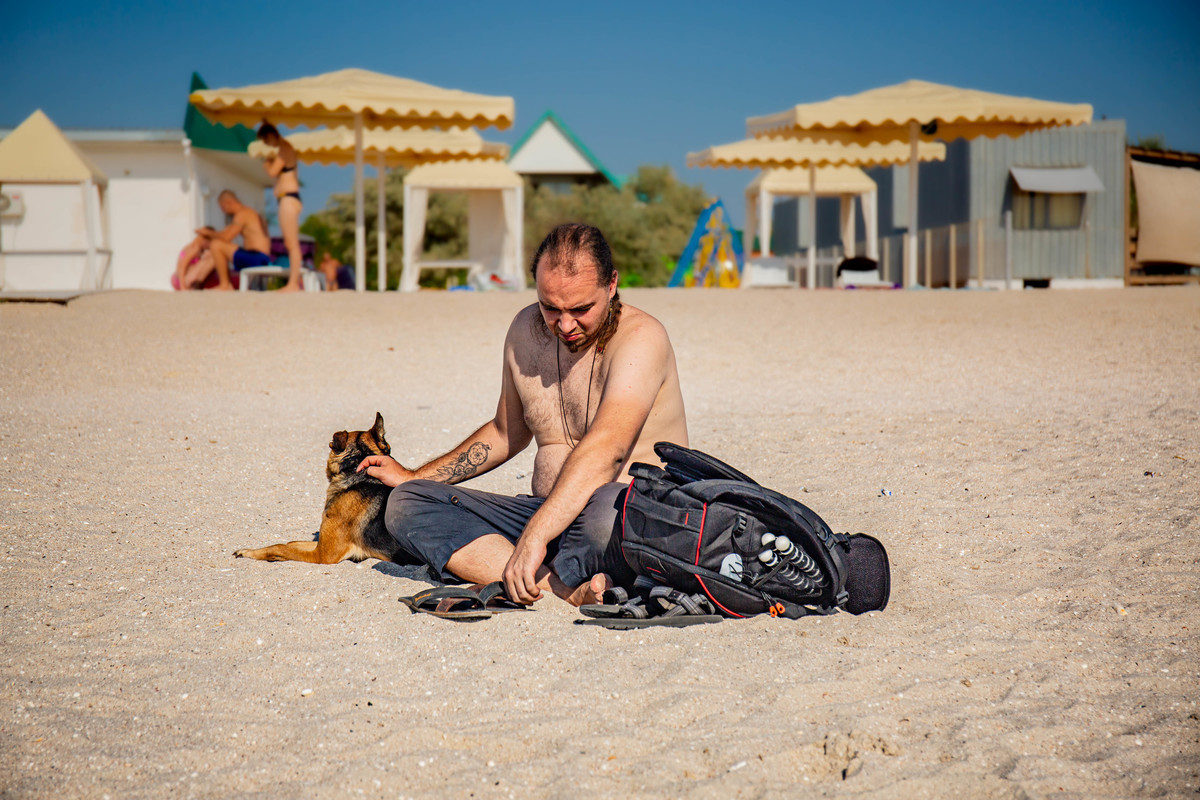 We finally received our spare parts closer to seven in the evening. Thanks for bringing))) WE set everything up, screwed it on, jumped on top and checked. Now "Skif" is with working legs. Naturally, no one went anywhere further. Only the next day we realized that we could once again try to get to Biryuchy Island, but due to the fact that we were waiting for spare parts and then putting them in, it completely flew from everyone's mind. It was decided that the "kindergarten did not submit to us" this year.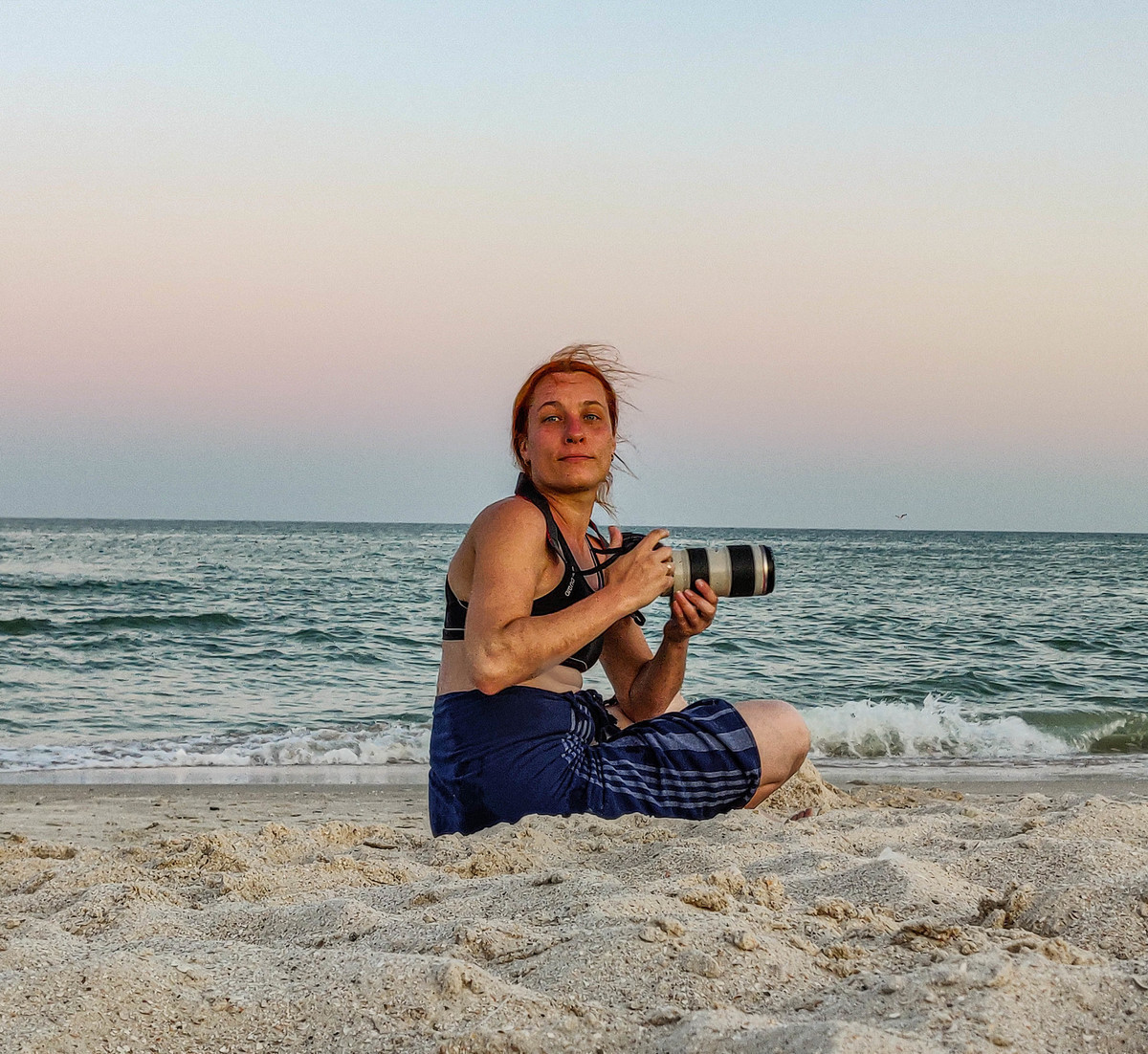 Warm sea evening!
And we have an evening seagulls hunt: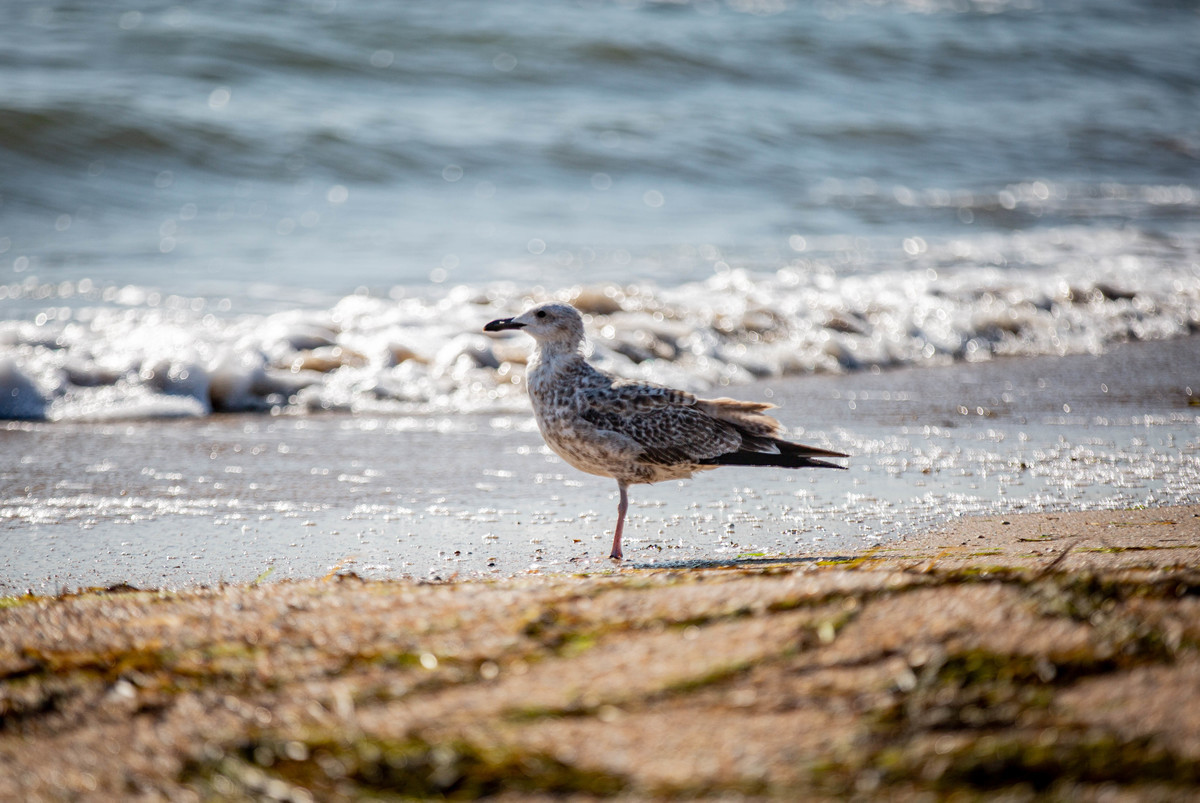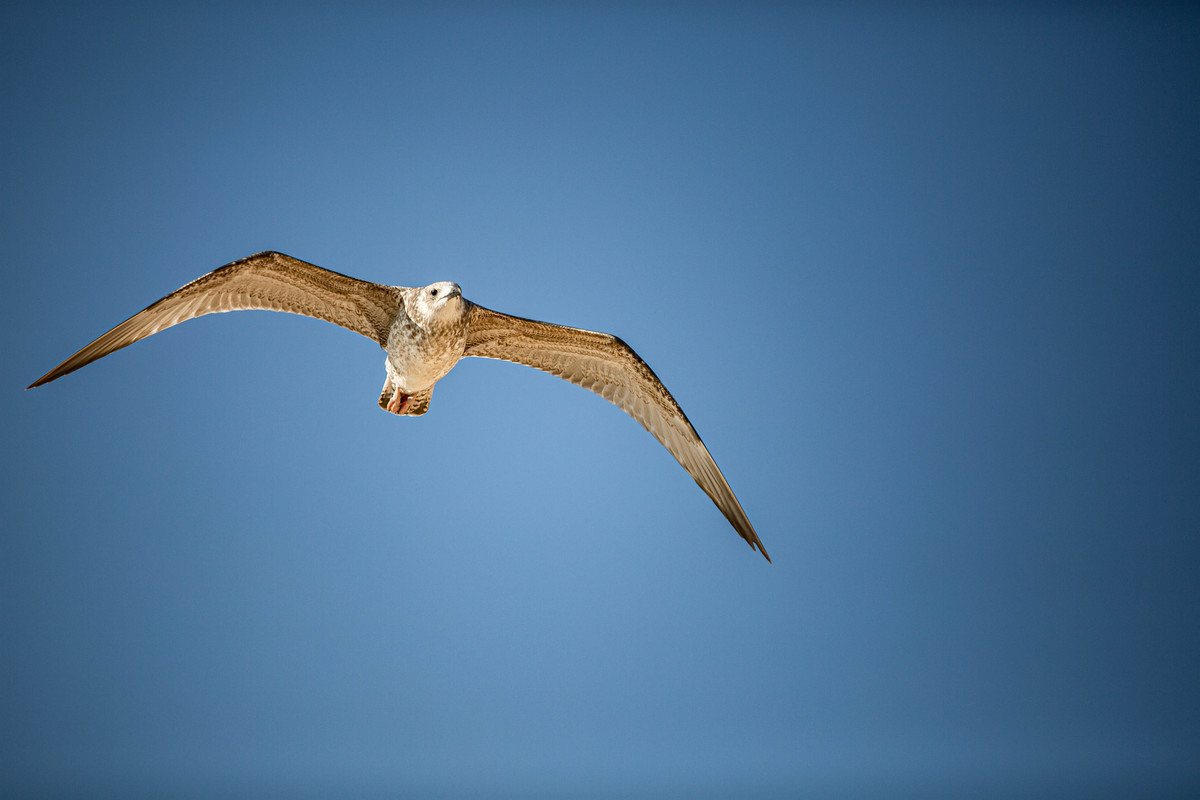 Quiet, calm evening and a beautiful warm sea. Tomorrow we are going further))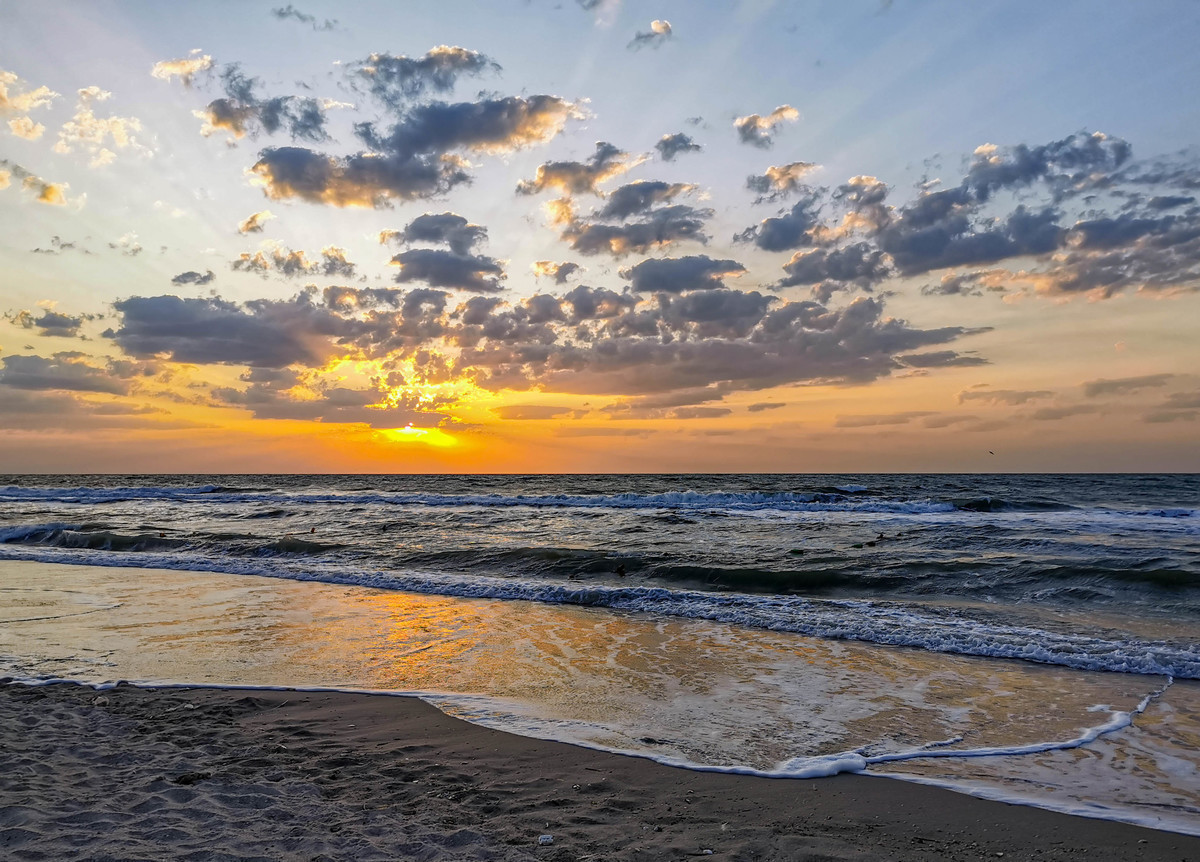 Second part.
Тhird part.
Fourth part.