Zen expedition to the Carpathians. Part two – mountains and lakes.
In order to get on the "Carpathian tram", you need to book a place in advance. And this is great, because unfortunately, not everywhere the progress has gone so far that the booking to be made in advance (I can not rest assured about the fact that in some places in Ukraine it is impossible to register in advance and to try to get you have to spend extra hundred – two hundred kilometers).
The "Tram" itself is located in Vyhoda, a few kilometers from the Dolyna. We came there, found a meeting place quite easily – there are not so many options there))) We were met by a nice man Lubomyr. After a friendly greeting, he immediately begins to tell the story of the Vyhoda itself, the narrow gauge railway and its restoration as an attraction. It is very nice to listen to a person who loves what he tells, how he himself rejoices in the success of his brainchild.
We sat down in the wagon and listened with pleasure to the story of the local attractions we passed. These were: local ethnic groups, a unique alpine swamp, and the history of Vyhoda. In particular, it turned out that one of our favorite songs appeared after a walk on this attraction: Picardy Tertia "Old Tram". It was very fun to go and sing along)))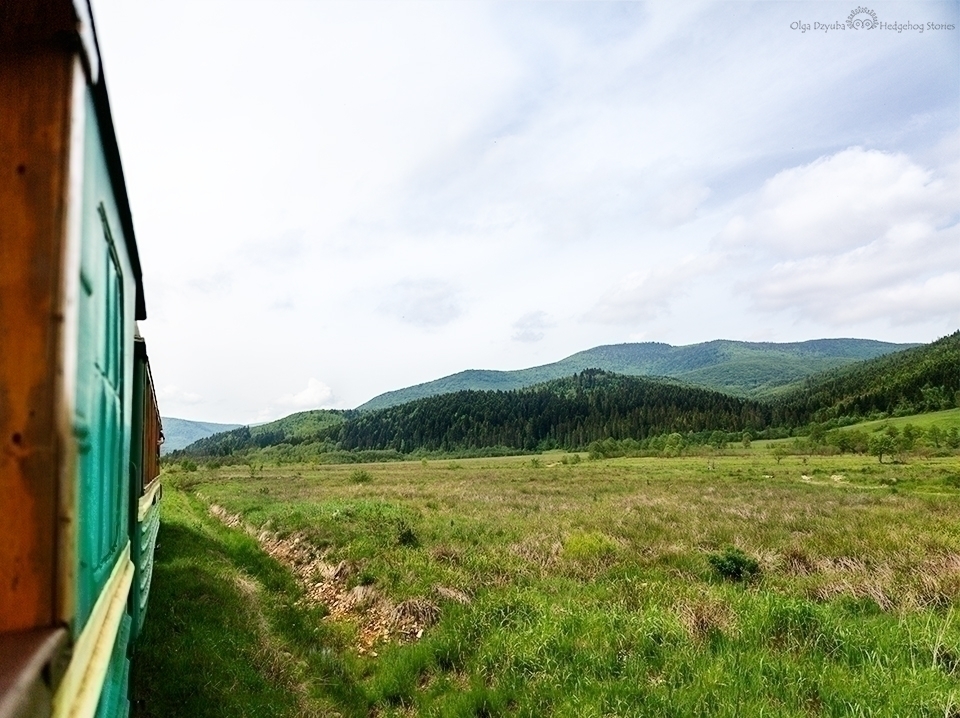 On the way we stopped at a source of mineral water, at a high bridge and at an old and abandoned recreation center.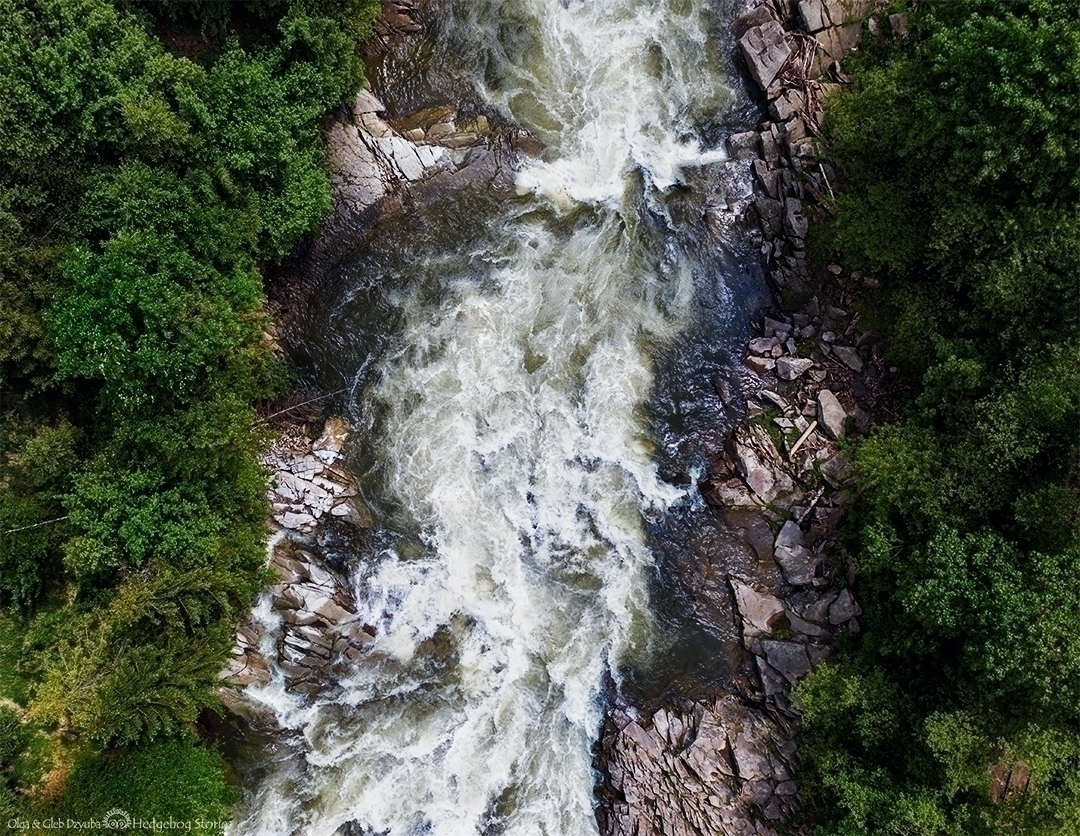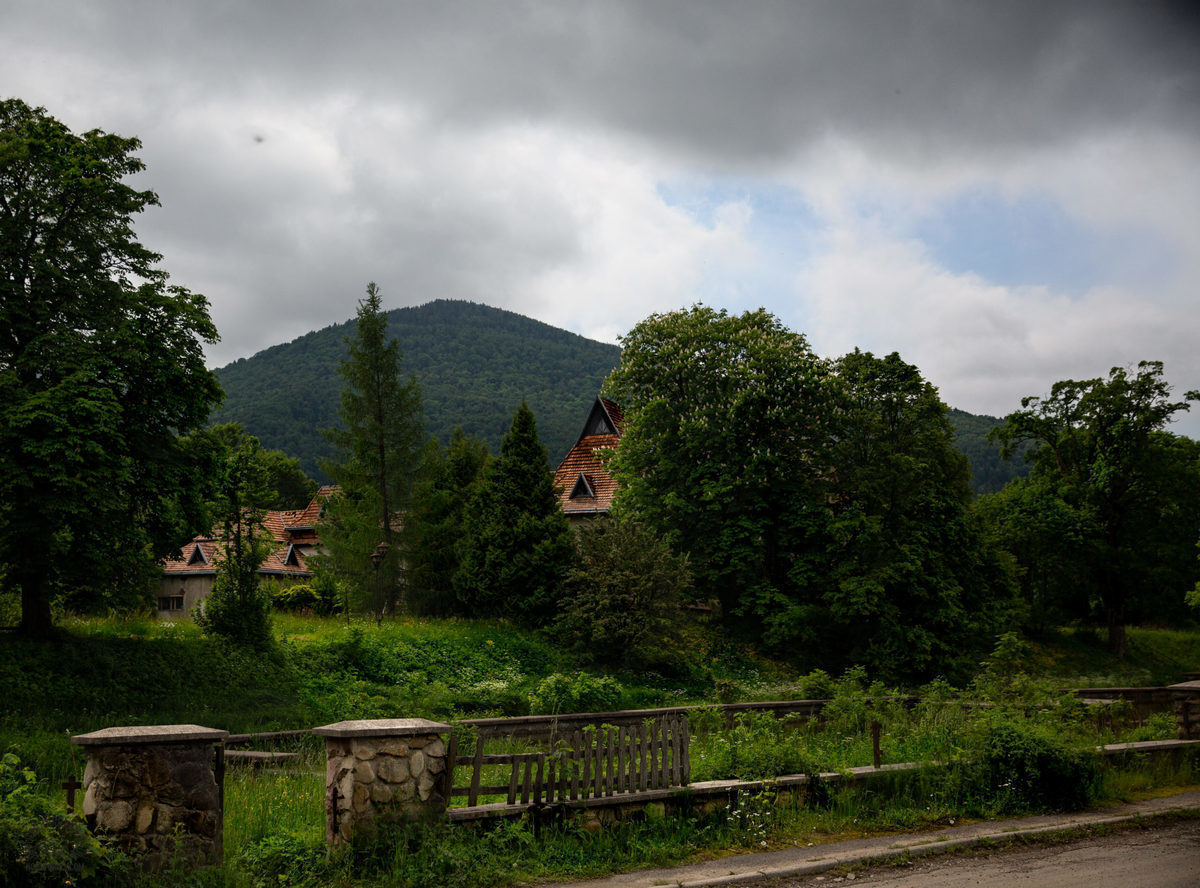 There is a souvenir kiosk and a tea and mushroom soup kiosk near the recreation center. Unfortunately, the soup is very chemical .. And besides, the stop at the soup lasts an hour. If you do not go far or do not decompose the lunch brought with you, then there is absolutely nothing to do. Especially considering the rain.
After spending up an hour, we returned to the wagons and went back the same way. And when we returned, we went to the Heritage Center of the Vyhoda Narrow Gauge Railway.
This center was built recently and looks very modern, cute and tidy. In the first hall next to the administrator there are shelves with local souvenirs. After purchasing tickets, we are moving to see the local flora and fauna.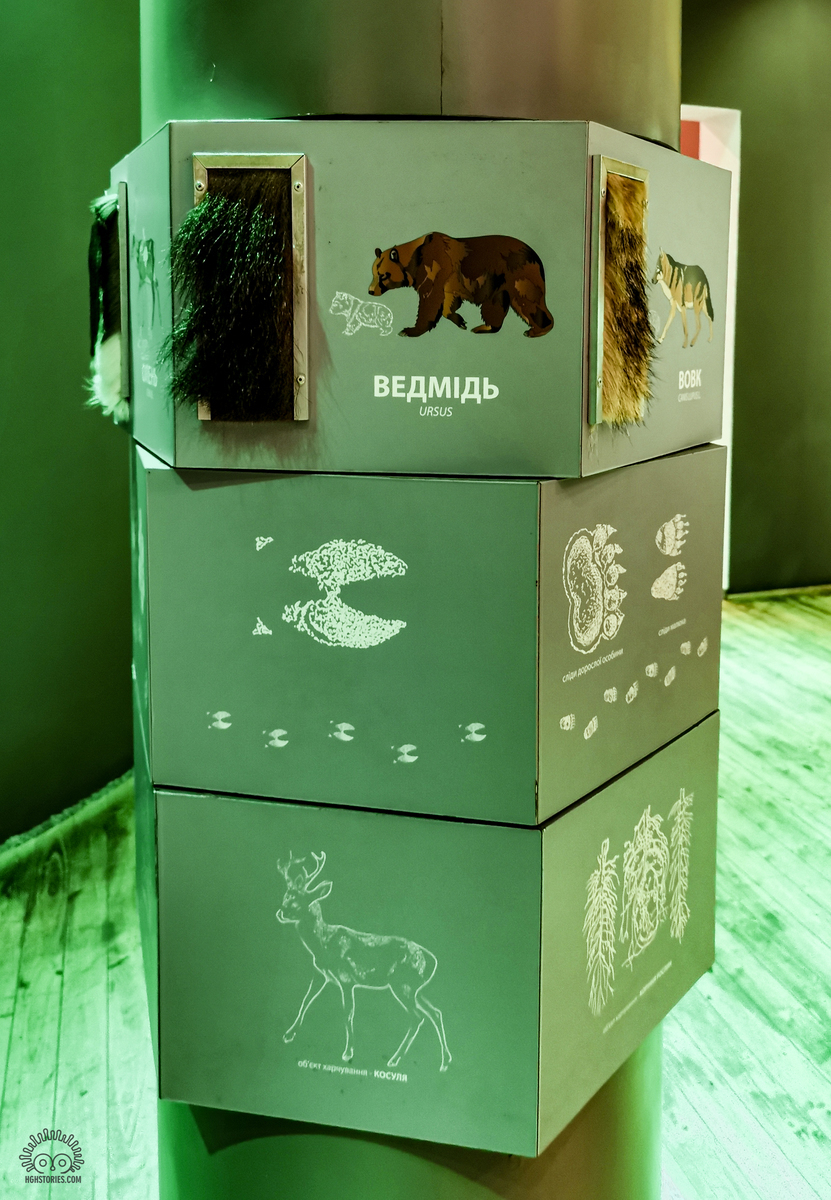 Interestingly, there are a large number of interactive stands for children: you can touch different species of trees, animal fur, smell the grass and listen to the birds singing.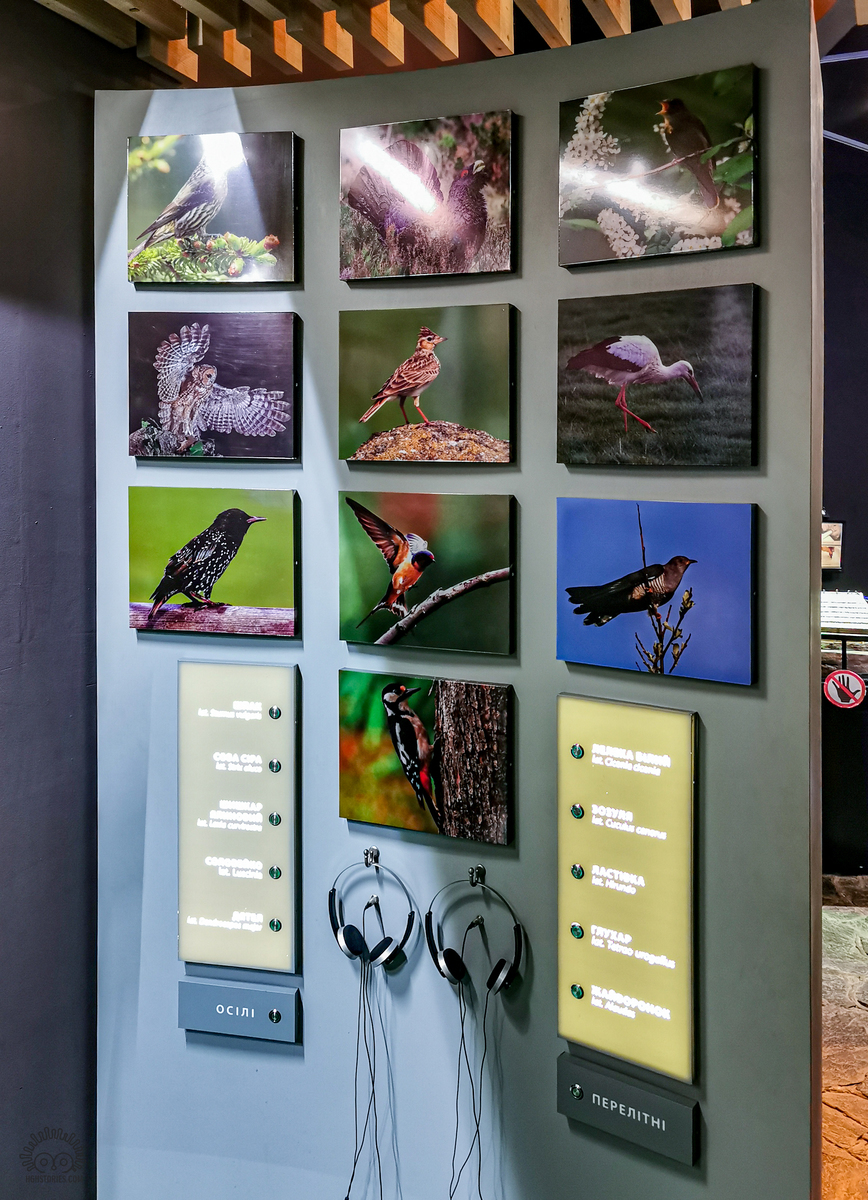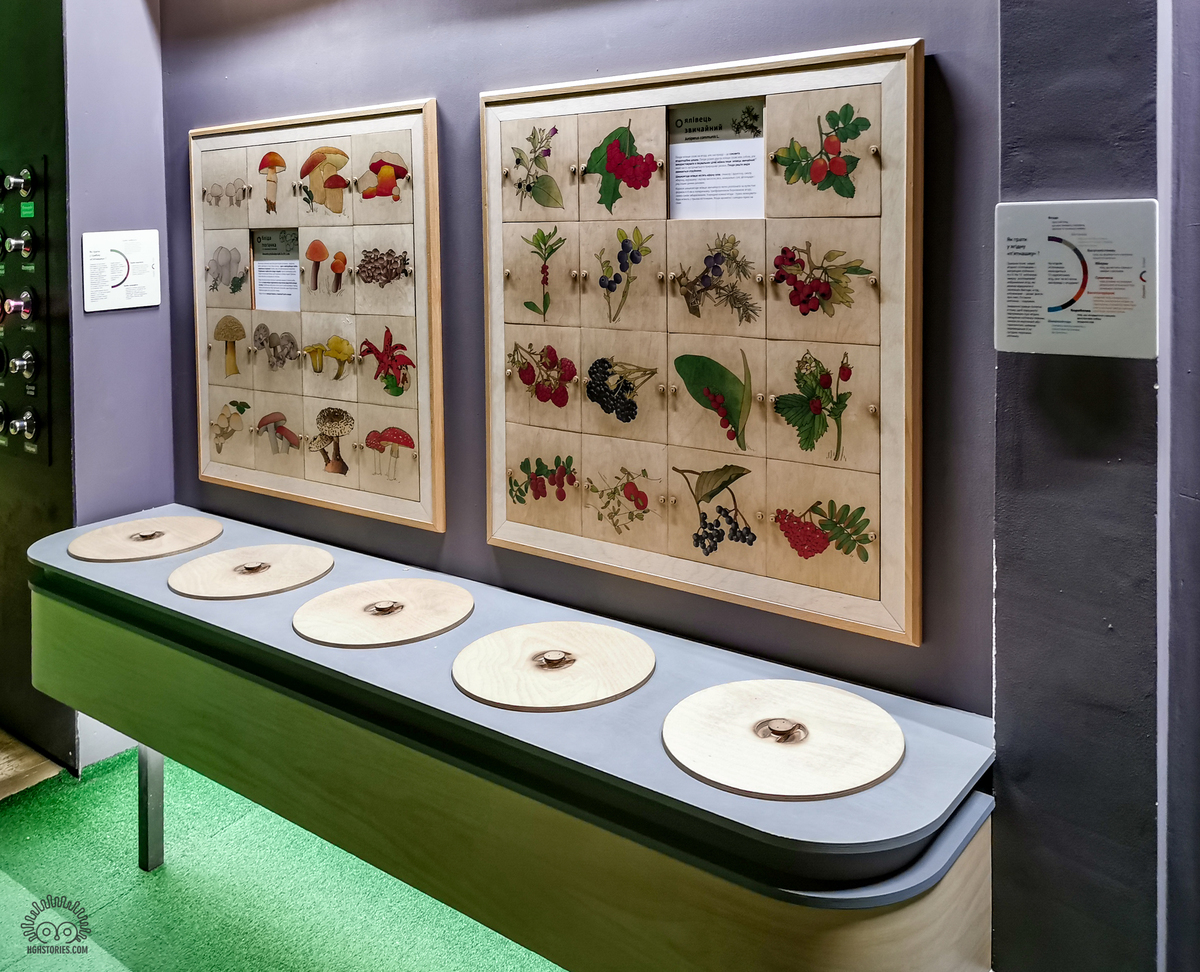 The next room tells the story of Vyhoda and the Narrow Gauge Railway.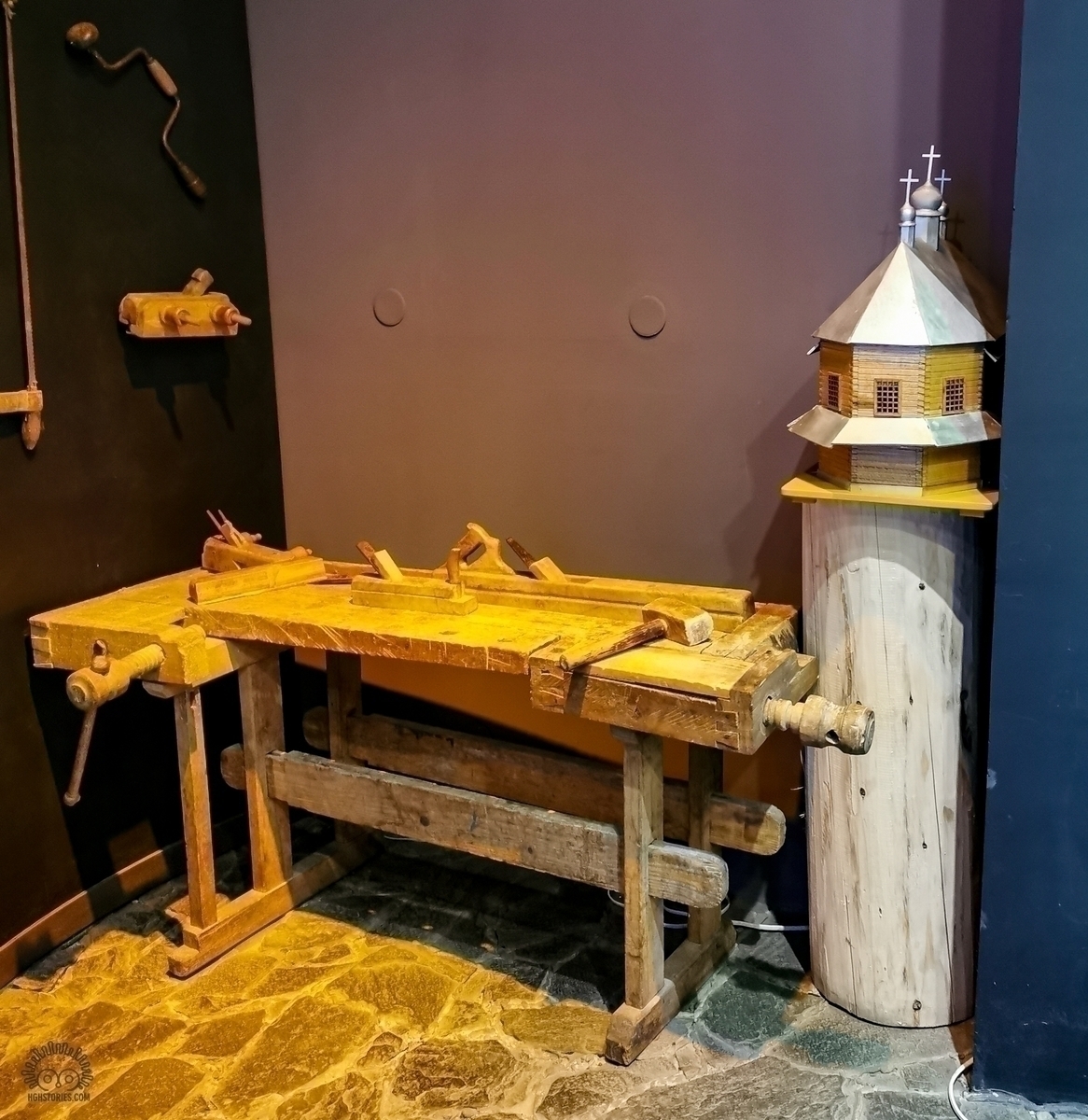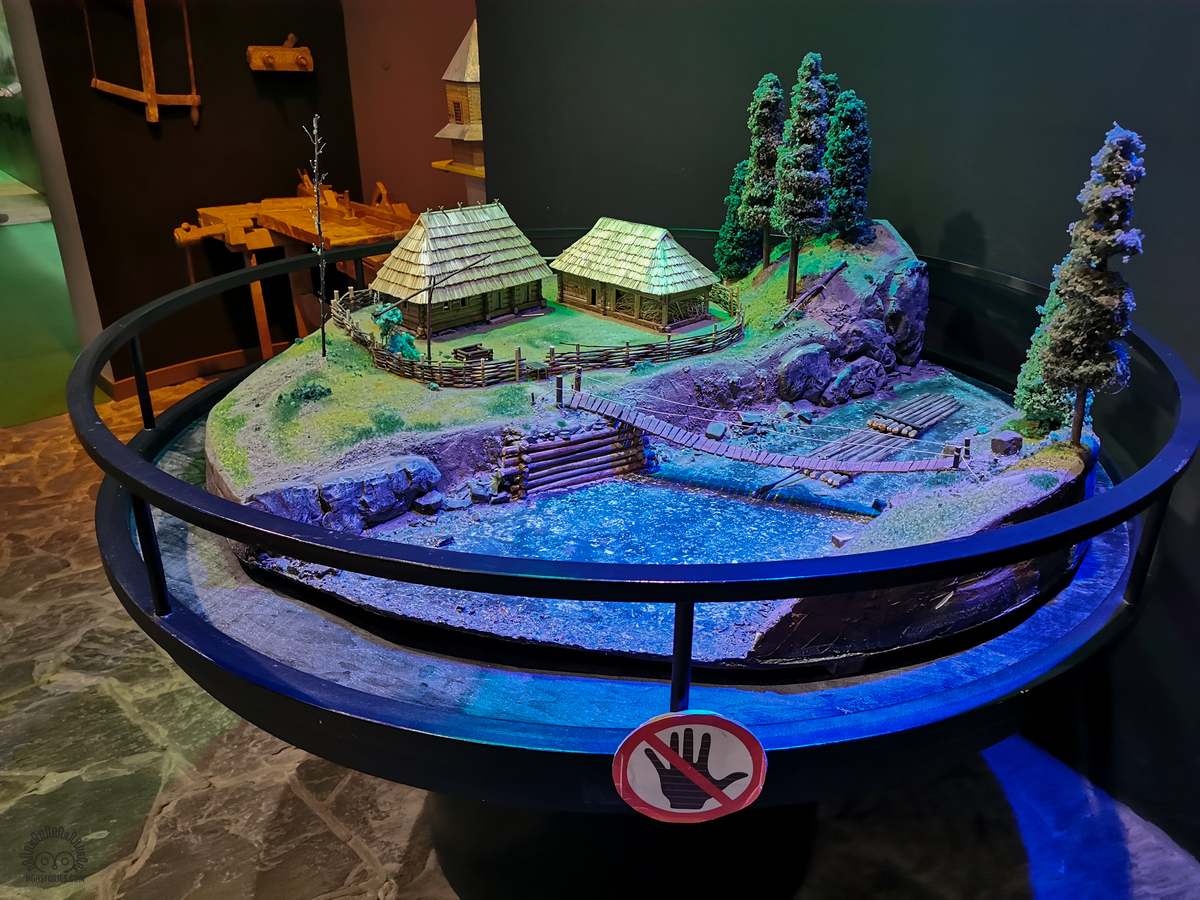 And there is a model of a steam locomotive: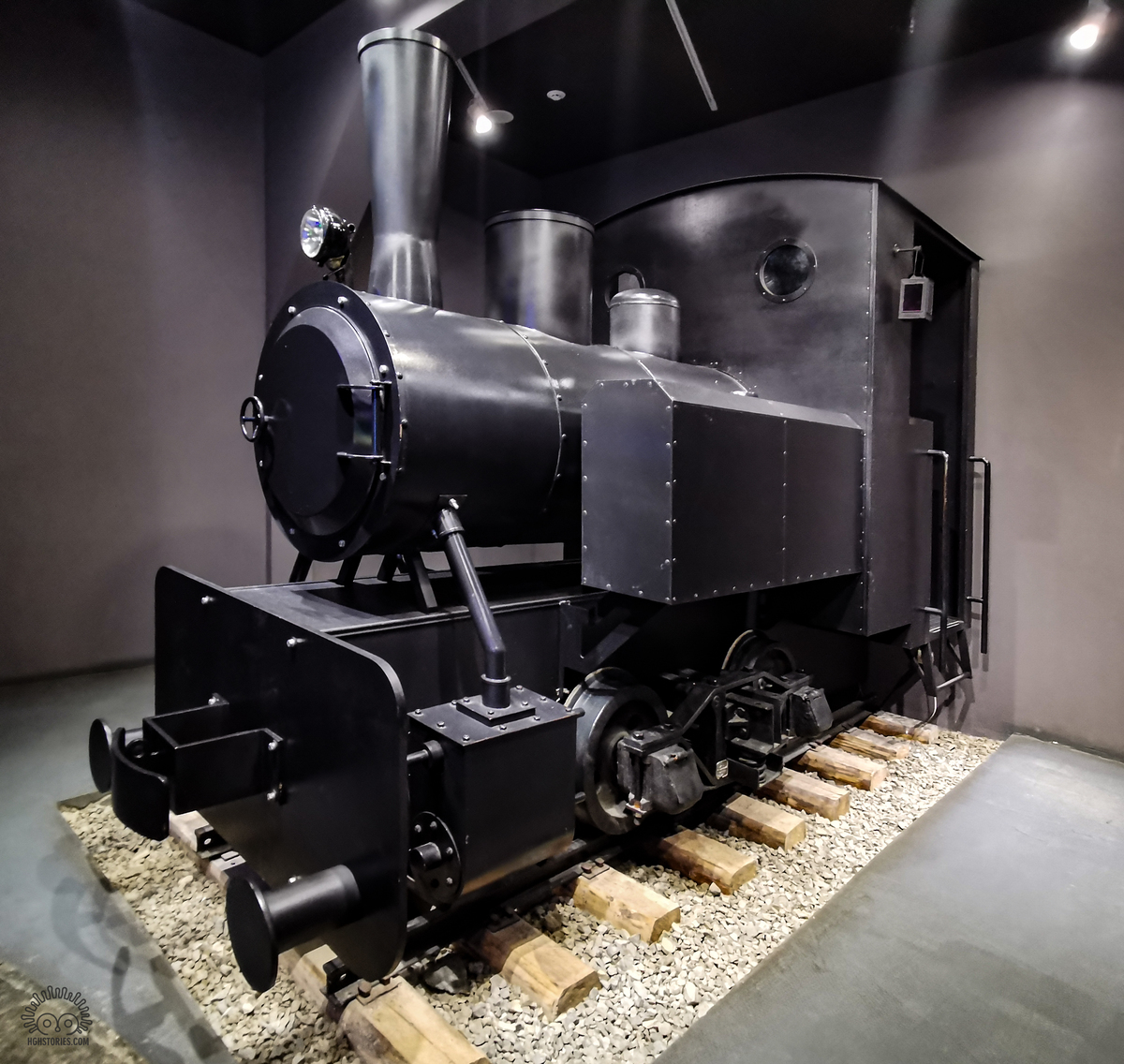 And the farthest hall is set aside for a small movie theater. It shows a film made especially for this center about the history of the Carpathians in general and Vyhoda in particular. Watched with great pleasure!
After the tour we went to look for a food outlet. There are not so many of them on the map))) We stopped at the restaurant "Carpathian Rock".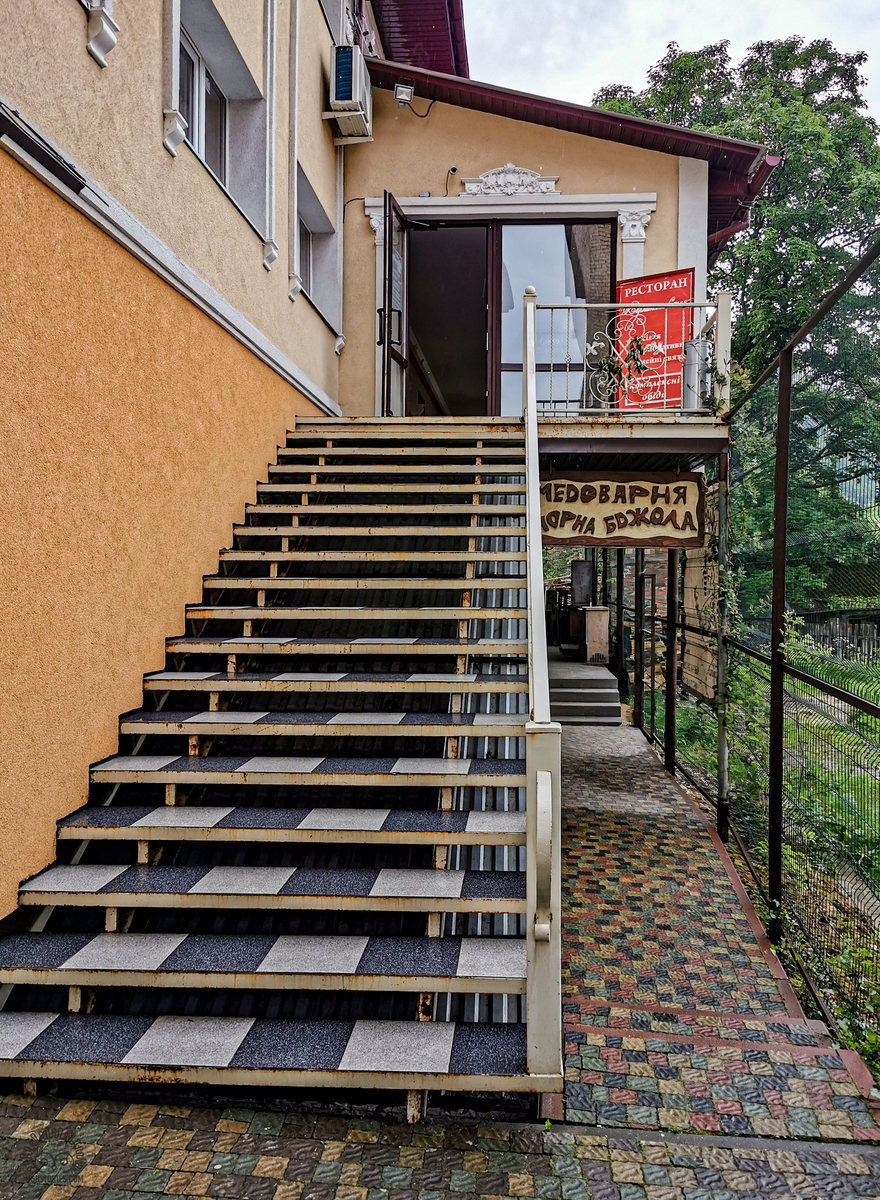 They cook deliciously, the prices are reasonable, the service is nice)))
There is also a souvenir shop in Vyhoda, which presents goods from all local factories. And, as it turned out, there are a lot of them – pottery, teas, cheeses, honey, sweets of various kinds and much more!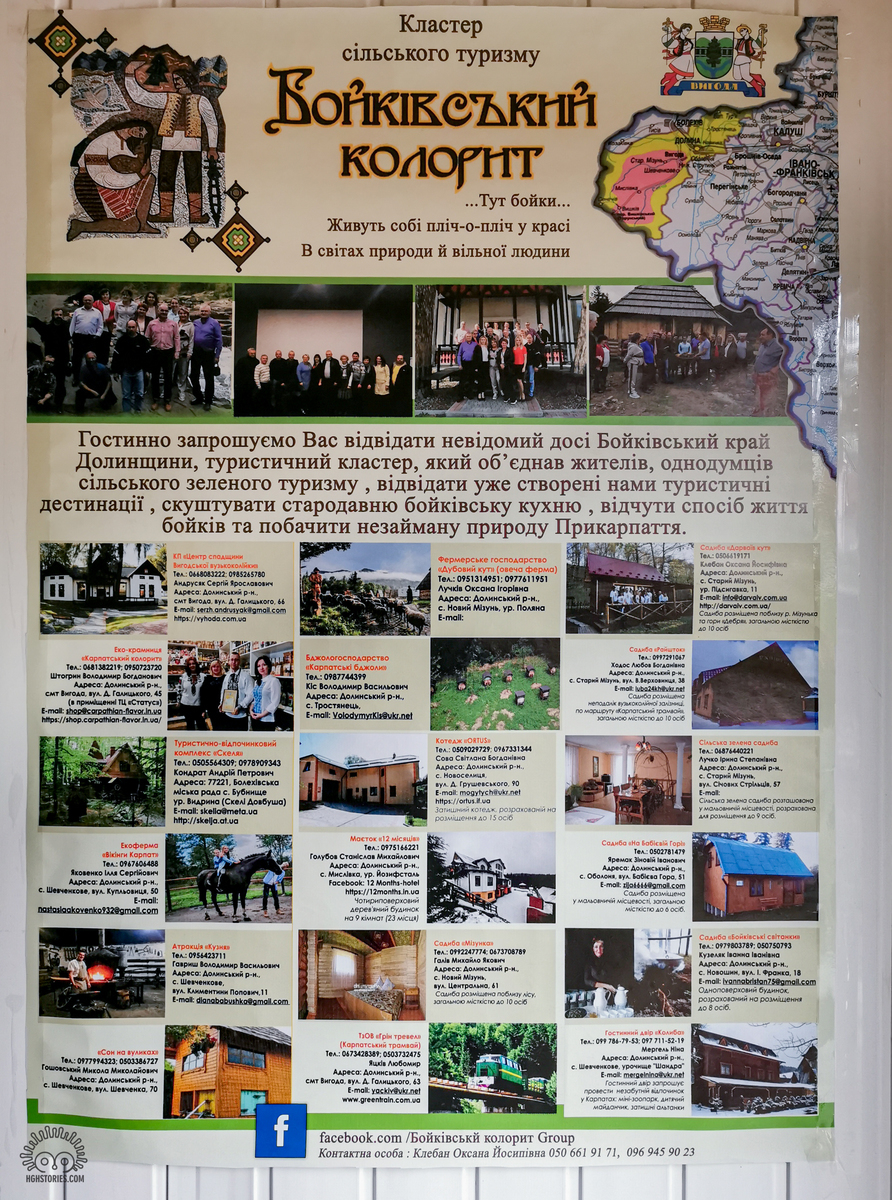 Of course we took to try local cheeses for dinner for ourselves! Here are different types of soft and aged hard – delicious!
In the process of appetite before dinner with grilled Carpathian trout, we were not bored: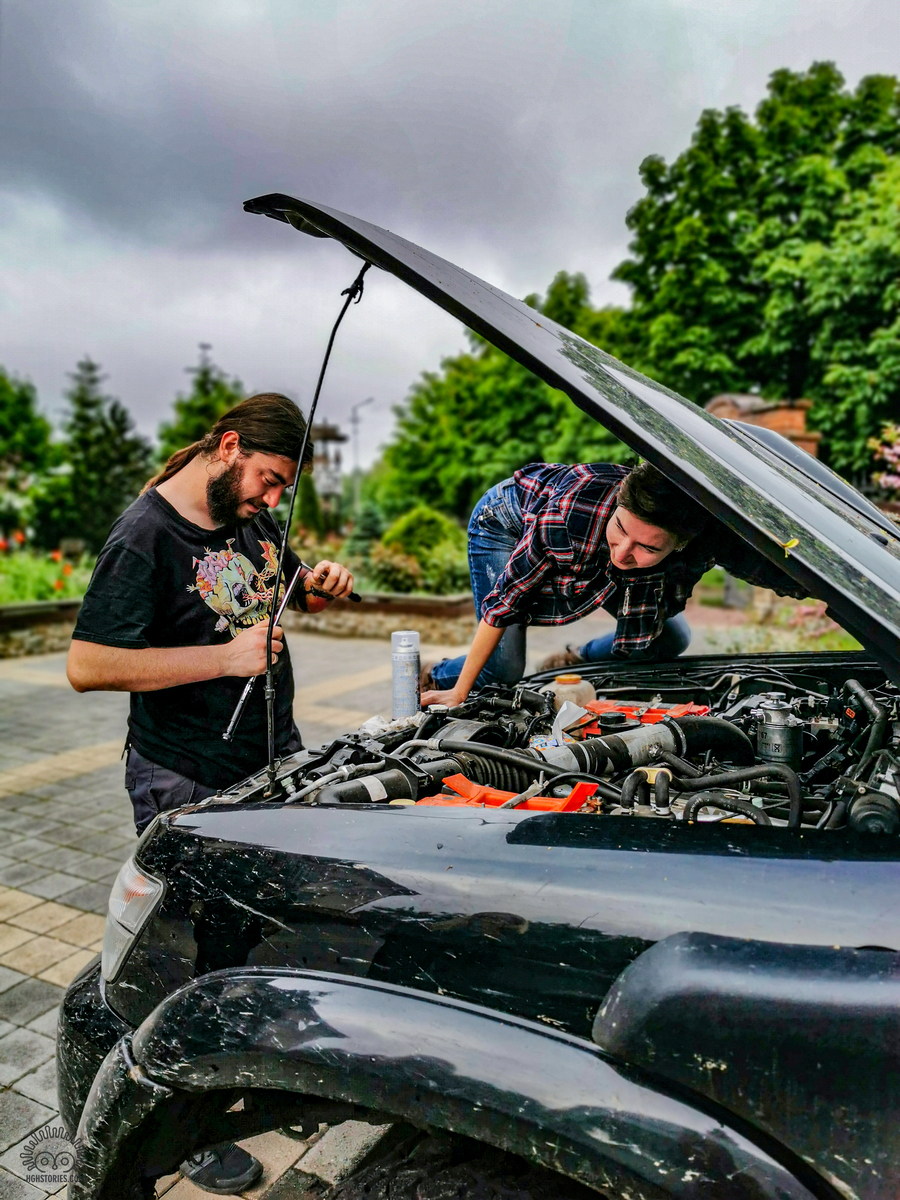 Dinner at the restaurant at the hotel did not impress us – just calories. Although it all sounded very tempting ..
At first we wanted to went Mount Pip Ivan of CHernohora. To do this, you had to drive to the village of Shibene, leave your car there and walk up the mountain. But we decided to do it differently because part of the group was not ready for such a rise in the rain and cold, and to spend the night on the mountain in the rain is almost pointless – nothing to shoot. Instead of climbing the mountain in the rain, it was decided to go to Synevyr, and from there to Dzembronya (from there there is also a path to Pip Ivan and if it clouds will go away – we can try).
On this occasion, we asked the locals about the road to Synevyr. To sum up: there is a straight and short, but ruined (Google map threatens to go a hundred kilometers for three and a half hours). There is a long but smooth (through Stryi, more than two hundred kilometers and also about three and a half hours) .. The choice is not original))) And of course we were advised to take a longer road))) The decision was also not original – to go a short way, and if we understand that we do not like it at all, then go back and go long.
Early in the morning we gathered and went a short way to Synevyr. The road turned out to be really bad, but not for us.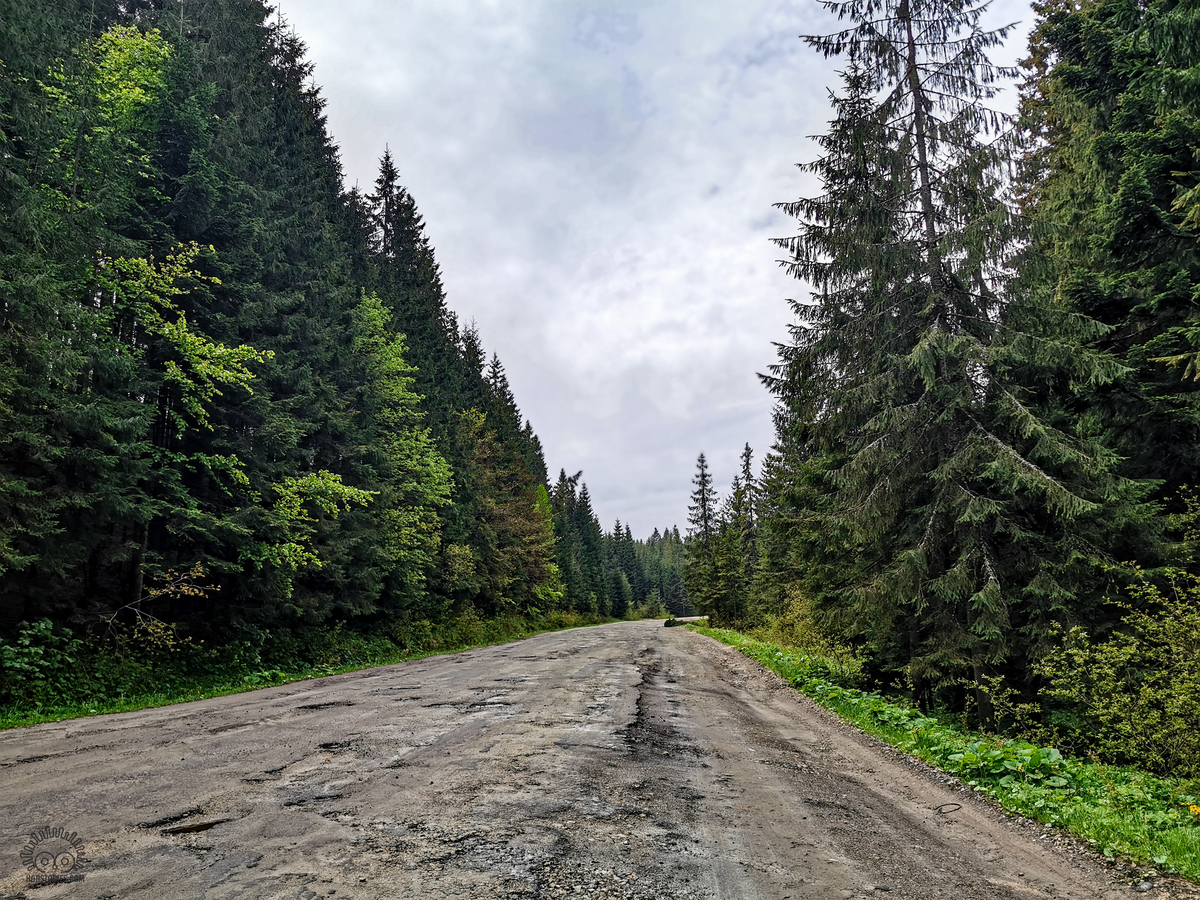 We drove these hundred kilometers in two and a half hours, but not because of the quality of the road, but because we stopped to see what happened with one of the cars.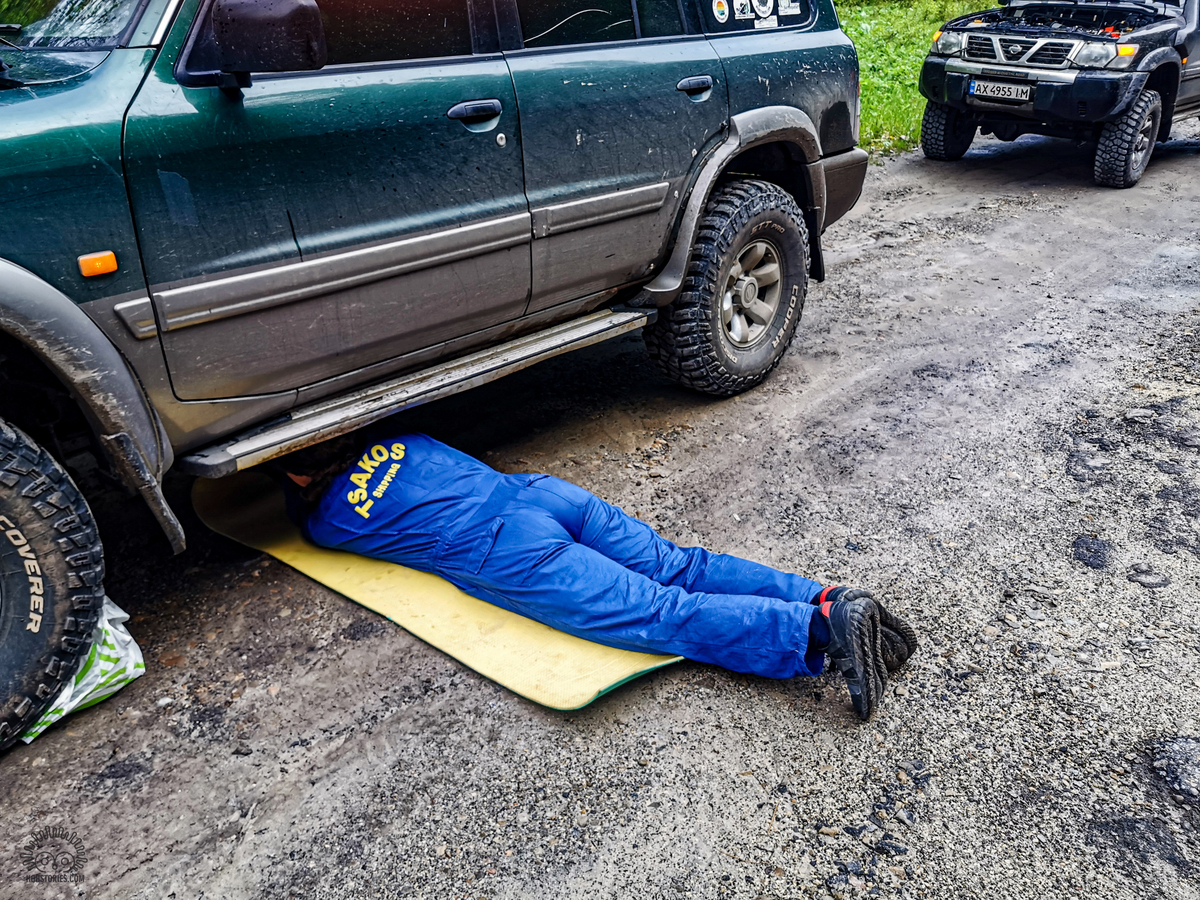 The views along the way are simply stunning!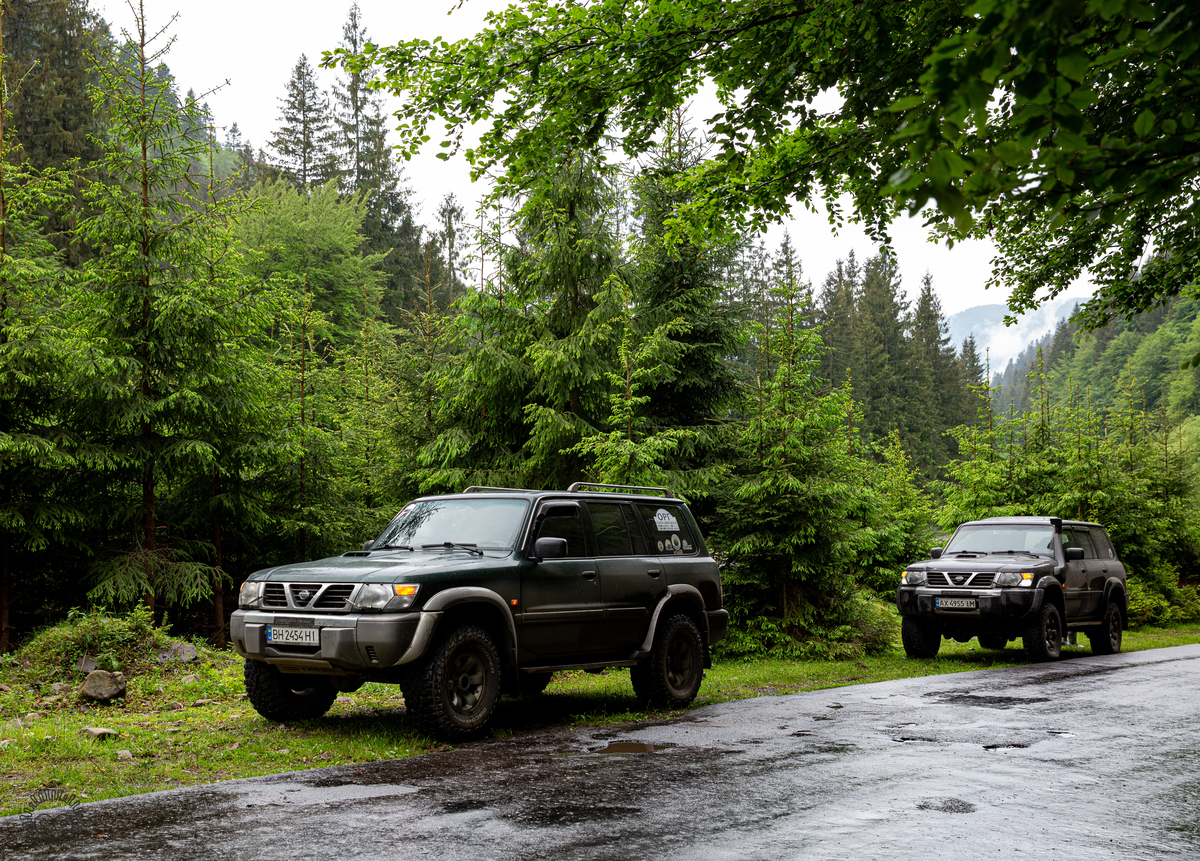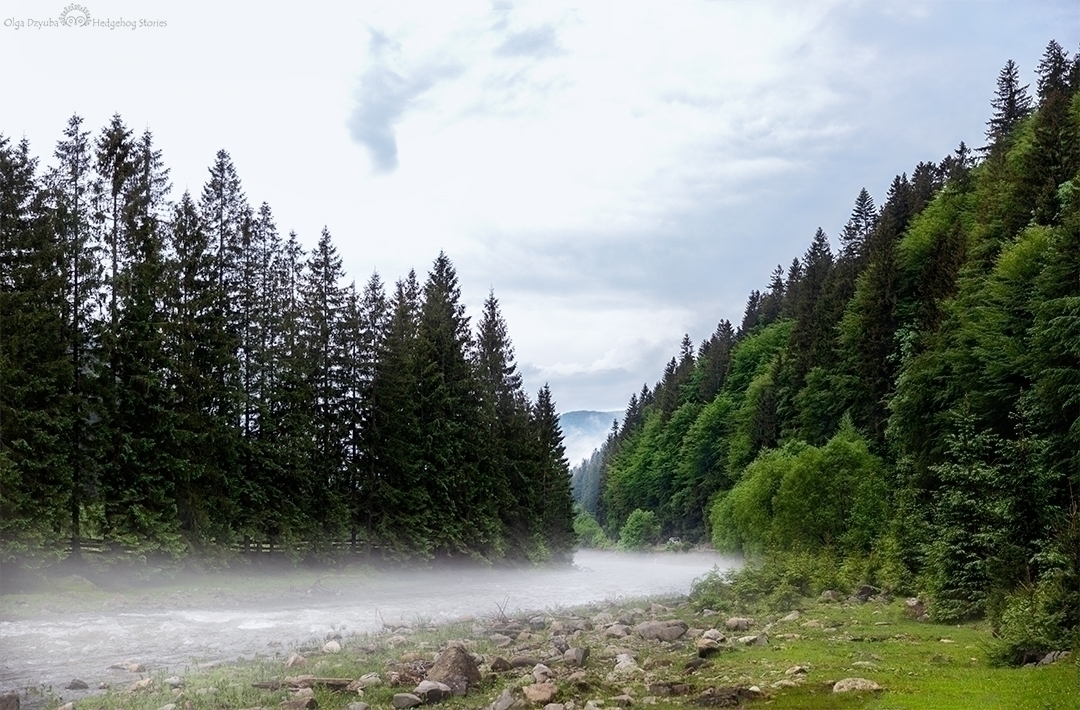 The first point on the way we had was the Brown Bear Rehabilitation Center of the Synevyr National Nature Park.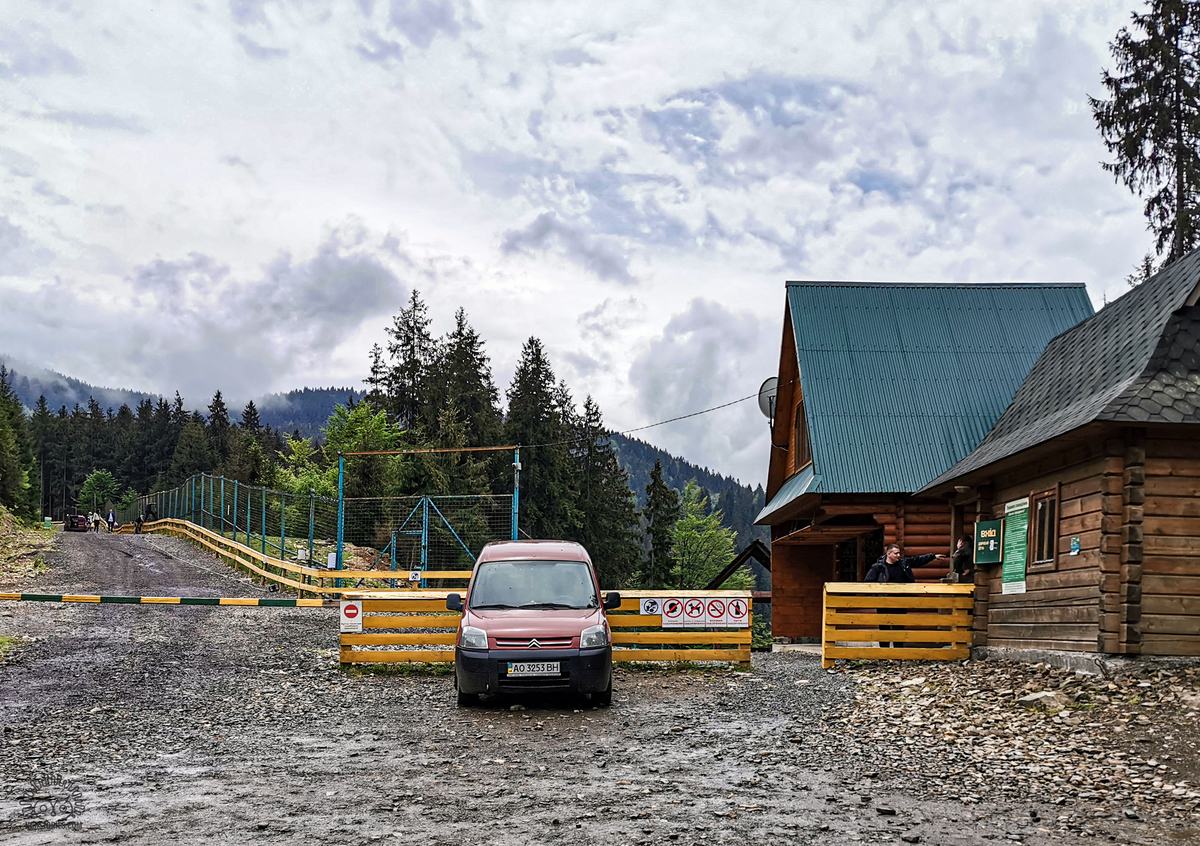 Entrance fee is absolutely symbolic – 30 UAH (about $ 1). Everything is very neat, there is a stand with detailed information about each resident of the center: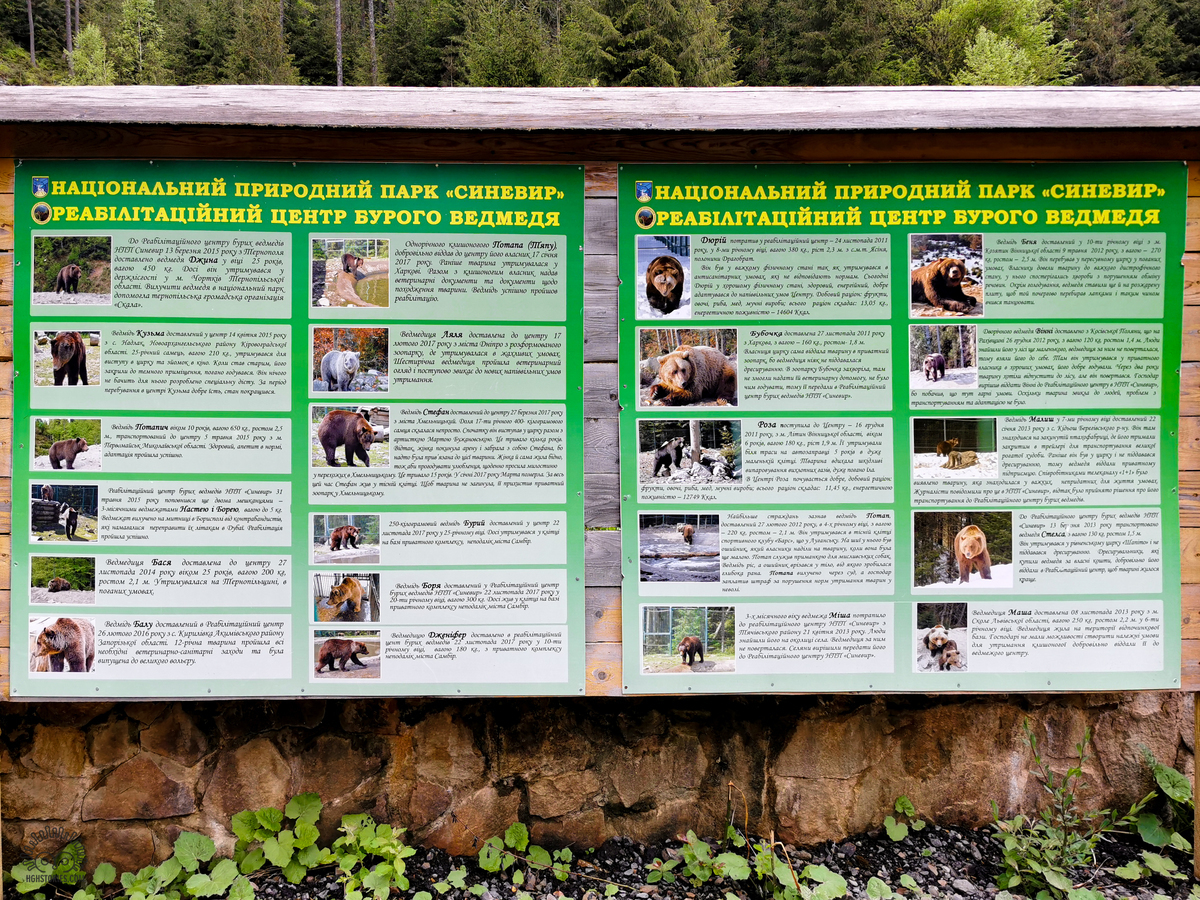 The pedestrian area is very small, but along it sits a large number of inhabitants, who are interested in visitors.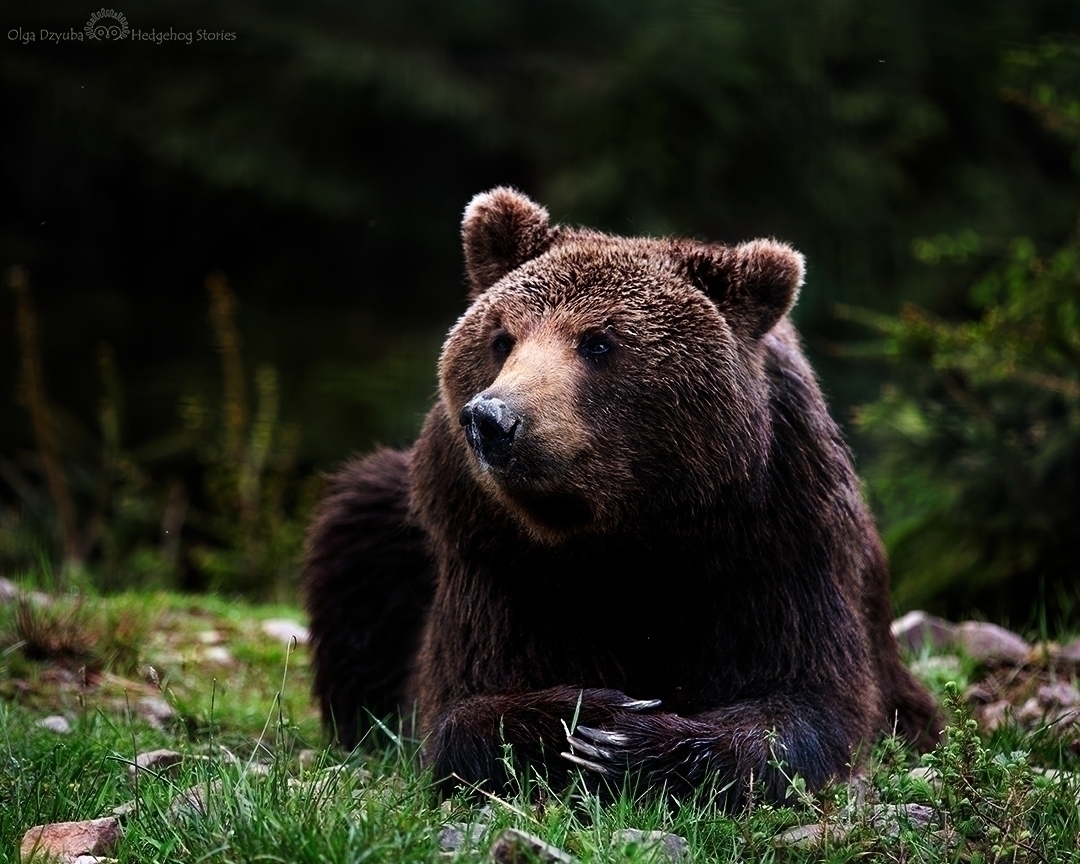 A live net is stretched between the bears and the visitors. And on the hill there is a quarantine zone for bears – there are either new inhabitants, or those who need veterinarian's attention. As we were walking, they noticed a bear with a very strange behavior – he was standing close to the fence and shaking his head in different directions. And was doing so for all the time that we were there. At first it looks like the bear is having fun, but then it becomes clear that they are unlikely to do so for so long. The caretaker told us that this is the behavior of bears who have lived all their past lives in small cages – they are simply unable for the first year and a half to realize such a large amount of free space. So they acts like that..for a year and a half. But, according to him, everyone then gets used to it and going deep into the forest. A spooky spectacle, to be honest..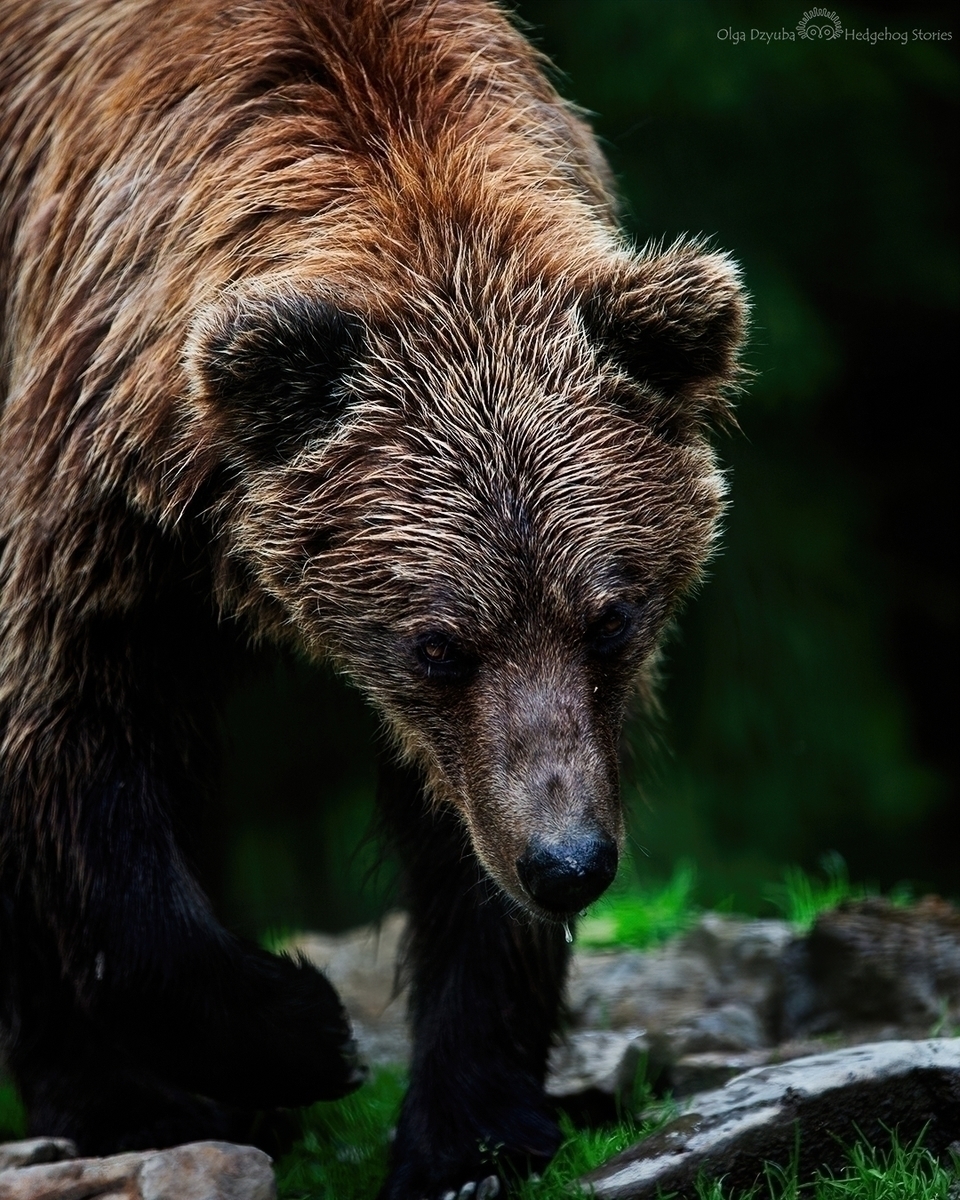 Near the quarantine section there is an information stand with a little more information about the center: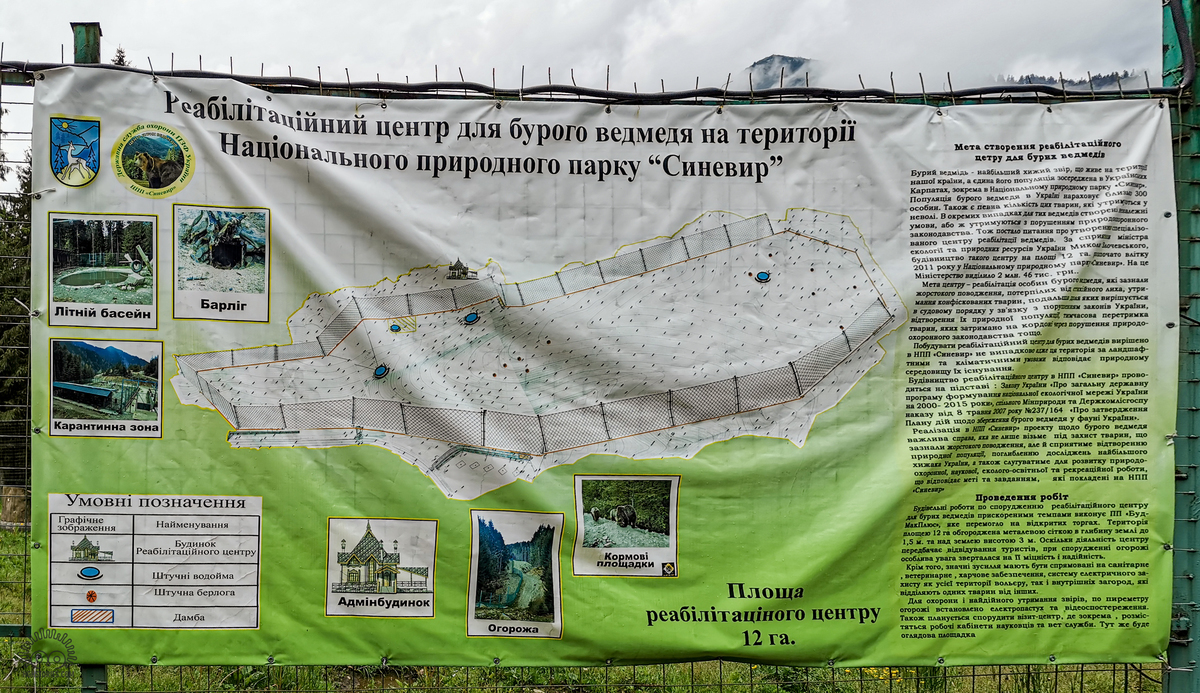 A little far away, but there stands a cage in which one of the inhabitants lived all his life.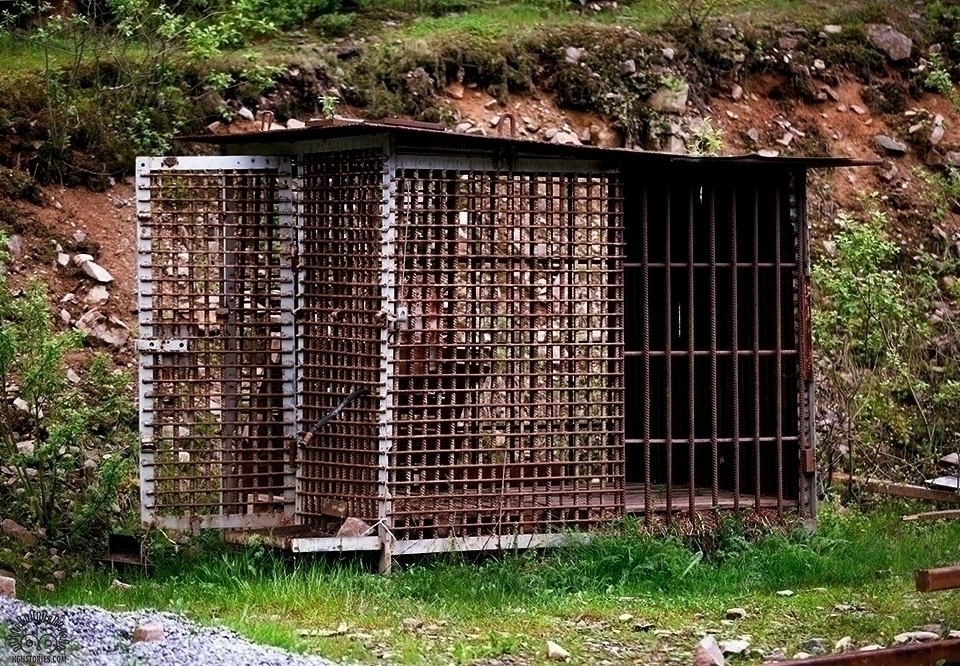 Monument to human cruelty .. and other unpleasant properties.
Then a few more kilometers and we get to the "Heart of the Carpathians" – Lake Synevyr.
The lake is one of the hallmarks of the Ukrainian Carpathians. It is located at an altitude of 989 meters above sea level, has an average area of ​​4-5 hectares, its average depth is 8-10 m, maximum – 22-24 m. Due to a noticeable elevation only 1-2 meters of the lake heats to a maximum temperature of 11-13 ° C during the warmest days. The lake was formed as a result of a powerful landslide caused by an earthquake about 10,000 years ago. At an altitude of 989 m, rocky rocks stood in the way of a rapid stream, forming a dam and completely blocking the narrow valley. The resulting hollow was filled with water from three mountain streams.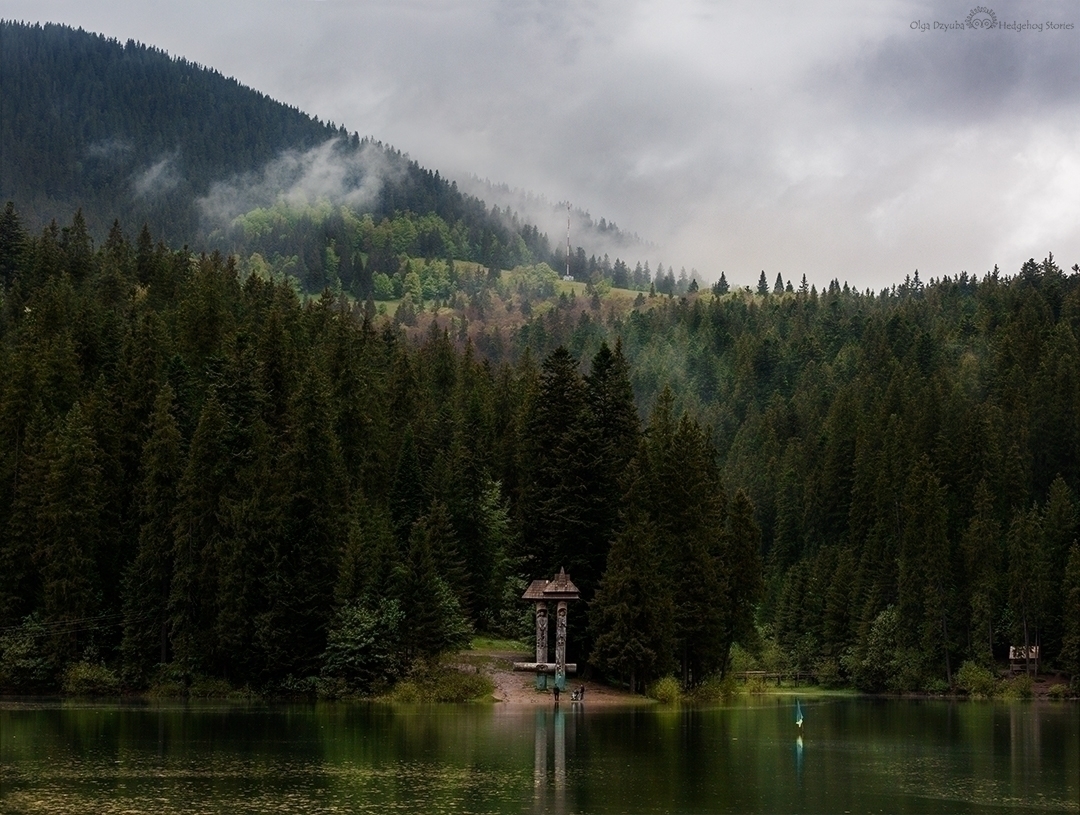 Entrance and entrance to the lake costs the same small money as the entrance to the Brown Bear Rehabilitation Center. At the entrance to the lake – a large number of hotels and cafes. Near the lake – trays with souvenirs and fast food. When we got there, the rain almost calmed down, but did not let us relax. It was not possible to fly the drone, and while rafting on the lake, we did get fully wet.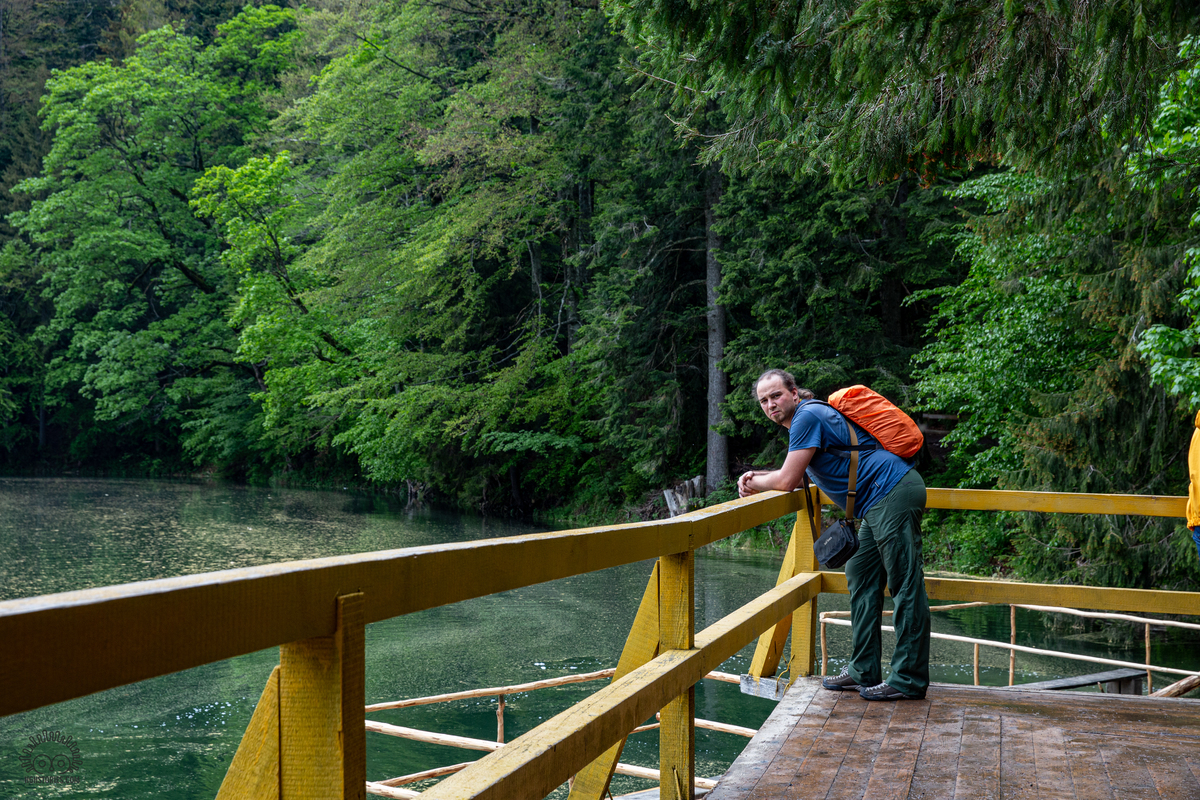 Wet in the rain, we turned to the nearest hut. It turned out to be "Na Detsu do Tsymbora"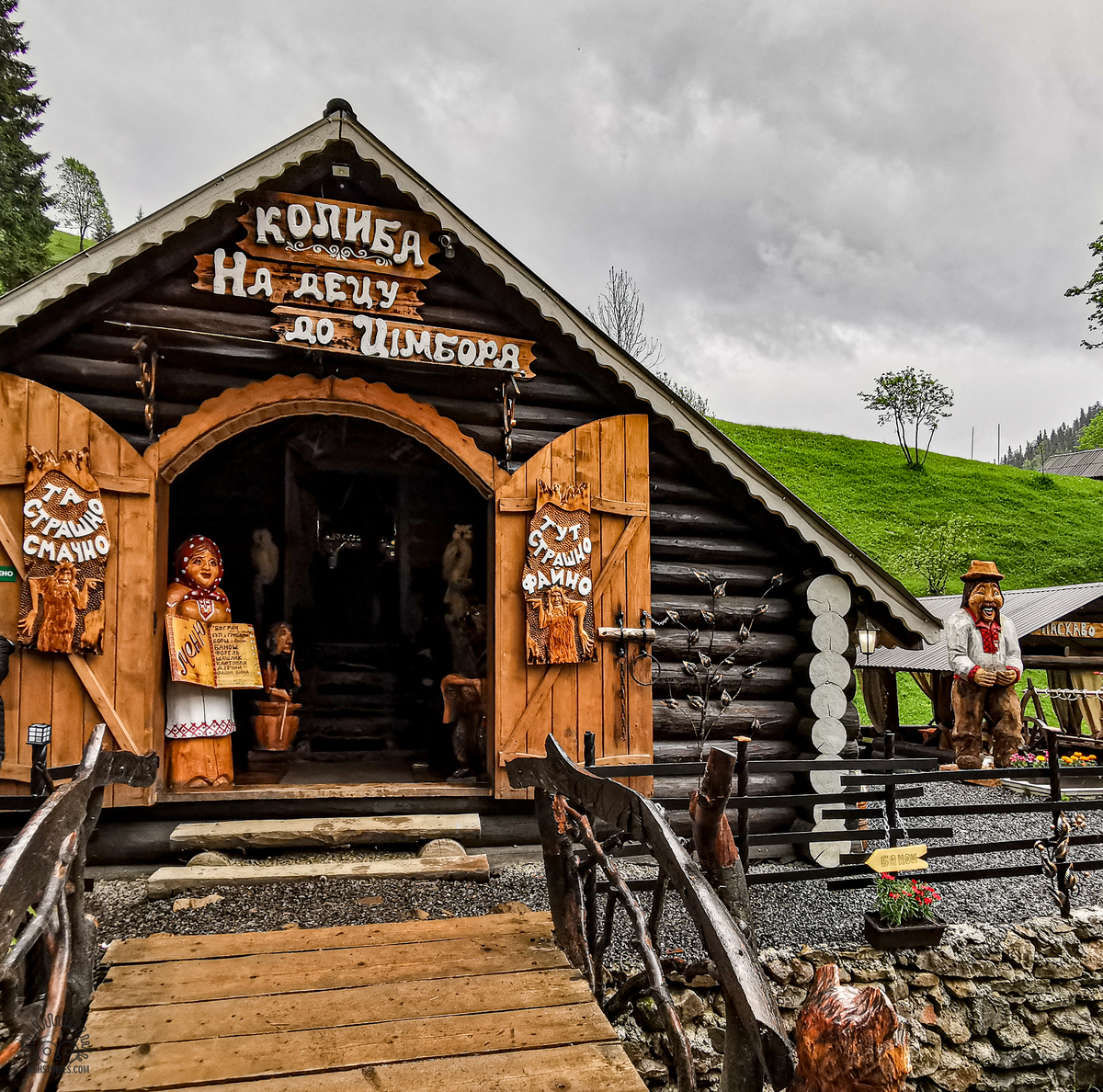 Prices there are quite reasonable, the food is hearty and quite edible, with local flavor (mushrooms, pickles, Carpathian dishes). The tea is delicious!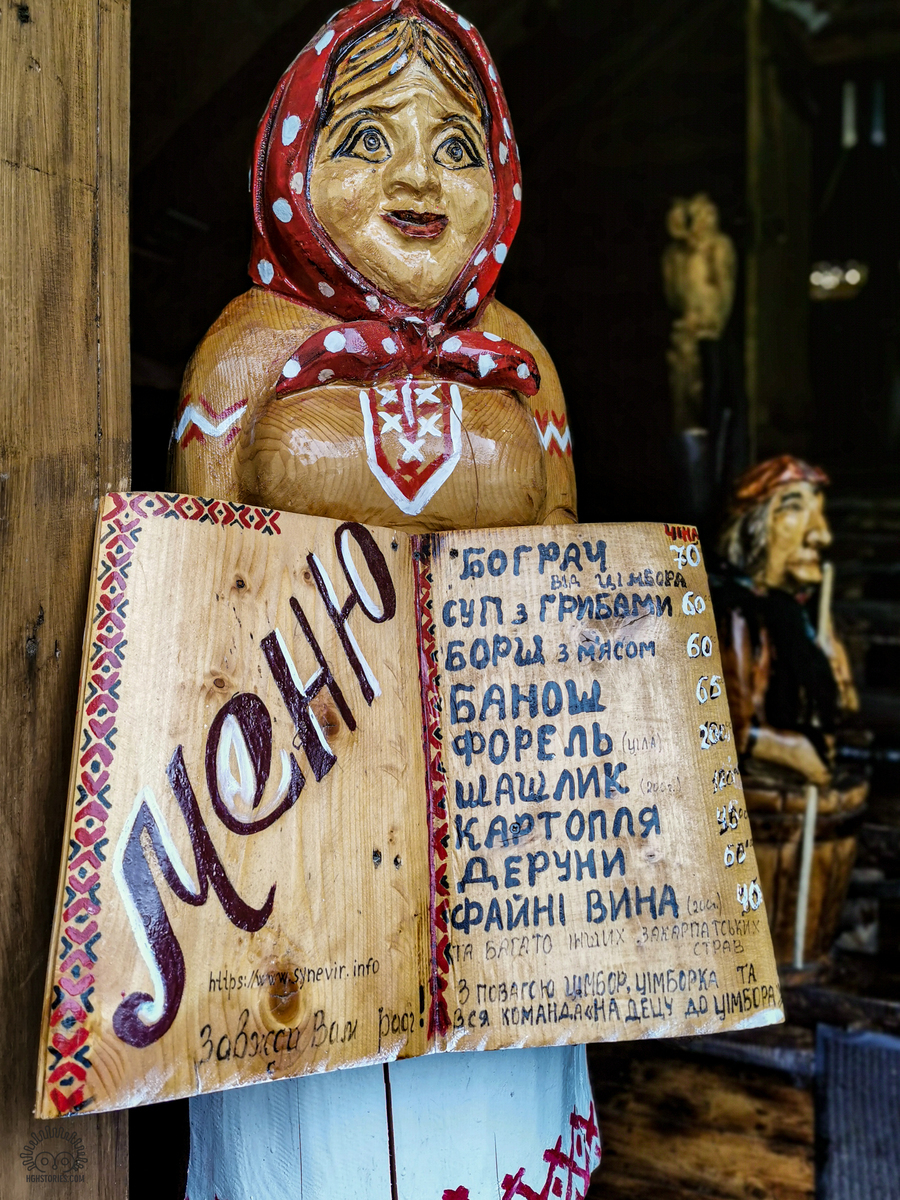 Well, then our way laid to Dzembronya. According to our data, there are at least two roads to Dzembronya from Synevyr: one through Dolyna (you need to go back the same hundred horrible kilometers) or a detour through Khust. The distance is the same, but we were told that the road through Khust is absolutely terrible. As we were later told by a gentleman we met at the gas station with an SUV, we could safely drive our cars through Khust and save time. In any case, in Dzembronya we reached Mrs. Maria closer to midnight. And not only because the road is broken, but also because part of the way we drove very slowly and carefully – at night narrow mountain serpentines with pavement and after the rain to go faster than thirty or forty kilometers per hour is simply dangerous – you can easily find yourself in mountain river. And with such rivers jokes are bad. Well, the charming red tractor, which moved extremely slowly on a single-lane beautiful, flat, new road in front of us a for a lot of kilometers. We managed to study very carefully his brand new brilliant "stern".
Tired but satisfied, we went to rest after a delicious dinner.
First part of travel.
Third part of travel.