If there is not enough food, if it will go ogg or not suitable, if you have to carry too much or return home with too much – all these inconveniences that can greatly spoil the adventure or vacation. Therefore, when going on a hike or trip, it is very important to properly prepare and calculate the diet.
Regardless of the way we spend nights traveling, I bring plastic cups, spoons, tea and coffee. I just like to drink strong coffee with cream in the morning and herbal tea in the afternoon, but coffee at hotels is usually either instant or very weak and transparent, and tea is often in bags. So we just ask for a kettle to the room or boiling water in a cup. And in the morning before leaving, brew a thermos or two of herbal tea. One exception is very vividly remembered – on the way out of Bila Tserkva there is a motel "cafe-hotel Grill Station" – they not only cook wonderfully, but also make divine mint tea with chamomile! Of course, this is not the only place where good tea and coffee are made, but this place just captivated us.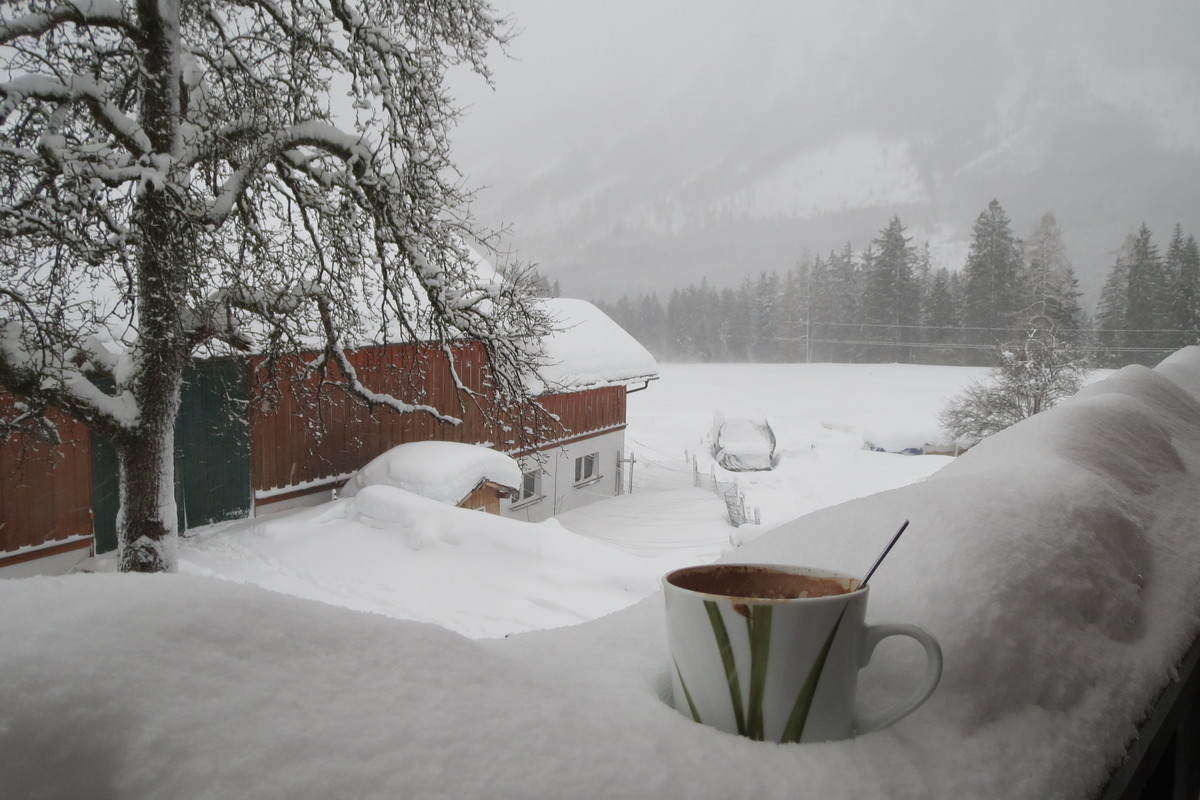 In addition, we always bring something to eat. By trial and error, it was found that biscuits, cheese (small round in red wax) and meat sticks (last year we had good ones on sale without flavor enhancers and flavors) are excellent for this purpose – this is of course, not the cheapest pleasure, but they are nutritious and long-lasting or dried meat or jerky. In the south of Ukraine there is the city called Bolgrad – there do a wonderful thing "karnatsii" – is minced meat, which is dried pressed with herbs in the shell. Many peoples have a similar product and it is called differently, but I like karnatsi the most))))
We tried to take canned food (fish and pate) with us on the way to lunch / snack, but usually we ate in the evenings with dinner. And on the road in the car to eat canned food is not very convenient. A good snack – salted lard with black bread (if you do not eat until you lose consciousness). But when traveling in the summer it is better to pack the lard well and tightly, because it can melt and leak. In the heat, any sausage (if it contains at least a little meat))) has the ability to spoil quickly enough, so we do not take them. In the cold season it is possible, but it is not very convenient to cut on the road. Yes, I understand that you can stop, get everything, cut and eat, but somehow we never got it – apparently, we are too fond of the process))))
Be sure to take a lot of water (in the car it's quite simple, and on foot two – three liters per day per person). In each car there is one – two six-liter bottles reserve (taking into account that the nearest water can be obtained in a maximum of fifty kilometers), two – three six-liter bottles for the camp at night and in the cabin about ten liters of drinking water for a day. In the pedestrian version of the stop is better to calculate it so that it would be possible to collect water nearby. Otherwise, you need to bring more water for food and the next part of travel. We once had a situation when we didn't count on water when climbing the mountain – we expected to cross the plateau to the spring by nightfall, and by night we had only reached it. Fortunately, we met people who had water, but no food))) And cooperated, otherwise we would have to go midnight. The next day we all hurried to the water together))) Well, there was more than one situation when we had to walk long enough in the dark to reach the source.
You should not drink sweet carbonated water or a lot of coffee at gas stations on long trips – it will only increase thirst and increase the number of stops "if necessary". On foot travel to take sparkling water, in my opinion – it's only for very talented people)))
Personally, I do not often cook soup or broth at home, but on the way I try to eat it every day. I once spied on truck drivers – I was interested in what people, who spend a lot of time behind the wheel eat and have long developed an optimal diet on the road (we regularly stop for a snack in places where many truck drivers are – there is no need to look for haute cuisine, but food is inexpensive, hearty and quite edible). Both our team and our acquaintances have already checked this many times))) The best option is chicken broth with noodles, but you can have another soup – fully up to your taste and color. The main thing – not hard. With soup (broth) everything is simple – it's a light nutritious food that does not burden the body, and as a consequence, after it on the road you don't fall asleep)) Of course, do not eat one broth. You can take a vegetable salad and a couple of pieces of bread or a small portion of meat with garnish (but again – do not overeat). This is for lunch, because in the evening or in the morning we eat in a camp or hotel.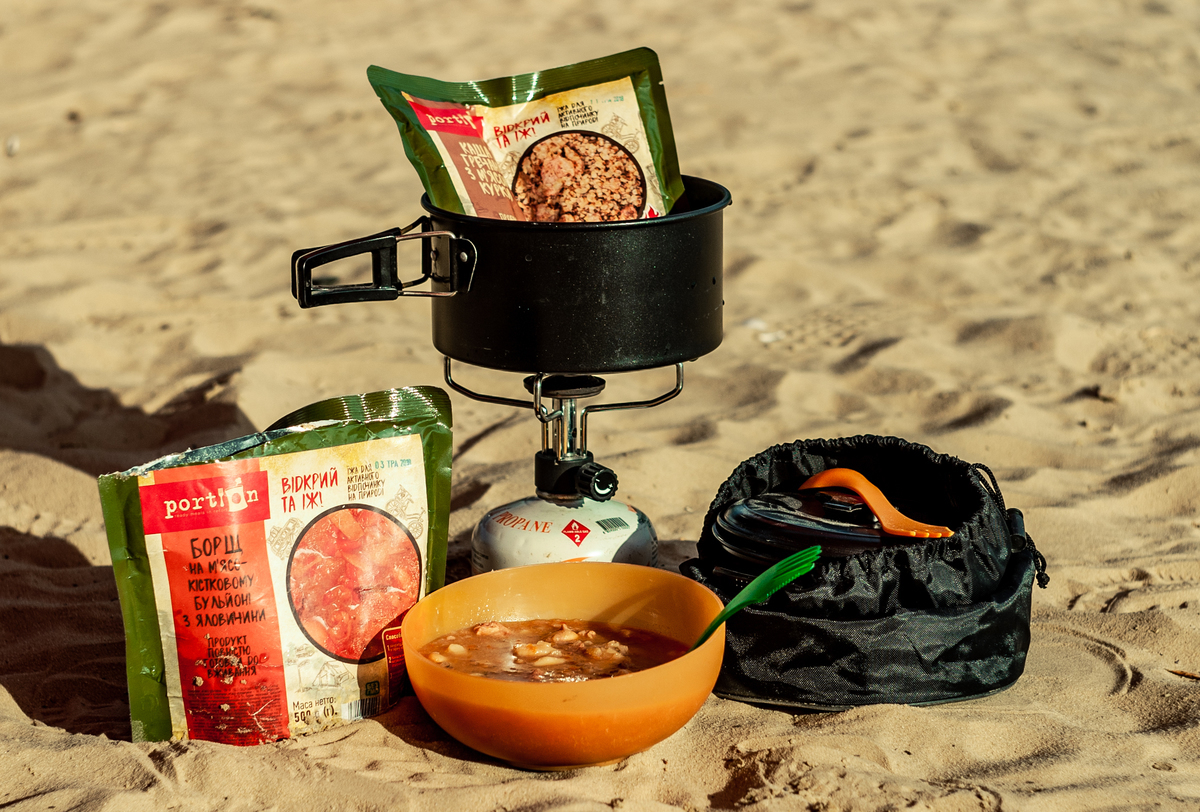 In the tent camps we either prepare sublimated soups or cook from vegetables and stews. Vegetables are either bought on the road (it is difficult and unprofitable to carry fresh vegetables for more than one day) or dried (it is not so tasty, but just as nutritious). But the issue of stew for tourists – a sacred discussion. There are a million and a handful of ways to prepare meat for a hike. There are, of course, individuals, for whom it is normal to carry the classic purchased stew in tin cans (or even in glass) with them, but usually when they find out more economical options, people abandon this idea. You can carry cans with you in the car, but they have an absolutely unfavorable ratio of the amount of meat / amount of liquid / cost of the product. There is already a good tourist stew on sale, but it is still far from the productivity of the one you can make yourself boy roasting or drying meat.
In my opinion, you can dry meat for a hike if you have a lot of free time and plan either a few people or a few days of travel – it's too troublesome and time-consuming process. Those who wish can easily find a lot of options for its preparation on the Internet (I tried to do it once and did not repeat this feat again). But fried stew is prepared much faster, easier and has the advantage – it goes in a backpack in fat (you do not need to take fat for cooking). It has a shorter shelf life than dried meat, but it lasts well in the summer for a couple of weeks in the heat and can stay in the refrigerator for a long time. I learned this recipe from my friend when I was studying at university and living in a dormitory – her mother sent her meat in this form, along with other canning.
So, we take pork back and lard (you can also take lard, but better internal fat – less waste) in a ratio of 2: 1 (for 2 kg of meat – 1 kg of fat). Cut the fat into large pieces and melt it in a cauldron until the cracklings become crispy and golden. While the fat is melting, clean the meat from the bones, veins and fat (fat from the meat can also go in the pot for melting). We cut the meat into pieces of no more than 3 cm. You should not heat the fat strongly, because it will start to burn and the stew will be tasteless. That is, use medium or slightly less fire. When the fat has melted, take out the crispy cracklings and remove them (we will not need them in the stew, but you can add salt and eat them))). Do not remove fat from the heat. Put the meat in small portions and be very careful – it will boil very hard for a while until the bulk of the water from the meat is fried. This way you can fry the meat until it is completely dry (it will crumble), but I would not recommend doing so – with such meat it will be very difficult to cook – it will remain firm during cooking. It is better to pick meat up with a skimmer when it is browned. When all the meat is cooked and cooled, it should be laid out in containers (you can use plastic jars or tetrapacks, such as from juice). Add a little black pepper peas, allspice, bay leaf and whatever else you like to the meat))) When the fat has cooled but is still liquid, pour it over the meat, close the containers and put it in the fridge to harden. When choosing containers, keep in mind that the fat will melt in the heat – if the containers are not airtight, everything will be in the fat. This preparation of meat greatly facilitates its weight and allows you to cook delicious and nutritious food.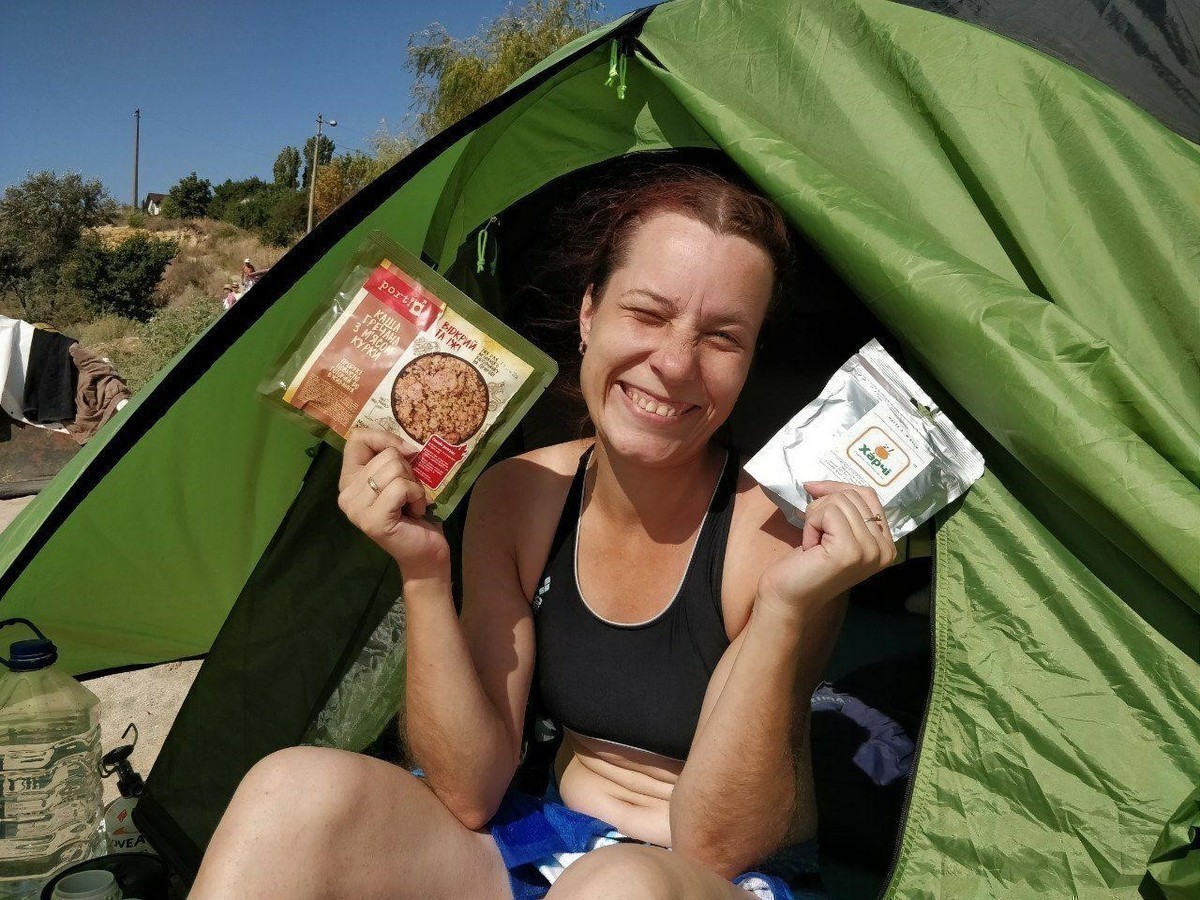 For the most part, we now take with us a little sublimated food, canned food in retort packs and some for proper cooking. It is not a problem to carry food in retort packages in the car, but to carry them in a backpack on foot – it is absolutely unjustified by weight (one package weighs 350-500 g per meal !!). With sublimated food, everything is easy: we take a sample of several manufacturers in advance and then buy a well-known brand for the trip.
Personally, I am a very picky person about food (of course, when the situation is difficult, I can eat mostly anything), and moreover, I'm not alone like that. So before the trip, I send all the members of the group links to the store (with the number of breakfasts and dinners), where we will take food and everyone makes me a list of what to take. And then he/she gets his bag of food and decides for himself what and when he will eat. I also agree on group food, but in general terms – for example, "no one is against the lagman?".
In any case, it is better to collect food by one person (who knows how to cook for more than two or three), rather than "everyone will take something for themselves, and then we will understand", because in this case nothing good usually happens, and especially when there are inexperienced travellers in the group. Either the food will be too little or too much and will most likely spoil quickly. In addition, to the calculated collective food you need to add another 10 – 20%, because during or after acclimatization (yes, in any trip it is, not only when climbing 6000) anyone can be attacked by a huge appetite, well or possible delays on the route, or the loss of part of the provisions (for example, we have hedgehogs somehow eaten part of the stew and condensed milk in the camp))).
In my experience and practice, breakfast should not be a "cookie with tea" format. It should be high in calories, but not heavy – a day of exercise and activity ahead, and the body needs somewhere to take energy for this. The soup is also not suitable – it is consumed very quickly with high activity. Oatmeal deserves special attention. For some reason it is considered a good breakfast. In a city conditions it is quite possible – everyone has their own, but not on the road. Yes, oatmeal has a very good effect on the gastrointestinal tract, but: few people really like it, it is quickly burned by the body, few people cook it normally (without turning it into a paste, which is not the most acceptable purely physiologically). According to my observations, oatmeal for breakfast is suitable either for young people (there are people for whom a full meal – 30 g of nuts and how they still walk, I have no idea))) or avid fans.
After acclimatization, people often understand what and how much they need to eat (more precisely, often just start paying attention to their needs after adapting to a stressful situation). For example, most of the sweets return home, or on the contrary, a person is looking for someone to exchange a treat or constantly change their beans for stewed potatoes. This is perfectly normal and you just need to remember what is best to take next time, although not necessarily (in one trip a person can eat almost one potato, and in another to lean on beans).
Cookware issues:
I have an old army cauldron for 6 or 7 liters for cooking on my travels. It is very strong, thin and light, but narrow and long in cross section. This form is very convenient to carry in a backpack and cook over a fire, but very inconvenient if you want to cook on a gas burner (heating is only in the center).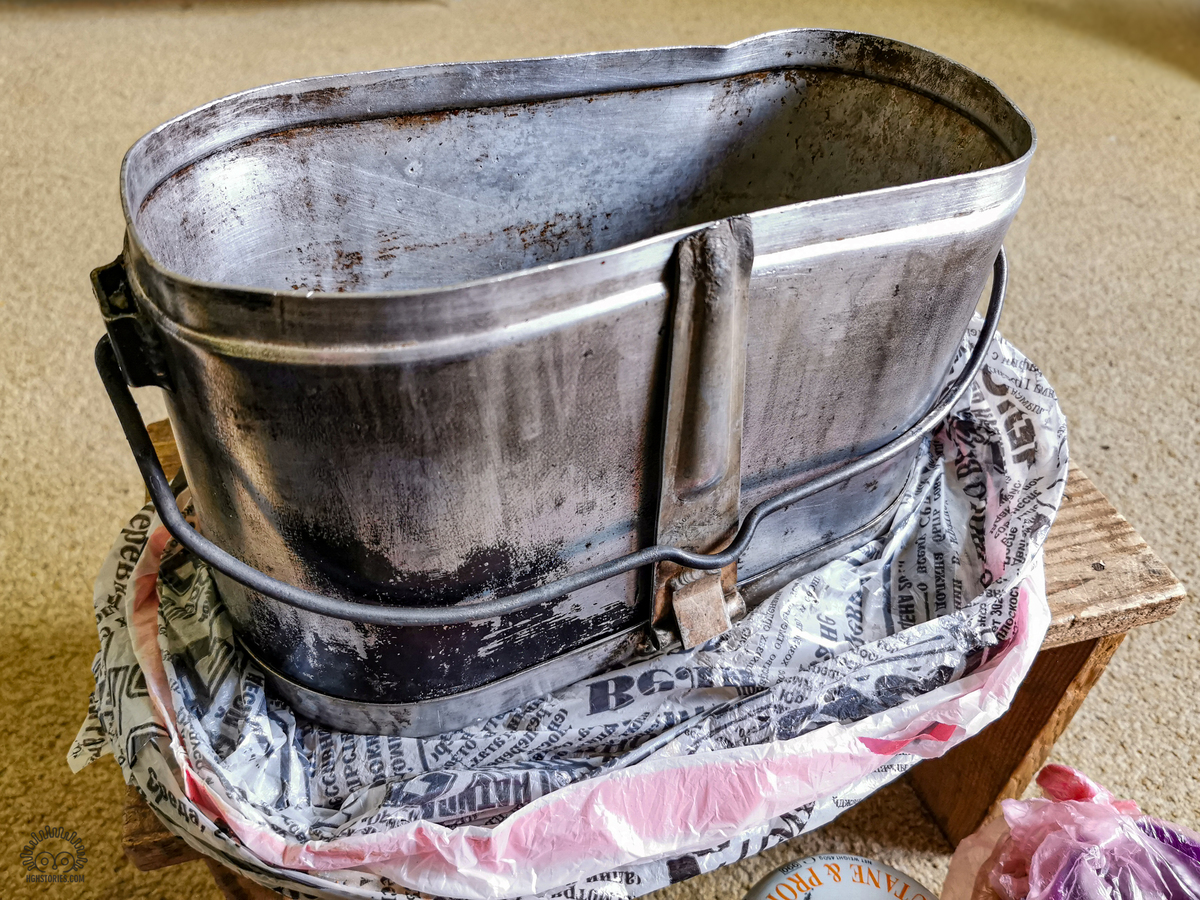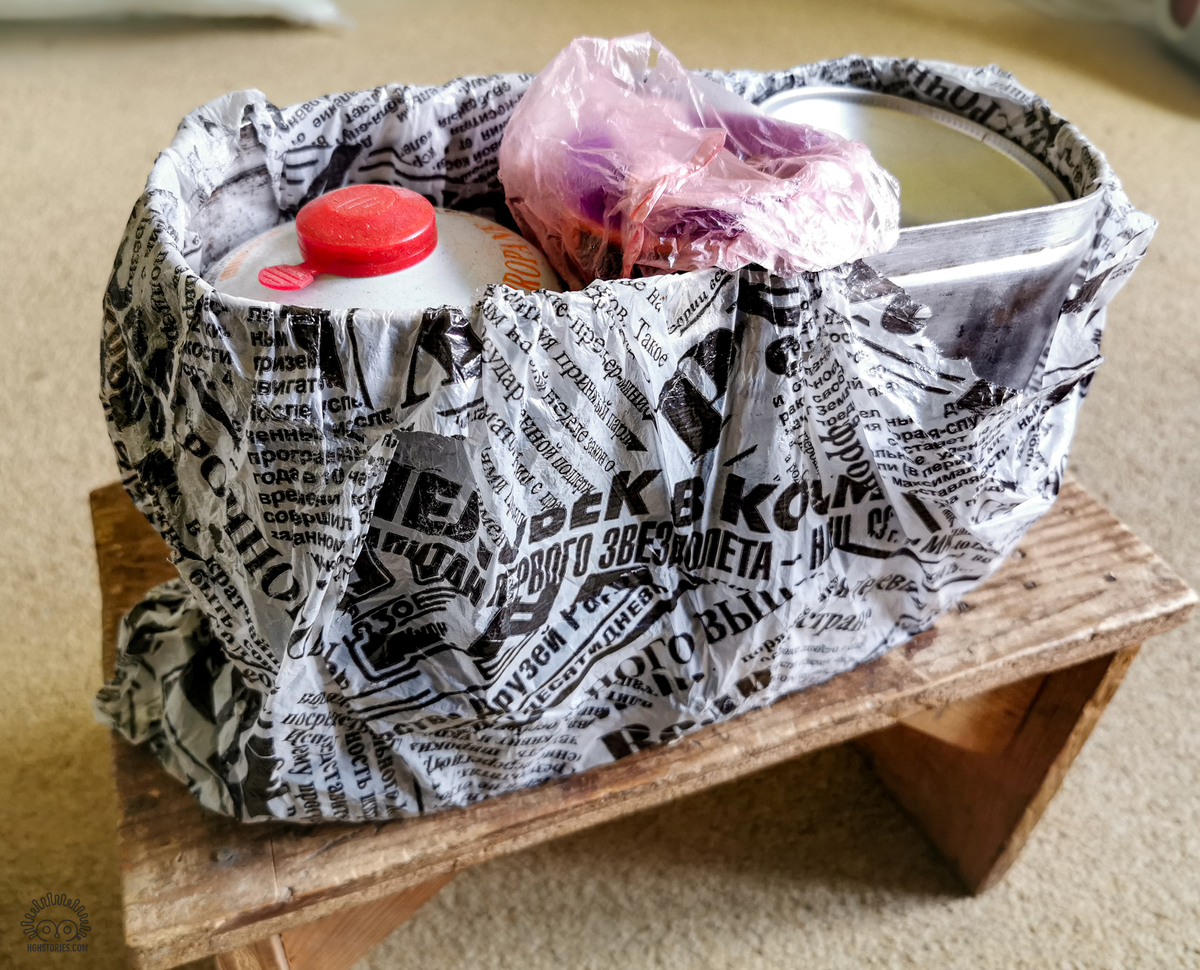 So I bought myself another set of round bowls. However, they are small and the largest can accommodate only 2 servings. However, it can quickly and easily heat water for brewing freeze-dried food, tea or coffee.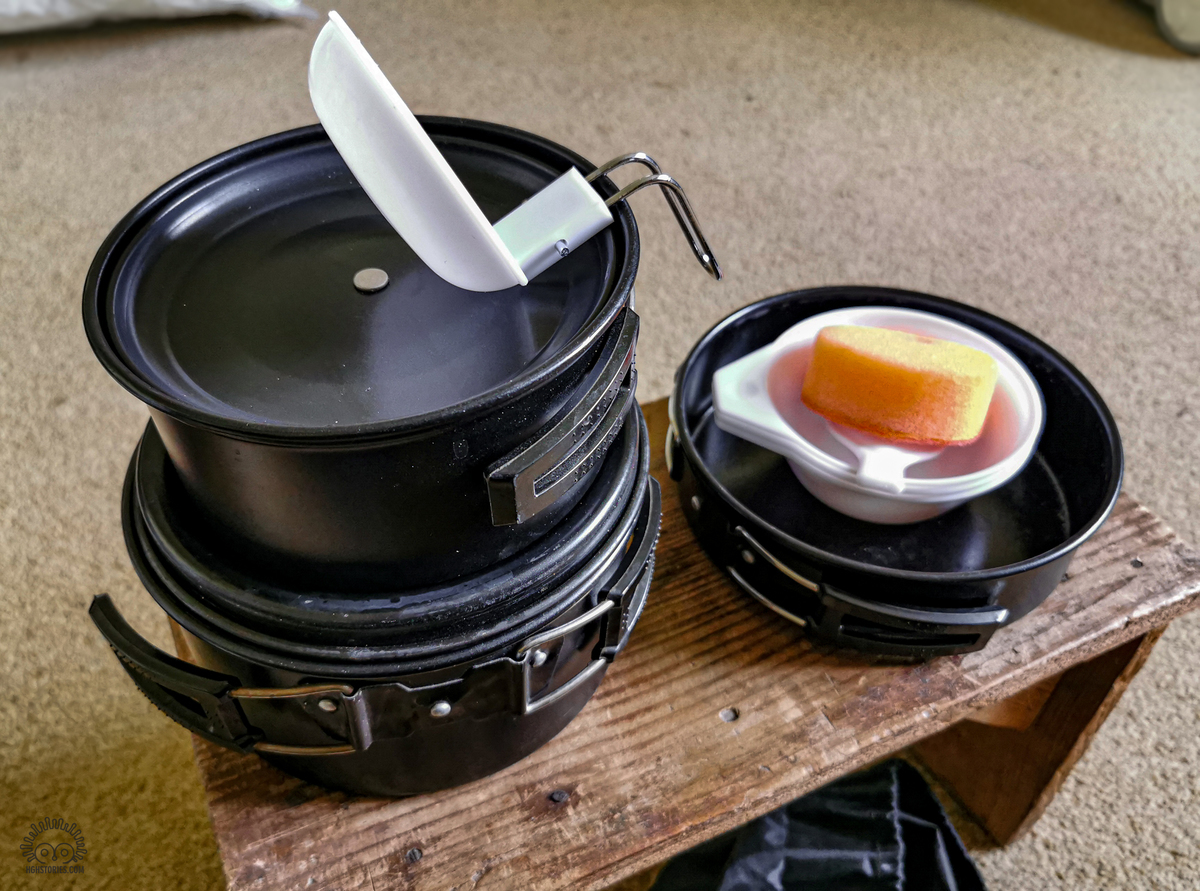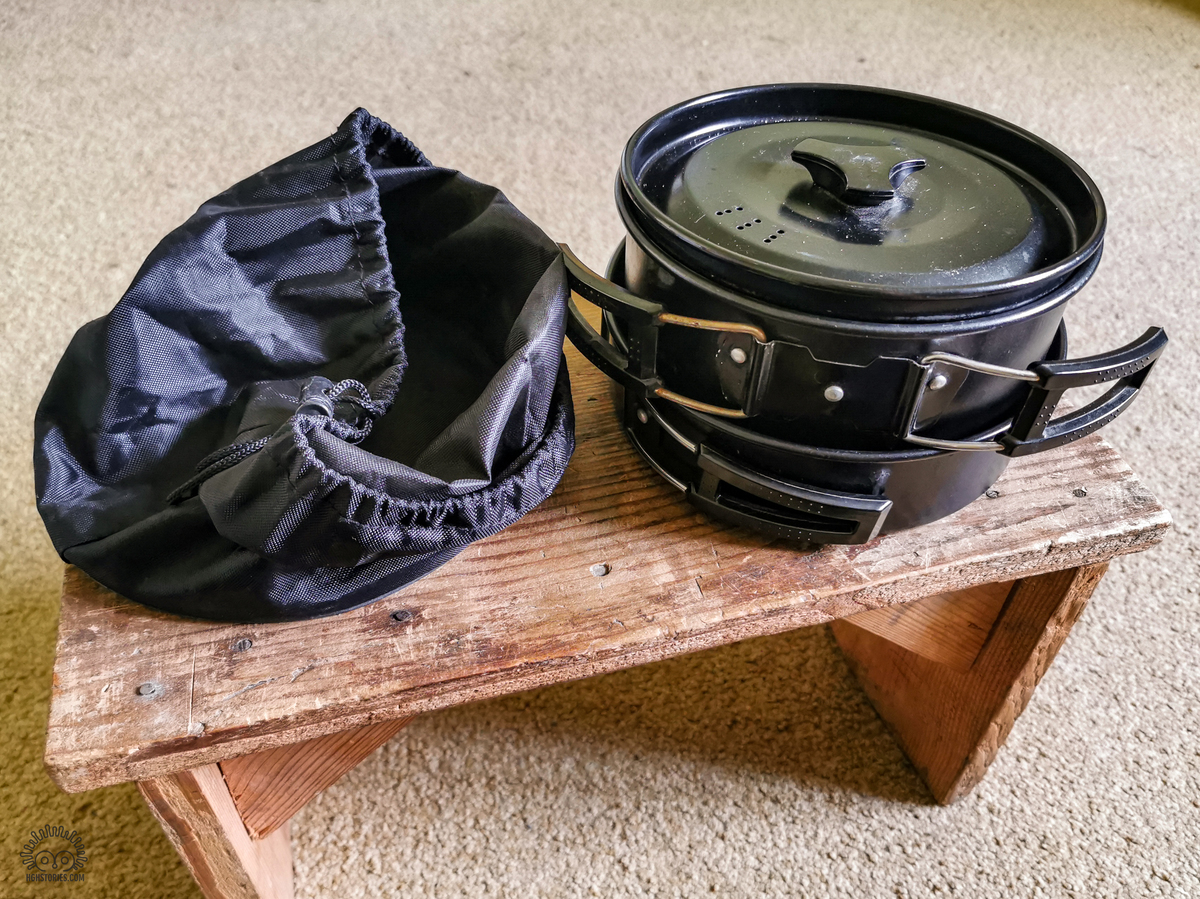 In the near future, I plan to buy a bowl for 5 – 7 liters and a kettle for trips with a large company. When choosing pots and kettles, it is better to choose utensils without any coatings (such as Teflon), light and durable. Pay special attention to the handles – if the handle of the cauldron or mug is covered with plastic, it should be located away from the source of fire or be heat-resistant; if the handle is uncoated, take care of how you will take it when it heats up.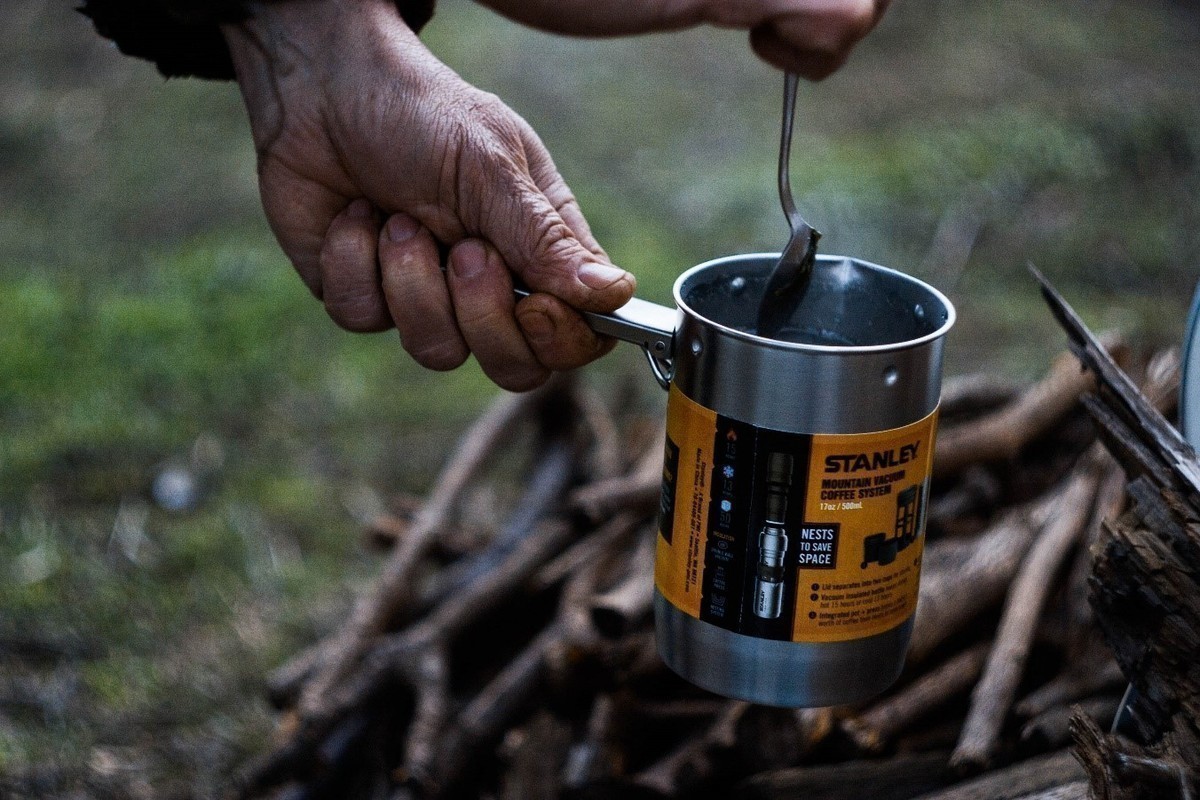 As a set to a cauldron for mixing of food it is possible to carry with yourself a usual spoon and to tie to it a stick found on a place, or to carry a long spoon (shovel) – whichever is comfortable for you. In addition to the burner with gas cylinders, we must have a kettle and "dry alcohol" just in case, and a box with a chemical thermocouple is in the car.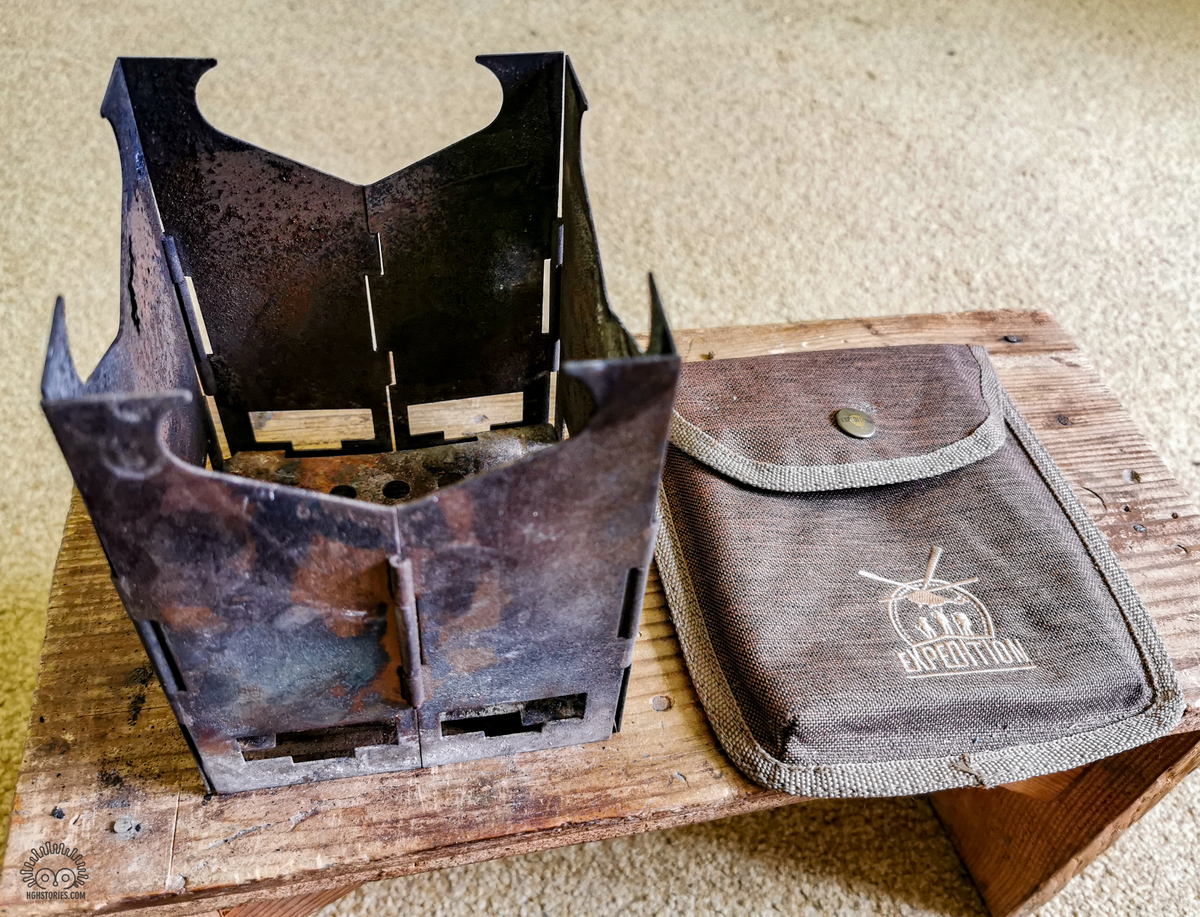 I have two kitchen "cosmetic bags" – for hiking and car. Small: board, knife, salt, pepper, towel and small burner.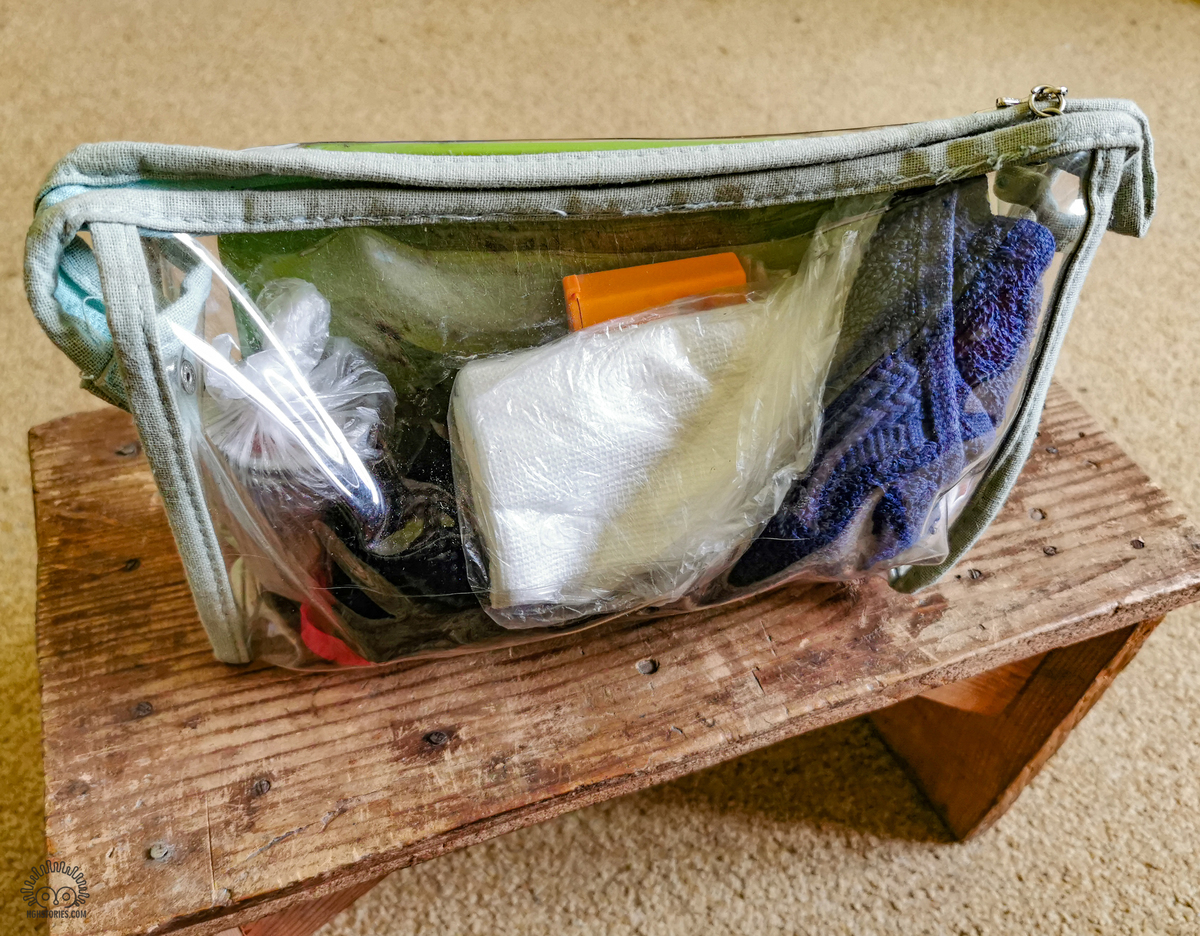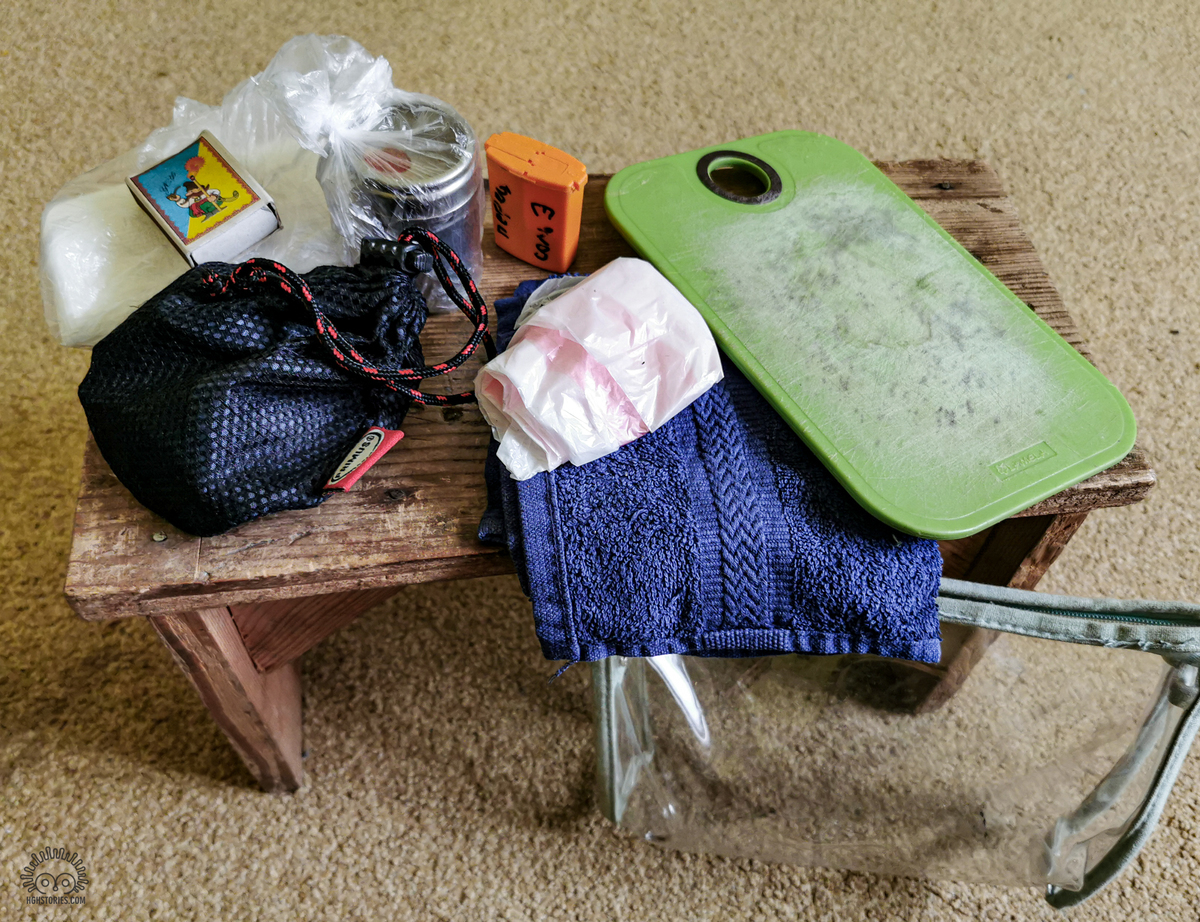 And a big "cosmetic bag" (small one packs into it): spices, sugar, tea, coffee, cream, dried vegetables, gas cylinders. This does not mean that we do not take tea and sugar on hikes – just on hikes it's all stuffed in a pot, pockets and other places, and in the car all in one good bag. Even on car trips, I began to take with me a small plastic basin – it is possible to make a salad and wash dishes. By the way, about washing dishes. It is better not to take ordinary dishwashing detergents with you – they have a very bad effect on wildlife – it is better to just wash with boiling water or sand / mustard / soda / special harmless products.
Containers for storing tea, sugar, coffee and other bulk or liquid stocks should be plastic (at least metal, but they are heavier), strong, airtight and light. Do not put bulk or liquid products in glass jars or plastic bags – they are easy to damage and then you will have a long time to shake the stocks from the backpack, and the stocks themselves are likely to die.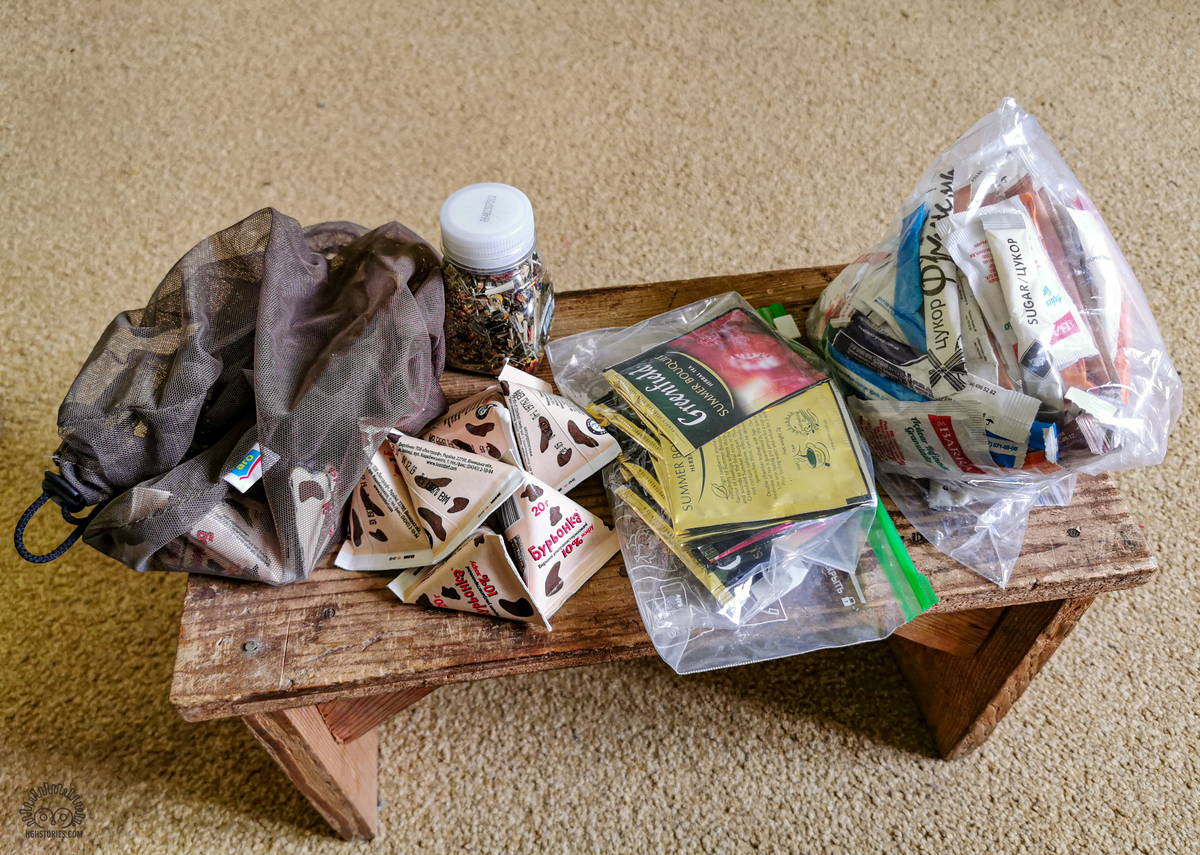 In practice, tea, coffee and sugar should be carefully calculated – it is very easy to take less than you need. One person usually drinks one cup of tea / coffee in the morning (with a couple of spoons of sugar), if there is a full lunch, then another cup of tea, but in the evening usually at least two cups. Together: for example, sugar (if a person consumes it with tea and coffee with a full three meals a day) requires at least 8 teaspoons a day, and another spare – 60 – 65 grams, and for a week that is 450 grams. The same with tea and coffee and all other products.
Individual tableware:
We have several plastic plates and cups, which are more than ten years old, and they do a great job. Until they are demolished, I will not take new ones, although they are now made cute and colorful)))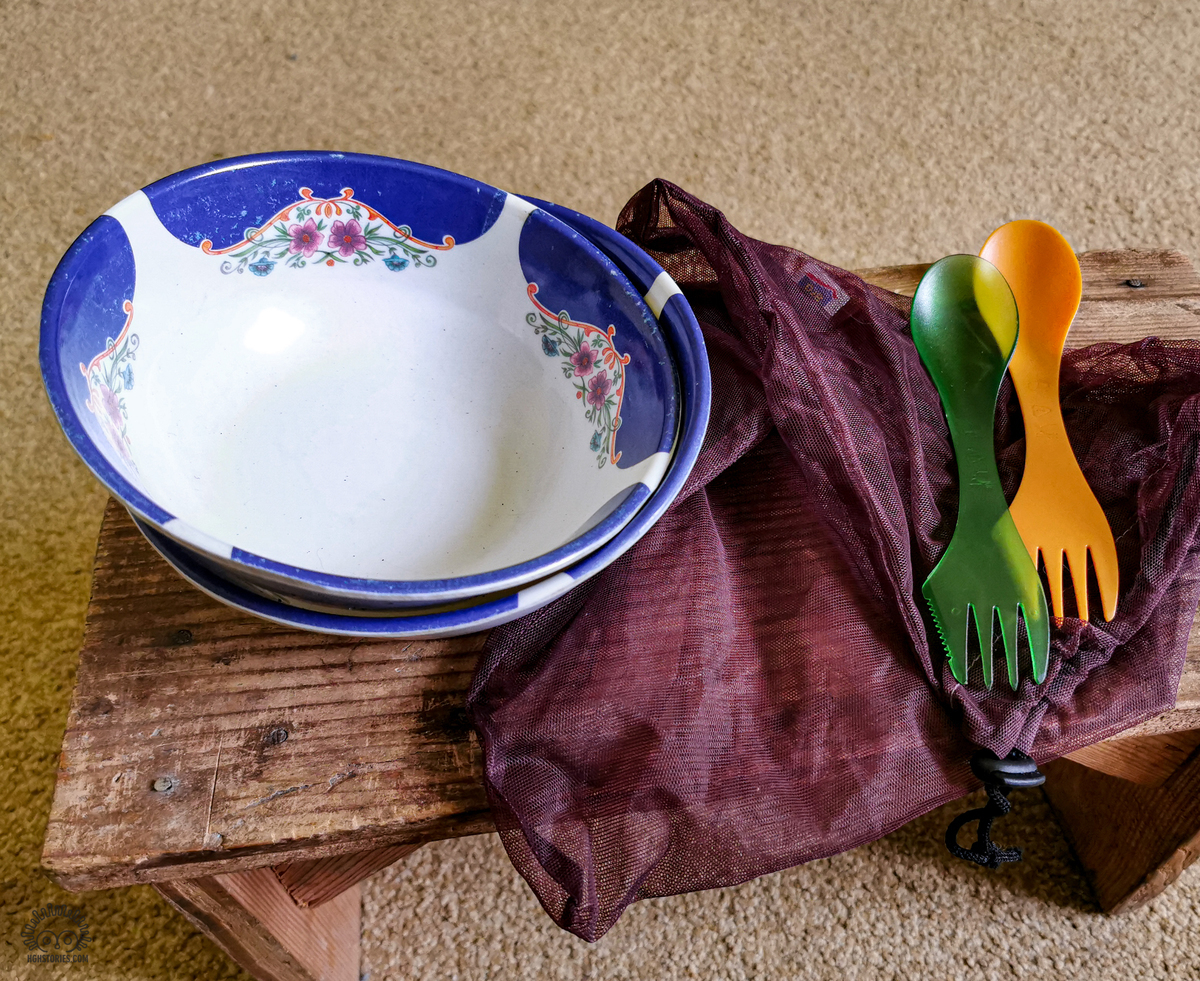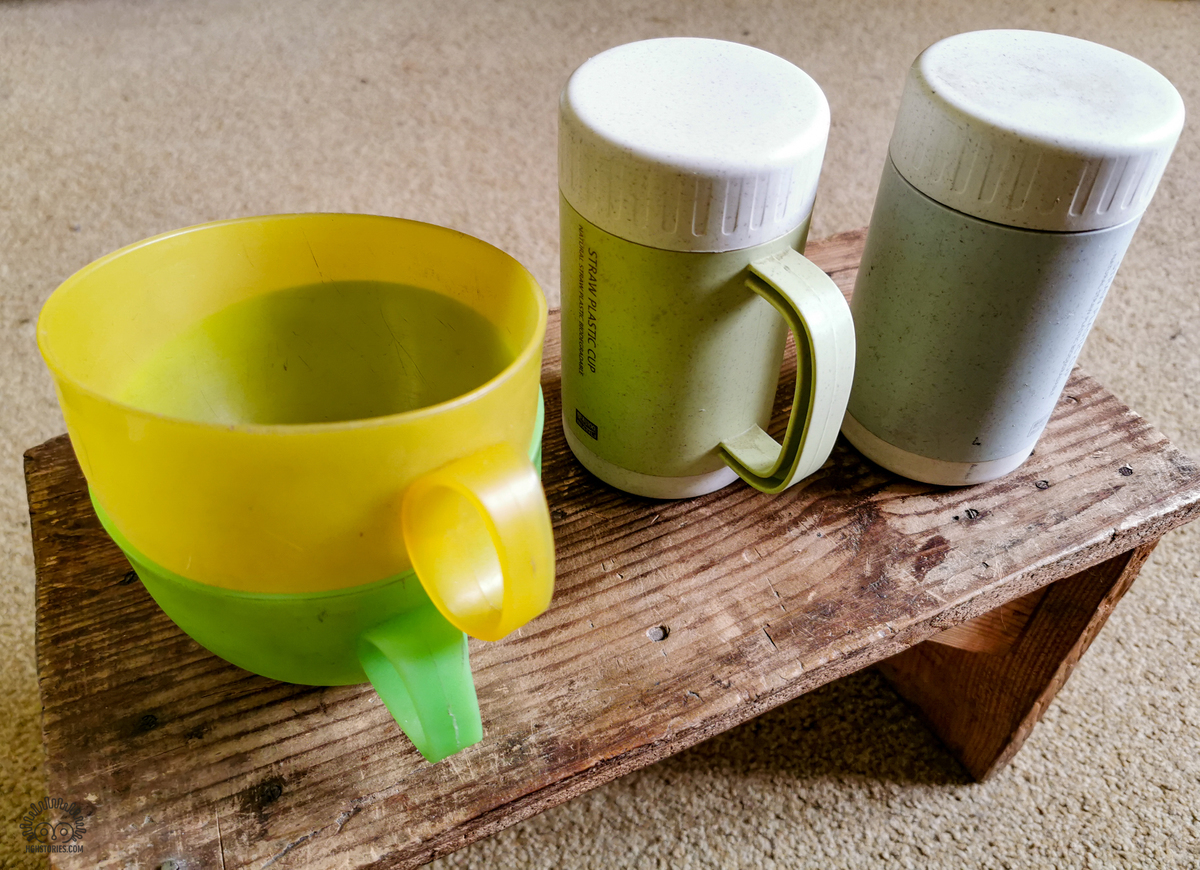 I strongly advise against taking metal bowls and cups – they are not only heavier than plastic, but also conduct heat very well))) so a person with a metal bowl eats either the last (when he can take his bowl in hands), or quickly runs and hisses, while looking for a place to put and anything to wrap his hot plate))) Plastic cutlery (spoon-fork) – it's a great thing. They are very cheap (not a pity if lost), very light, well washed and do not jingle))
A separate issue with knives – everyone has their own knife, but I always bring a separate "kitchen" knife Bahco 2444 – made by Mora analogue of Mora Companion HD. It is amazing – it is very difficult to blunt, you can sharpen it with mostly anything, it is very cheap, convenient and practical.