Of course, the composition of the cosmetic bag is a very individual matter. I want to share my experience in this matter – maybe that will help someone))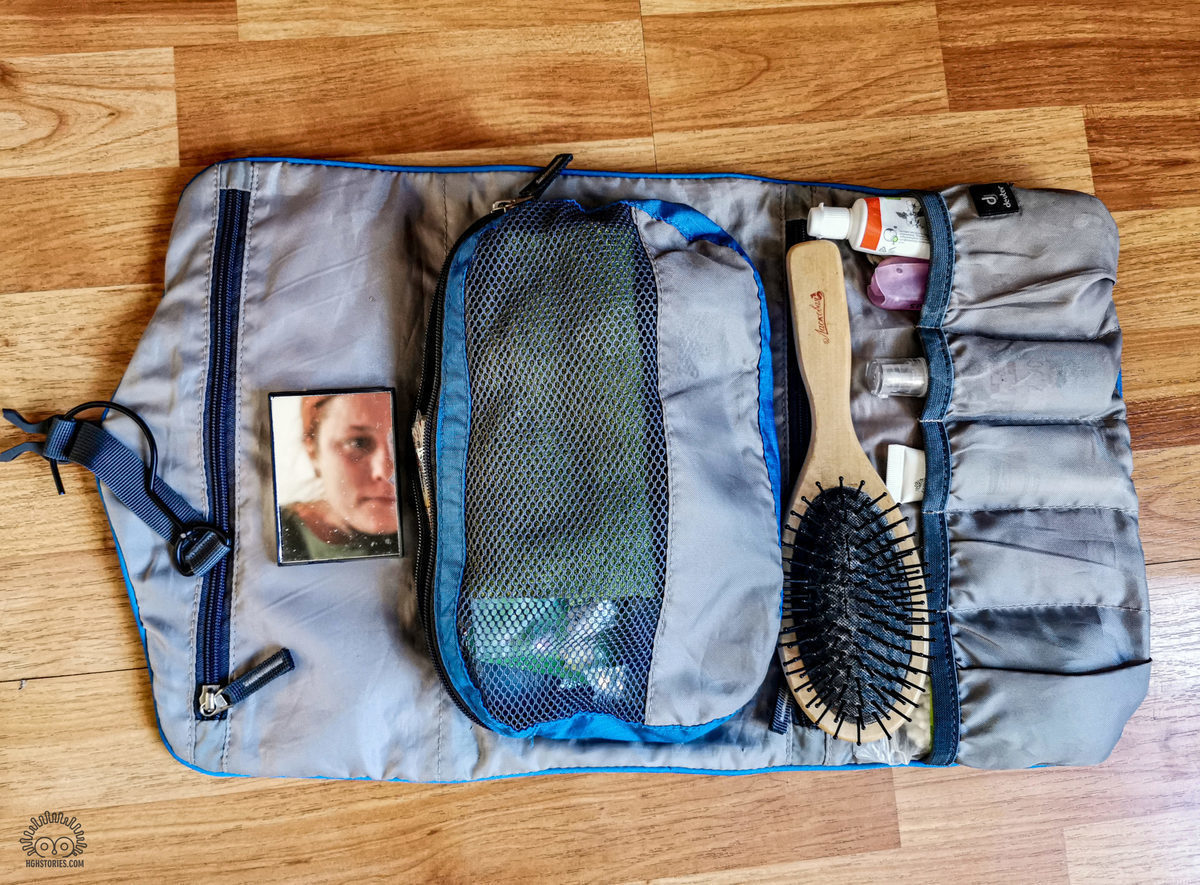 Wherever I go, the composition of my cosmetic bag is mostly the same: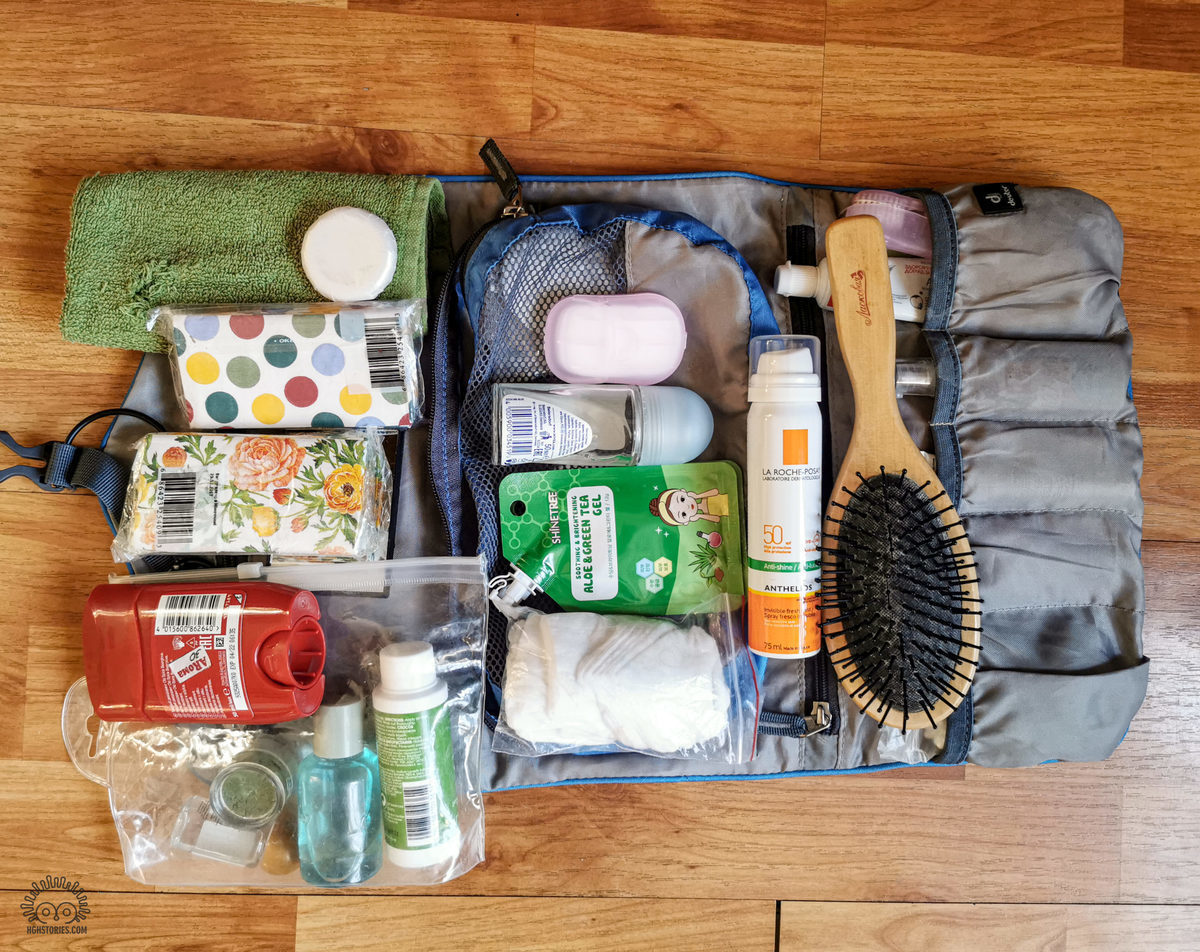 – two small folding toothbrushes (for me and my husband);
– a small tube of toothpaste;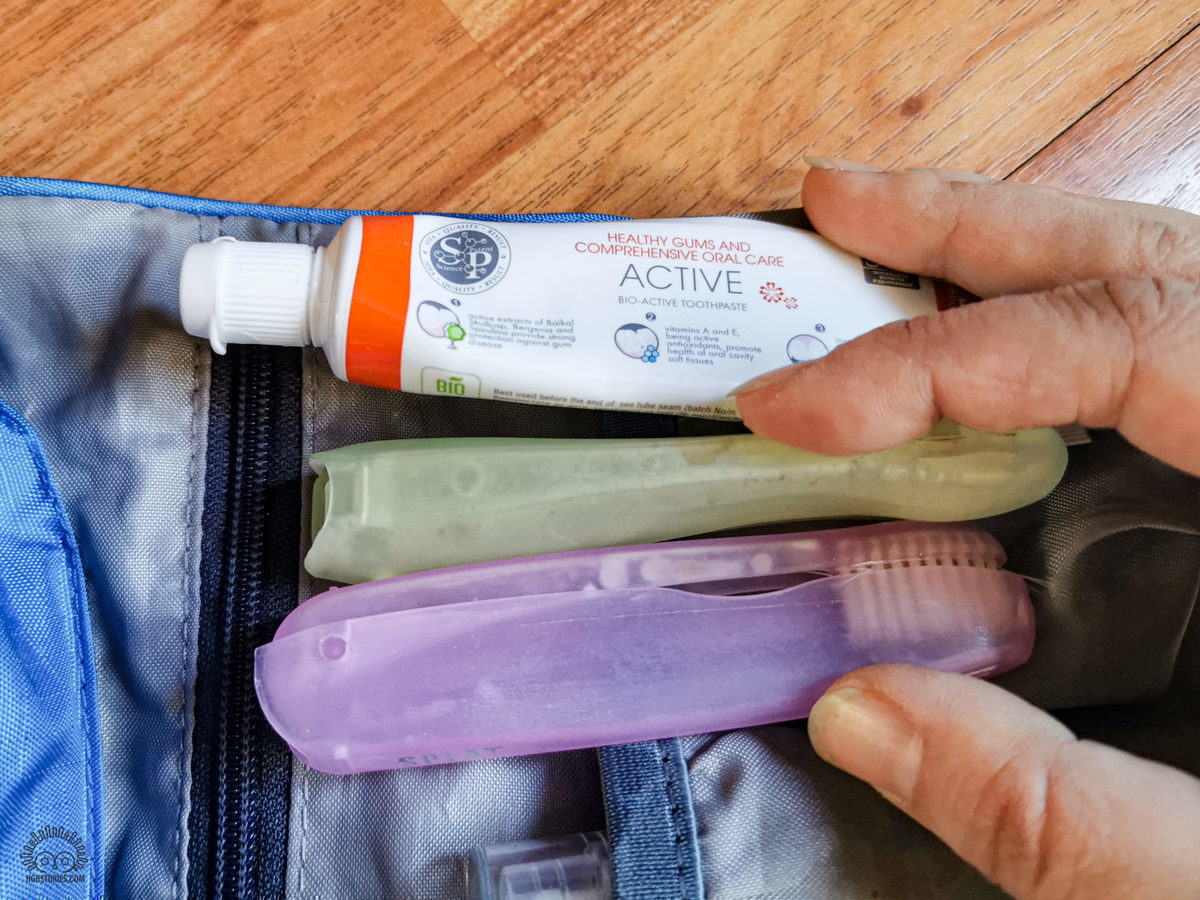 – aloe gel for irritation (my skin is very sensitive);
– bottle of antiseptic for hands (if there is no water nearby, and you need to have clean hands);
– deodorants dry or ball;
– two small plastic bottles of shampoo of 50 ml (for me and my husband) – even for two weeks on the road – it is fully enough, because when you will traveling to the mountains / steppes – you will not have showers every day, and hotels often have them in the room;
– comb;
– cotton disks (20 pieces in a bag);
– 2 packs of napkins;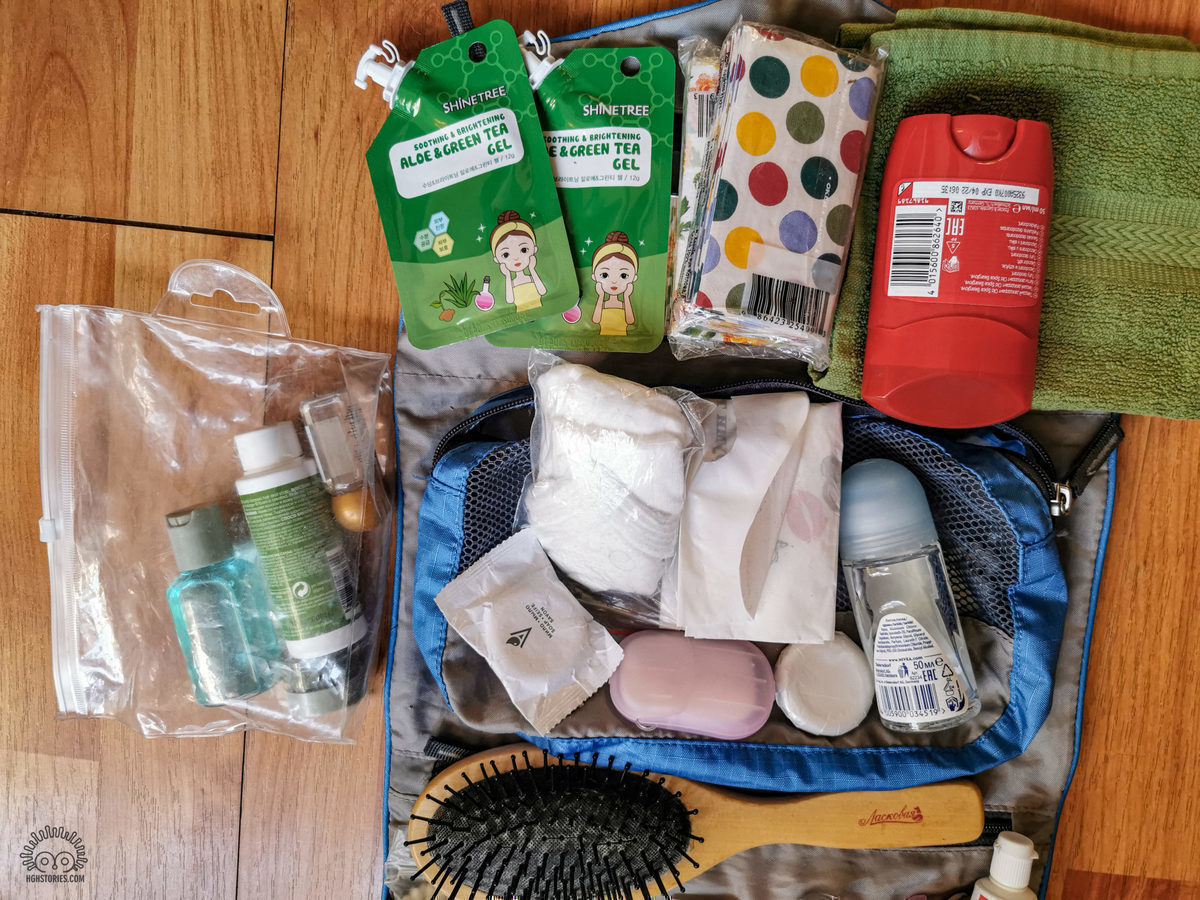 cotton swabs small package of 100 pieces (are lasting for 2 years already);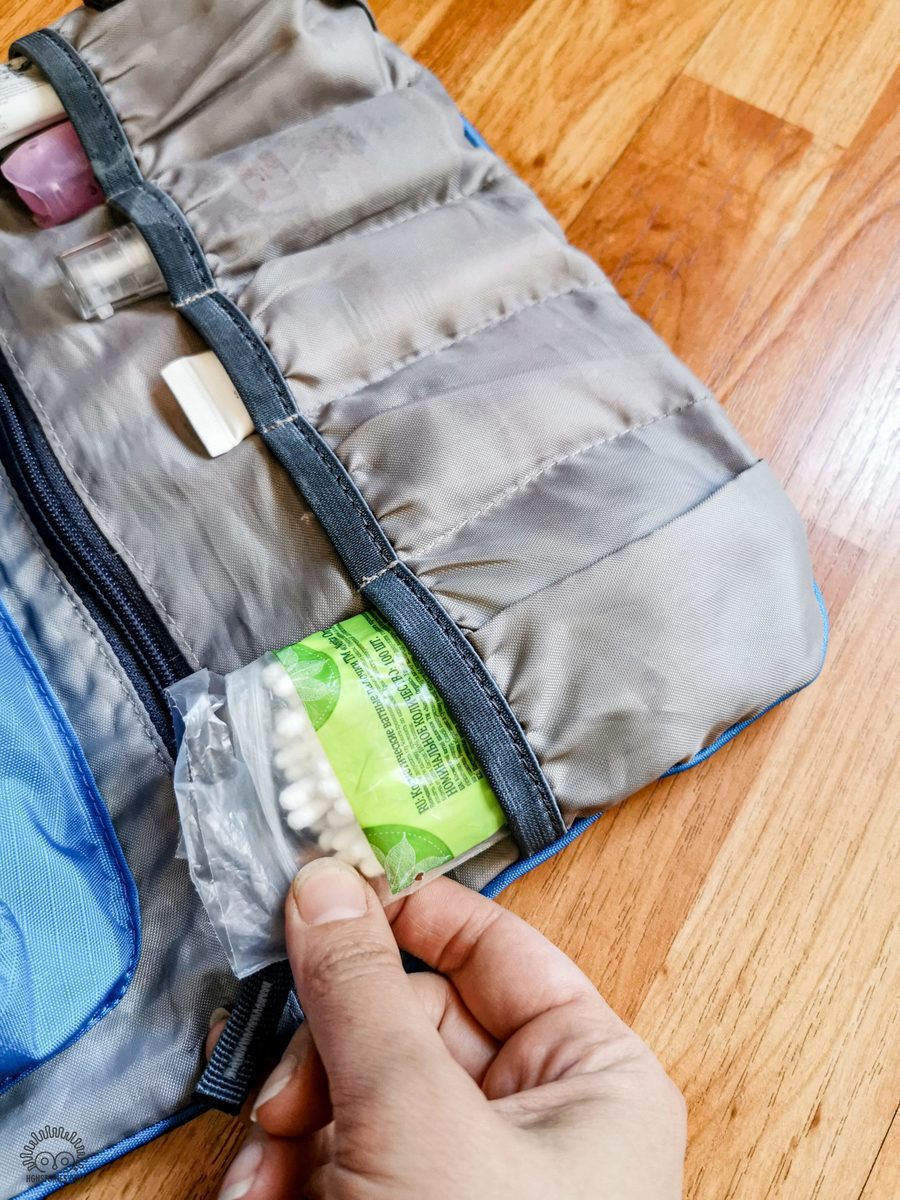 – pumice! (during long summer travels the heels can be audibly damaged – once we went around several villages in search of pumice))));
– face towel (small terry 30 x 30 cm);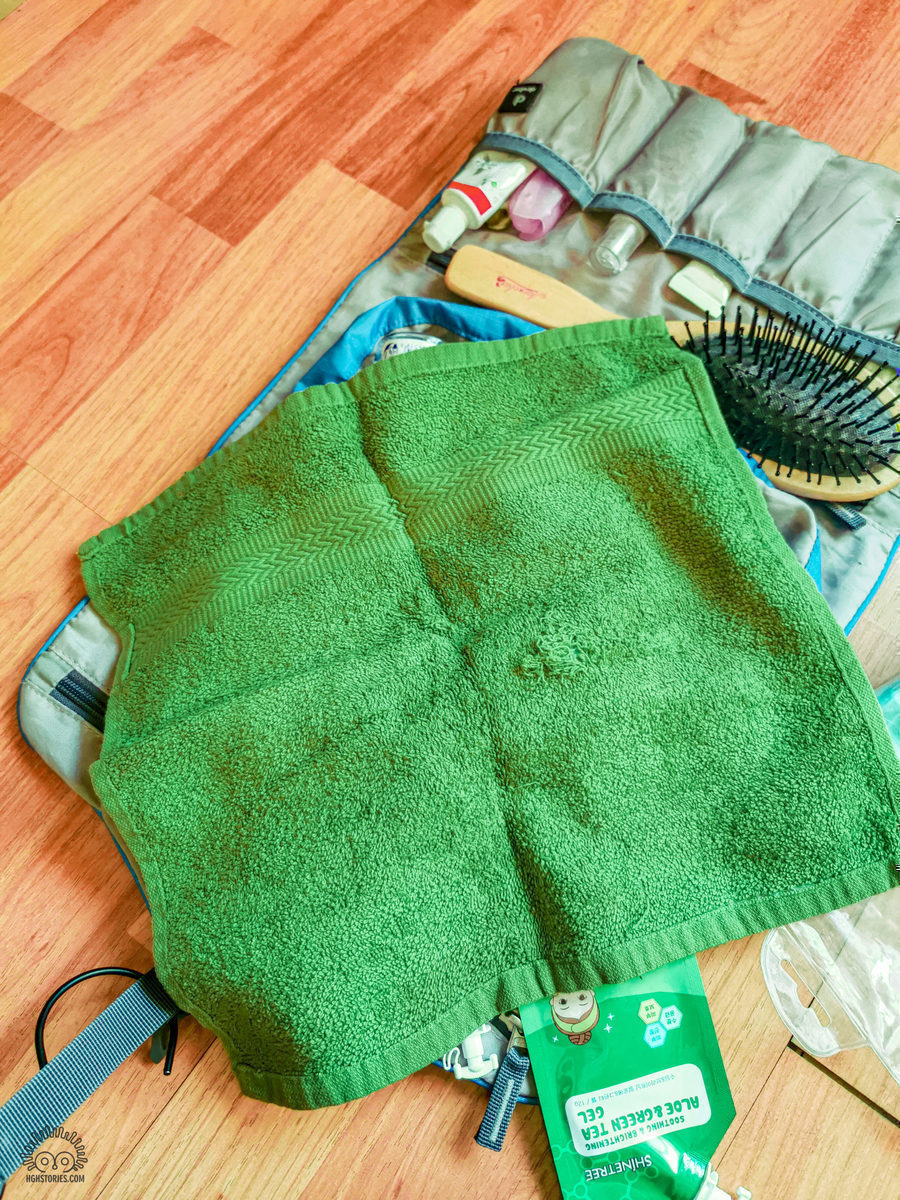 – soap (I take with me small bars of the hotel type and a special tourist soap dish, where soap is stored in thin disposable leaves);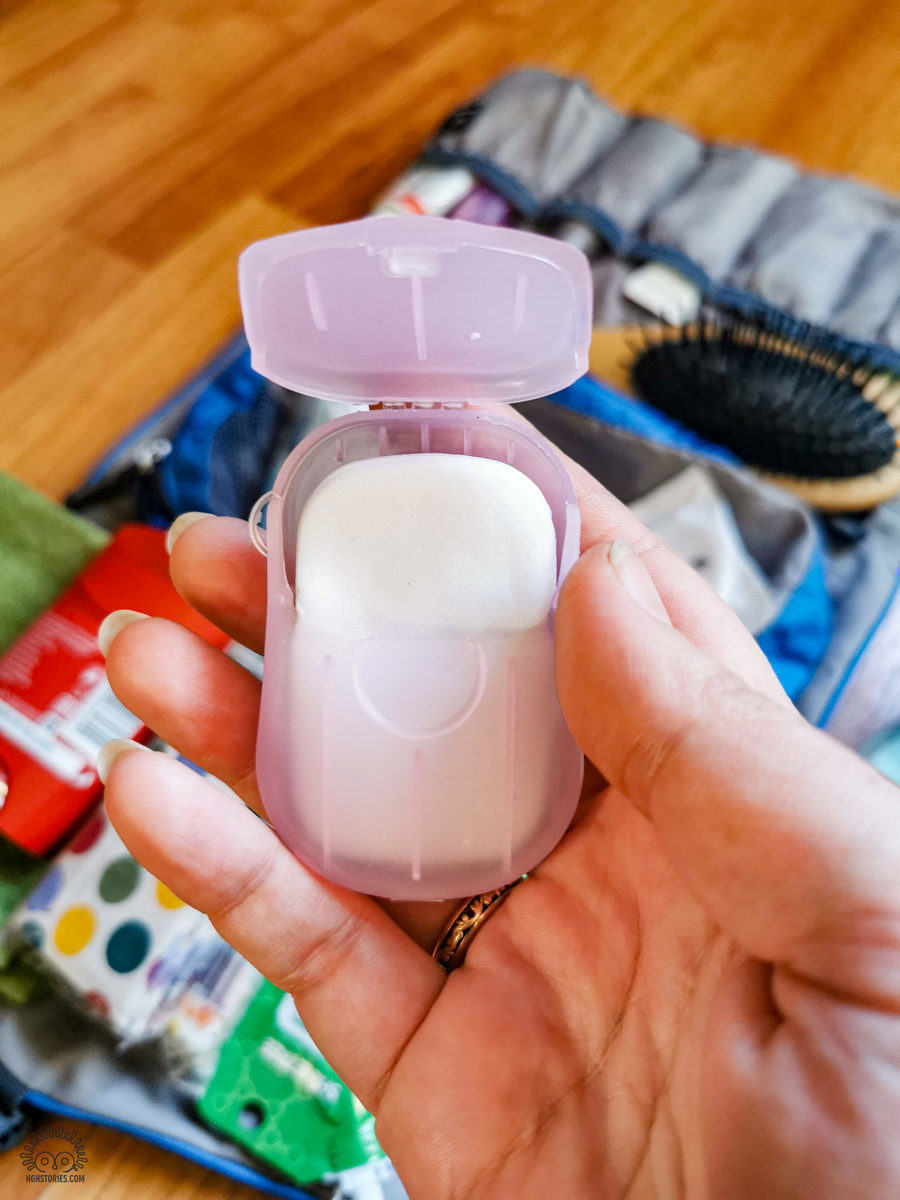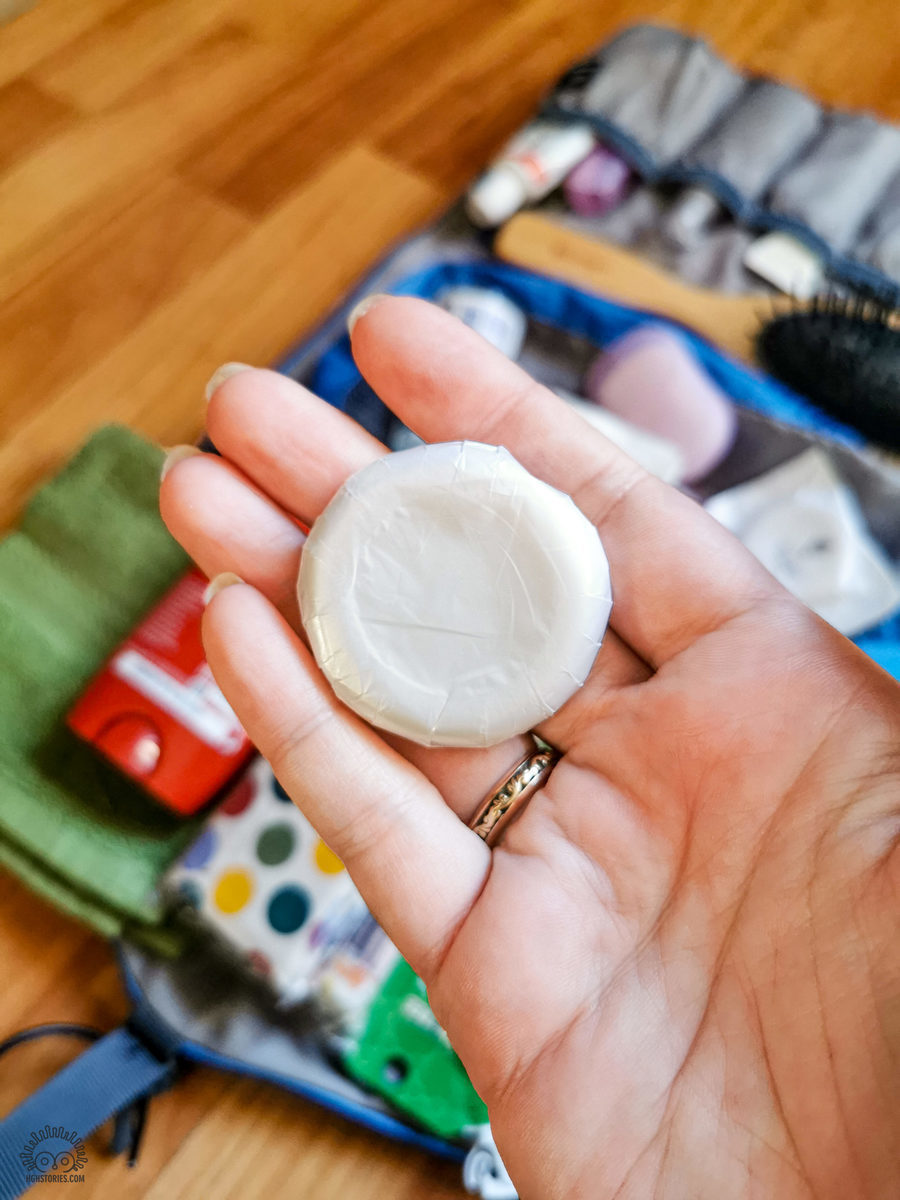 – a small jar of paste for washing the face (for the whole face it needs a tiny bit);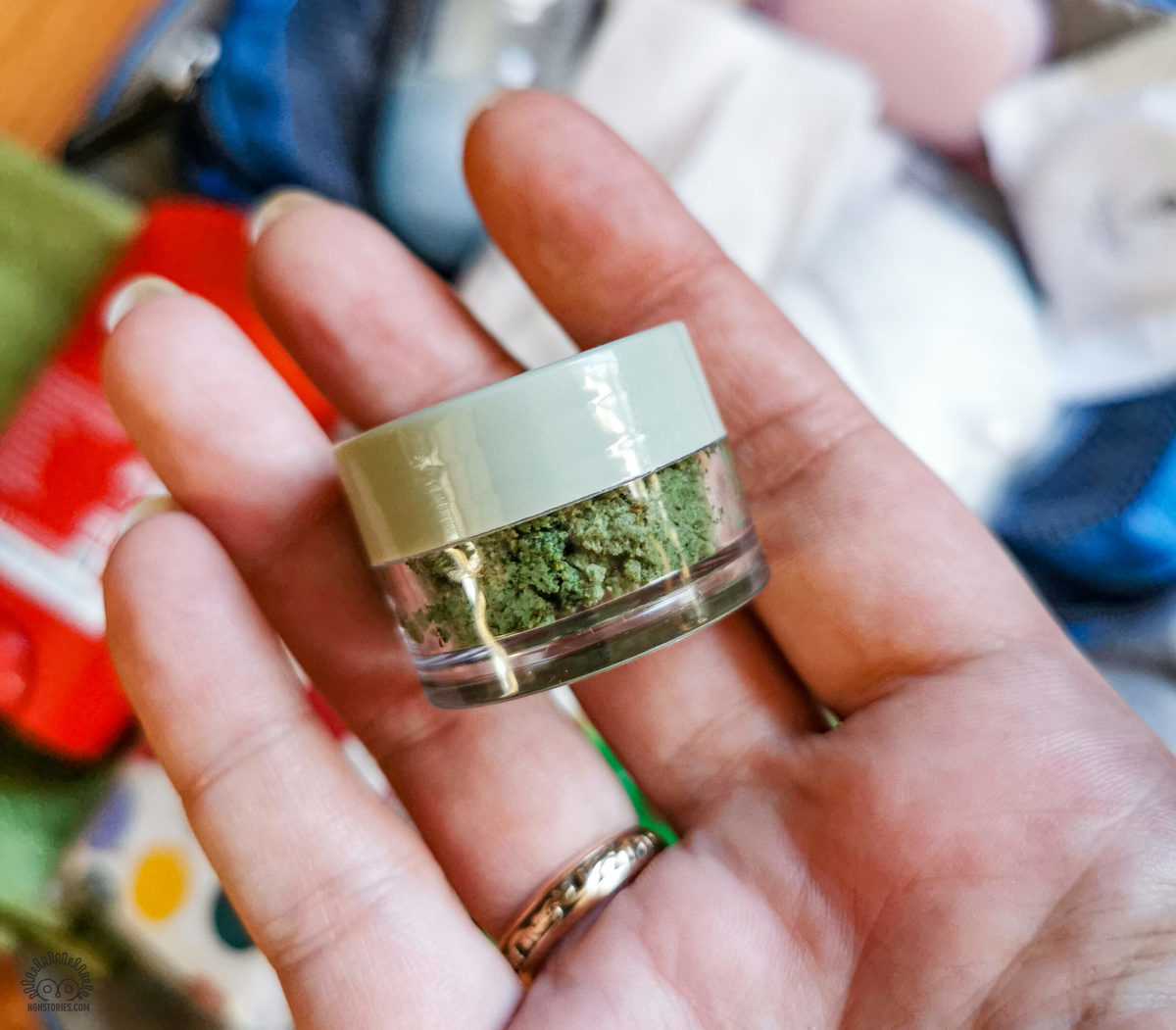 – La Roche-Posay skin irritation pencil – a great thing for dry sensitive skin;
– sunscreen or spray, including in winter, because the snow is very shiny and the face can burn;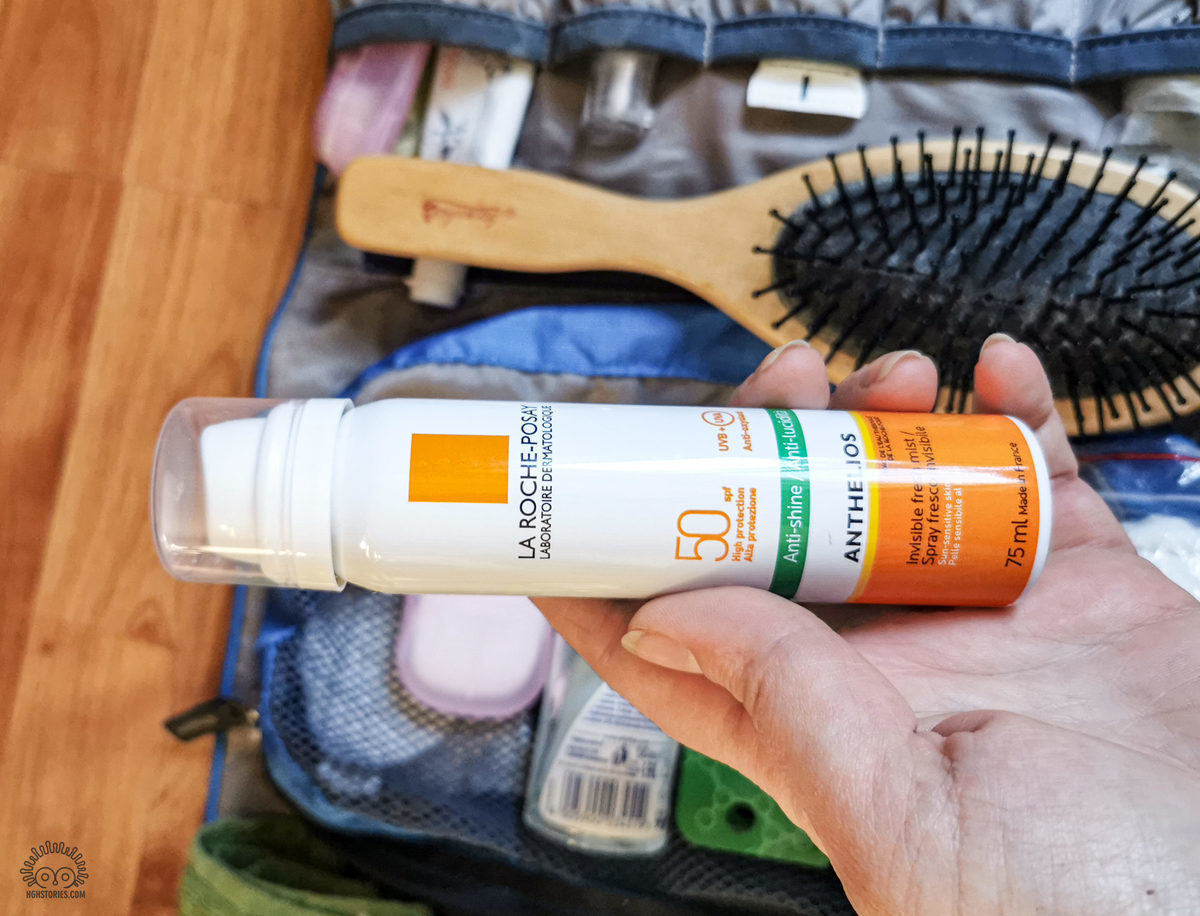 – a pair of spare hair bands;
– needle with white and black spools;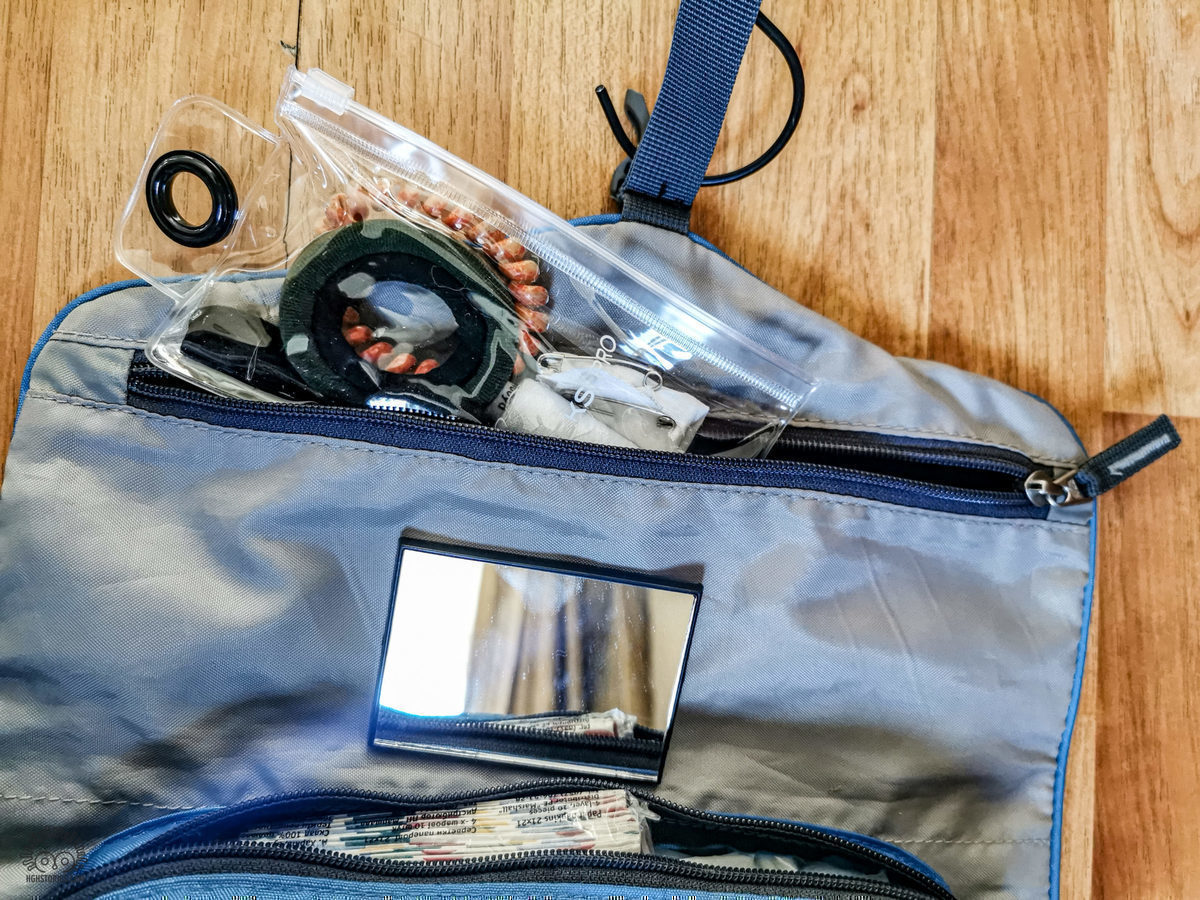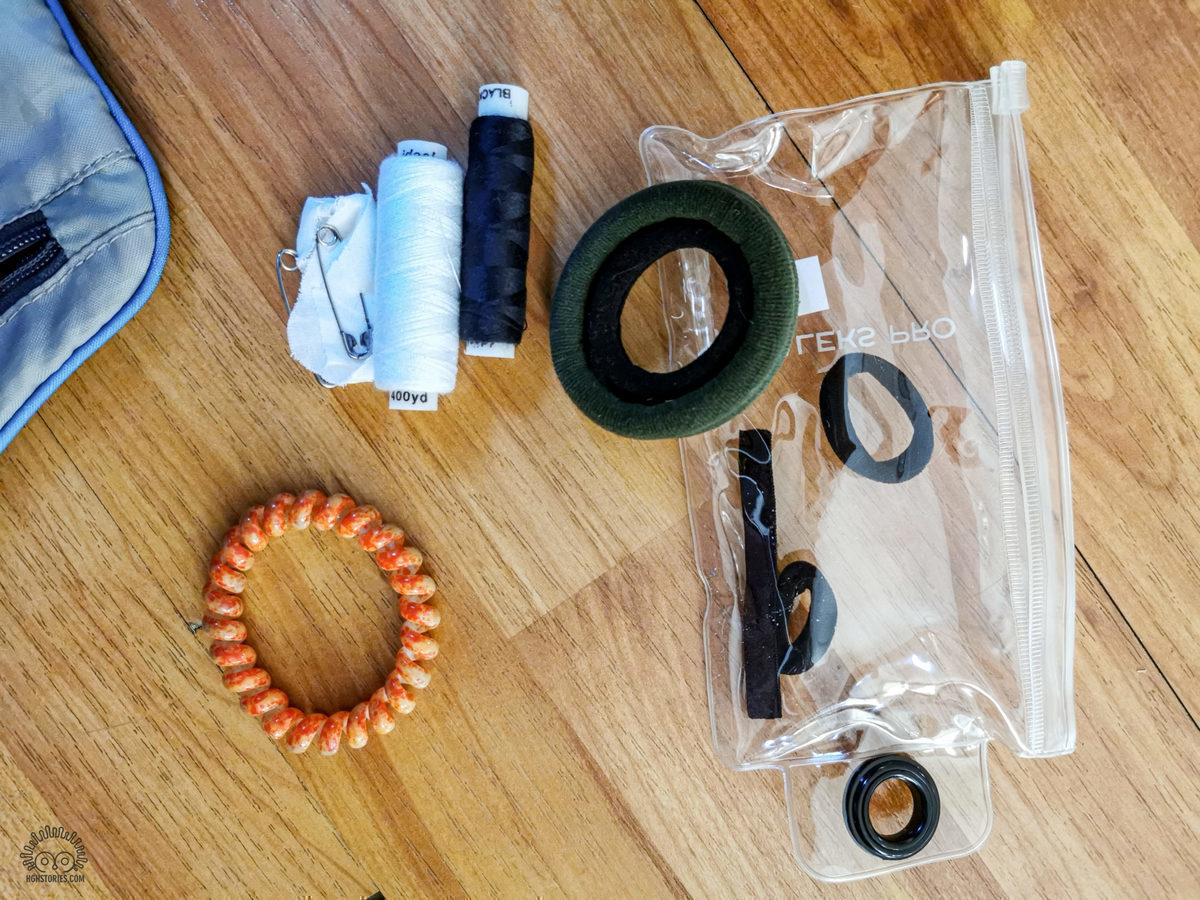 – a few small plastic bags (to put garbage in and take to the garbage tray, if it is not nearby);
– mirror (although I use it only if something falls into my eye))))));
– tweezers, scissors and nail file.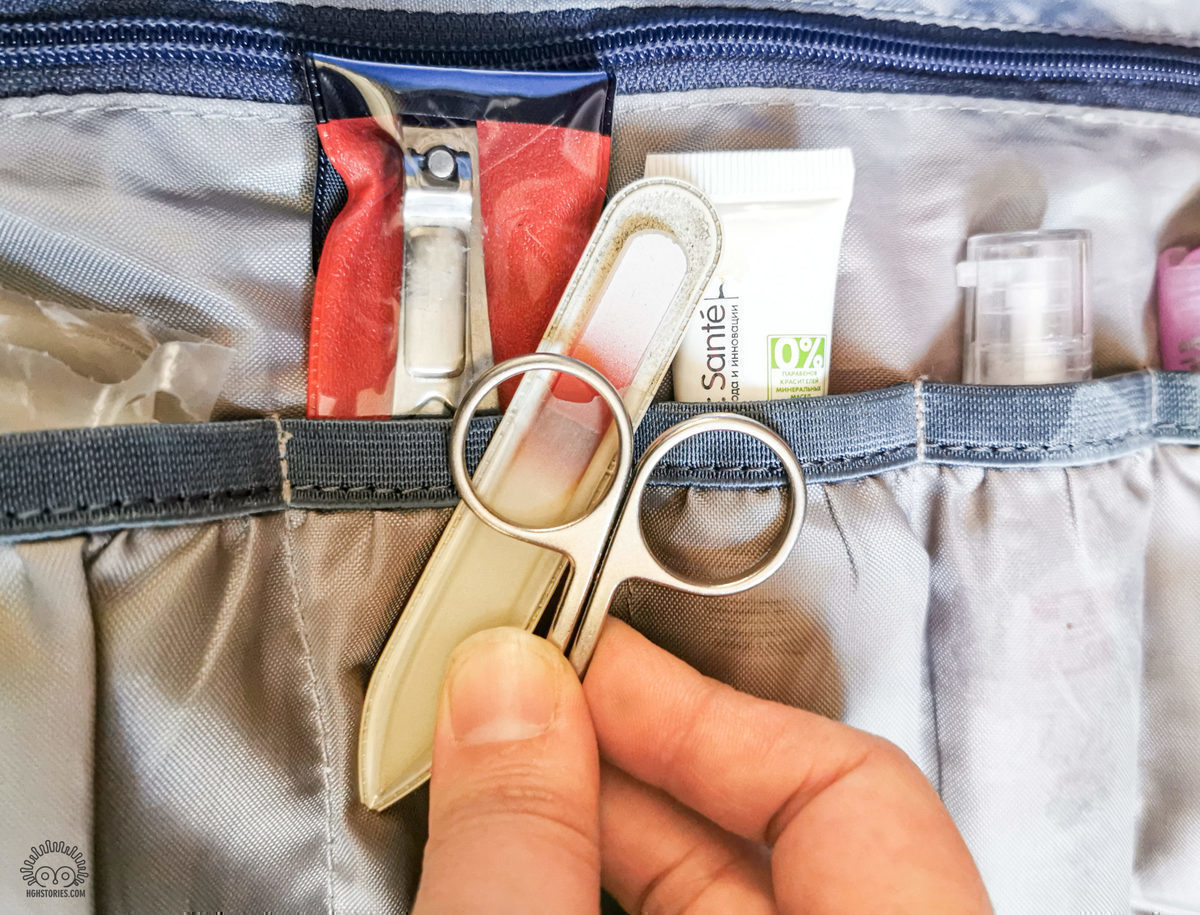 I don't take anything else with me (and shaving accessories too, because it's not a problem for a husband not to shave for a week or two)). In terms of women's cosmetics – this set is the best if you do not need to go somewhere where you need decorative cosmetics (well, in this matter, every girl knows what she needs))). In my deep conviction, the more fresh air the skin breathes, the better.
It was a cosmetic bag № 1))) And there is another № 2)) In fact, a backpack plays its role (no matter I go with my 55-liter and then everything is in pockets or going by car and then it's a separate city only for regular things):
– repellents in the form of a spray (you need to take the one, you tested, because not all work well);
– repellents in the form of spirals, if you are planning a tent holiday (and in the room / house may be useful);
– superglue (very important and useful thing));
– a skein of a thin household rope (to dry clothes or to tie something);
– clothespins (approximately 10 pieces);
– large packaging of wet wipes;
– Pack of wet toilet paper (works very well for wiping the face from dust);
– 2 rolls of small ("car") garbage bags;
– 2 rolls of ordinary 35-liter garbage bags (if by a car with a camping) and 1 roll if staying at a hotel;
– headlights (for any trip);
– 2 sets of batteries for headlights;
– detergent: a bar of household soap and a liquid detergent of 100 ml (here I am still in the field of experiments, because a bar of soap is not for huge washing, and liquid detergent (even concentrated) can not cope with steppe dust);
– a pair of lighters;
– disposable plastic raincoat (used only once – usually jackets and backpacks cover are enough)));
– 2 thin large towels (for any trip);
– if an overnight stay is planned, then a camping lantern;
– insulating tape (sometimes it is very necessary to fasten something, and the regular tape is large to carry);
– several screeds of different sizes;
– several power banks;
– extension cords – without them you can be charging everything you need for a veeeeery long time (electricity can be found not only in the hotel but also in the campsite);
– small folding backpack (folds to the size of a fist);
– if you are afraid to get your shoes wet, you can take medical boot covers with you (it takes a minimum place, and time to search for plastic bags is saved);
– on the trip to Dzembronya we took shoe dryers with us (our shoes withstood all the tests and they were not needed, but we had the risk).
In my opinion, this set is universal and with its help you can get out of any situation.