"Zen vacation" or a trip to the magnificent Dzembronya.
For a long time I have not been traveling with groups. It's easier for me to organize everything myself, taking into account my wishes and nuances. I mean guided tours. I have my relatives and friends with whom we look at the world very similarly – it's very comfortable for me to go on a trip with them. What am I about? Very often I stumble upon the ads with invitations to photo tours with varying degree of interest in offers. Usually I pass by. And somehow I stumbled upon a tour to a distant and exotic country, to which the trip as a whole team comes out quite expensive. And to try by myself with a photo tour could be an option. Wrote to the organizer and waited with bated breath – this amazing country beckons me very much)) In addition, there are very few offers from Ukraine with photo tours for photographers, not instagram tours.
As a result, a group of people who wished did not gathered and the tour did not take place, and I decided to postpone this trip for the next time. And to go on a small and simple trip with this guide – to the autumn Carpathians. To see what and how is done in this organization, get to know each other and to decide what to do next.
The tour program, that was declared, seemed extremely interesting – in addition to beautiful landscapes, there was also the tirp to night shooting with training. In addition, master classes in shooting and post-processing were announced. Photos, made by the organizer interested me, and I always don't mind learning)) And with such turn of events, we were able to go together with my husband, who is responsible not only for navigation and equipment in our team, but also pilots the quad. And bird's-eye shots promised to be just magical!
And so the gathering began. We really did not want to take our sleeping bags with us, which are completely winter-type- they are very warm, but heavy and voluminous. Therefore, I began to search for light winter sleeping bags. Of course, if you exclude downy ones, then the choice is not huge. As a result, we took light in terms of temperature and weight, and a cunning liner in addition to them, which should add another ten degrees.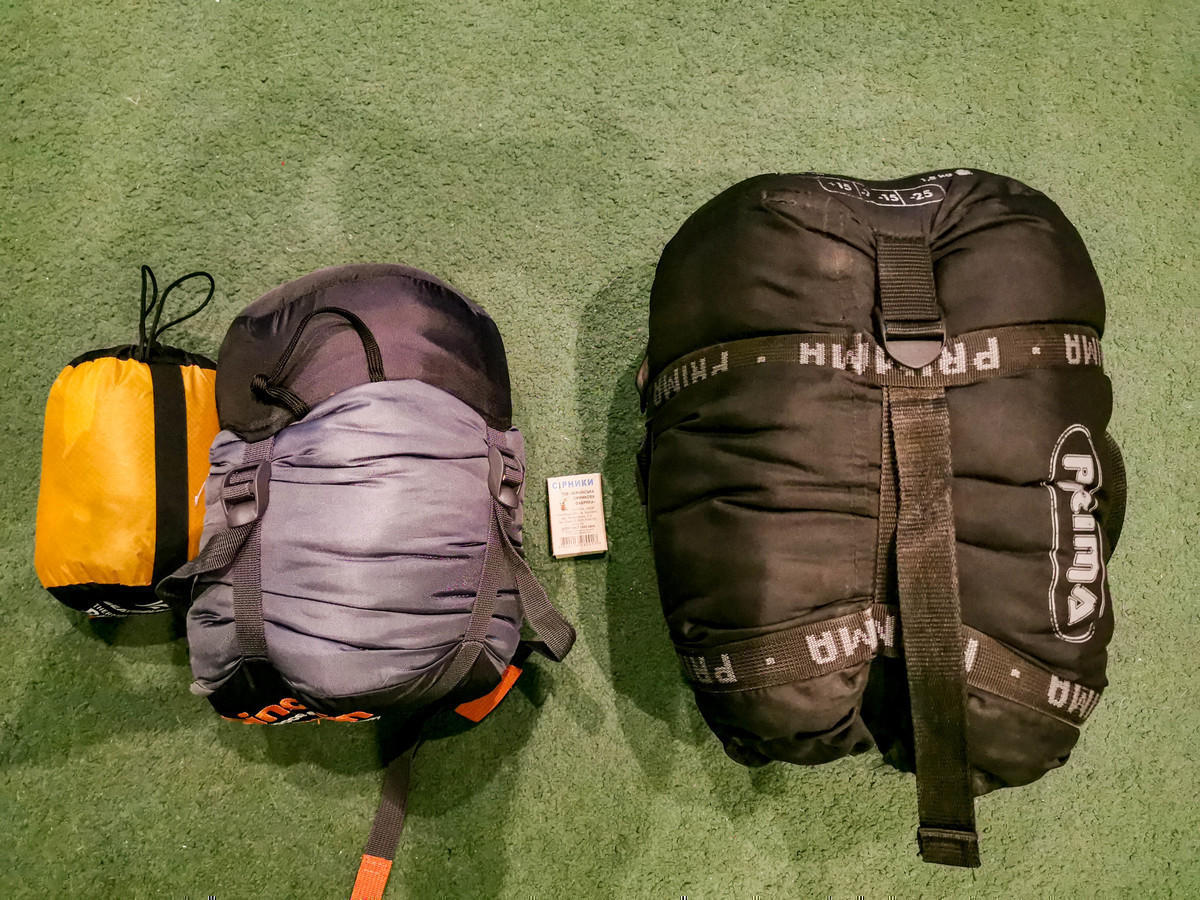 On the left – the new kit that is half the size and lighter, and on the right – a large warm sleeping bag.
Besides the fact that sleeping bags were supposed to be used during the night in the mountains, I still did not exclude the possibility of their use in the hotel. Who knows what kind of hotel is there and how well they heat in it ..
Well, and besides, snow shoe covers were finally bought. Until that time, they were somehow not needed much.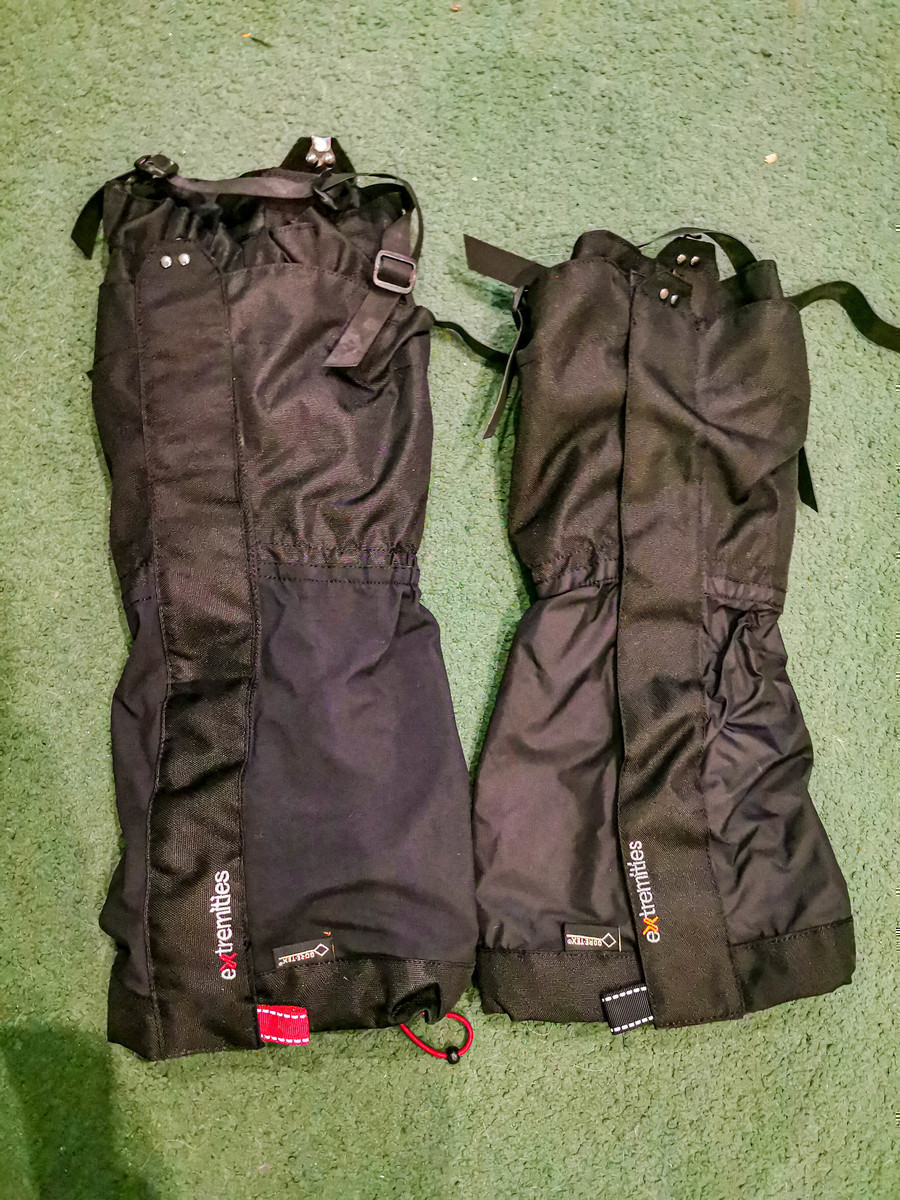 I look at our backpacks, try to think of something to remove – I wanted to take three backpacks, not four .. (two of them with photo and video equipment, plus extension cords). As a result, one of my hiking backpacks of 55 liters and one medium of 30 liters with things and still two with equipmentwere packed. Every time I think, "why do you need all that spare that you take?" For example, my first-aid kit includes not only a remedy for headaches and sweets from motion sickness, but also ointments for bruises and sprains, elastic bandages, powders from poisoning, heartburn, and much more .. Why I need this with myself in organized group? And because – nobody had that with them. According to my observations, people begin to take extreme stocks with them on trips and even more – in hikes, only after they will find themselves in acritical situation with the absence of this stock. And they will taunt a man who, in addition to a large first-aid kit, has a spare warm and waterproof clothing and a lot of other things in his backpack. Until they will start asking for all this spare from someone else's backpac due to the absence of theirs ..
This whole speech is caused solely by emotions about the shortsightedness of people who take responsibility for the group. And especially in the conditions of mountains and distance from civilization.
The first doubts crept in at the moment of discovery that the conditions on the tour page quietly changed from "included: breakfast, lunch and dinner" to "breakfast and dinner" .. and just before departure, when the entire budget is calculated, accounted for and scheduled, a check-list arrives, saying "take snacks with you." Which type was not clear. Either for transitions, or for seating at the hotel. And yes, when I tried to figure out what was the daily schedule, I also spat and decided to sort it out there locally – in the program after a predawn hike in the mountains, breakfast (this is already cool) was stated, and then workshops. And the guide said that everyone will sleep after breakfast .. As I expected, everything became clear there.
So, we went to Dzembronya.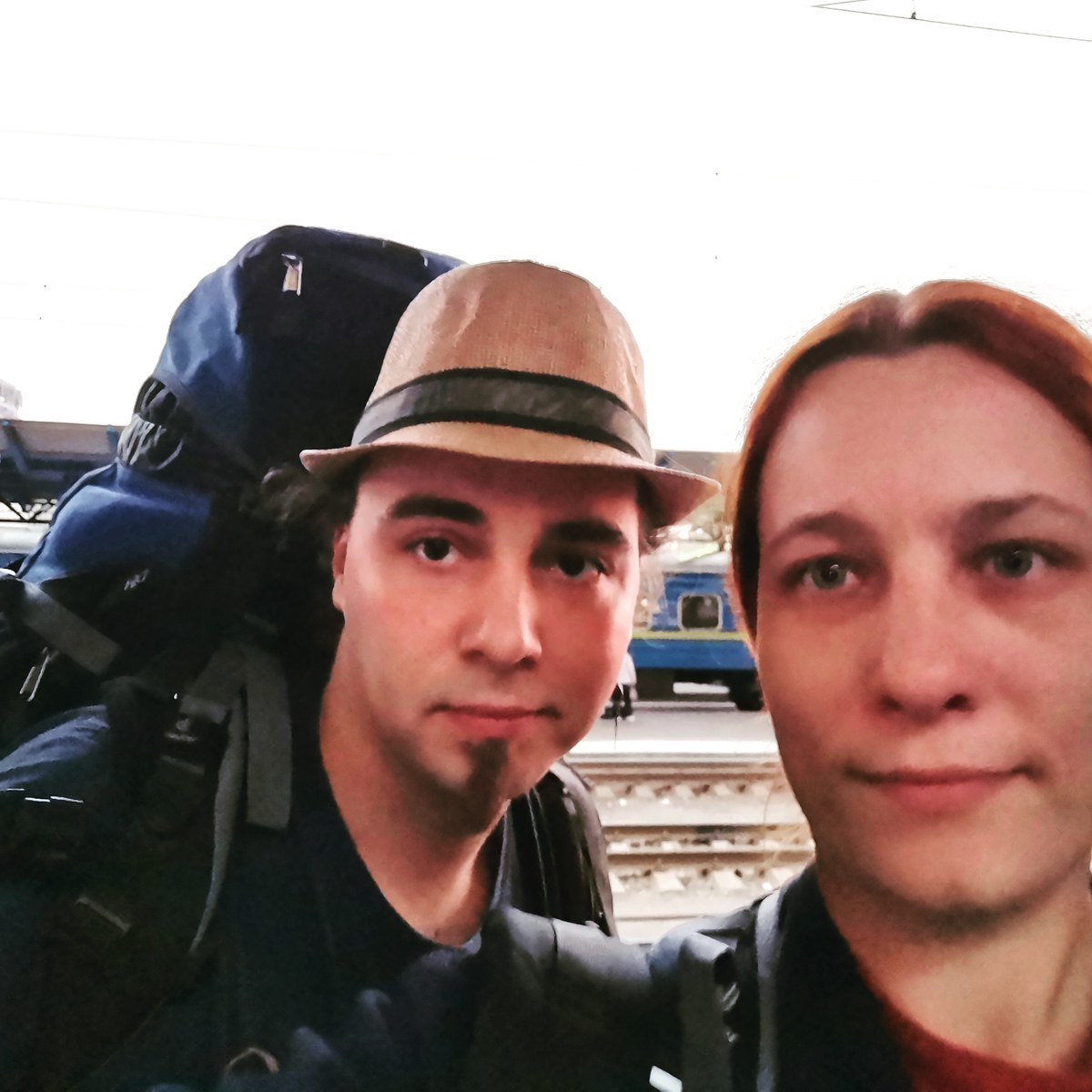 Met with a group in Ivano-Frankivsk early in the cafe "Chicken Hut", initially became acquainted, found out that part of the group is familiar with each other and travels with this guide not for the first time. Went to the "Urban Space 100" to have a breakfast. Far from the cheapest place, but the food is delicious and the working time is captivating – from 6am. As in any other city (and not only), finding a place to eat before 10 am is almost unrealistic.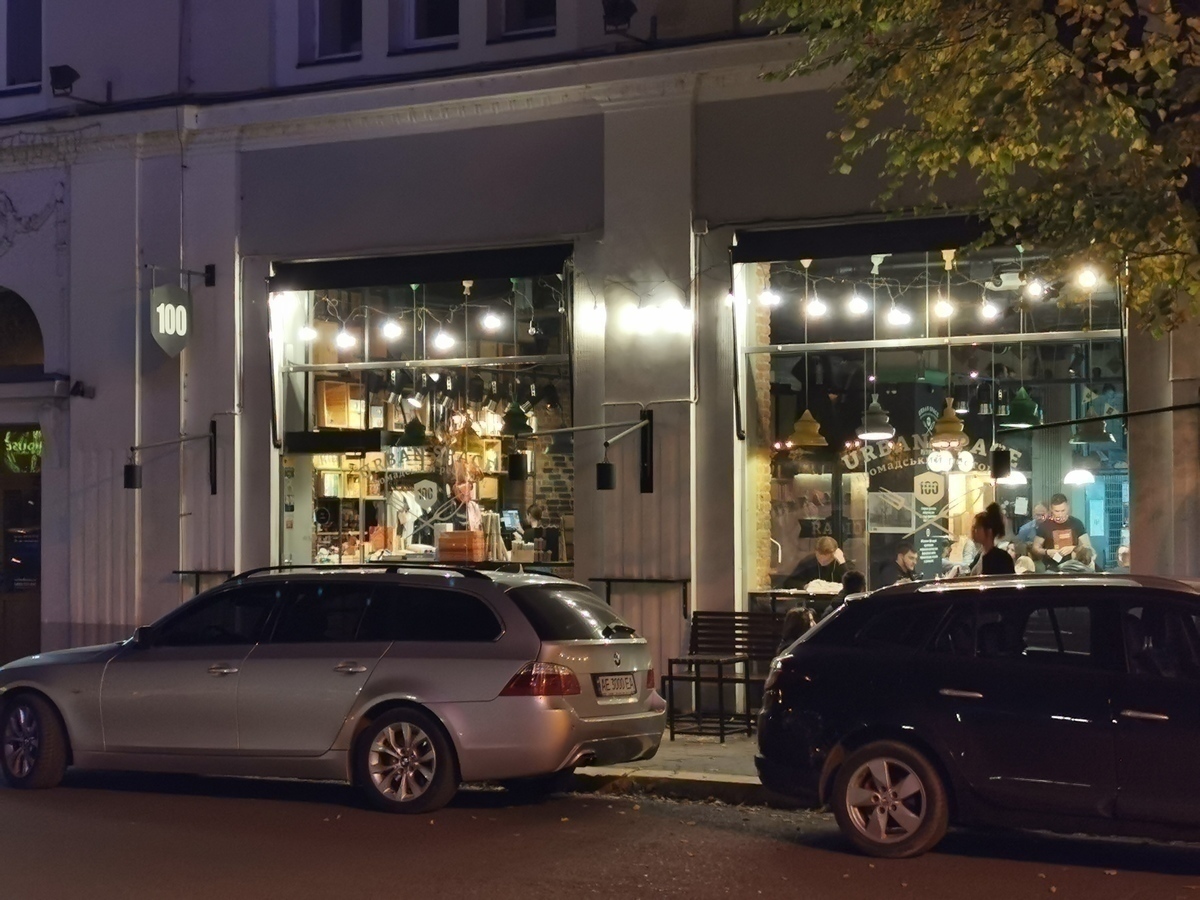 We loaded into a van and went to Dzembronya. Before that, I personally visited the Carpathians only once and for a very long time. But has never been in Yaremche and Dzembronya. Architecture in the foothills and mountains is somewhat reminiscent of the Alps. In addition, it turned out that I missed the real forest .. We were going, I was looking out the window and my heart was so warm .. It's just that in Kharkov and in the region, for the most part, the trees are planted, although they are old and even look like woods. And I saw real natural forests in large quantities in childhood in the Ural. Well, in the Caucasus also. An even soft moss bedding under huge old spruces looks especially beautiful, through the branches of which the rays of the sun shine through. Well, beauty! It is a pity that we did not stop there anywhere.
The road is just perfect from Ivano-Frankivsk right up to Krivopol'ye. And then begins the usual broken rural road, sometimes fenced with logs, so as not to fall into the gorge. But it is kept in fairly good condition, as for such places. This, of course, is not mountain Italy or Austria, but you can drive not only on an SUV.
We pass the plate "Dzembronya" and begin to intensely examine the surrounding area. And it's kind of strange – a gorge, the difficult to climb uphills to the mountains around .. And we drive and drive .. and all this is Dzembronya. It turned out that it is very long and in fact consists of two and a half villages. Lower Dzembronya, Upper Dzembronya and higher summer houses in the mountains. Although all this is formally one village. We arrived in Upper Dzembronya. It is very different from the Lower – large adjoining territories covered with plush green grass, fences, a valley with a river .. beauty!
Our hotel is a two-storied wooden house with a lobby and a kitchen. It's quite a nice house, but the doors are very low, everything creaks and there was only one restroom for the whole crowd. And besides that – quite a nice place with nice hosts. On the territory they have their own cheese factory, in which they make Hutsul cheese. Recently, they've obtained a geographical brand (like cognac or champagne) – brynza, which is made from natural milk in Ukraine, with a grazing of at least 700 or 800 (I do not remember) meters above sea level. It can be made from sheep's or cow's milk. In Dzembron they make from a cow's milk, and in Kosovo – from sheep's milk.
So, we unloaded and settled. We got a room with a large bed and two large windows. To be true, with a very small door and low ceiling, but warm and cozy.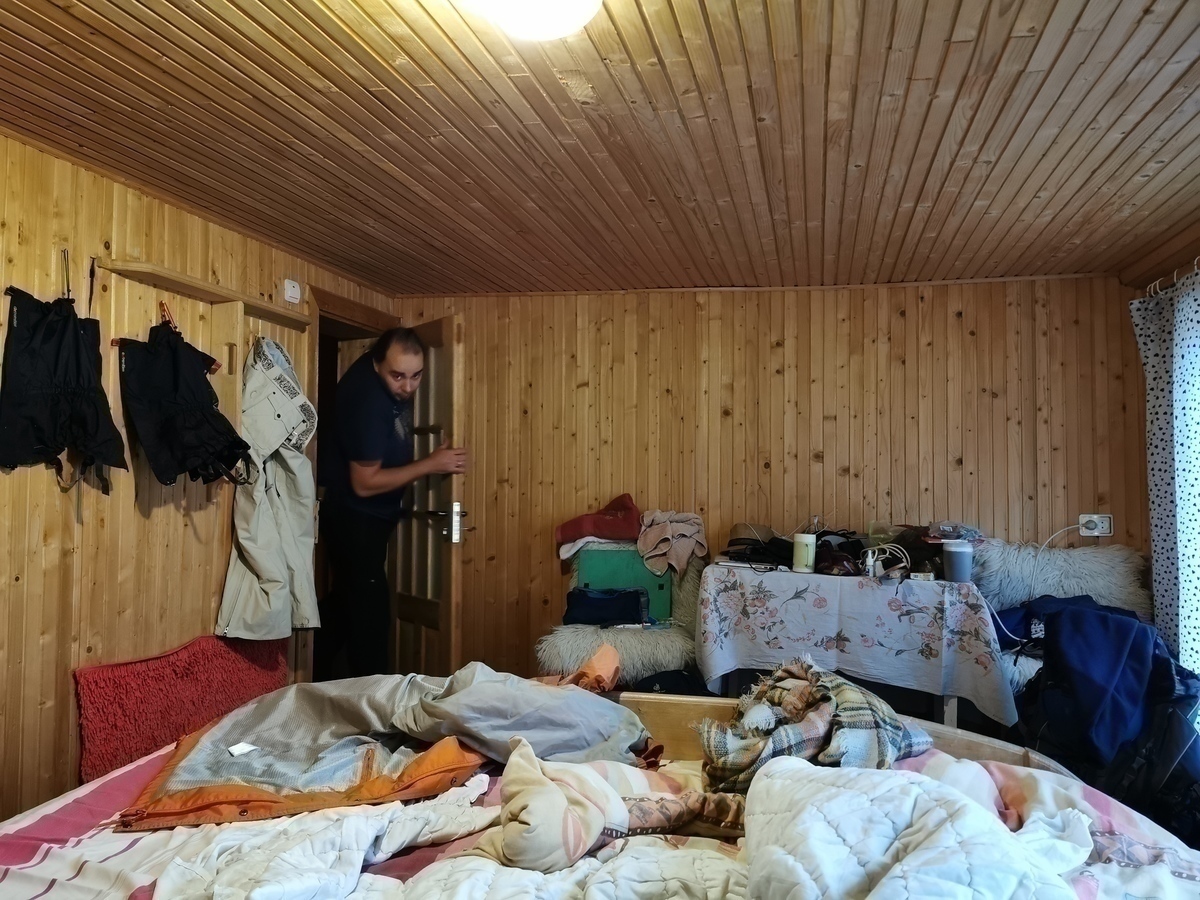 After unfolding things, we all gathered together and went to the mountain "for reconnaissance." We decided to go to the north side (in the opposite direction from Pop Ivan). It turned out that the main guide has no idea where to go, and his assistant hardly recalls something from his only visit once on a completely different topic. In the group there was a man who had already walked in these mountains, but he also did not remember very well where to go .. It was somewhat surprising and unexpected. At the very beginning of the climb, we made a stop, the main guide pretended to teach everyone everything and even expressed a couple of theses in the spirit of "you need to take panoramas, at 11 aperture". After half an hour standing on a quarter of the rise, we moved up (towards the Kievstar cell tower). It turns from forty minutes to an hour relaxed walking.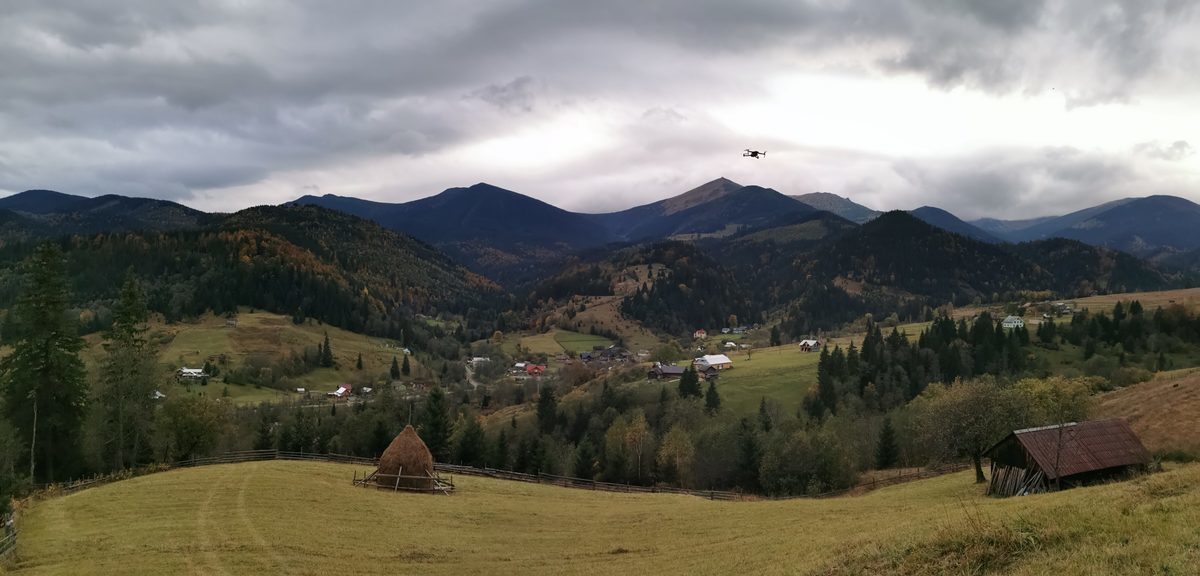 By the way. There is practically no cellular connection in the village. Only a little of Kyivstar and not always, despite the presence of a tower at the top in the visibility zone. Our hosts are very worried and upset about this, because, according to them, a lot of tourists die (I don't know how much exactly), because they can't get in touch with anyone. We checked life, vodafone and intertelecom – deafly.
Up there, it is definitely beautiful. On the other side of the mountain Verkhovyna is visible.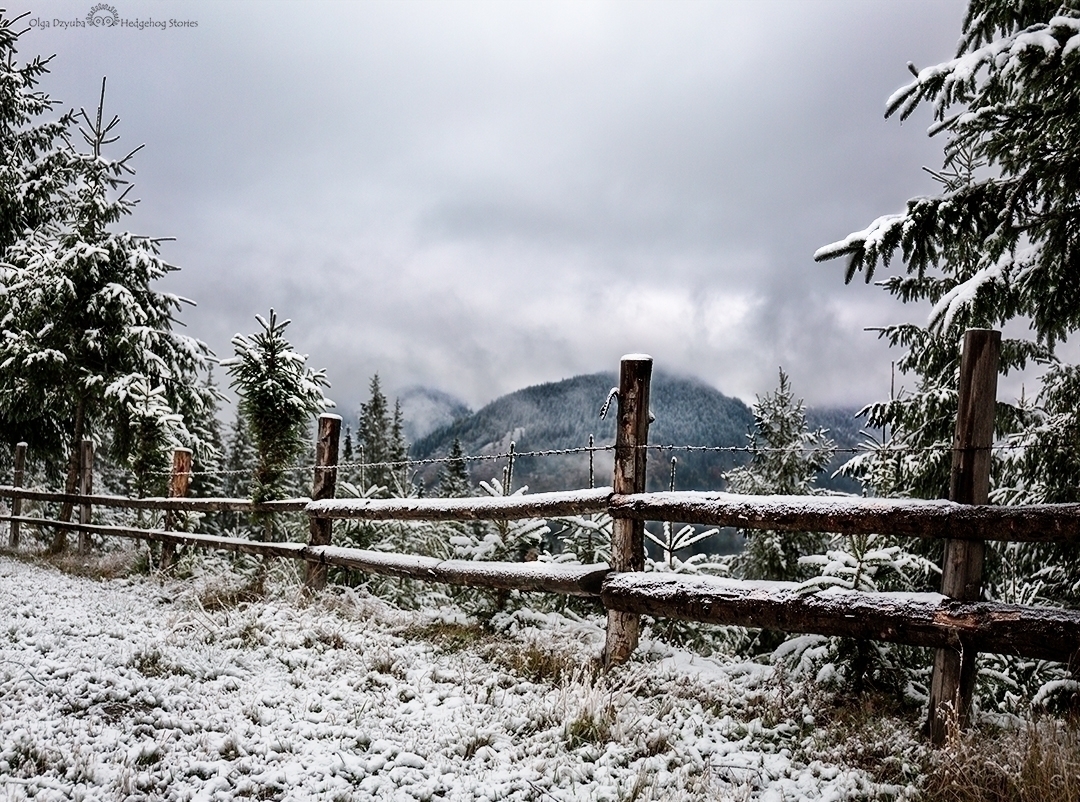 And if you look from the mountain towards Dzembronya, then you can see Pop Ivan and the observatory behind it.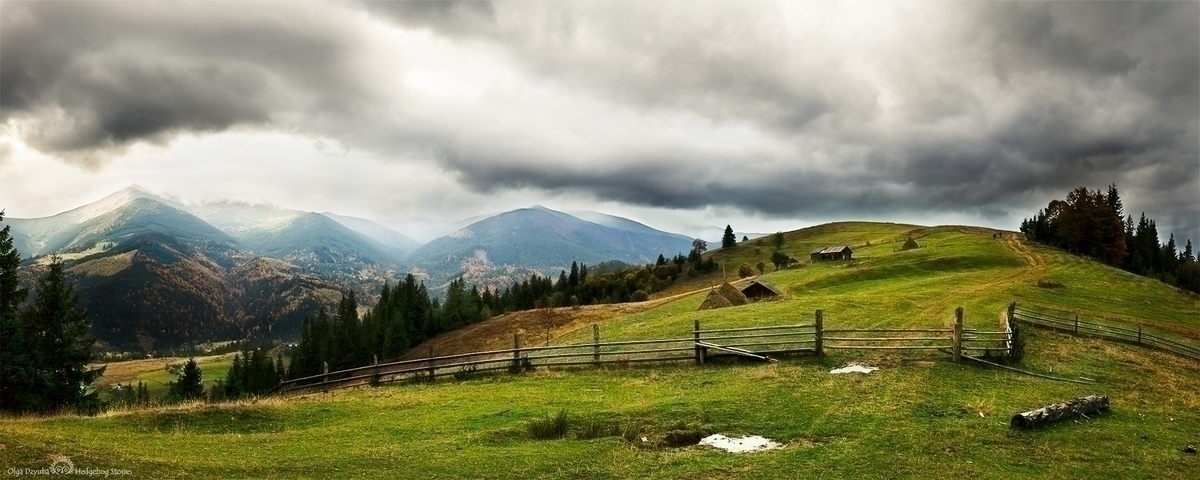 On the slope of the mountain there is the House of the Artist (theoretically, this is the residence for young artists .. but when somebody was there for the last time is not known). I don't remember the name of the founder. When we passed there, there was nobody in it. And the house itself is very beautiful.
The weather was sunny and warm, so we walked up and walked down the other path. Yes, the group crawled sideways along the way up, and no one was waiting for or collecting anyone. This is strange for me. Maybe I relate to the issue too strictly, but when there is a group and a guide, everyone is in an unfamiliar place and also in the mountains, then there must be some kind of responsibility? And yes – there was no briefing, nobody asked or raised questions "what to do if" .. When we come to some new place (well or not new), we always agree on where the meeting point is, what to do if… Okay – I am grumbling)))
Returning to the hotel, we got a well-deserved dinner. As by my standards, small, albeit quite edible. And so it was further – very small portions, and sometimes a very strange selection of products (for example, cottage cheese with garlic ..). On this occasion, snacks (cheese and sausage) that we took with us became very handy.
After the "dinner" the group decided to get to know each other. Or rather, to meet three new people, as everyone else knew each other. As a result, everyone was bored enough, and the lack of the Internet exacerbated the situation (not everyone downloaded their presentation photos in advance).
After this activity, that I'm not a fan of, most of the group remained to drink evening alcohol, and we went to rest. Previously, we all agreed to leave at 6 in the morning to meet the dawn on the mountain.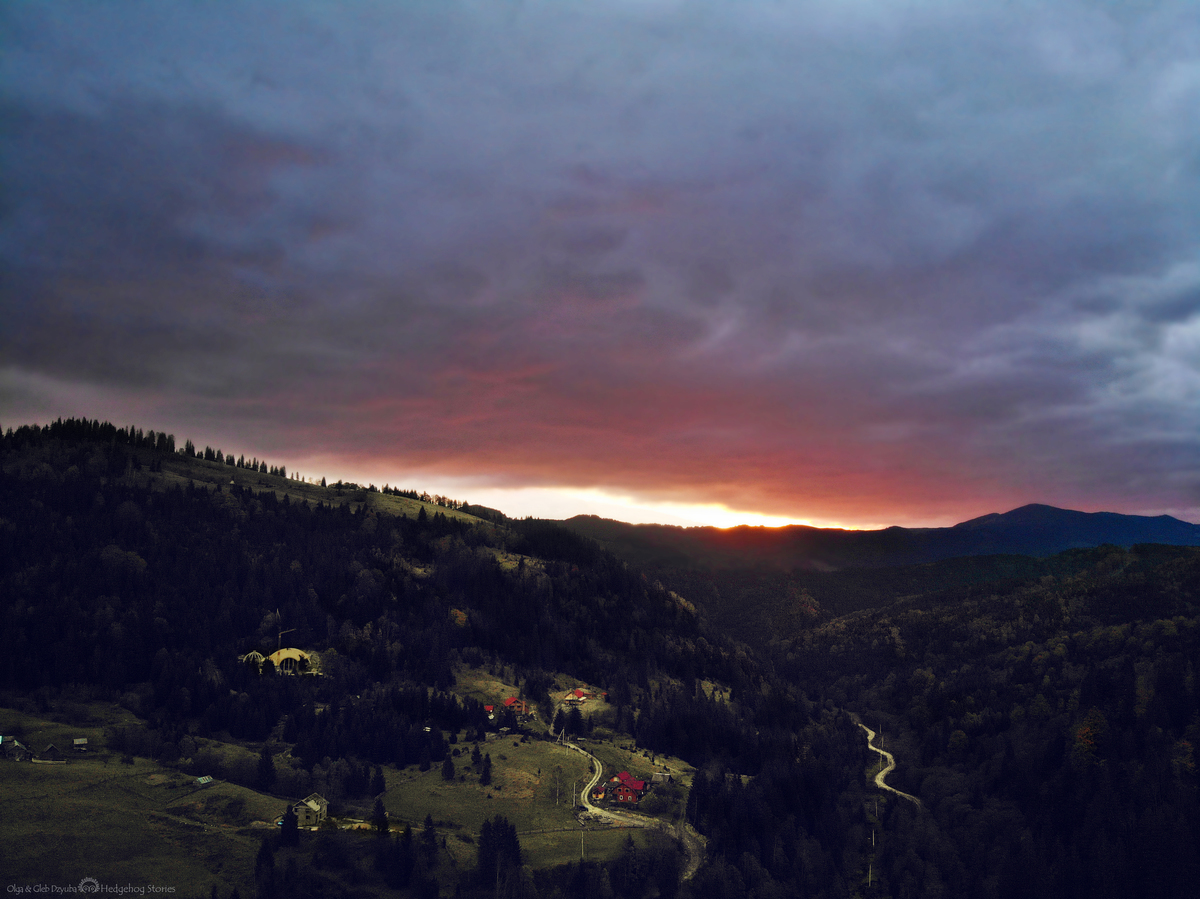 We got up at five in the morning and went to drink coffee. The two of us and another young lady. We washed, dressed and made coffee. The three of us sat on the veranda and waited for everyone else. And there is nobody else .. It turns out that in the evening they decided that no one would go anywhere because of the weather forecast. And they even tried to warn us in the morning (but didn't find ..). Anyway. For me, this is the normal time to rise, but the rest were not lucky. To sum up – day is lost. No one went anywhere. Neither in the morning nor in the evening. Evening alco-use was repeated.
The next day, we all crawled out at 5:30am and, despite the snow and fog, went up the mountain. The climb was unpleasant – very slippery, the backpack with the equipment was not very ergonomic .. We came to the top of the hill, listened to the same unique lecture on panoramas and aperture, photographed snow fogs and qualitatively froze (the wind blows strong and prickly there). But we met a herd of horses))) They, of course, are not wild, but they look very organic in the mountains. How could I forget the gloves at the hotel?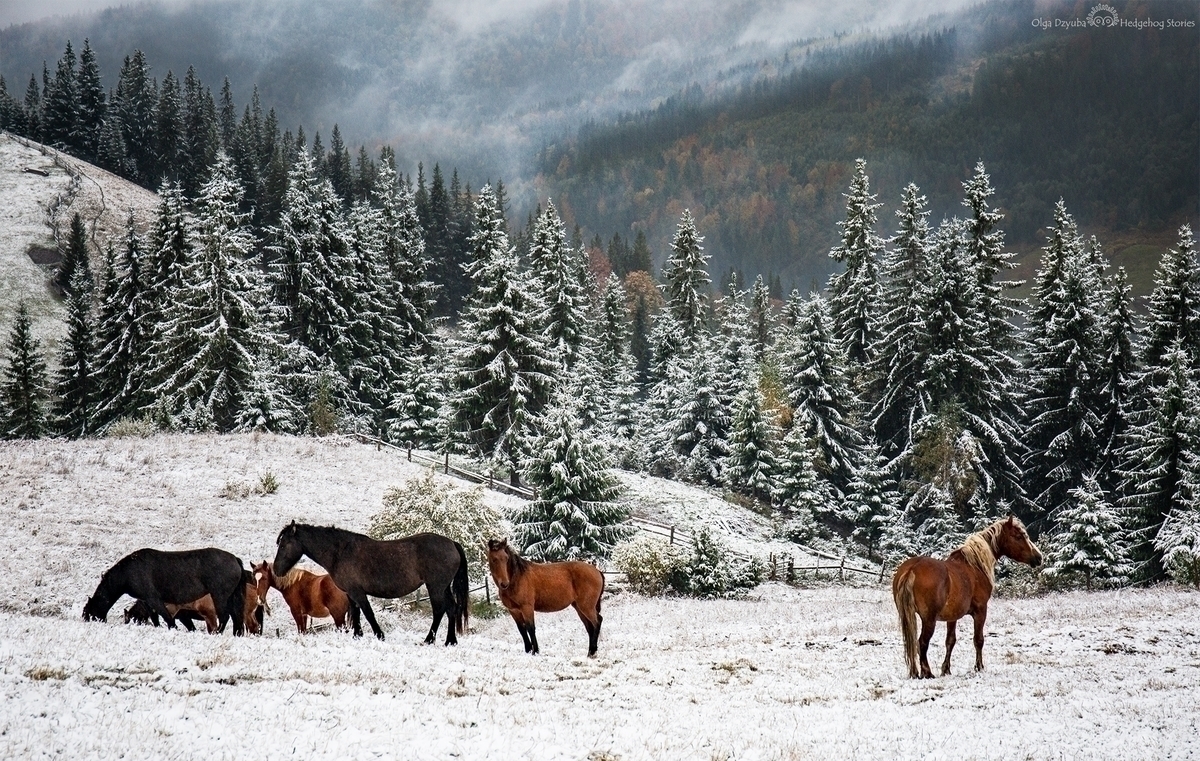 We were warmed by a hot breakfast (albeit very small), and of course tea with cookies))) After everyone has slept, we've listened to a lecture on processing photos. The evening was exactly the same as the previous one – part of the group methodically rested with a bottle near the TV.
The next morning brought us cold and fog again in the predawn trekking uphill. Only colder than yesterday. But we already warmed up and did not forget the gloves))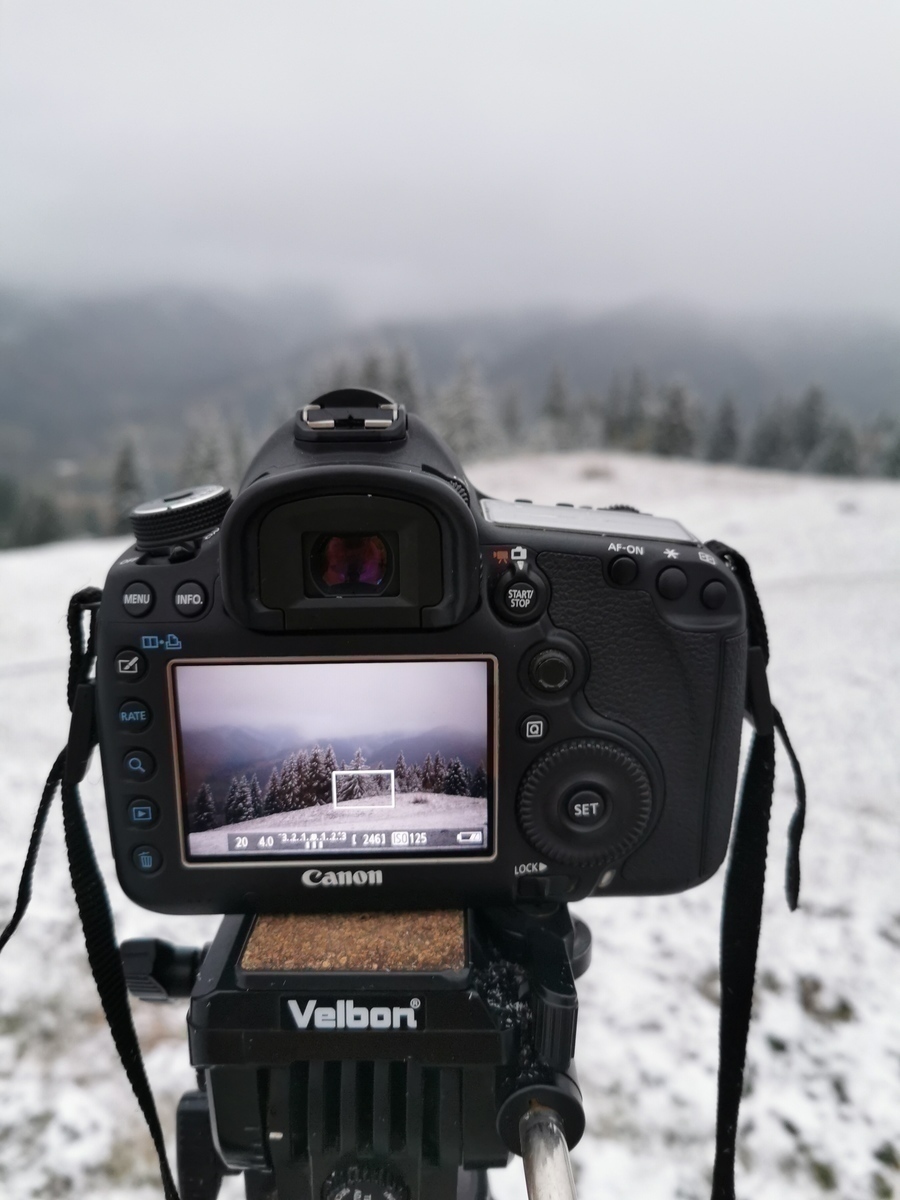 The fog stood a hundred meters thick from the top. The blades of the quads were frozen and some even refused to take off again without cleaning the blades and heating.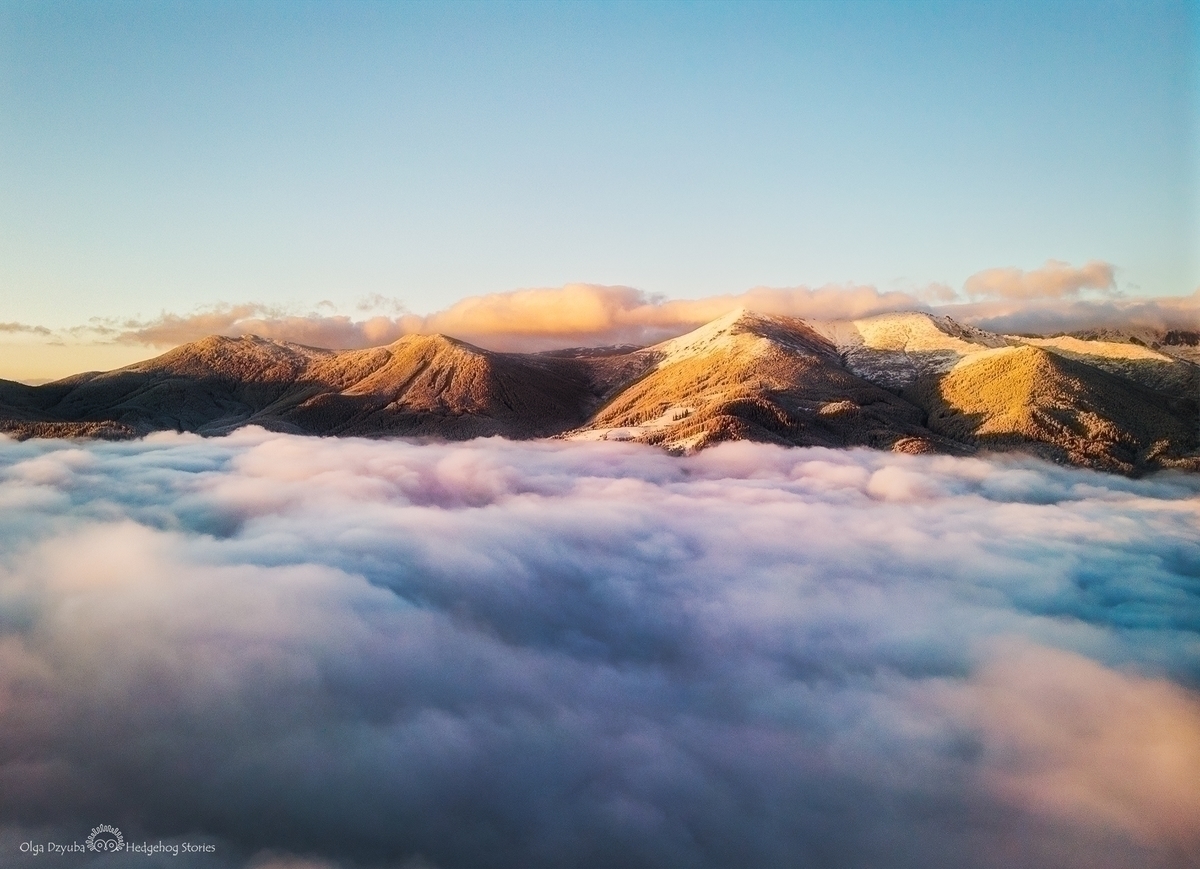 After breakfast, we had another lecture on post-processing, and after lunch / dinner, we wanted to go to the stream three/four people and shoot. As a result, the whole group joined us))) I am not a fan of shooting flowing water at a long shutter speed – it seems artificial to me, but practice is a great thing))
In the end, I went to shoot mushrooms and mosses, and the rest left to fly and hum the brook.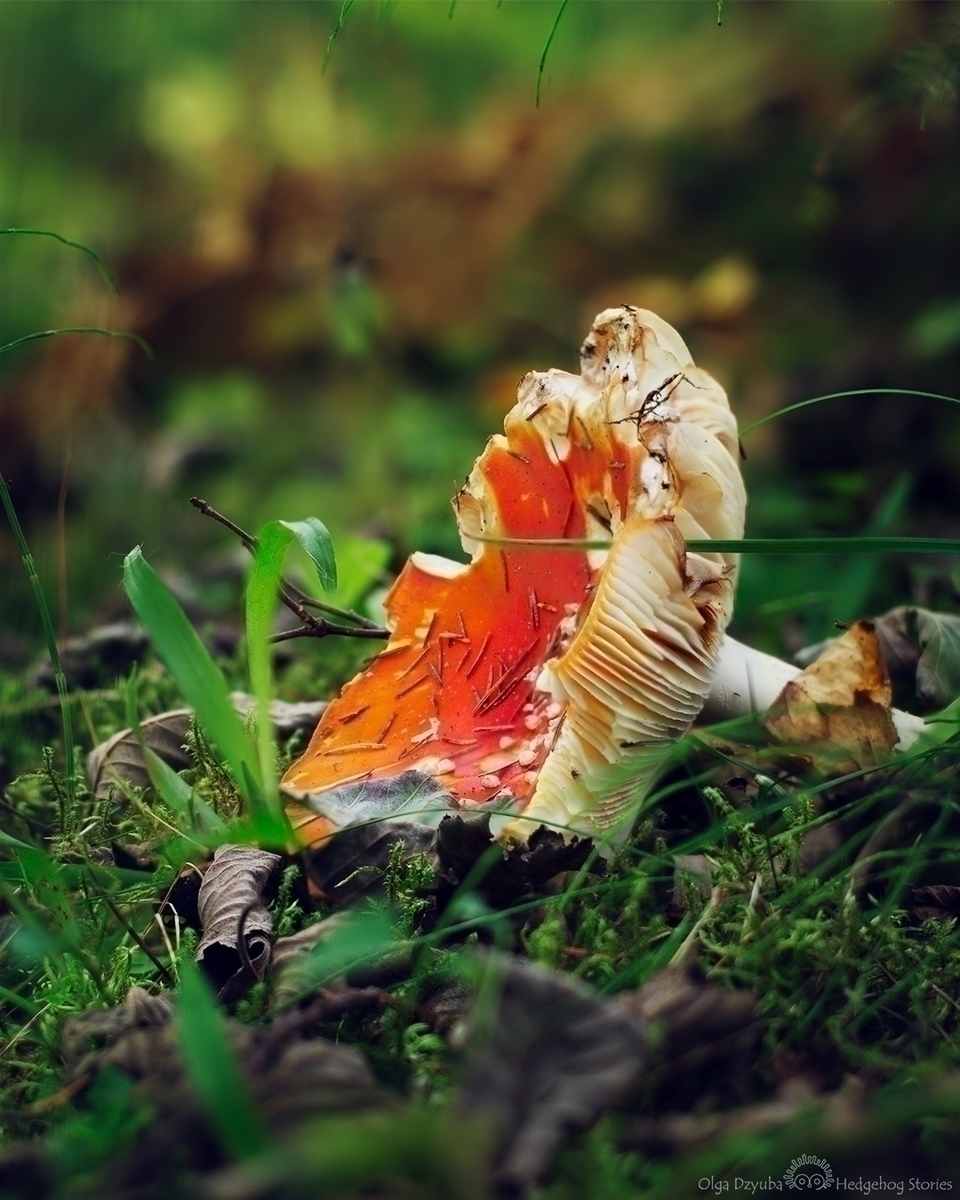 The next morning I decided to end the groundhog day and we stayed at the hotel in the morning– did not go to shoot the same mountain again .. It seemed enough three times to me. And without that, it's already possible to assemble a 3D model from photos. And the rest went.
On this day, we were fed a local traditional banosh for breakfast. Banush, also known as banosh or a tokan, but our mistress says "banosh". This is porridge from very fine corn grits, cooked on cream (and the cream here is home-made, environmentally friendly and from high mountain meadows – everything is just like in advertising, only it's true here))) and whipped. And yes – you need to stir the porridge that is on the stove correctly, continuously and only a wooden spoon. It tastes very tender and pleasant, it is served with salted feta cheese, and we were served with fried forest mushrooms. It does not look like any porridge I have ever tried in my life)). I recommend trying, regardless of the regularity of eating porridges in everyday life))
In the afternoon there was an attempt to provoke a group on a trip to Smotrych (there is a large meadow in the mountains above), but somehow it did not work out. It's longer to go there than to the northern mountain, there's nothing to look from there according to Mrs. Mary, and also along the way. Everyone again went to the river. But the next day we completely devoted ourselves to shooting forest residents, while part of the group (already much smaller) once again went all the way to the same mountain ..
How is the old natural forest different from planting (even the old one)? If we omit scientific systematization, then visually – by the quantity and quality of mosses and undergrowth. If you go through the edge of the forest, you can see large spaces covered with moss under large old trees. There is practically no undergrowth due to the fact that it is very dark from old and tall trees. And in this dark and damp place there is a wide variety of all living creatures, which loves such places.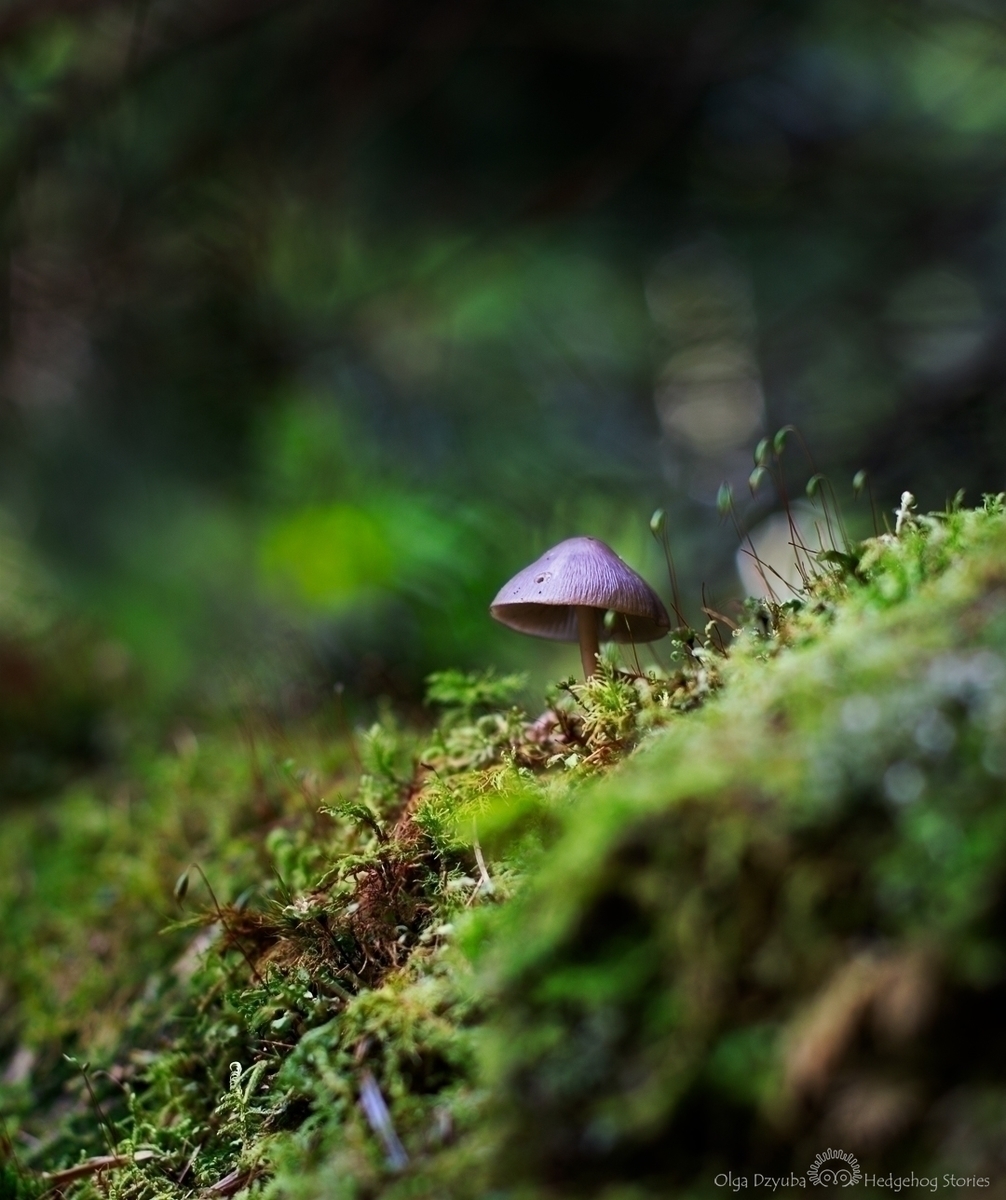 In order not to describe the every groundhog day, I will say that there were several more. The groundhog chronicles looked like this: we get up just before dawn (and this is 2 hours later than for climbing the mountain), a quad takes off from the yard and takes off the dawn beauty. Yes, after such our flights, the group picked up this flash mob and stopped going up to the same mountain. We went three times, and many – five or six times)) Then we wait for breakfast and go for a walk around the village, rarely repeating. We return to lunch / dinner, not paying attention to attempts to push us on a trip to Smotrych and then evening drunken parties of the group part.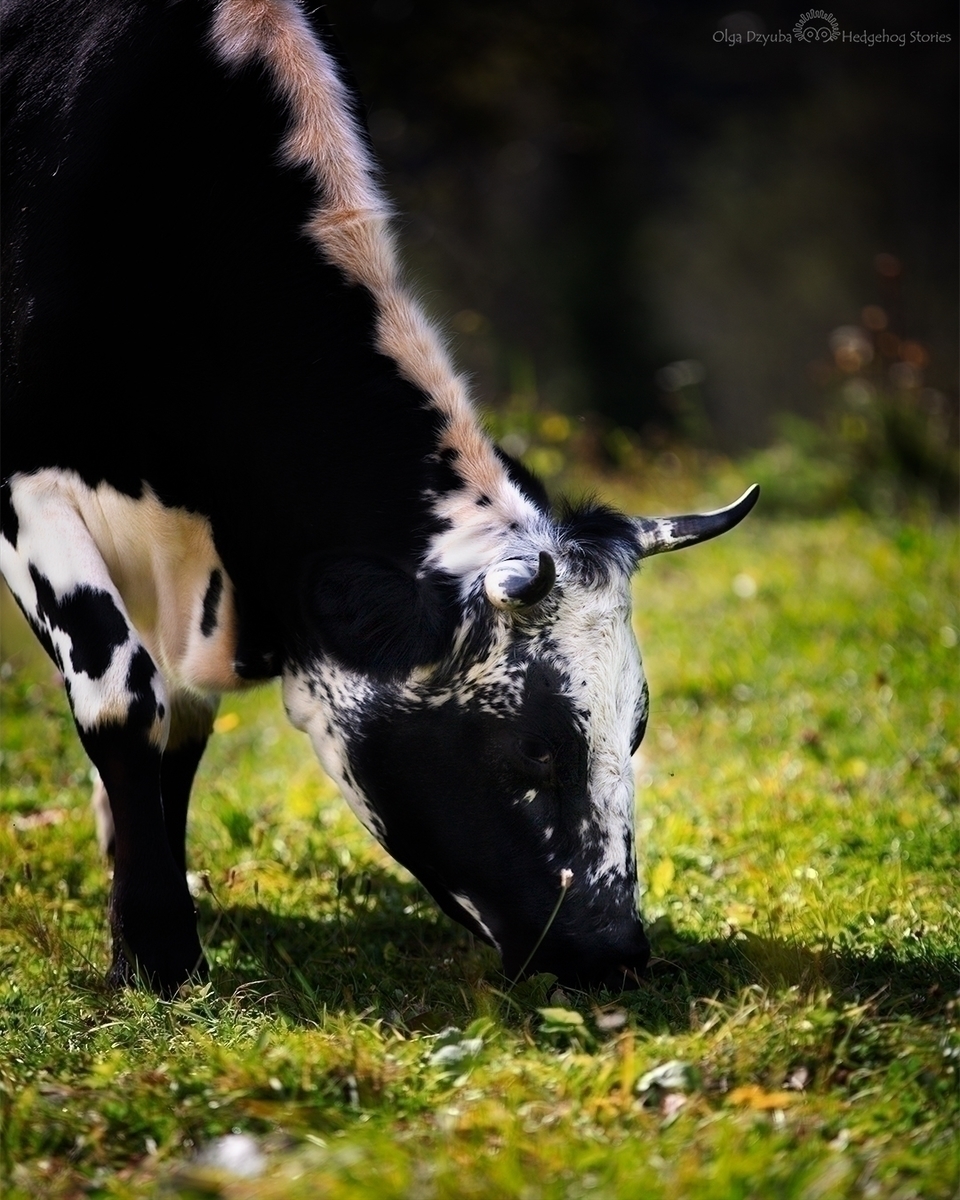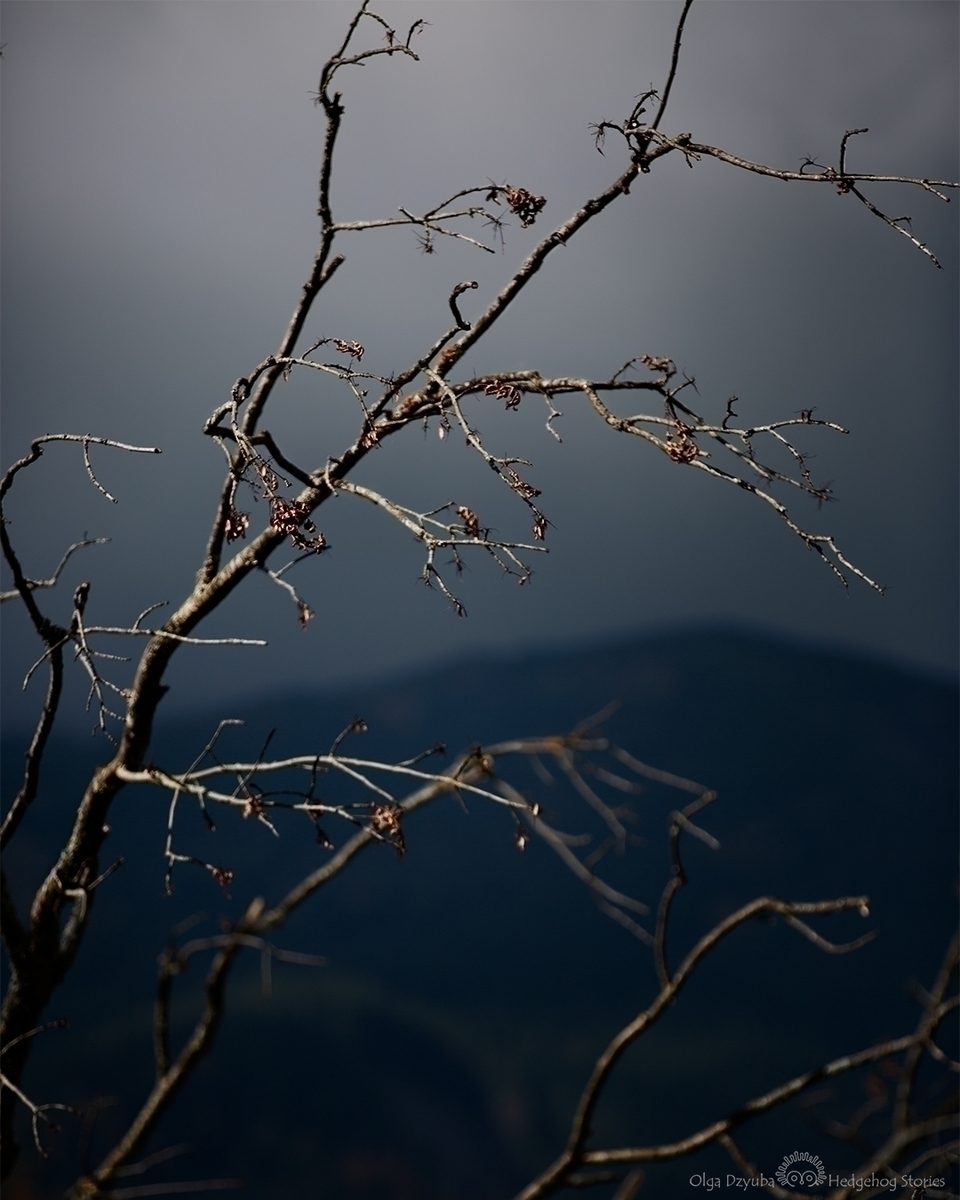 During our walks, we went along almost all the paths, ran away from the thunderstorm and got wet in the fogs, enjoyed the murmur of a forest rivulet and examined flocks of fly agaric))) Well, it turned out that we fell in love with this place. Although, if you do not pursue the goal of taking a break from the social world, wandering around in the mountains in silence (we only met people outside the village center twice), then there is absolutely nothing to do in Dzembronya. Local people are quietly rustling about their business all the time somewhere, it is difficult to meet someone))) but at the meeting they are very good-natured and friendly, wondering if we need help or tell something interesting))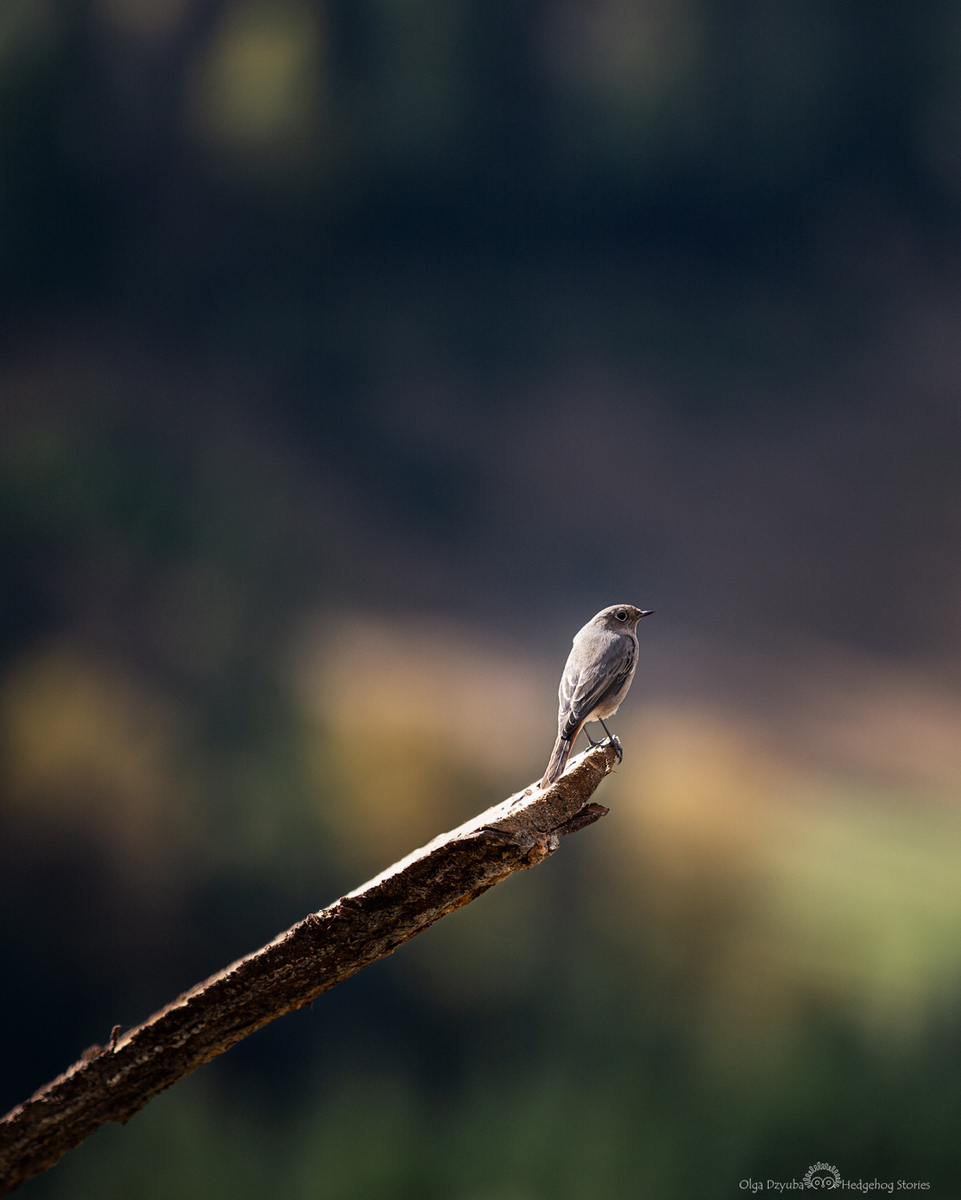 For me personally, this place smells of calm and tranquility – I'll go there for this again)) And also to eat delicious cheese))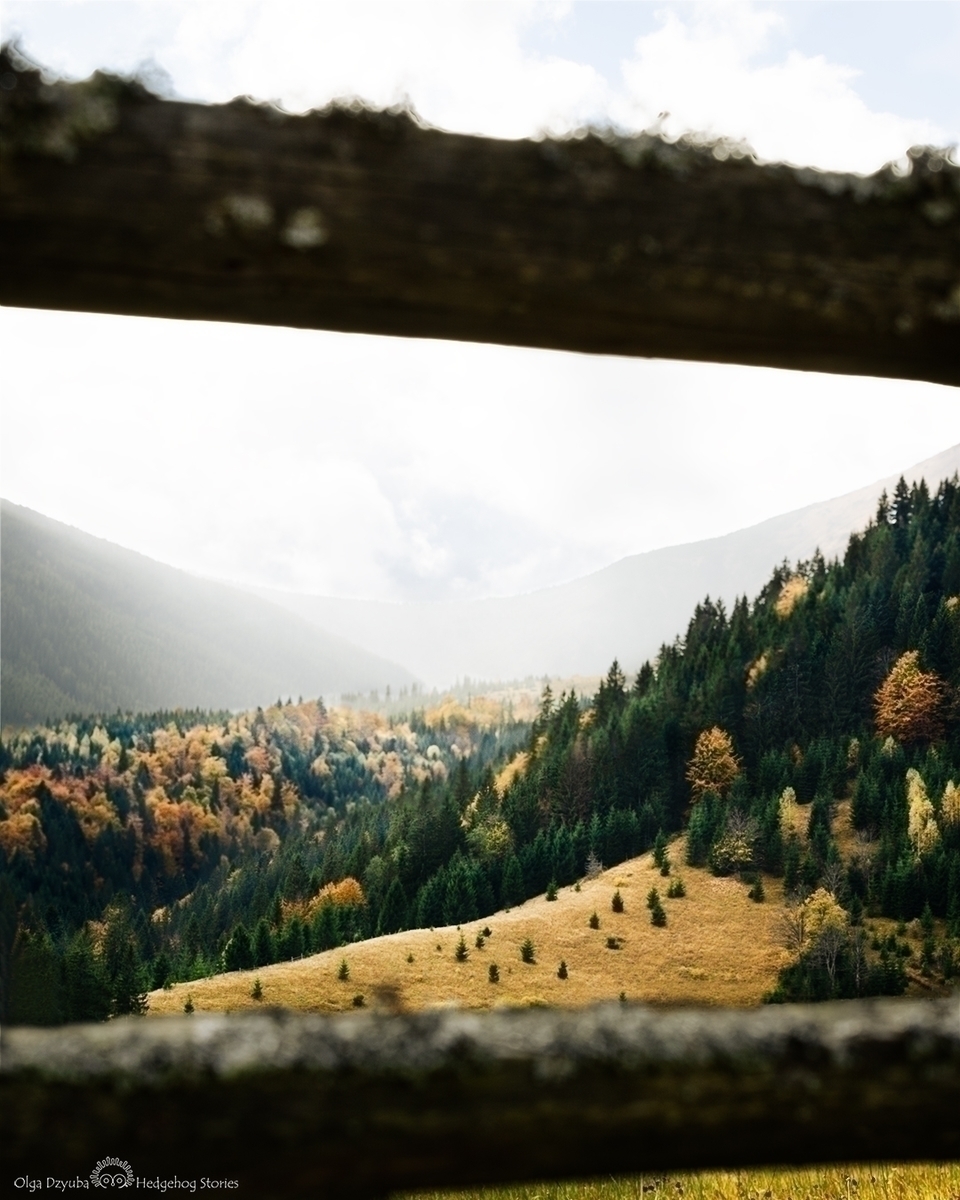 When the "Zen vacation" was over, we went to Ivano-Frankivsk with a stop in Yaremche at a tourist market. I had a goal to buy kots. And I safely carried it out, while some once again improved their health after another stormy evening. I understand that it would be possible to go to a non-tourist place and choose from a wide variety and at a lower price, but we were taken exactly that way and there was no choice. Yes, and after returning home, I searched the net – not much we overpaid. In addition, Mrs. Maria said that the Kotz must be chosen on the spot with hands)))
So, we arrived in Ivano-Frankivsk and went to dinner at "Viva Italia". Great huge portions, delicious food, really similar to Italian and very reasonable prices. I recommend it with all my heart!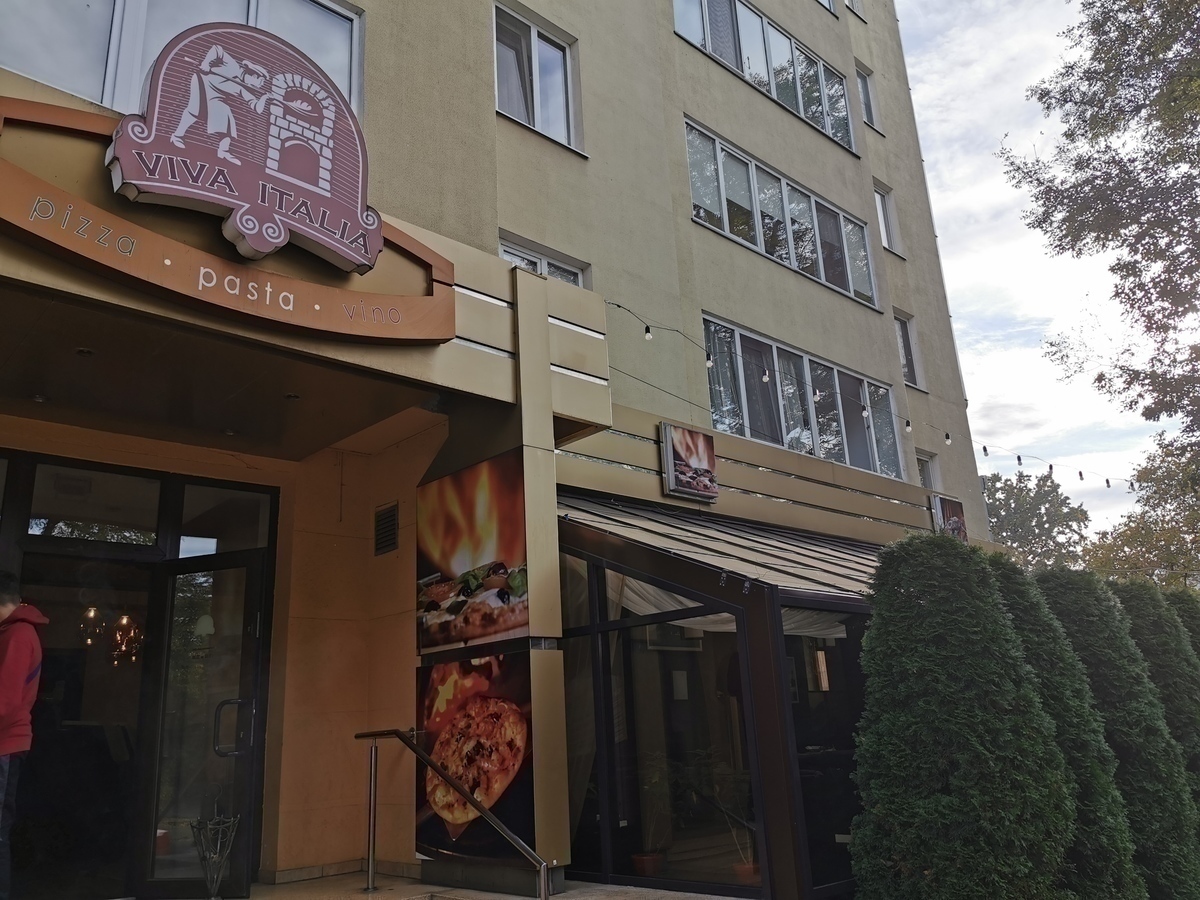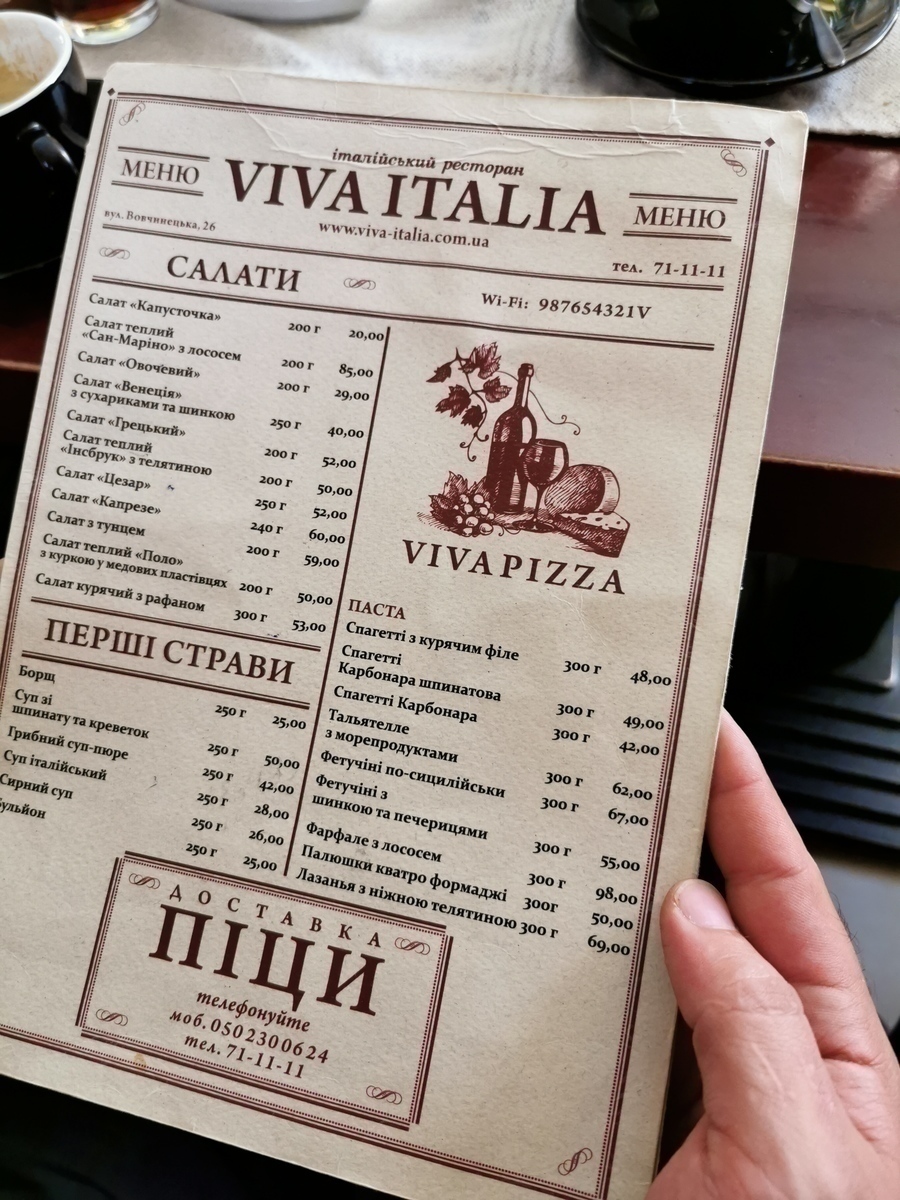 Waiting for the evening train, we went to poke around the city center (it turns out that in the daylight and sunset light the historic city center is very nice))), as a result, we sat on the street in the "GooDZone" cafe to drink tea. In addition to tea, I personally did not try anything there, and the people ordered a hookah. As for sitting in the city center on the street, that is quite a place for.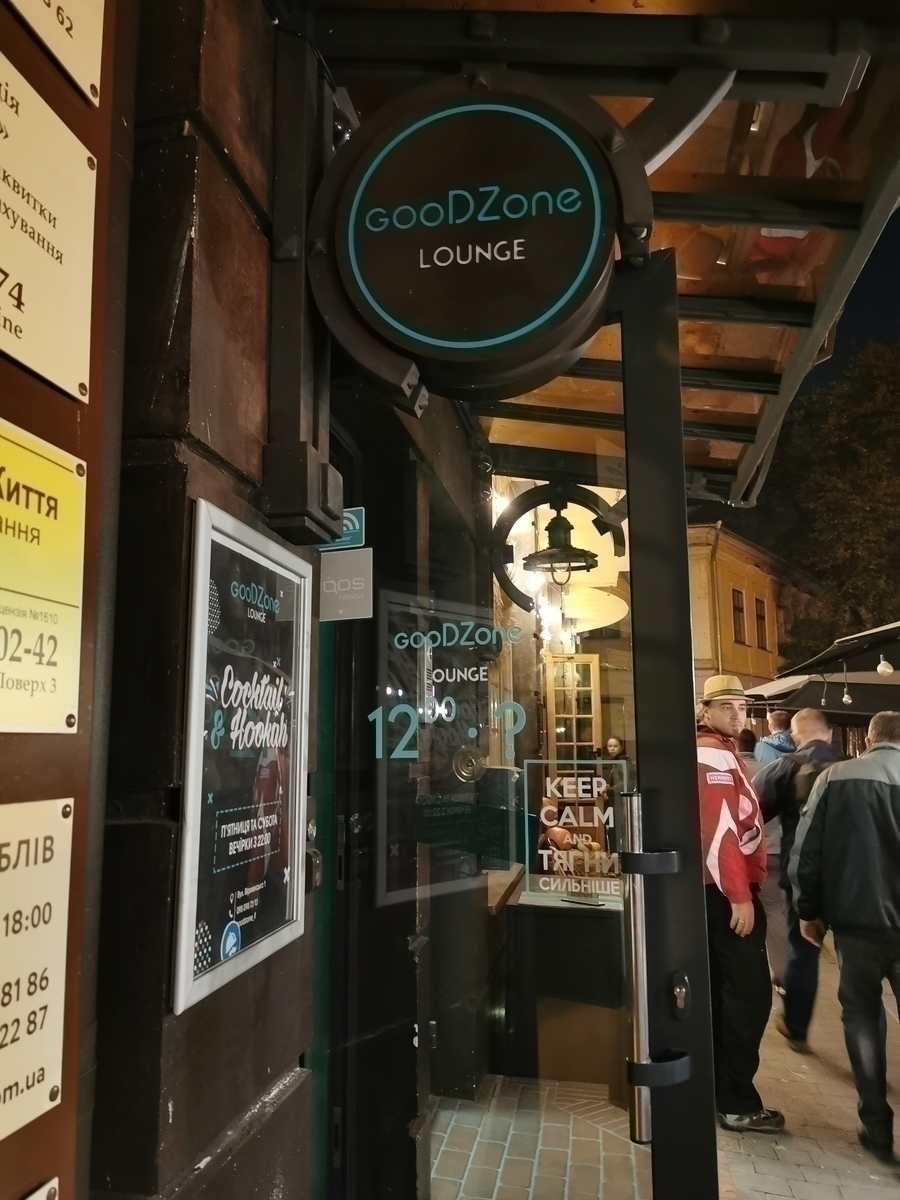 A night train to Kiev and a few hours at the KFC on the station … It's not really nice, but what can I do.
This trip turned out to be magnificent in terms of photos, a sense of place and relaxation of the soul in nature. I am glad that I visited this place and I will definitely return there again!
There are two more videos from the trip – the first and second)))