It happened so that for the last 5 years there was no question of bivouac food in our travels. And in the end, before the last trip, I had to re-explore this market.
Technology does not stand still – I saw from the corner of my eye that there was freeze-dried food in thermal packages, but I was far from the nuances.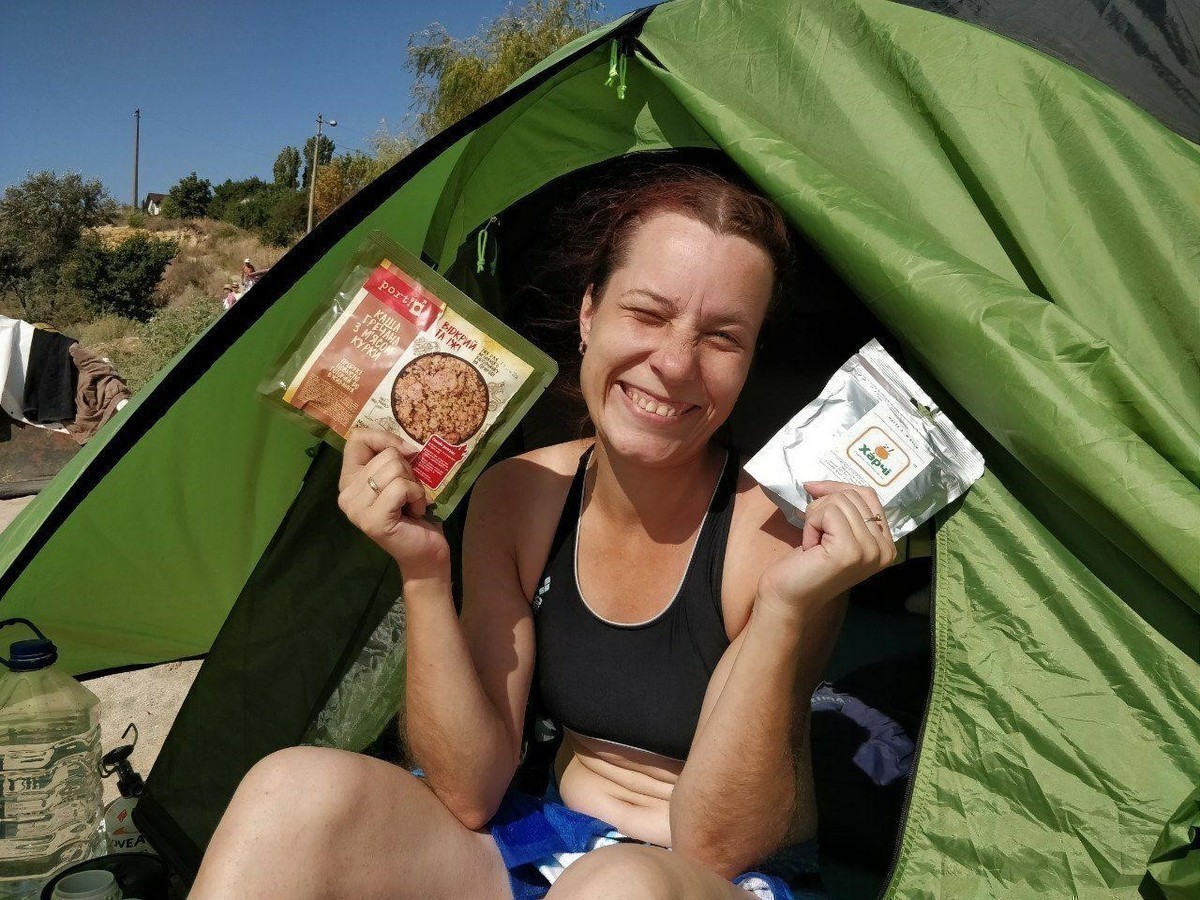 In the process of studying the subject, I discovered another new product. Although, rather – well-forgotten and modified old. It's a kind of familiar "Tourist Breakfast", only in soft packaging and with a larger assortment. It is produced by the Poltava company "Piryatinsky Delicacy" under the "Portion" trademark.
Their assortment is quite rich and varied: soups, borscht, cereals (to choose from) with meat to choose from (pork, chicken, beef). Separately pleased with the presence of stewed potatoes with meat to choose from)) that is always, that was not enough when traveling! There are also legumes with meat to choose from. Separately in the assortment was stew – chicken, pork and beef. There is a vegetarian menu.
Serving size is not small – first courses – 0.5 kg, second courses – 350 g.
When I discovered all this, I was very happy, because freeze-dried food has a specific flavor, and this should be tastier, especially considering that the manufacturer assures the naturalness of the products and the absence of any chemistry in the composition.
At first I started looking for composition and other nuances. The composition was found on the packaging upon receipt of the parcel – and yes – natural)))
The second interesting point for me was the shelf life. On the packaging, the storage period is as follows: no more than 24 months at a temperature of from 0 ° C to 20 ° C. Yes, I understand – pasteurization. In communication with the manager, it was possible to find out that "at +25 it can last 1 year, at +35 – 6 months." So, if after the trip something is left (like I had), then you can hold it)))
At the time of writing the report, a separate website with TM "Portion" food appeared and consumer data is already indicated there.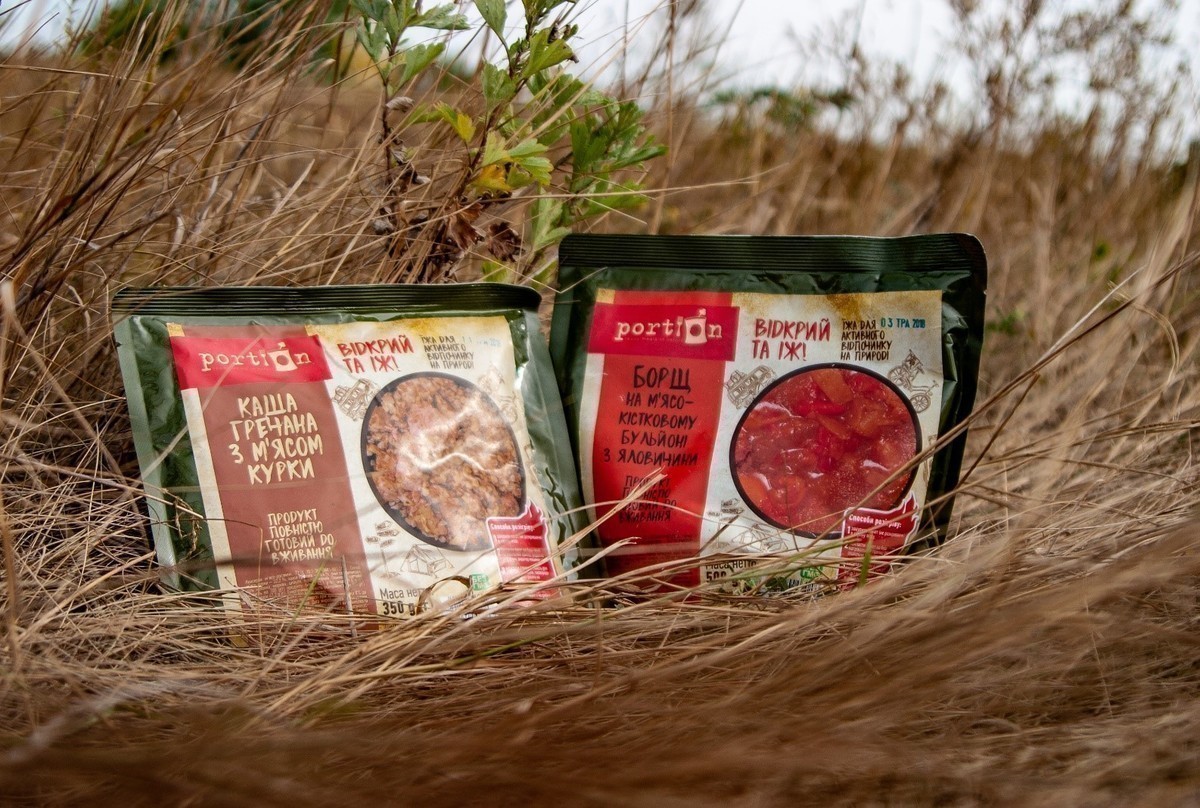 And so we took 20 different packages, since it was impossible to order less, but I was assured that we would not regret (a smaller amount can be ordered on the new site) and drove off. Transporting, of course, is convenient – wide flat bags. But if I went on a hiking trip, I would not be able to carry such excess weight on me. A freeze-dried portion of "potato and meat" type food weighs 90 g as opposed to 350 g canned food in a retort bag. Portion for a day becomes 1.2 kg against 270 g. Another thing – in the car.
Further with the packaging, the question arose when warming up. The manufacturer offers several options for heating canned food:
in hot water without unpacking;
using a chemical heater (does not go in the kit, bought separately);
putting it on the radiator of the car or any other heating device;
put food to a cauldron and warm it up (I think there will be no problems with this).
At this point, disputes arose about what the manufacturer meant by heating on the radiator of the car – on the hood or open the hood and put it on the radiator) tried both options)))) As a result – if put on the hood, under which an old 4.2 litres cast iron diesel worked for an hour, then the result is zero. If you open the hood and put, actually, on the radiator, then the following is obtained: the radiator, the upper part of which is 7 cm wide, heats a strip of food bag, move, turn, stir inside the bag if there is liquid food … and in 10 minutes of manipulations we get preheated food, dirty hands and the packaging itself. Of course, if there is no choice, then the option is good. And so – you have to got up early in the morning, get out of the tent, started the car, warmed up to the working temperature of the engine (so that the radiator warmed up thoroughly), opened the hood, laid out the packages for the whole team and turn it over like a barbecue)))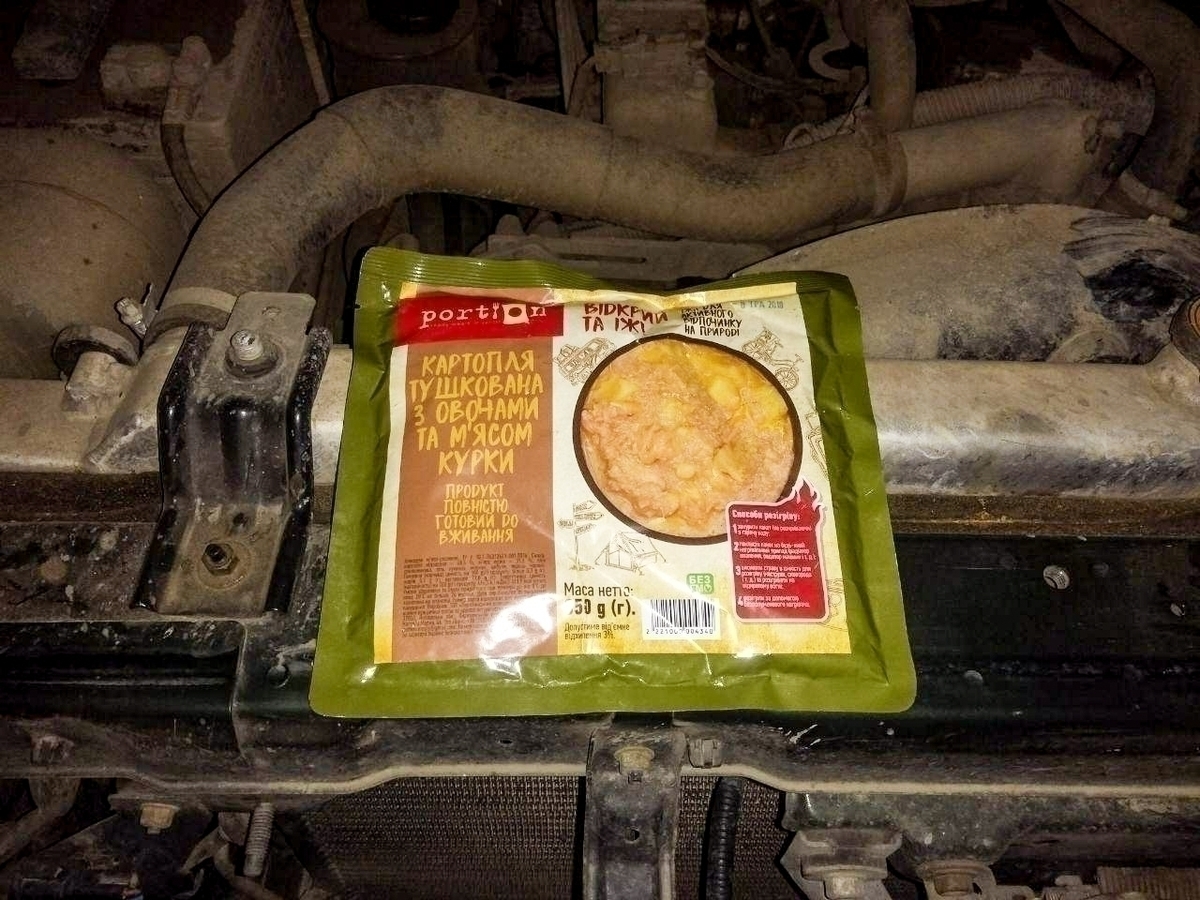 This is food on a radiator (radiator – a silver stripe in the frame).

On the hood (above the engine).
So, we are in a campsite, on the Arabatskaya spit – there is a limited amount of water, so I take my camping pot, pour water and try to put at least 2 packets for warming up.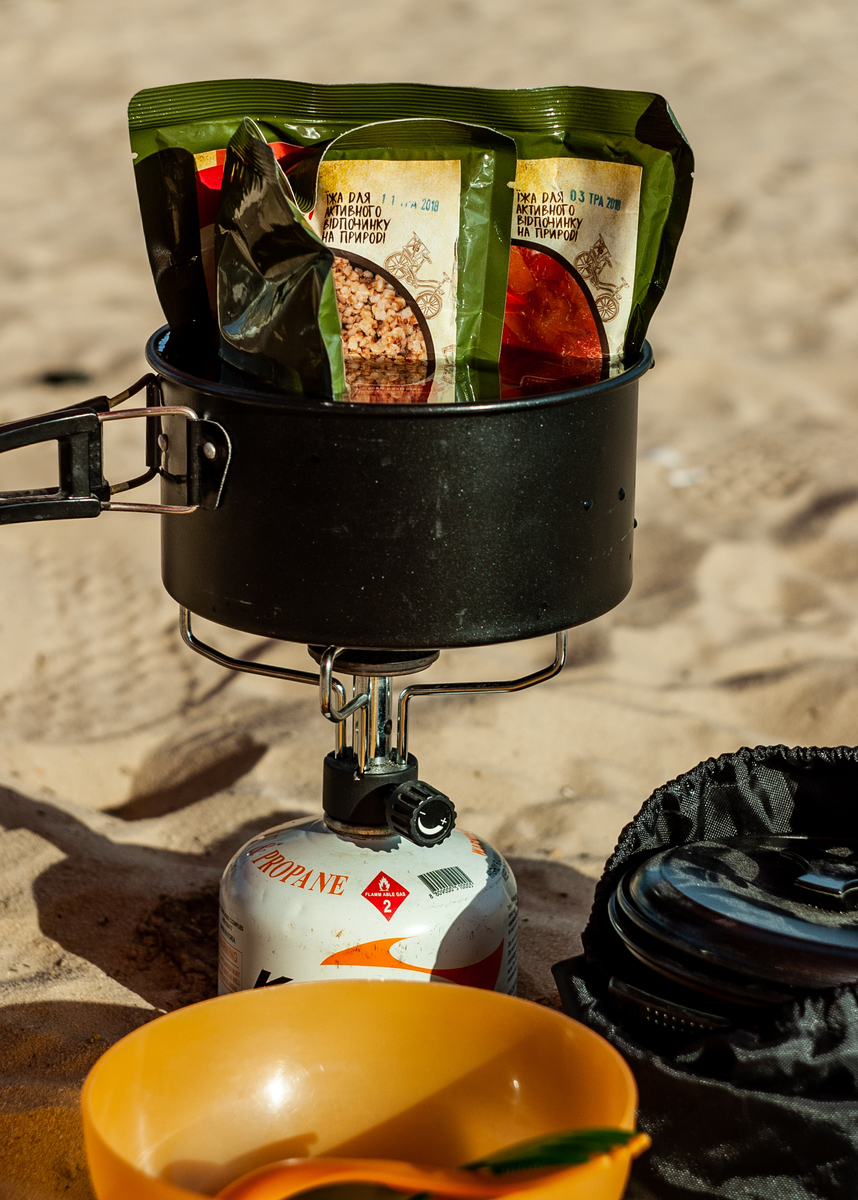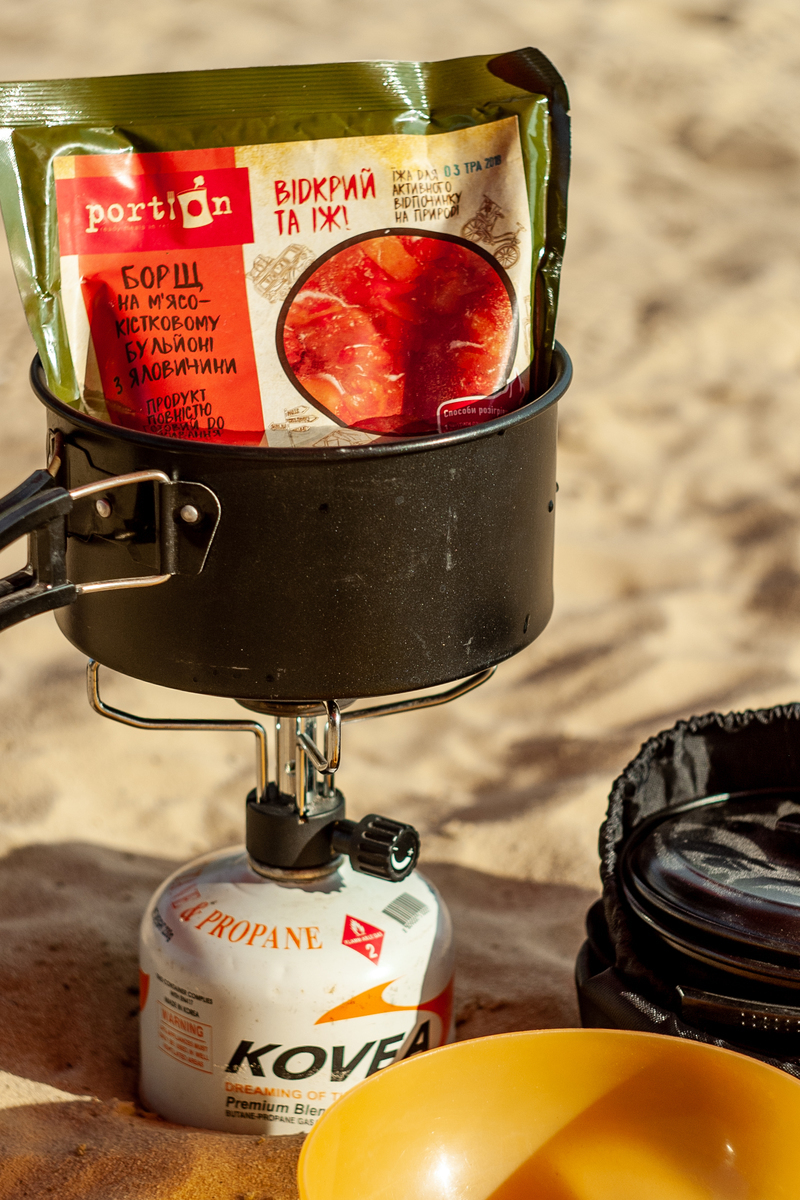 It turns out badly despite the fact that my bowler is wider than the average modern. The packages have to be twisted (bent by tapping the palm of the hand in the middle) to fit and periodically pull out of boiling water and turn it upside down so that all food is warmed up. Well, or lay flat, but one at a time, a maximum of two (the fit very poorly when put flat – there is no water left). I planned to use hot water for making tea / coffee (I did it for the first time), and then I saw a peeled-off label in a cauldron and did not want to drink tea with dissolved glue, poured and boiled fresh water. Actually, because of plans for water, I did not use a chemical heater – the water would become unsuitable for tea / coffee.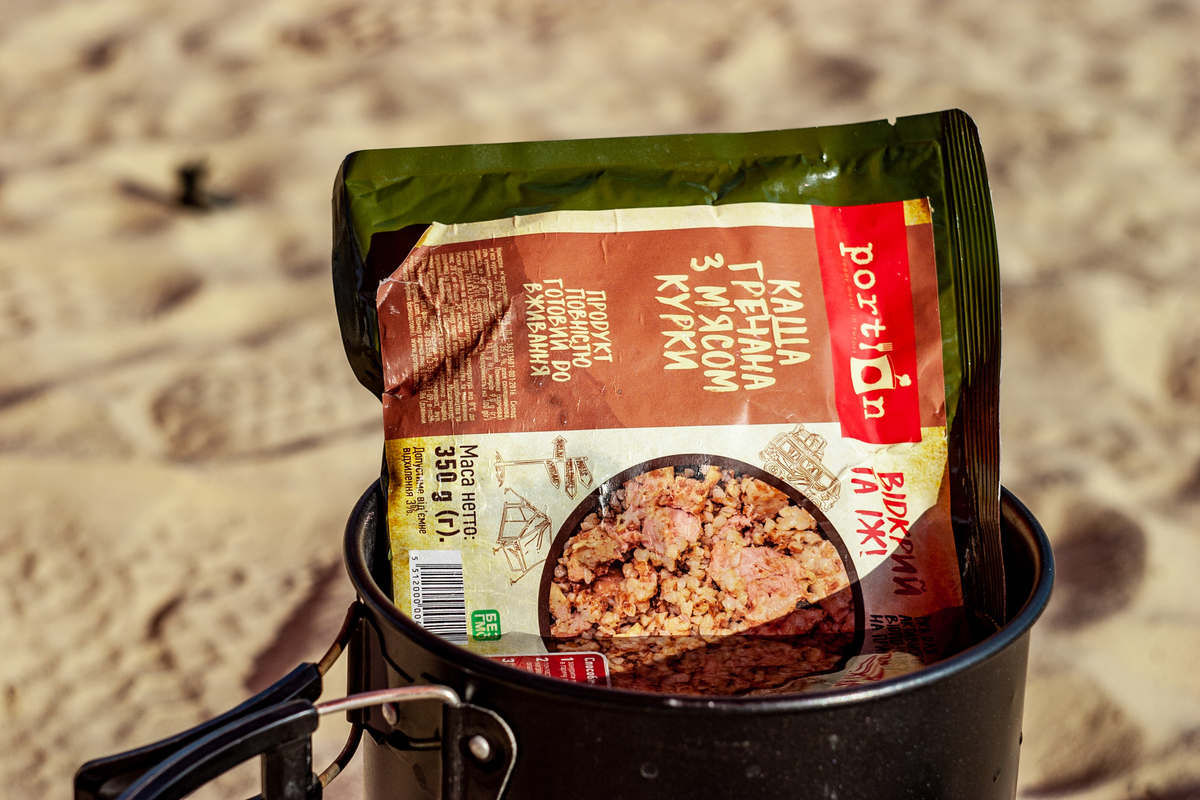 Taste and composition. The composition turned out to be very close to the declared one – the meat is good (almost without bones, skin and other joys), the side dish is also good, but there was a lot of slurry in the potatoes with chicken.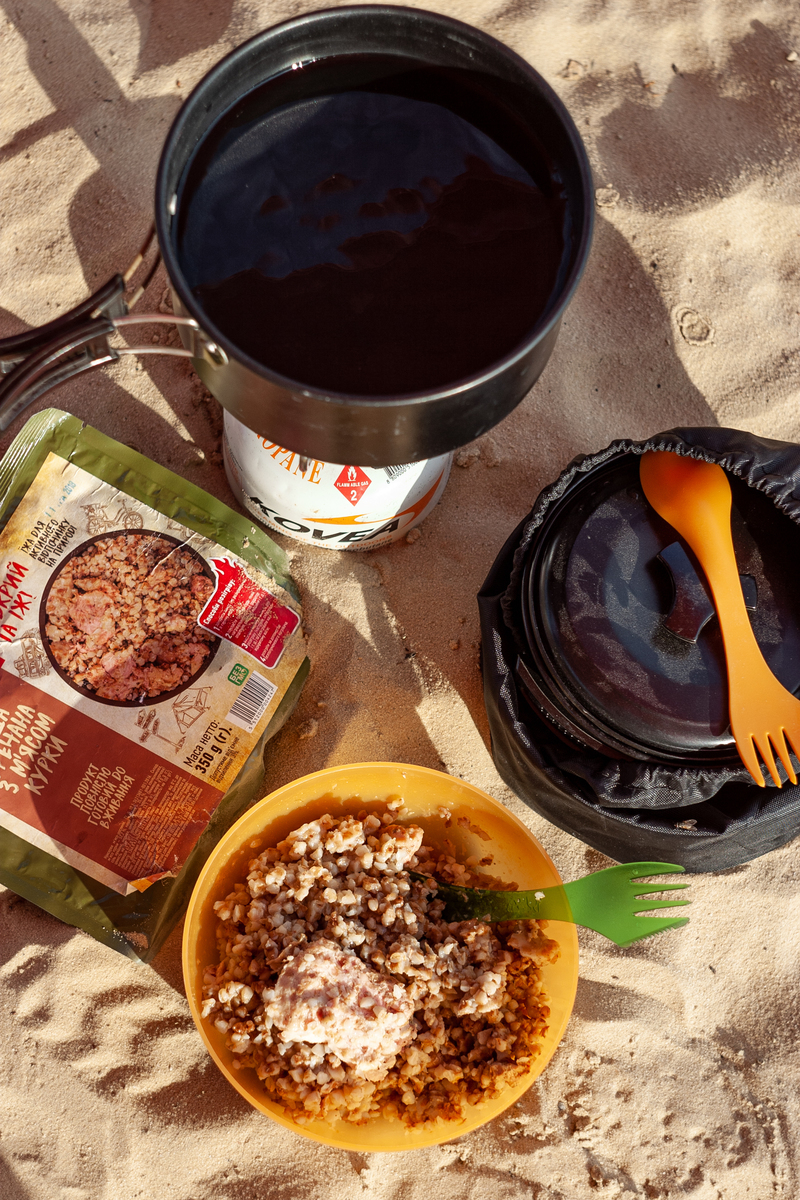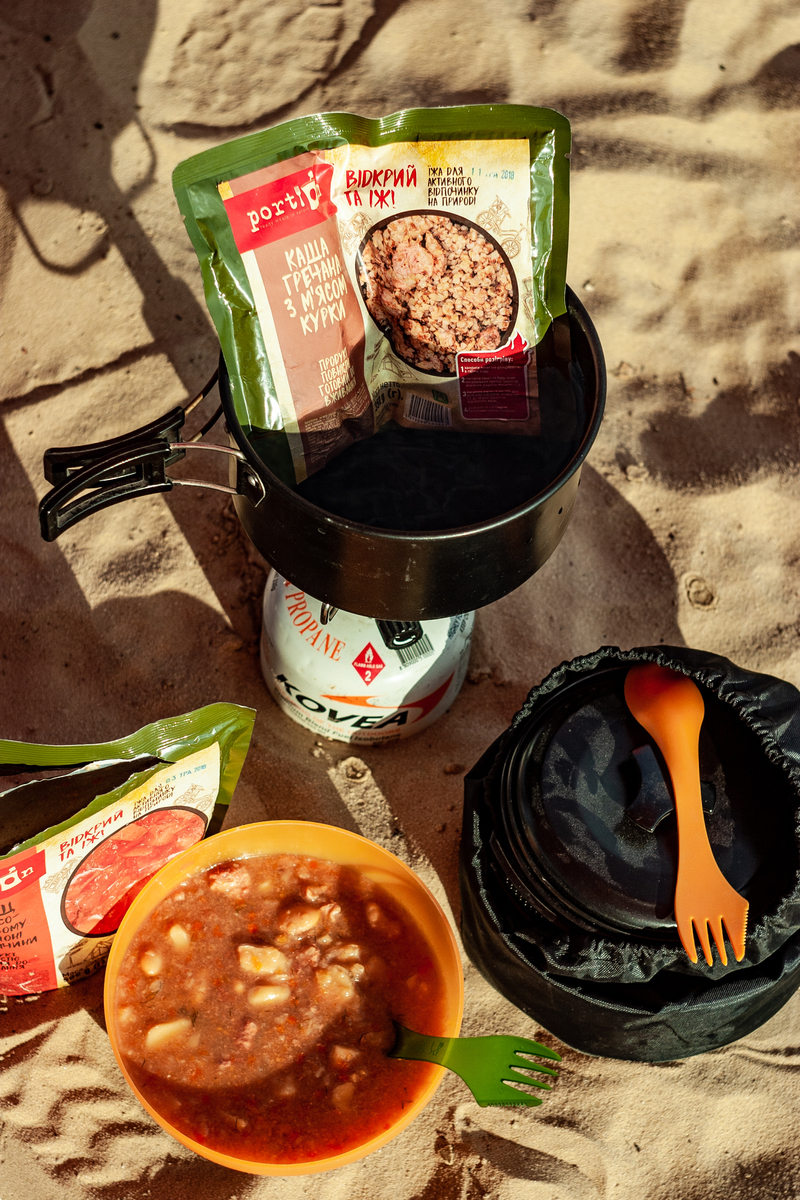 In the life of the camp, dishes bring not only gastronomic diversity, but also elements of leisure activities – quests and surprises. There appeared to be completely different and unstable amount of salt in different dishes. Barley and buckwheat of all the tested types were fresh, but judging by the potatoes and pork (according to popular belief), the technologist fell in love. Fully and to the grave-board – there is so much salt that the ears were folding)) Given that the products (according to the manufacturer) are being tasted, it can be assumed that the quality control department was also in love. However, of course there is nothing wrong with products made with love – one way or another, there were no other tangible and fundamental surprises regarding composition and taste (as you know, all felt-tip pens are different in taste and color).
If we define and reduce in two groups the pros and cons (in our subjective team opinion) we get the following:
Pros:
it is edible, nutritious and this, whatever one may say, is "living" food, not sublimates;
the quality of the products themselves, of which the dishes were cooked, could not be faulted, although we honestly tried. Based on the organoleptic method of product analysis – the products are good;
if you will met a number of conditions, you will always have ready-made and even hot food at hand;
you have to try very hard to open the bag by accident – they are well sealed and the material itself is strong enough to spill a couple of thousand in the same trunk with a jack, jackets, a hand winch and stay intact. At the same time – it opens easily intentionally. It is simple and convenient to take empty containers with you from the place of use (unlike cans and boxes from preserves).
Cons:
the packages are quite massive and heavy, so, for a hiking trip more than two days (or if a bus does not bring supplies and backpacks to each parking lot, as it has now become fashionable), they are unlikely to work;
the bags do not fit well into the cookware for warming up;
The conditions for getting hot food. The difficulty of heating in a limited supply of water. If we are talking about an expedition / drives / race / hike, taking place in arid places where there are no springs, rivers, streams or other sources of water nearby, then we have five (at the moment) options:

to pervert with a radiator (that is: to waste fuel, time, make noise, risk getting a couple of burns), and this does not suit an electric cars at all;
to spend drinking water, the supply of which is limited. It is worth noting that sometimes on long trips / hikes the concept of "technical water" is nonsense and any, that is not openly poisoned, turns into drinking water, which is extremely unreasonable to spend on chemical heating or contaminate with glue (we've personally been repeatedly in such situations),also the snow for "remelting" in winter is not everywhere and not always even at really low temperatures;
Heat on body panels, sand or stones in the sun. It does not work in summer at temperatures below +35 – + 40 ° C, in autumn and winter (and even with a sufficient flow of sunlight and outdoor temperature, this process will take time);
rebuild your route or reduce your stay at points unsuitable for such a meal. It sounds absurd, and is really an absurd – it's easier to build a diet differently;
It is being told, that you can eat without warming up, but this is during the summer. But in the cold season, it will be, firstly, difficult to make (ice still needs to be cracked, well, or to use frozen slurry / fat is not the most joyful thing), and secondly, in the cold season, hot food is not only tastier, but and more necessary (of course, in extreme conditions, even such a diet goes to food).
Total:
In general, it's an interesting product that can really brighten up life at a picnic (but there is usually a kebab-barbecue there), on a hiking trip for a day – two in conditions of sufficient water, to fishermen, hunters, campers (for a house on wheels this option is brilliant), for organizing mass meals in equipped camps (large campsites, bivouacs, festivals, competition headquarters). At the same time, it is absolutely not suitable for lovers of a 3+ class hiking, auto-expeditions beyond the conditions of comfort, eating during the race out of a bivouac. Where you can afford to warm up such a bag and also make tea, and even more – to wash, these bags will save time and effort in cooking food; where you can't – they don't really help.
Well, of course, the question remains with the amount of salt in the food. I really hope that the manager will finally believe me and tell the technologist that one of the parties was oversaturated. At the moment, I have not been able to convey this idea.
And also, soon new products from the same manufacturer will arrive to our friend – daily rations and complex lunches, so – to be continued, we will soon test and write. Stay with us)))