Church of the Holy Trinity, Kamenetz-Podolsky
Type: Architectural object Kind: Religious (Active)
Country: Ukraine Region: Khmelnytsky region Locality: Кам'янець-Подільський
Availability: Available for visits, Good road
---
Church history
The first mention of the church – in 1582.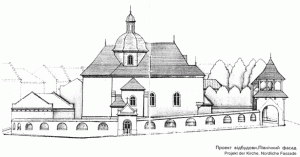 In the ХVІ-ХVІІ centuries the Trinity Church was a cathedral. The Trinity Monastery Church is considered the oldest among the churches of Kamenetz-Podolsky. The monastery was formed in it only around 1723, and before that the church was paraphilic. The governors of the Lviv Orthodox bishop lived there.
There are documentary references at a later date about the Trinity Church from the beginning of the 17th century. So, in 1603, by a court decision, the house was handed over to the Kamenetz Trinity Church, which was once donated to the same church by the Kamenetz tradesman Yakov Koval and was at the disposal of the "brothers of that church" from ancient times.
Church of the Holy Trinity is part of the complex of the Holy Trinity Monastery (a monument of architecture of the XV-XIX centuries). The church is located in the northern part of the Old Town, on a high ground hill. The hill is surrounded by a stone foundation. After the Turkish troops left the city, most of the houses and temples were in ruins. Trinity Church as well. Only in 1722 the church rose from the ruins by the efforts of the Vasilyan fathers, who founded a monastery and school near the church.
In 1793, Podolia with Kamenetz was annexed to the Russian Empire after the second section of the Commonwealth. All Greek Catholic churches were attached to the Orthodox Church.
Church description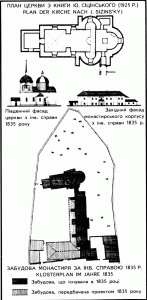 There are a few descriptions of the Trinity Church left by researchers during the XIX century. Outwardly, it looked like Peter and Paul and John the Baptist churches. Based on the plan the church was a cross-shaped, with rounded parts of the cross, except the west part. An altar was in the eastern apse. Choirs are located In the northern and southern parts of the church. On the west side, a bell tower with a dome topped with a high spire with a cross was attached to the church across the entire width.
In 1795, the Holy Trinity Monastery was taken over by Orthodox bishops. The church was miserable. In 1831, Archimandrite George pointed out: "the floor, although tiled with stone, was terrible and ruined by the time, the vaults began to leak, there were no church utensils corresponding to the holy temple"
In this form, the Trinity Church lasted until the 1930s, when it was dismantled. During 1991-1998, archaeological research was conducted on the territory of the Trinity Church. Foundations of the church was found, conserved at the basement level.

Church architecture
What changes in the architecture of the Trinity Church, what was it rebuilt or something added to it after the initial construction, cannot be said for sure. The only thing known is that the Basilians, who were engaged in building this church in the first half of the 18th century, built the bell tower in 1749, but it's knot know for sure whether they build it from the basement, or only raised it higher. In 1854, a wooden bath was changed over the middle part of the church: it was enlarged and covered with tin instead of shingle. In 1859, to give the church more light, the windows were enlarged (they were lengthened). At the same time, a small sacristy was attached to the altar from the north, and from the south – a ponark with access to the monks' premises. There were once doors to the north in the western part of the church, which is under the belfry; now they are immured, but a niche remains in the middle, and stone steps are visible from the street.
Regarding the size of the church, they were like this: length (without a porch) 23.5 m, width (without conch) – 7.1 m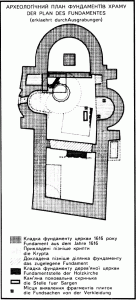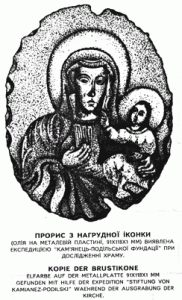 At the moment the church is completely reconstructed and it is very hard to notice that: