Sutkovetsky castle
Type: Architectural object Kind: Historical (Inactive)
Country: Ukraine Region: Khmelnytsky region
Availability: Available for visits, Good road, Emergency condition
---
In the historical chronicles Sutkovtsy are first mentioned in 1407 in the diploma of the Lithuanian prince Vitovt, by which he gave the town of Yarmolintsy together with adjacent villages to Khotku Croat (originally from Hungary) for their faithful service. Subsequently, Sutkovtsy passed to Croat's grandson Fyodor, who became the first of the Sutkovetsky family. Fedor began building the castle in the first half of the 15th century, as one of the defense points on the path of the Tatar Kuchman route. Initially, the temple was also built as just a fortification. Sutkovetsky owned the village until 1593. The last man of this family was Ivan Sutkovetsky, on whom the Sutkowski family had stopped; Ivan's daughter, Varvara, inherited the village and brought it as the dowry to her husband, Alexander Balaban, the headman of Vinnitsa, who, in 1623, built a castle on the mountain, the ruins of which still exist today. Balabany family owned the village until the end of the XVII century, then it passed to the Grabyanka family. The most notable of them was Count Sutkovetsky Faddey (Tadey / Tadeusz) Grabyanka.
Faddey Grabyanka in Sutkovtsy hosted Giuseppe Balsamo (Count Cagliostro). At the request of Grabyanka, he developed the ritual of the "Invincible Scythian Sun" for the future Ukrainian masonic lodges. Count Sutkovetsky was going to start restoring the Polish-Lithuanian Commonwealth, grouped from Poland and Ukraine on the equal rights (the project "Republic of Light"). Then he dreamed of creating a global mega-empire, which, besides the Poland and Ukraine, should include all the lands of the former Byzantium (in particular, Palestine and northern Africa). It is assumed that this hobby brought Faddey Grabyanka to arrest.
Already at the entrance to the village, the meaning of the toponym becomes clear. In this area you can hear the word "sutky" The passage between the hills and slopes is called like this here. There are many of these "sutky" here, hence the name.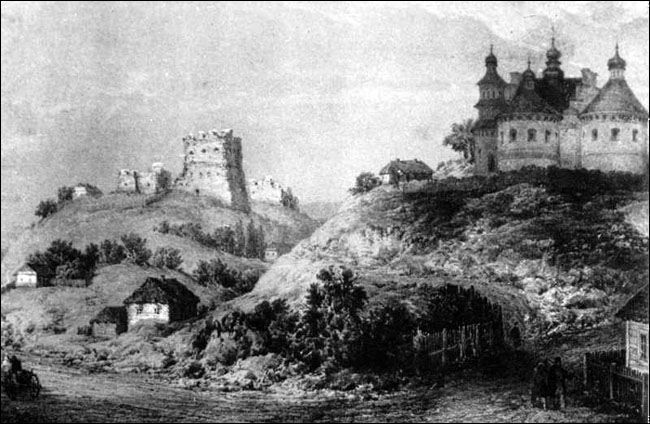 Sutkovtsy, drawing of Napoleon Orda, on the background – the castle, on the front – the Intercession Church
Photos from Wikipedia
According to materials from Wikipedia