Catholic church of St. Nicholas/Gregory/ George, Grigorovka, Kherson region
Type: Architectural object Kind: Religious
Country: Ukraine Region: Kherson region
Availability: Available for visits, Good road
---
Unfortunately, I wasn't able to find a lot of information about this object.
Google Maps calls it the church of St. Nicholas: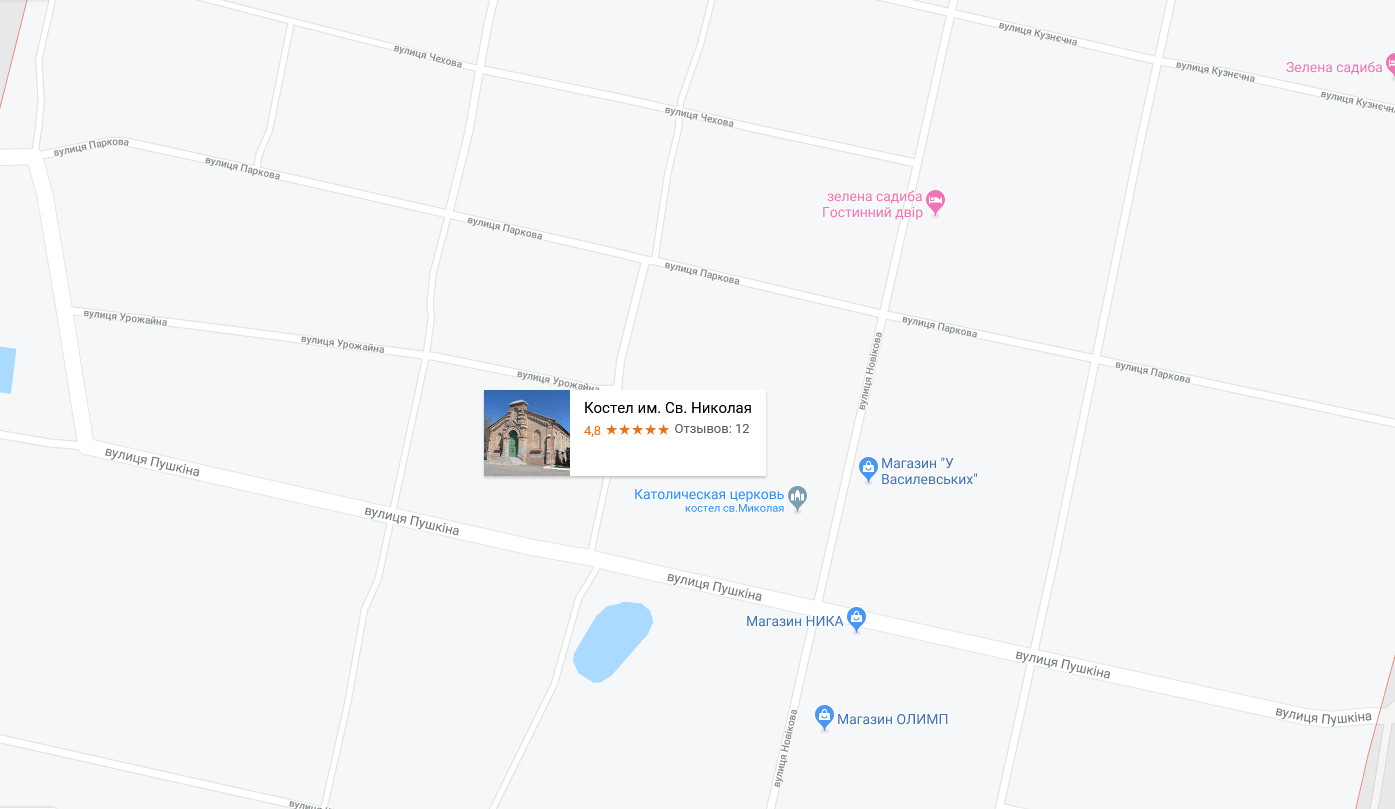 On the sites of some tour operators in the descriptions of excursions, it is found as both "St. Georgy" and "St. Gregory".
That's all that was possible to find out:
In the middle of the XIX century, on the banks of the steppe river Tamara three Gregory settled – Grabovetsky, Bogachevsky and Prochitansky. Then they were joined by other settlers, but the mass settlement began only in 1868. Moreover, immigrants-Catholics from the Kiev province inhabited the northern part of the village, which for a long time was called "Kievshina", and Orthodox immigrants from Kamenets Podolsk province — the southern one, which was called "Kamenechchina". Such division of the village existed before the Second World War. Now more than 1800 inhabitants live here.
Local Catholics belonged to the parish of St. Ambrose, bishopof the Perekop city, which in 1920 was completely destroyed by the Bolshevik army. A branch stone church in Grigorievka was built in 1890 under the direction of Vasily Rudnitsky. In 1900, the temple was curated by Bishop Joseph Kessler. According to conflicting data, the church could have the title of St. Gregory or St. Nicholas. It is likely that in 1907 some construction work was carried out in the temple. During the period of the First World War, the believers in Grigorievka were cared by the senior priest of the Perekop parish, Father Adam Gibulsky.
With the advent of the Soviet authorities, they wanted to disassemble the church in order to build a school in the district center from the materials received. However, the clutch, in which many eggs were added during the construction of the temple, proved to be so strong that this plan failed. The shrine was used first as a warehouse, then as a club, and after 1969 as a village museum. In the late 90s of the last century, local believers repaired the church. At first they were served by the diocesan priests from the parish of St. Anthony of Padua in Oleshki, and later – from the parish of the Immaculate Heart of the Blessed Virgin Mary in Tavriysk. From here.
I hope that when I will be driving there next time, I will be able to find out more on the spot.